Penelope Mitchell
The Australian actress Penelope Mitchell was born in Melbourne, Victoria on 24th July 1991, and is probably best-known for depicting Liv Parker in "The Vampire Diaries", and Letha Godfrey in "Hemlock Grove".
Penelope's childhood years were mostly spent in Australia alongside two older brothers, who have no affiliation to the entertainment industry. Creativity runs in the Mitchell family, as her mother is a French artist. Her father, whose name is unknown, is an Australian entrepreneur and businessman.
From 4 to 16 years old, Penelope studied ballet. She reportedly finished in the top 1% of her graduating year after studying for her International Baccalaureate. The blonde initially wished to become a lawyer and attended Melbourne University; however, life had different plans for her, as she eventually obtained her undergraduate degree in Arts: Media Communication, and moved to Los Angeles, California USA.
Unbeknownst to fans of the TV star, Penelope hails from a respectable family; her maternal parents are the political activists and agriculturalists Lester Mitchell, MBE, and Heather Mitchell, OBE. Heather is known for co-founding Landcare Australia and becoming the first female president of the National Farmers Federation.
Lastly, Penelope is the cousin of the soap opera and Hollywood actress Radha Mitchell, whose first prominent role was in the long-running Australian TV series "Neighbors"; she has since been nominated for a Screen Actors Guild Award, and other accolades.
Career
Although Penelope rose to mainstream recognition in "Hemlock Grove", her first credited role was in 2009, when she played Sarah in an episode of the Australian police drama "Rush". In 2011, she guest-starred in the Australian comedy "Offspring", and appeared in various short films, including "Nightshift of the Vampire", "The Grace of Others", and "Meth to Madness". Needless to say, these low-budget projects did little for her career, which is perhaps why she moved to Los Angeles a few years later.
In 2012, Penelope did more shorts – "Green Eyed", "6 Plots", and "The Wishful". Her big break came a year later, when she joined the main cast of "Hemlock Grove", which premiered on Netflix in April 2013, and had a star-studded ensemble including such as Bill Skarsgard and Famke Jassen.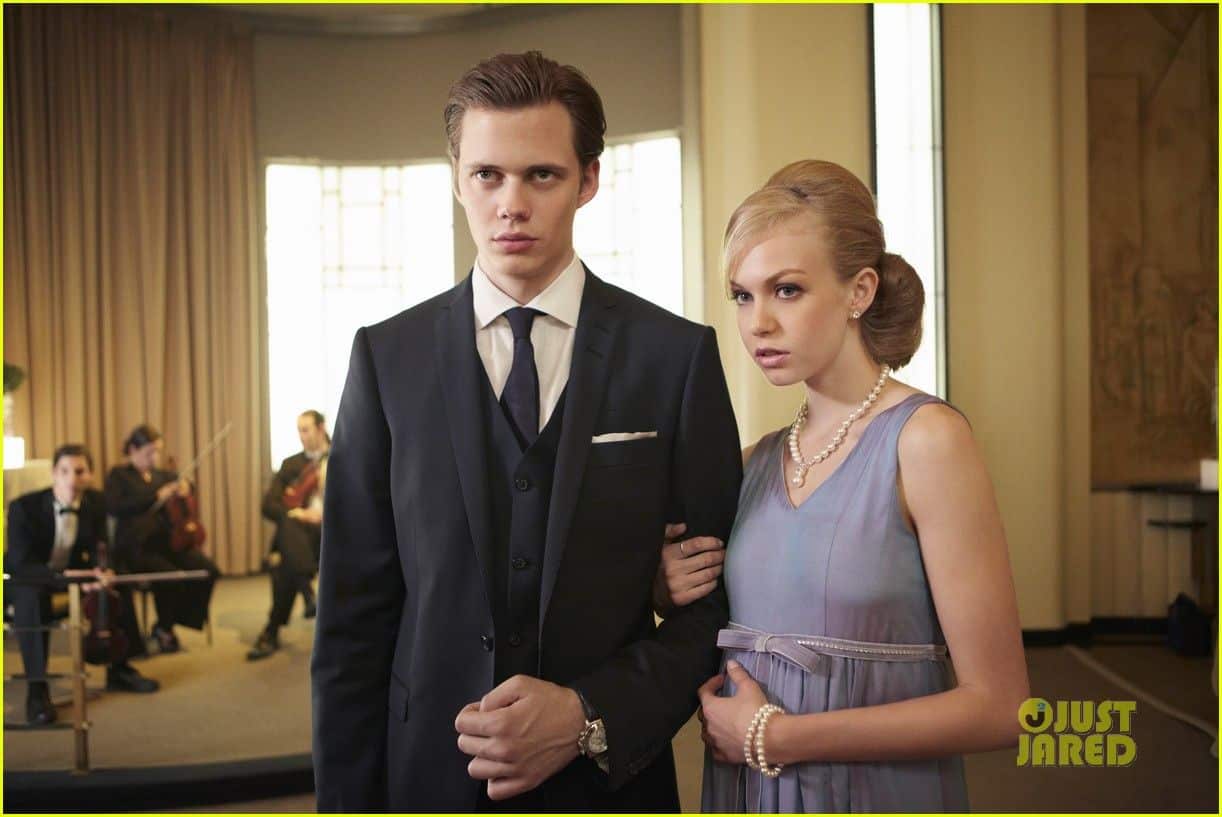 Penelope's character, Letha Godfrey, was heir to the mysterious Godfrey Institute, and believed that she had been impregnated by an angel. Described as compassionate, caring, and sweet, Letha grappled with her spirituality and sexuality and found it hard to cope with her pregnancy at first. Despite undergoing a huge amount of character development throughout the first season, Letha was written out when she was murdered during childbirth.
After "Hemlock Grove", Penelope had a role in the 2014 short "The Fear of Darkness". She then had her first prominent movie roles, portraying Laci in the political thriller "Zipper", and Tracy in "The Curse of Downers Grove". The first movie premiered at the 2015 Sundance Film Festival and received a mixed reception, whereas the second film was reportedly shot on a $2 million budget which it failed to even recoup.
The Australian then played Liv Parker in seasons five and six of the supernatural series "The Vampire Diaries". Liv was introduced as an inexperienced witch who sought help from main cast member Bonnie Bennett; however, she was actually a powerful witch, who had been sent to the fictional town of Mystic Grove by her brother, Luke Parker. In season six, Liv began dating Tyler Lockwood – and in a shock twist, was killed by him in the season finale so that he could trigger his werewolf gene.
Two years after leaving the show, Penelope played Jennifer in the low-budget movie "Gnaw (Apartment 212)" and Jina in "The Midwife's Deception". Both projects flew under the radar, and her next movie, "Between Worlds", was a box office bomb that brought in less than $147,000. Undeterred, Penelope took on another movie role in the 2018 psychological film "Look Away", a Canadian production which also received negative reviews.
Look Away, written and directed by Assaf Bernstein and starring India Eisley, Mira Sorvino, Jason Isaacs, Penelope Mitchell, Harrison Gilbertson, John C. MacDonald and Kristen Harris, was released on this day in 2018 (USA) 🎬 pic.twitter.com/n8eK7MdF5d

— Horror31 🎃 (@Horror31) October 13, 2023
After a string of failed movies, Penelope's reputation in showbiz took a serious hit. After playing Lauren in the 2018 TV film "The Time Capsule", Penelope portrayed Ganeida the Witch in the superhero film "Hellboy", which was, unfortunately, ranked as one of the biggest flops of 2019 as it made $55 million against a somewhat ludicrous $50 million budget.
Since then, Penelope has had roles in the sci-fi horror "Becoming", the action comedy "The Hyperions", and the supernatural action movie "R.I.P.D 2: Rise of the Damned". As for TV, she recently played recurring character Renee Picard in season two of "Star Trek: Picard". The eighth "Star Wars" series premiered on the CBS All Access streaming service, and received favorable reviews.
Personal Life
Penelope was previously believed to be in a relationship with actor Michael Trevino way back in 2009. This is erroneous information, as in 2009, the actress was still living in Australia, whereas Michael – who, coincidentally, played her love interest in "The Vampire Diaries" – was in a relationship with actress Alexandra Chando.
Apart from Michael, the Australian has yet to be linked to anyone. On Instagram, she describes herself as a "Franco-Australian immigrant living in the USA" and mostly posts artistic photographs or snippets of her daily life, such as books she is currently reading, and selfies with friends.
The "Hemlock Grove" star hasn't given any interviews in a decade. Speaking to pop culture publication Assignment X in 2013, the blonde discussed the difference between the Australian entertainment industry and Hollywood, her experiences filming for "Hemlock Grove", and her relationship with the cast members. However, Penelope refrained from speaking about her personal life or early years.
Although it remains unclear if Penelope is affiliated to any non-profit organizations, the "Vampire Diaries" alum also uses her social media to promote the UN Refugee Agency, which is involved in current issues such as the flooding emergency in Libya.
Penelope is 5ft 9in (175cm) tall and weighs 123lbs (56kgs). The actress has a net worth estimated at $700,000, despite her appearances in high-profile projects, given that her last shows and movies have performed poorly. For the time being, Penelope has yet to confirm any upcoming roles.