Who was Lee Van Cleef?
The late American actor Clarence LeRoy 'Lee' Van Cleef Jr. was born in Somerville, New Jersey USA, on 9 January 1925, making Capricorn his zodiac sign. He appeared in 173 movies and TV series, but is perhaps still remembered best for playing the lead character Hauk in the 1981 action science fiction adventure movie "Escape from New York", which also starred Kurt Russell and Ernest Borgnine, and was written and directed by John Carpenter. It follows a convicted bank robber who's been sent to rescue the US president, and the film was nominated for four awards.
Lee was 64 when he died from a heart attack on 16 December 1989; he had previously suffered from heart disease, and had a pacemaker installed in the first half of the '80s. He was also suffering from throat cancer, and this was listed as his secondary cause of death.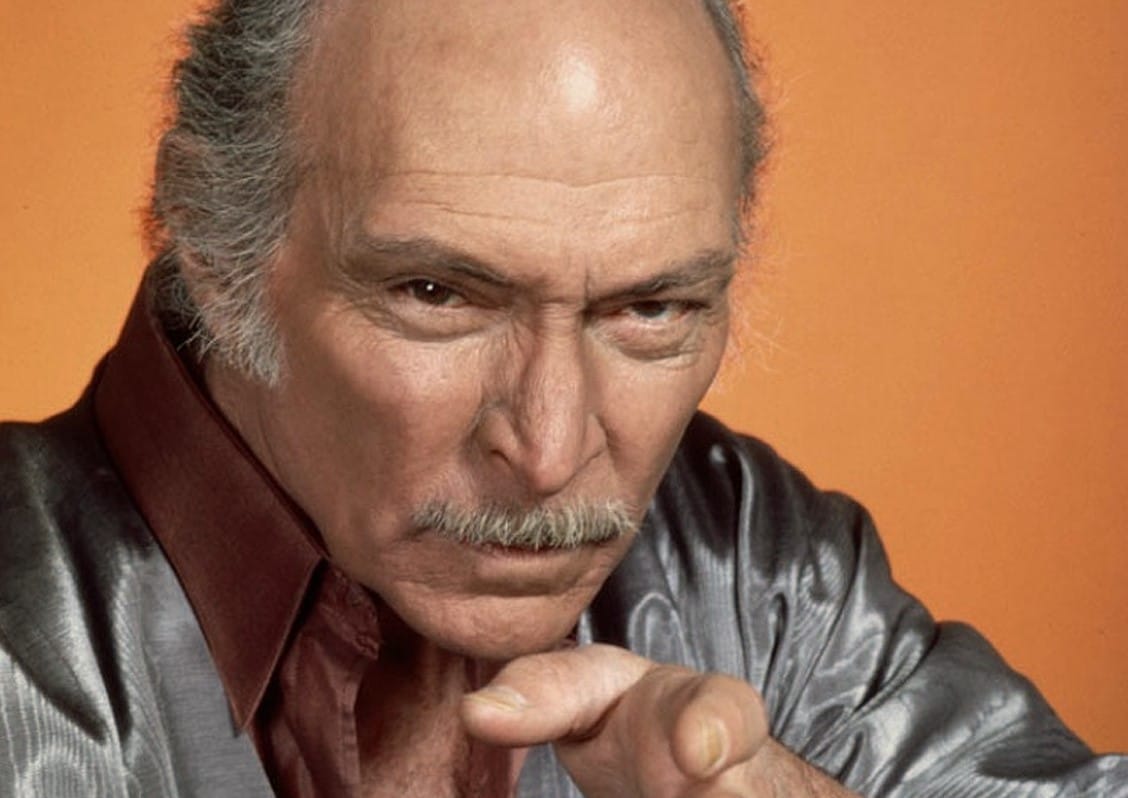 Education and early life
Lee was raised in Somerville by his father Clarence and mother Marion Lavinia Van Fleet; it's believed that Lee was an only child, as he never spoke about having siblings.
He studied at Somerville High School New Jersey and matriculated a year earlier than his peers, aged 17 in 1942 because he wanted to enlist in the US Navy; he did so in September 1942 and began serving on a submarine chaser following his completion of the military training. Lee then served on the minesweeper USS Incredible as a sonarman.
He had achieved the rank of Sonarman First Class by the time he was honorably discharged in March 1946; he received six medals, including a World War II Victory Medal, a Bronze Star and an American Campaign Medal.
It remains unknown what he did for a living for the following six years, prior to launching his acting career.
Roles in movies
Lee's debut film role was playing Jack Colby in the critically acclaimed 1952 thriller western "High Noon", which starred Gary Cooper and Grace Kelly, and was directed by Fred Zinnemann. It follows a town Marshall who has to deal with a group of deadly killers, and the movie won 17 of its 28 award nominations, including Oscar wins for Best Actor in a Leading Role, Best Film Editing and Best Music, Original Song.
Some of Lee's notable performances in the remainder of the decade were in the 1952 biographical western "The Lawless Breed", the 1955 crime drama "I Cover the Underworld" and the 1959 western "Ride Lonesome".
The year 1961 saw him play Leo in the western "Posse from Hell", which starred John Saxon and Audie Murphy, and was directed by Herbert Coleman. It follows a tough sheriff's deputy who's going after four prison escapees who've killed the sheriff and have kidnapped a woman. Some of Lee's following roles were in 1962 in the western "The Man Who Shot Liberty Valance", and the romantic war drama "How the West Was Won", plus the 1965 western "For a Few Dollars More", and the third in the so-called 'spaghetti western' series, "The Good, the Bad and the Ugly" in 1969, co-starring Clint Eastwood and Eli Wallach, rated in the top five westerns of all time.
The year 1971 saw him play the lead character Sabata in the western "Return of Sabata", which also starred Reiner Schone and Giampiero Albertini, and was written and directed by Gianfranco Parolini. It follows Sabata who's been hired by the citizens of Hobsonville to rid them of the McIntock clan. Some of Lee's notable performances in the remainder of the '70s were in the 1975 crime comedy "Mean Frank and Crazy Tony", the 1976 western "God's Gun" and the 1980 romantic action "The Octagon".
In 1984, Lee starred as China in the action "Code Name: Wild Geese", which also starred Lewis Collins and Ernest Borgnine, and was directed by Antonio Margheriti. It follows leader of a group of mercenaries Commander Robin Wesley, who wants to overthrow an Asian dictator who's manufacturing and distributing opium.
Some of Lee's final film roles were in the 1988 war action "The Commander", the 1989 action sports comedy "Speed Zone" and the 1990 action adventure comedy "Thieves of Fortune".
Roles in TV series
Lee's debut TV series role was playing Mark in the 1952 episode "Formula for Fear" of the family adventure "Sky King", and the remainder of the '50s saw him appear in an episode or two of numerous series, including the crime drama "Boston Blackie", the crime comedy "Four Star Playhouse", and the action family adventure "Space Patrol".
In 1965 and 1966, he portrayed Charlie Yates in four episodes of the western "Branded", which starred Chuck Hamilton and Chuck Connors, and was created by Larry Cohen. Set in the 1880s, the series follows Jason McCord who's trying to prove that he's no coward, because he's been kicked out of the army for cowardice. Lee had two more TV series roles in the '60s, playing Big Mike Kelly in the 1966 episode "Quarter Past Eleven" of the western "Gunsmoke", and Ike Jeffords in three episodes of the 1966 western "Laredo".
He had no TV series roles in the '70s, with his following and final having been portraying the lead character John Peter McAllister in all 13 episodes of the 1984 action adventure "The Master", which also starred Timothy Van Patten and Sho Kosugi, and was created by Michael Sloan. It follows the life of an aging American ninja as he's searching for his missing daughter – the series was nominated for a single award.
Other credits
Lee sang the songs "Captain Apache" and "April Morning" in the 1971 movie "Captain Apache", and the song "Rye Whiskey" in the 1974 movie "El Karate el Colt y el Impostor".
He received special thanks for the 2004 action crime thriller movie "Kill Bill: Vol. 2", the 2013 episode "Blu-Ray: El Bueno, el Feo y el Malo" of the historical comedy series "Special Collector's Edition", and the 2016 action adventure western movie "6 Bullets to Hell", all posthumously.
Some of Lee's final talk-show appearances were in "The Tonight Show Starring Johnny Carson", "Our World" and "Talking Pictures".
Awards and nominations
Lee won only a single award: a 1983 Golden Boot.
Love life and marriages
Lee was married thrice. His first wife was non-celebrity American Patsy Ruth Kahle; they exchanged vows on 10 December 1943, but divorced in 1960 after having three children together: David, Deborah and Alan.
His second wife was another American non-celebrity Joan Marjorie Drane; they married on 9 April 1960 and divorced in 1974. They adopted their daughter Denise.
On 13 July 1976, Lee married his third wife, American actress and singer Barbara Havelone; she had a single acting credit, playing Pianist in the 1974 movie "El Karate el Colt y el Impostor". They remained together until Lee's death in 1989.
Interesting facts and hobbies
While building a playhouse for his daughter, Lee lost his right hand's last joint of the middle finger.
He was involved in a serious car crash in 1958, and suffered a knee injury which made his physicians believe that he would never ride a horse again; the recovery was difficult and long, and he began working as an interior designer to ignore the pain.
Lee was a talented painter, mostly into painting landscapes.
He enjoyed travelling, and visited many US states for both work and pleasure.
Lee was the inspiration for the character 'Revolver Ocelot' in the video game series "Metal Gear".
One of Lee's favorite actors was Clint Eastwood, and some of his favorite movies were "Two Mules for Sister Sara", "Kelly's Heroes" and "Play Misty for Me".
Appearance and net worth
Lee would've been 98 today. He had grey hair and one blue, one green eye, was 6ft 2ins (1.87m) tall and weighed around 180lbs (83kgs).
Lee's net worth was estimated at over $2 million, at the time of his death.