• Rob Schneider is a comedian, actor, director and screenwriter.
• He is best known for his role as Deuce Bigalow in the comedy film "Deuce Bigalow: Male Gigolo", and his tenure in the comedy sketch show "Saturday Night Live".
• Rob is currently preparing for his tour, and has recently commented on Alec Baldwin's impersonations of the US President Donald Trump as part of an "SNL" sketch.
• He has an estimated net worth of $15 million, and has been married 3 times, having a daughter and two sons.
• Rob is active on social media with over 700,000 followers on Twitter, 530,000 followers on Instagram, and 310,000 followers on Facebook.

Known for movies
Short Info
| | |
| --- | --- |
| Net Worth | $15 million, $32 million |
| Date Of Birth | October 31, 1963 |
| Spouse | Patricia Azarcoya Schneider, London King, Cheryl Strickland |
| Mark | Known for his famous line "You can do it" |
| Fact | Has a two-bedroom apartment in San Francisco in Nob Hill. |
| Payments | Earned $1,000,000 + from The Animal (2001) |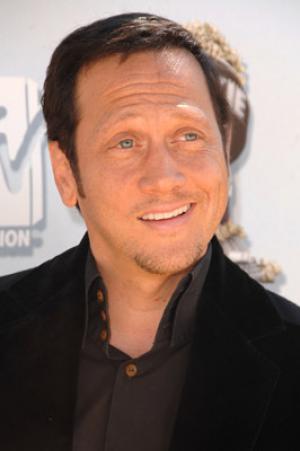 Who is Rob Schneider?
Born Robert Michael Schneider on the 31st October 1963, in San Francisco, California USA, he is a comedian, actor, director and screenwriter, probably best known to the world for his role as Deuce Bigalow in the comedy film "Deuce Bigalow: Male Gigolo", but also for his tenure in the acclaimed comedy sketch show "Saturday Night Live" from 1990 until 1994.
Where is Rob Schneider Now?
Rob is currently preparing for his tour, that will launch in late 2018, and he will perform in Sioux Falls, SD, Green Bay, Wi, and Madison, Wi on 18th, 19th, and 20th October, respectively. Most recently he was seen commenting on Alec Baldwin's impersonations of the USA President Donald Trump as part of an "SNL" sketch. Rob stated that he is displeased with Alec's performance.
Rob Schneider Bio: Early Life, Parents, and Education
The youngest of five children born to Pilar and Marvin Schneider, Rob grew up in Pacifica, a San Francisco suburb, with his siblings who include John Schneider, now a film, and television producer. Rob went to Terra Nova High School, from which he matriculated in 1982, then enrolled at San Francisco State University.
Career Beginnings
Rob launched his career during high school days; his older brother, at the time a talent agent and manager, secured him a gig as an opening act to the rock band Head On. He would slowly build up a name for himself, starting to perform in Bay Area nightclubs including The Other Café, and Holy City Zoo. As Rob improved he became a regular on local radio programs, and got a chance in 1987 to perform at the HBO's 13th Annual Young Comedians special, after serving as the opening act to Dennis Miller, who then invited him to perform at the event, hosted by Miller himself.
Saturday Night Live Period and Rise to Fame
Rob joined "SNL" soon after this breakthrough performance; he was hired as a writer firstly, but after two years started appearing in sketches and then became a full-time member of the cast. He remained a part of "SNL" until 1994, during which time he created a number of recurring characters, and became known for his impersonations of various celebrities. His most memorable recurring character was The Richmeister, an office worker who likes to give nicknames to his colleagues and annoy them. During his time in "SNL", Rob developed a close friendship with Adam Sandler, Chris Farley, Chris Rock and David Spade, and the quintet became known as The Bad Boys of SNL.
His next role was in the sci-fi action film "Judge Dredd" in 1995, portraying Fergie, and co-starring Sylvester Stallone and Armand Assante. The following year, Rob got the lead role in the TV comedy series "Man Behaving Badly" (1996-1997), and also starred in the comedy film "Down Periscope", with Kelsey Grammer and Lauren Holly. Before the end of the '90s, he had his first prominent role, as the title character in the comedy film "Deuce Bigalow: Male Gigolo".
The 2000s
Rob started the new millennium with the lead role in the sci-fi comedy film "The Animal", but which received largely negative critiques, marking the beginning of Rob's decline in popularity as an actor. He continued with mediocre films, such as the comedy film "The Hot Chick" (2002), but then in 2004 co-starred with Adam Sandler and Drew Barrymore in the film "50 First Dates", which won several awards. In 2005, the sequel to "Deuce Bigalow: Male Gigolo" was released, entitled "Deuce Bigalow: European Gigolo", but the sequel became a collateral damage to Rob's career, as it wasn't successful, and Rob received a Razzie Award for the Worst Actor. He tried to revitalize his career with the lead role in the comedy film "Big Stan" in 2007, and a supporting role in the comedy "You Don't Mess with Zohan", starring Adam Sandler, but without any major success.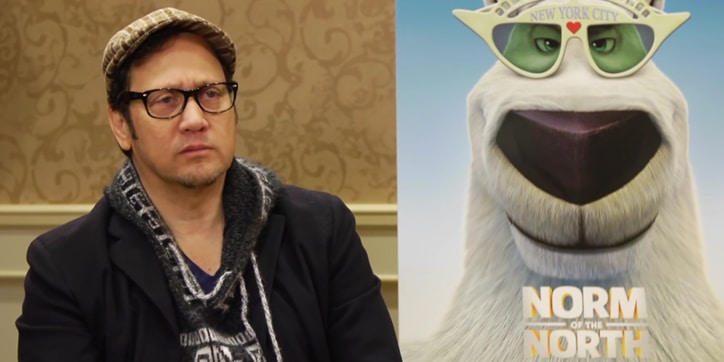 A career in Recent Years
In the 2010s, Rob has become more focused on a career as a voice actor, and has lent his voice to such characters as Zed in the animated film "Noah" (2012), then Johnny in the animated film "Outback", and in the same year also gave voice to Patrick Panda and Jim Ginseng from "The Adventures of Panda Warrior". Rob was also the voice of Shelby in the film of the same name, and Norm in the animated film "Norm of the North" in 2016. From 2015 to 2017, Rob was the subject of the reality TV series "Real Rob", alongside his wife, Patricia Maya Schneider.
Do You Know How Rich Rob Schneider Is?
Since he started his career on television, Rob has featured in over 80 film and TV titles; some of them became extremely successful, both critically and commercially, but some were notable failures, although they all benefited his net worth. So, have you ever wondered how rich Rob Schneider is, as of mid- 2018? According to authoritative sources, it has been estimated that
Rob Schneider's net worth
is as high as $15 million. Pretty decent don't you think?
Do You Know About Rob's Personal Life, Affairs, Marriage, Children?
Rob has married three times; his first wife was London King, with whom he has a daughter, Elle King, a famous musician born in 1989. He then married Helena in 2002, but they divorced in 2005, and since 2011, he has been married to Patricia Maya Arce, a film and television producer; the couple has welcomed two children.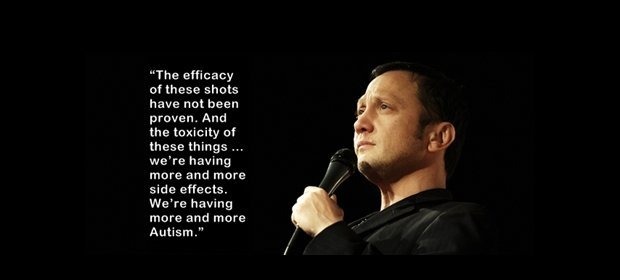 Fight Against Children Vaccination
Rob has many times stated his criticism on childhood vaccination, making him one of those people who believe that vaccinations causes autism, despite proven scientific researches. He has supported two California laws on this topic, but his efforts weren't successful, and children vaccinations are still obligatory in the state.
Philanthropic Activities
Back in 1996, Rob established the Rob Schneider Music Foundation, which has since been focused on providing music equipment and salaries for teachers in Pacifica's elementary school. Before the Rob Schneider Music Foundation was established, the schools in Pacifica's area didn't have music education.
https://twitter.com/RobSchneider/status/993536386811682816
Rob Schneider's Wife, Patricia Maya Schneider
Born Patricia Maya Azarcoya in Mexico in the mid- '80s, she is a TV and film actress, and producer. She started her career as a model, but was eventually given a chance to become an actress in her native Mexico. As a result, she served as a producer on several Mexican projects, such as TV series "El Monchis" in 2007, and "El Pelade De la Noche" in 2012, and once married to Rob, she produced the reality series "Real Rob" (2015-2017). She will star in the upcoming drama film "Planeta 5000" as Olga.
Is Rob on Social Media?
Rob has extended his popularity from television and stage to social media platforms. He can be found on Facebook, Instagram and Twitter as well, and already has a decent number of fans. His official Facebook page has over 310,000 followers, while on Instagram Rob has more than 530,000 fans, and on Twitter over 700,000 followers and has used his popularity on this social network to promote his most recent career endeavors, but also his daughter's accomplishments, such as the new song "Shame". So, if you aren't already a fan of this prominent comedian, actor, director, and writer, then this is a fantastic opportunity for you to become one, just skip over to his official pages.
General Info
| | |
| --- | --- |
| Full Name | Rob Schneider |
| Net Worth | $15 million, $32 million |
| Date Of Birth | October 31, 1963 |
| Height | 1.7 m, 1.91 m |
| Weight | 79 kg |
| Profession | Screenwriter, Television producer, Comedian, Film producer, Voice Actor, Film director |
| Education | Terra Nova High School, DePaul University, Oak Hill Academy |
| Nationality | American, American |
Family
| | |
| --- | --- |
| Spouse | Patricia Azarcoya Schneider, London King, Cheryl Strickland |
| Children | Elle King, Miranda Scarlett Schneider, Tai Strickland, Terell Strickland, Torin Strickland, Tanner Strickland |
| Parents | Pilar Schneider, Marvin Schneider |
| Siblings | John Schneider, April Schneider, Byron Strickland |
Accomplishments
| | |
| --- | --- |
| Awards | Prix Médicis étranger |
| Music Groups | The Apples in Stereo, Major Organ and the Adding Machine, Ulysses, Signal in the Sky, That's My Family, Energy |
| Nominations | Primetime Emmy Award for Outstanding Writing - Variety Series, Teen Choice Award for Choice Movie: Chemistry, MTV Movie Award for Sexiest Performance |
| Movies | The Hot Chick, Grown Ups, The Animal, 50 First Dates, Big Stan, Norm of the North, Deuce Bigalow: European Gigolo, Home Alone 2: Lost in New York, You Don't Mess with the Zohan, Deuce Bigalow: Male Gigolo, The Benchwarmers, The Ridiculous 6, Big Daddy, The Waterboy, I Now Pronounce You Chuck & Larry... |
| TV Shows | Rob, Men Behaving Badly, Real Rob, Jancis Robinson's Wine Course |
Social profile links
Marks
| # | Marks / Signs |
| --- | --- |
| 1 | Often plays characters of different nationalities |
| 2 | Frequently appears in Adam Sandler films either with a large role or a small cameo. |
| 3 | Known for his famous line "You can do it" |
Salary
Quotes
| # | Quote |
| --- | --- |
| 1 | You know you're successful in show business when people start suing you. Now there's another level to it. When people start saying you're dead. |
| 2 | [on stand-up comedy] I'm still figuring it out. I delve into what's interesting to me. The fact that 400 people in America make more money combined than the 150 million people at the lower end of the tier is pretty outrageous. But where's the joke? People aren't going there to hear what I think about politics. They wanna laugh. I talk about my marriage, my family and stuff that people can, hopefully, relate to. |
| 3 | "People don't ask Andre Agassi, 'You know you're the No. 1 tennis player in the world ... have you thought about polo?'" - When asked if he'd ever consider a dramatic role. |
| 4 | (On why he chose to leave Saturday Night Live (1975) in 1994 after four seasons): "It was time to graduate". |
| 5 | The real reason I decided on show business was to avoid a day job. |
Facts
| # | Fact |
| --- | --- |
| 1 | Welcomed his third daughter, Madeline Robbie Schneider, on September 14, 2016. Her mother is Schneider's third wife, Patricia Schneider. |
| 2 | After securing Macaulay Culkin, Joe Pesci and Daniel Stern for Home Alone (1990), Chris Columbus felt confident enough to cast actors who were his heroes growing up like Catherine O'Hara after seeing her work on SCTV (1976), as well as John Heard and then Tim Curry and Schneider on Home Alone 2: Lost in New York (1992) because they were all open to the films. |
| 3 | (November 16, 2012) Has a daughter, Miranda Scarlett Schneider with his third wife, Patricia Schneider. |
| 4 | Huge fan of the San Fransisco 49ers. |
| 5 | Can often be seen in San Francisco having lunch with old friends in corner delis. |
| 6 | Republican. |
| 7 | Schneider got into a vocal feud with film critic Patrick Goldstein for his derisive opinion of his films by questioning his fitness to comment because he didn't win any journalistic awards. Another film critic, Roger Ebert, entered the argument by noting that he himself won a Pulitizer Prize for his film criticism and thus felt entitled to say to Schneider, "Your film sucks." Despite the conflict, when Ebert fell seriously ill, Schneider sent a large bouquet of flowers with a note saying "Your least favorite actor, Rob Schneider." Ebert was deeply moved by his gesture and noted that Schneider was a good man despite the quality of his films and hoped to see him in a good film he could praise. |
| 8 | Featured in the song, "Original Prankster", by The Offspring, with his trademark line, "You can do it". |
| 9 | [July 24, 2007] Appeared in drag as actress Lindsay Lohan on The Tonight Show with Jay Leno (1992) when Lohan cancelled. |
| 10 | Is good friends with actor Adam Sandler. |
| 11 | Is a San Francisco Giants fan |
| 12 | Daughter Elle Elle King appeared in Deuce Bigalow: Male Gigolo (1999) as a Girl of America selling cookies. |
| 13 | [1996] Was an emergency guest on The Tonight Show with Jay Leno (1992) when Charlie Sheen suddenly canceled on the day he was scheduled. Schneider was in the adjacent studio taping Men Behaving Badly (1996) when he gladly accepted the request to take Sheen's place on very short notice. |
| 14 | Attended WWE's WrestleMania 21 (2005) in April 2005. |
| 15 | He and comedian Adam Sandler are close friends, appearing in one another's movies: The Hot Chick (2002), The Animal (2001), Little Nicky (2000), and Big Daddy (1999), among others. |
| 16 | His mother, Pilar Schneider, appeared in his films The Hot Chick (2002), as the head judge at the cheerleading conference, and The Animal (2001), as Mrs. De La Rosa. |
| 17 | Drives a silver Porsche Carerra cabriolet identical to the one he drove in Deuce Bigalow: Male Gigolo (1999). |
| 18 | His mother, Pilar Schneider, is featured in a cameo role in Deuce Bigalow: Male Gigolo (1999)--as the old woman at the restaurant Deuce goes to for his blind date with Kate (Arija Bareikis). |
| 19 | Has a daughter, Elle Tanner Schneider (Elle King) (born 1989) with ex-wife London King. |
| 20 | Has a collection of Hawaiian shirts. |
| 21 | His brother, John Schneider, previously served as his manager. |
| 22 | Has a treasured painting of Jack Lord of Hawaii Five-O (1968), whom he saw crossing a lobby while on a family vacation in Oahu when he was 8. He found the portrait in a vintage shop in San Francisco. |
| 23 | Inspired by the work of Monty Python, Richard Pryor, Gene Wilder, and Peter Sellers. |
| 24 | Has nearly 50 celebrity impersonations and odd voices. |
| 25 | Saturday Night Live (1975) producer Lorne Michaels spotted Rob on HBO's The 13th Annual Young Comedians Special (1989) in 1990 and signed him up as a writer on SNL. |
| 26 | He honed his act at San Francisco comedy clubs opening for the likes of Jay Leno, Jerry Seinfeld, and Dana Carvey. |
| 27 | His apartment is surrounded by 1950s rattan furniture, a tiki lamp, and a pair of Eskimo snowshoes. |
| 28 | Has a passion for collecting stuff. |
| 29 | Spends many of his evenings hanging out with his pals working on scripts. |
| 30 | Has a two-bedroom apartment in San Francisco in Nob Hill. |
| 31 | Got his first break with an appearance on Late Night with David Letterman (1982) in 1987. |
| 32 | Has a sister named April Schneider, born in 1959. |
| 33 | His father, Marvin Schneider, was a real-estate broker. |
| 34 | His mother, Pilar Schneider, is a former elementary school teacher who at one time served on Pacifica's school board. |
| 35 | Youngest of five children. |
| 36 | Graduated from Pacifica's Terra Nova High School. |
| 37 | Rob's paternal grandfather, Solomon Schneider, was a Polish Jewish immigrant (from Galicia), while Rob's paternal grandmother, Ann Molly Hoffman, was a Russian Jewish immigrant. Rob's maternal grandfather, Ulysses Stanley Monroe, who was born in Michigan, had Scottish and English ancestry, while Rob's maternal grandmother, Victoria Estacio, was a Filipino (Rob's maternal grandparents had met when his grandfather was in the army). Rob grew up in the San Francisco suburb of Pacifica, in the area known as Park Pacifica, or "the back of the valley". |
| 38 | Likes to wear 1970s clothes. |
Pictures
Movies
Actor
| Title | Year | Status | Character |
| --- | --- | --- | --- |
| Sandy Wexler | 2017 | post-production | |
| Norm of the North | 2016 | | Norm (voice) |
| Hitting the Breaks | 2016 | TV Series | Rupert Kalkbrenner |
| The Ridiculous 6 | 2015 | | Ramon |
| Real Rob | 2015 | TV Series | Rob |
| Pups United | 2015 | | Benny (voice) |
| OMG, I'm a Robot! | 2015 | | Robo Joseph |
| Back to the Jurassic | 2015 | | Dodger (voice) |
| Minutes with Max Amini | 2014 | TV Series 2014 | |
| Shelby | 2014 | | Shelby (voice) |
| Wings: Sky Force Heroes | 2014 | | Fred (voice) |
| Hot in Cleveland | 2014 | TV Series | Chill |
| Jungle Shuffle | 2014 | | Chuy / Great Monkey / Dr. Loco / ... (voice) |
| Frog Kingdom | 2013 | | Additional Voices (voice) |
| Inside Amy Schumer | 2013 | TV Series | Rich |
| InAPPropriate Comedy | 2013 | | J.D. Psychologist |
| The Little Penguin Pororo's Racing Adventure | 2013 | | Toto (English version, voice) |
| Dino Time | 2012 | | Dodger (voice) |
| The Reef 2: High Tide | 2012 | | Bart / Bud / Doom / ... (voice) |
| The Adventures of Panda Warrior | 2012 | | Patrick Panda / Jimmy Ginseng (voice) |
| Wings | 2012 | | Dodo (English version, voice) |
| Betty White's Off Their Rockers | 2012 | TV Series | |
| Rob | 2012 | TV Series | Rob |
| The Outback | 2012 | | Johnny (voice) |
| Noah | 2012/III | | Zed (voice) |
| Don gato y su pandilla | 2011 | | Lou Strickland (English version, voice) |
| You May Not Kiss the Bride | 2011 | | Ernesto |
| Elf Sparkle and the Special Red Dress | 2010 | TV Movie | Elf Figgy Puddin (voice) |
| The Chosen One | 2010 | | Paul |
| Grown Ups | 2010 | | Rob Hilliard |
| American Virgin | 2009 | | Ed Curtzman |
| Wild Cherry | 2009 | | Nathan McNicol |
| Bedtime Stories | 2008 | | Chief Running Mouth Pickpocket |
| You Don't Mess with the Zohan | 2008 | | Salim |
| American Crude | 2008 | | Bill |
| Big Stan | 2007 | | Big Stan |
| The Tonight Show with Jay Leno | 2007 | TV Series | Lindsay Lohan |
| I Now Pronounce You Chuck & Larry | 2007 | | Asian Minister (uncredited) |
| Legend of the Sea | 2007 | Video voice | |
| Juliana and the Medicine Fish | 2007 | Short | |
| Littleman | 2006 | | Dinosaur Rex (uncredited) |
| Shark Bait | 2006 | | Pelican Indian Crab Bart ... (voice) |
| Click | 2006 | | Prince Habeeboo (uncredited) |
| The Benchwarmers | 2006 | | Gus |
| Grandma's Boy | 2006 | | Yuri |
| Deuce Bigalow: European Gigolo | 2005 | | Deuce Bigalow |
| Back to Norm | 2005 | TV Movie | Various |
| The Longest Yard | 2005 | | Punky |
| Around the World in 80 Days | 2004 | | San Francisco Hobo |
| 50 First Dates | 2004 | | Ula |
| Reel Comedy | 2004 | TV Series | Ula |
| The Electric Piper | 2003 | TV Movie | Rinky-Dink-Dink (voice) |
| The Hot Chick | 2002 | | Jessica |
| Eight Crazy Nights | 2002 | | Chinese Waiter / Narrator (voice) |
| Mr. Deeds | 2002 | | Nazo, the Italian Delivery Man (uncredited) |
| The Mummy Parody | 2001 | TV Short | Imhotep |
| The Animal | 2001 | | Marvin |
| Little Nicky | 2000 | | The Townie |
| Deuce Bigalow: Male Gigolo | 1999 | | Deuce Bigalow |
| Muppets from Space | 1999 | | TV Producer |
| Big Daddy | 1999 | | Delivery Guy |
| Ally McBeal | 1998 | TV Series | Ross Fitzsimmons |
| The Waterboy | 1998 | | Townie |
| Susan's Plan | 1998 | | Steve |
| Knock Off | 1998 | | Tommy Hendricks |
| Men Behaving Badly | 1996-1997 | TV Series | Jamie Coleman |
| Sammy the Screenplay | 1997 | Video short | The Agent |
| A Fork in the Tale | 1997 | Video Game | Delivery Guy |
| The Adventures of Pinocchio | 1996 | Video Game | Volpe |
| The Adventures of Pinocchio | 1996 | | Volpe |
| Seinfeld | 1996 | TV Series | Bob |
| Down Periscope | 1996 | | Marty Pascal |
| Judge Dredd | 1995 | | Fergie |
| Saturday Night Live | 1990-1994 | TV Series | Various / Richard Laymer / Customer / ... |
| The Beverly Hillbillies | 1993 | | Woodrow Tyler |
| Demolition Man | 1993 | | Erwin (uncredited) |
| Surf Ninjas | 1993 | | Iggy |
| Home Alone 2: Lost in New York | 1992 | | Bellman |
| Necessary Roughness | 1991 | | Chuck Neiderman |
| Coach | 1990-1991 | TV Series | Leonard Kraleman |
| Martians Go Home | 1989 | | Voyeur Martian |
| 227 | 1989 | TV Series | Jeremy |
Writer
| Title | Year | Status | Character |
| --- | --- | --- | --- |
| Real Rob | 2015 | TV Series written by - 8 episodes | |
| Rob | | TV Series created by - 7 episodes, 2012 creator - 1 episode, 2012 written by - 1 episode, 2012 | |
| The Chosen One | 2010 | | |
| Deuce Bigalow: European Gigolo | 2005 | characters / screenplay / story | |
| The Hot Chick | 2002 | written by | |
| The Animal | 2001 | screenplay | |
| Saturday Night Live: The Best of Adam Sandler | 1999 | TV Special documentary | |
| Deuce Bigalow: Male Gigolo | 1999 | written by | |
| Saturday Night Live: The Best of Chris Farley | 1998 | TV Special documentary | |
| The Bad Boys of Saturday Night Live | 1998 | TV Special documentary | |
| Sports Illustrated: Swimsuit '97 | 1997 | TV Special | |
| Saturday Night Live | 1989-1992 | TV Series writer - 57 episodes | |
Miscellaneous
| Title | Year | Status | Character |
| --- | --- | --- | --- |
| Vaxxed: From Cover-Up to Catastrophe | 2016 | Documentary contributor | |
| Men Behaving Badly | 1996-1997 | TV Series creative consultant - 35 episodes | |
Producer
| Title | Year | Status | Character |
| --- | --- | --- | --- |
| Hitting the Breaks | 2016 | TV Series consulting producer - 6 episodes | |
| Real Rob | 2015 | TV Series executive producer - 8 episodes | |
| Rob | 2012 | TV Series co-executive producer - 8 episodes | |
| The Chosen One | 2010 | producer | |
| Big Stan | 2007 | producer | |
| The Animal | 2001 | co-producer | |
Director
| Title | Year | Status | Character |
| --- | --- | --- | --- |
| Real Rob | 2015 | TV Series 8 episodes | |
| Max Amini: Authentically Absurd | 2015 | | |
| The Chosen One | 2010 | | |
| Big Stan | 2007 | | |
Soundtrack
| Title | Year | Status | Character |
| --- | --- | --- | --- |
| 50 First Dates | 2004 | writer: "Ula's Luau Song" | |
| Ally McBeal | 1998 | TV Series performer - 1 episode | |
| Men Behaving Badly | 1997 | TV Series performer - 1 episode | |
| Saturday Night Live | 1992-1993 | TV Series performer - 2 episodes | |
| The Larry Sanders Show | 1993 | TV Series writer - 1 episode | |
Thanks
| Title | Year | Status | Character |
| --- | --- | --- | --- |
| Torrente 4 | 2011 | special thanks from the director: moral support | |
| Study Hall | 2004 | Short special thanks | |
| Talkin' Pidgin: Hawaiian Slang | 2004 | Video short special thanks | |
Self
| Title | Year | Status | Character |
| --- | --- | --- | --- |
| Game Grumps | 2016 | TV Series short | Himself |
| WGN Morning News | 2016 | TV Series | Himself |
| Noches Con Platanito | 2016 | TV Series | Himself |
| Absolutely Jason Stuart | 2016 | TV Series | Himself |
| The Playboy Morning Show | 2012-2016 | TV Series | Himself |
| Made in Hollywood | 2015 | TV Series | Himself |
| Today | 2015 | TV Series | Himself |
| Jimmy Kimmel Live! | 2004-2015 | TV Series | Himself |
| Max Amini: Authentically Absurd | 2015 | | Himself |
| Stand Up and Deliver | 2014 | TV Series | Himself - Comedian |
| 3 Still Standing | 2014 | Documentary | Himself |
| Wings: Sky Force Heroes - Bringing the Characters to Life | 2014 | Video short | Himself |
| The Little Penguin Pororo's Racing Adventure: Giving the Characters a Voice | 2014 | Video documentary short | Himself |
| Wings: Giving the Characters a Voice - At the Recording Studio | 2013 | Video short | Himself |
| Rob Schneider: Soy Sauce and the Holocaust | 2013 | TV Movie | Himself |
| El pelado de la noche | 2012 | TV Series | Himself |
| The Tonight Show with Jay Leno | 1993-2012 | TV Series | Himself |
| Late Show with David Letterman | 1995-2012 | TV Series | Himself / Himself - Guest |
| Howard Stern on Demand | 2009-2012 | TV Series | Himself |
| The Talk | 2012 | TV Series | Himself - Guest Host |
| The 38th Annual People's Choice Awards | 2012 | TV Special | Himself |
| Rove LA | 2012 | TV Series | Himself |
| The 37th Annual People's Choice Awards | 2011 | TV Special | Himself |
| Janela Indiscreta | 2010 | TV Series | Himself |
| Mark at the Movies | 2010 | TV Series | Himself |
| Loose Women | 2010 | TV Series | Himself |
| Breakfast | 2010 | TV Series | Himself - Comedian and Actor |
| In the House with Peter Bart & Peter Guber | 2010 | TV Series | |
| 2010 MTV Movie Awards | 2010 | TV Special | Himself - Presenter |
| Entertainment Tonight | 2009-2010 | TV Series | Himself |
| Mike & Mike | 2010 | TV Series | Himself - Guest |
| Larry King Live | 2009 | TV Series | Himself |
| Comedy Is Pain | 2009 | Video documentary short | Himself |
| Odds & Ends | 2009 | Video documentary short | Himself |
| Late Night with Jimmy Fallon | 2009 | TV Series | Himself |
| E.S.L.: Entertainment as a Second Language | 2009 | TV Series | Himself |
| Días de cine | 2009 | TV Series | Himself |
| El hormiguero | 2009 | TV Series | Himself - Guest |
| Out of the Question | 2008 | TV Series | Himself |
| Inside MMA | 2008 | TV Series | Himself - Guest |
| Getaway | 2008 | TV Series | Himself |
| Up Close with Carrie Keagan | 2008 | TV Series | Himself |
| Late Night with Conan O'Brien | 1993-2008 | TV Series | Himself |
| 2008 Asian Excellence Awards | 2008 | TV Movie documentary | |
| Night of Too Many Stars: An Overbooked Concert for Autism Education | 2008 | TV Movie | Himself |
| Balls of Steel | 2007 | TV Series | Himself |
| Legends: Rodney Dangerfield | 2006 | TV Movie | Himself |
| Rome Is Burning | 2006 | TV Series | Himself |
| 2006 Asian Excellence Awards | 2006 | TV Special | Himself - Presenter |
| The Paul O'Grady Show | 2005 | TV Series | Himself |
| Dancing with the Stars | 2005 | TV Series | Himself |
| Otro rollo con: Adal Ramones | 2004-2005 | TV Series | Himself |
| The Teen Choice Awards 2005 | 2005 | TV Special | Himself - Host |
| The Andy Milonakis Show | 2005 | TV Series | Himself |
| The View | 2005 | TV Series | Himself |
| Live with Kelly and Michael | 2005 | TV Series | Himself |
| Reel Comedy | 2005 | TV Series | Himself |
| Cold Pizza | 2005 | TV Series | Himself - Guest Interviewee |
| WWE Raw | 2005 | TV Series | Himself |
| 2005 MTV Movie Awards | 2005 | TV Special | Himself - Presenter |
| MTV Movie Awards 2005 Pre-Show | 2005 | TV Special | Himself |
| Total Request Live | 2005 | TV Series | Himself |
| WrestleMania 21 | 2005 | TV Special | Himself |
| MTV Spring Break: Cancun 2005 | 2005 | TV Movie | Himself |
| Live from New York: The First 5 Years of Saturday Night Live | 2005 | TV Special documentary | Himself |
| The Dating Scene | 2004 | Video documentary short | Himself |
| Howard Stern | 2004 | TV Series | Himself |
| Big Brother VIP: México | 2004 | TV Series | Himself |
| The Sharon Osbourne Show | 2004 | TV Series | Himself |
| Last Call with Carson Daly | 2002-2004 | TV Series | Himself |
| Ellen: The Ellen DeGeneres Show | 2004 | TV Series | Himself - Guest |
| Real Time with Bill Maher | 2004 | TV Series | Himself |
| On-Air with Ryan Seacrest | 2004 | TV Series | Himself |
| HBO First Look | 1999-2004 | TV Series documentary | Himself |
| Tinseltown TV | 2004 | TV Series | Himself |
| Kid Notorious | 2003 | TV Series | Himself |
| Primetime Glick | 2003 | TV Series | Himself |
| Cinemagazine | 2003 | TV Series | Himself |
| RI:SE | 2003 | TV Series | Himself |
| The Late Late Show with Craig Kilborn | 1999-2003 | TV Series | Himself |
| Elvis Lives | 2003 | TV Special | Himself |
| The Daily Show | 1999-2002 | TV Series | Himself |
| Saturday Night Live | 1992-2002 | TV Series | Himself / guard |
| Biography | 2002 | TV Series documentary | Himself - Cast Member, Saturday Night Live |
| The N.Y. Friars Club Roast of Hugh Hefner | 2001 | TV Special | Himself |
| The Panel | 2001 | TV Series | Himself |
| Rove Live | 2001 | TV Series | Himself |
| 2001 MTV Movie Awards | 2001 | TV Special | Himself |
| Weakest Link | 2001 | TV Series | Himself |
| Comedy Central Canned Ham | 2000-2001 | TV Series | Himself |
| Intimate Portrait | 2001 | TV Series documentary | Himself |
| Nickelodeon Kids' Choice Awards | 2001 | TV Special | Himself |
| Playboy Exposed: Playboy Mansion Parties Uncensored | 2001 | Video documentary | Himself |
| Dennis Miller Live | 2000 | TV Series | Himself |
| The 11 O'Clock Show | 2000 | TV Series | Himself |
| Saturday Night Live: The Best of Dana Carvey | 1999 | TV Special | Himself / Various Characters |
| Saturday Night Live 25 | 1999 | TV Special documentary | Himself - Audience Member (uncredited) |
| 1999 Blockbuster Entertainment Awards | 1999 | TV Special | Himself |
| Sin City Spectacular | 1998 | TV Series | Himself |
| Sports Illustrated: Swimsuit '97 | 1997 | TV Special | Host |
| Jeopardy! | 1997 | TV Series | Himself - Celebrity Contestant |
| The Rosie O'Donnell Show | 1996 | TV Series | Himself |
| 1996 Blockbuster Entertainment Awards | 1996 | TV Movie documentary | Himself - Presenter |
| The Making of Home Alone 2: Lost in New York | 1992 | TV Movie documentary | Himself |
| The 43rd Annual Primetime Emmy Awards | 1991 | TV Special | Himself - Presenter |
| The 13th Annual Young Comedians Special | 1989 | TV Special | Himself |
| Late Night with David Letterman | 1987-1988 | TV Series | Himself |
Archive Footage
| Title | Year | Status | Character |
| --- | --- | --- | --- |
| Live from New York! | 2015 | Documentary | Himself (uncredited) |
| Saturday Night Live | 2009 | TV Series | Himself |
| Saturday Night Live Sports Extra '09 | 2009 | TV Special | Boy at Donkey Camp (uncredited) |
| Comedy Club Shoot-Out: Vol. 1 | 2006 | Video | Himself |
| Seinfeld: Inside Look | 2006 | TV Series documentary short | Bob |
| Saturday Night Live: The Best of David Spade | 2005 | TV Special | Various (uncredited) |
| Saturday Night Live: The Best of Alec Baldwin | 2005 | TV Special documentary | Himself / Various Characters (uncredited) |
| The Aristocrats | 2005 | Documentary | Himself (uncredited) |
| Saturday Night Live: The Best of Tom Hanks | 2004 | TV Special | Himself / Various |
| 101 Most Unforgettable SNL Moments | 2004 | TV Movie | Himself |
| Saturday Night Live: The Best of Christopher Walken | 2004 | TV Special | Bob from Accounting (uncredited) |
| Saturday Night Live Christmas 2002 | 2002 | TV Special | Himself (uncredited) |
| Saturday Night Live: Game Show Parodies | 2000 | TV Special | Billy Travis (uncredited) |
| Saturday Night Live: The Best of Adam Sandler | 1999 | TV Special documentary | Various Characters (uncredited) |
| SNL: 25 Years of Music | 1999 | TV Movie | Various |
| Saturday Night Live: The Best of Chris Farley | 1998 | TV Special documentary | Various Characters (uncredited) |
| Saturday Night Live: The Best of Mike Myers | 1998 | Video documentary | Adolph Hitler (uncredited) |
| Saturday Night Live: The Best of Phil Hartman | 1998 | TV Special documentary | Himself / Various Characters (uncredited) |
| Saturday Night Live: The Best of Steve Martin | 1998 | TV Special | Himself (uncredited) |
| The Bad Boys of Saturday Night Live | 1998 | TV Special documentary | Himself / Various Characters |
Awards
Won Awards
| Year | Award | Ceremony | Nomination | Movie |
| --- | --- | --- | --- | --- |
| 2006 | Razzie Award | Razzie Awards | Worst Actor | Deuce Bigalow: European Gigolo (2005) |
Nominated Awards
| Year | Award | Ceremony | Nomination | Movie |
| --- | --- | --- | --- | --- |
| 2011 | Razzie Award | Razzie Awards | Worst Supporting Actor | Grown Ups (2010) |
| 2010 | Razzie Award | Razzie Awards | Worst Actor of the Decade | The Animal (2001) |
| 2008 | Razzie Award | Razzie Awards | Worst Supporting Actor | I Now Pronounce You Chuck & Larry (2007) |
| 2007 | Razzie Award | Razzie Awards | Worst Actor | The Benchwarmers (2006) |
| 2006 | MTV Movie Award | MTV Movie Awards | Sexiest Performance | Deuce Bigalow: European Gigolo (2005) |
| 2006 | Razzie Award | Razzie Awards | Worst Screen Couple | Deuce Bigalow: European Gigolo (2005) |
| 2006 | Razzie Award | Razzie Awards | Worst Screenplay | Deuce Bigalow: European Gigolo (2005) |
| 2006 | Teen Choice Award | Teen Choice Awards | Movies - Choice Chemistry | The Benchwarmers (2006) |
| 2005 | Stinker Award | The Stinkers Bad Movie Awards | Worst Actor | Deuce Bigalow: European Gigolo (2005) |
| 2002 | Stinker Award | The Stinkers Bad Movie Awards | Worst Fake Accent: Male | Eight Crazy Nights (2002) |
| 2000 | Blockbuster Entertainment Award | Blockbuster Entertainment Awards | Favorite Actor - Comedy | Deuce Bigalow: Male Gigolo (1999) |
| 2000 | Razzie Award | Razzie Awards | Worst Supporting Actor | Big Daddy (1999) |
| 1992 | Primetime Emmy | Primetime Emmy Awards | Outstanding Individual Achievement in Writing in a Variety or Music Program | Saturday Night Live (1975) |
| 1991 | Primetime Emmy | Primetime Emmy Awards | Outstanding Writing in a Variety or Music Program | Saturday Night Live (1975) |
| 1990 | Primetime Emmy | Primetime Emmy Awards | Outstanding Writing in a Variety or Music Program | Saturday Night Live (1975) |
Source:
IMDb
,
Wikipedia