• Demetria Obilor is a traffic anchor and journalist
• She has a net worth estimated at close to $1 million
• She is of Nigerian descent and graduated with a degree in Broadcast Journalism
• She is active on social media, promoting her current projects and advocacies
• She entered and won a fashion competition in Las Vegas' Container Park Fashion Show
 
Who is Demetria Obilor?
Demetria Obilor was born on 29 March 1991, in Kansas City, Missouri USA, and is a traffic anchor and journalist, best known for her work on the ABC Dallas show "Day Break" as the Traffic Ensemble Anchor.
The Riches of Demetria Obilor
How rich is Demetria Obilor? As of mid-2018, sources estimate a net worth that is close to $1 million, mostly earned through a successful career in journalism during this decade. She's worked for several television stations throughout her career, and as she continues her endeavors, it is expected that her wealth will also continue to increase.
Early Life and Education
Demetria is of Nigerian descent from her father's side, and while she was born in Kansas City, her family later moved to Las Vegas during her high school years. After matriculating from high school, she attended Johnson County Community College for a year before going to the University of Kansas where she studied Broadcast Journalism, and completed her degree in 2012.
During her time at University, she worked at the student television station named KUJH which she did special news updates which often featured stories from the campus newspaper called "The Daily Kansan". She also operated the teleprompter and audio board for various other news shows of the station. With the start of her professional journalism career, she began working with KHSB-TV, initially as a production technician for a year before transitioning to a traffic reporter. After her run with that network, she then tried her hand at various news stations located in the Las Vegas area.
Traffic Reporting
Obilor would work with KLAS-TV in Las Vegas, before moving to WFAA located in Dallas. In 2014, she became an anchor for the CBS Channel 8 stationed in Las Vegas which led to her hosting her own social media segment, entitled "Trending Now". She also hosted the franchised segment entitled "What's Driving You Crazy?" She stayed with the station for the next three years, before working on the show "Day Break" – a part of WFAA – as a Traffic Ensemble Anchor meaning she reported on traffic in the area. She was also responsible for a segment entitled "Speed Feed".
that part ?? pic.twitter.com/VDU0xQ1vmS

— Demetria Obilor (@DemetriaObilor) June 23, 2018
Body Image Controversy
A controversy about Demetria's body began
when a woman named Jan Shedd published an angry post on Facebook about the shape of her body. She went on to criticize the network for their dress code, allowing a woman of her size to wear a size six dress, stating that she wouldn't be watching that channel anymore because they were employing Demetria. The post caused a lot of backlash against Jan, as many online denizens posted in support of Demetria even causing some celebrities to speak out.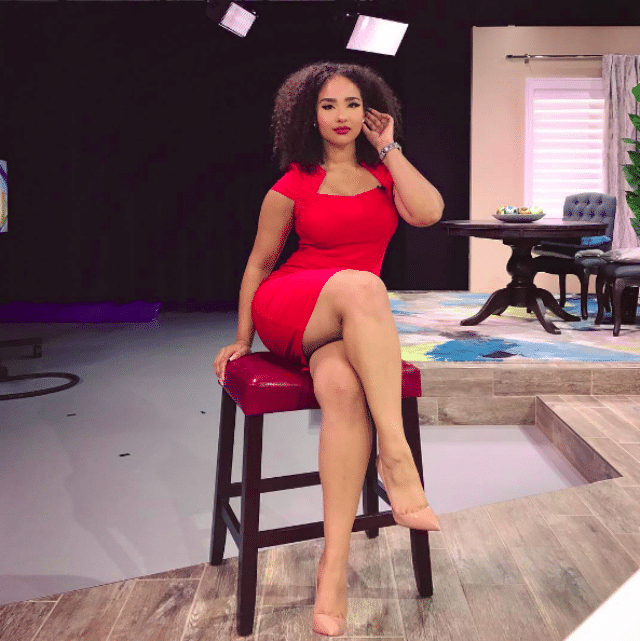 Demetria responded that women of color are often criticized far more for how they look compared to white women. She also mentioned that this is the way she is, and if people don't like it then they can look for other options. She also thanked all of her supporters, grateful to all the people who defended her. The criticism has even gone so far as to backfire since her popularity increased even further thanks to how these posts became viral.
Personal Life
In terms of relationships, not much is known about Obilor's romantic life though it is likely that she is more focused on her work in this stage of her life. She mentioned that she has three brothers, and during her free time loves spending it with her family. She also loves travelling and watching movies, particularly horror films. Her favorite color is red and she prefers to eat spicy food as much as possible. She also entered a fashion competition, and won grand prize as well as the People's Choice Awards during the Las Vegas' Container Park Fashion Show.
Demetria Obilor on Social Media
Similar to numerous other journalism personalities, Demetria is very active online through accounts on various social media websites, including Instagram, Facebook and Twitter. She posts a lot of her daily endeavors online, including behind the scenes photos while at work, as well as photos and videos of her alongside her family. She also uses her online platforms to promote her current projects, and her advocacies on supporting the black community. Numerous segments of her are also available on her Facebook page, and on YouTube which mainly contains videos of her on set.
Source:
IMDb
,
Wikipedia