Born under the sign of Capricorn on 18 January 2003, in Encinitas, California USA, Rayna 'Rayray' Vallandingham is a 20-year-old martial artist and actress of Hindu origins. She's probably most famous around the world thanks to her unchallenged dominance in the discipline of taekwondo, but cinephiles recognize her much easier through the film "Underdog Kids," while she's also starred in a music video – she's enjoyed relative success in the entertainment industry ever since entering it in 2015.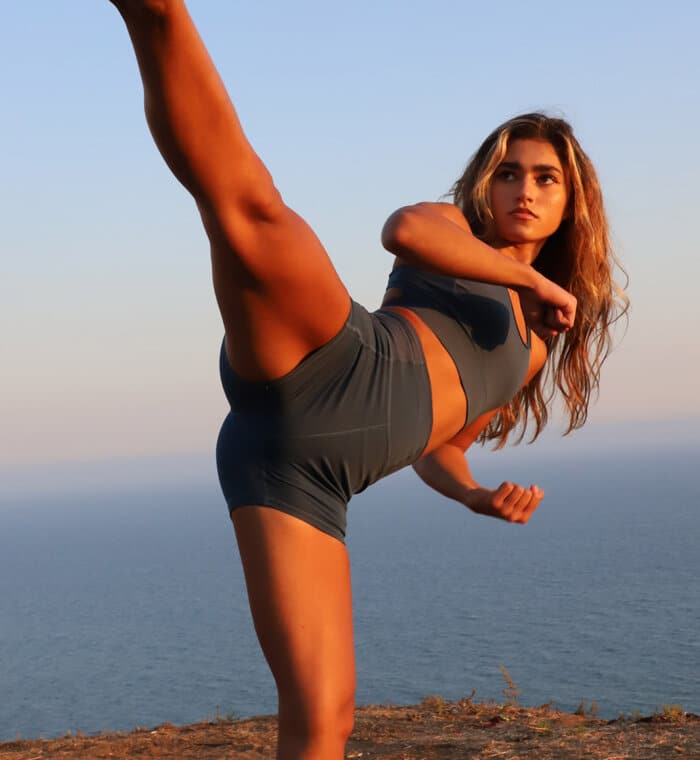 Early life and education: Who are Rayna's parents?
Rayna is apparently an only child, raised by her father Jeff and Hindu mother Joty Vallandingham, both of as yet unknown professions. What can be said without a doubt regarding the pair who raised her is that they've always been supportive of their daughter's aspirations, allowing her to fully experience whatever she's set her eyes upon. She exhibited a great affinity for martial arts from very early on, and Jeff and Joty didn't even think twice about having her attend a dojo.
One thing led to another, and Rayna's talent began to come through as soon as her developing physique would allow, besting most children her age in combat on the mat. Aside from that, however, there was also the fantasy of one day appearing on TV, and her parents fostered that dream as well.
She attended Nativity Catholic School in Fairbanks Ranch in her birth state, excelling in all sports-related activities. The future actress matriculated from there in 2021, and apparently went after a TV screen presence instead of higher education.
Career: Knocking out the competition
Rayna Vallandingham has forged a remarkable career, earning recognition as the youngest black belt martial artist to clinch a staggering 13 world championship titles. Her journey to the pinnacle of combat excellence began in 2011, when as a mere 8-year=old, she achieved a feat that would leave the world in awe. The menacing child secured four world titles in Little Rock, Arkansas – a true Triple Crown in traditional arts, excelling in Forms, Weapons, Sparring, and Creative Weapons. In a remarkable display of prowess, she became the youngest black belt ever to conquer the championship, facing competitors who were not only significantly larger, but also years her seniors.
The following year Rayna's star continued to rise as she seized an additional six world championships. Her remarkable victories included another Triple Crown in Traditional martial arts, Creative Weapons, XMA Forms, and XMA Weapons. These accomplishments marked her as a prodigy in the martial arts world, as she had effectively won ten world championships in only two years – a feat most thought impossible. Finally, she won another crown in 2013 after the judges witnessed her prowess in XMA Forms, and even two more at subsequent dates.
Taking it global
Rayna's debut on the silver screen came in the form of Leticia in Phillip Rhee's film "Underdog Kids" from 2015, which tells the story of children from a poor neighborhood squaring up with some of their richest peers from the Beverly Hills Junior National Karate Team. The film had very little success on the global stage, with only a 4.5/10 rating on IMDB and no nominations whatsoever. Still, Rayna's foray into the world of acting demonstrated her versatility, and marked the beginning of a promising entertainment career.
The prospect of a mere 12-year old who already had more than 10 world championship prizes under her belt star in an action movie featuring combat was quite entertaining to the masses, leading to an interview being conducted with Rayna by the Encinitas Advocate, in which she expressed the desire to achieve many more great things, such as competing in the Olympics.
Phillip Rhee, the writer, director, and star of "Underdog Kids," commended Rayna's performance and highlighted the film's empowering message for young girls. He revealed that the movie was inspired by the struggles of American families during the recession, with the aim of uplifting and uniting children and their families.
The film's narrative revolves around a group of underprivileged children who find hope and empowerment through their coach, learning to transform negativity into positivity. "Underdog Kids" was filmed in Southern California from July through mid-August in 2013, and it features a talented ensemble cast, in spite of its ultimate flop throughout the cinemas.
The one kick to rule them all
Rayna's talents have taken her across the globe, where she's not only showcased her skills but also imparted her knowledge through teaching. She has also explored various other facets of the entertainment industry beyond acting, including modeling, writing, and stunt work. Her multi-faceted repertoire has made her a sought-after brand ambassador for the American Tae Kwon Do Association, in which role she's participated in numerous campaigns, videos, interviews, photoshoots, and public appearances, solidifying her status as a prominent figure in the martial arts world.
This success contributed to some of the most prominent martial arts names taking note of her, such as the family of the one and only immortal legend of kicks, Bruce Lee. They began following her on social media, and eventually struck up a brand deal, creating their very own bomber jackets.
She dabbled in acting even further, expanding her resume to encompass short-form content as well, having starred in Shawn Mendes and Khalid's music video for "Youth." The project is more of a left-wing social commentary, and oppressed minority empowerment propaganda clip than an actual music video, but it signified another successful venture for Vallandingham nonetheless.
Rayna's worldwide influence – What does she do now?
The martial artist was also interviewed by Medium's Elana Cohen, owing to her Hollywood presence through "Underdog Kids," the aforementioned music video, as well as playing Jade in 2021's short film "Pawns." Aside from that, she's also been heard in "The A THREAT League" podcast in 2022.
She was asked a number of questions about her career, life goals and motivations, having gone into great detail with most of her responses. It was in this conversation that the fans were able to learn of her initial desire to pursue a higher education, and that she mostly abandoned that goal after having been rejected from every dream college she applied to. This was apparently the make-or-break that jumpstarted her career, as she chose to fully dedicate herself to martial arts instead.
Vallandingham admits to wanting to be the female Bruce Lee, which requires constant training and a careful diet, as well as an unstoppable mindset that doesn't satisfy for anything other than the best of the best. As for her most current projects in April 2023, she told Medium that her focus is on several projects that allow her to fuse her passion for martial arts with the entertainment industry, meaning that her fans would be right in hoping to see her perform many more impressive kicks in the coming years.
Aside from that, Rayna is a member of the Screen Actors Guild – American Federation of Television and Radio Artists (SAG-AFTRA), which is prominently displayed on her own website.
What is Rayna Vallandingham's net worth?
The most credible sources estimate Rayna's total accumulated wealth at over $600,000 as of late 2023. She is sure to have garnered this sum over the long and grueling years of repetitive practice, mastering the kicks and punches that were easy to cash in once at superstar level of quality. Her sources of income are quite diversified as well, allowing her to earn from brand endorsements, on-camera presence in various short-form video projects, martial arts lessons, and merchandise.
Body measurements: What is Rayna's height?
Vallandingham is 5ft 4ins (162cm) tall, and weighs just about 123lbs (52kgs). She boasts a rather athletic build and has a mildly dark complexion, with light brown hair, dark eyes and strong eyebrows.