"America's Got Talent" has given us many memorable TV moments since its premiere in the mid-2000s. For several seasons, people from all walks of life have proven what they're made of on the show's worldwide famous stage, leaving no doubt about how relevant "America's Got Talent" is.
Commonly referred to as "AGT", one of the show's most iconic acts was that of the 15th season's contestant Roberta Battaglia, who at only 10 years old conquered the hearts of millions with her singing prowess and emotional performances. While she wasn't the winner, it's impossible to forget Roberta, also inevitably making us wonder what she's up to these days, what professional and artistic steps she took after the show.
So what's going on with Roberta Battaglia? Stay here to find out!
What Is Roberta Doing Now?
Every contestant of "America's Got Talent" has something that makes them stand out, but not all of them remain under the spotlight once their time on the show ends, slowly letting their popularity become a fleeting thing.
Fortunately, this is not the case for Roberta Battaglia, as she's made good use of the fame she got through her participation in the 15th season of "America's Got Talent" to move her career forward. The next couple of years after Roberta's 2020 TV stint were quite busy for her, as she then starred in the Amazon Prime series "Three Pines" in 2021, on top of making several appearances on Canadian TV networks.
Aside from singing the National Anthem at professional basketball games, and launching a jewelry line for charity purposes, Roberta also released her first original song, "Truce" in late 2022. Her growing popularity has also been reflected in her social media growth, having to this day over 35,000 subscribers on YouTube, 50,000 fans on Facebook, and almost 100,000 followers on Instagram.
All in all, Roberta Battaglia not only has a promising career ahead, but she has by no means been forgotten by those whose hearts she's conquered with her music.
Path In "America's Got Talent"
The first time that Roberta Battaglia set foot on the stage of "America's Got Talent", she was visibly nervous. Despite that not being her first time performing in front of an audience, it was her first time in a TV show, on top of becoming starstruck upon meeting the celebrity judge Sofia Vergara, who she deeply admires.
Regardless of her overwhelming feelings at the time, the then-10-year-old Roberta gave an outstanding performance of "Shallow" by Lady Gaga, significantly impressing judges and audiences alike. After finishing her very touching rendition, things got even more emotional after Roberta revealed she'd been a victim of bullying, getting a response from Simon Cowell about how she would be able to get back at her bullies by 'being happy and successful'.
That night, Roberta became a Golden Buzzer winner, from Sophia Vergara, with a direct pass to the quarterfinals, where she sang "You Say" by Lauren Daigle, once again gaining a standing ovation.
Later in the semifinal night, Roberta sang "Scars to Your Beautiful" by Alessia Cara, gaining a well-deserved spot in the finals. The next and last performance by Roberta in the show was with Julia Michaels and JP Saxe, singing their song "If The World Was Ending".
Unfortunately, Roberta didn't win the competition, placing fourth in the last ranking, but her stage presence and talent are still very memorable.
How Her Life Changed After The Show
Roberta Battaglia's life was destined to change right from the moment she auditioned in "America's Got Talent". After her audition aired in June 2020, Roberta was contacted by news sites from all over Canada, the US, and Italy to talk about her music and her experiences from being on the show.
As admitted by Roberta during those earliest interviews, she had been completely taken aback by the positive response her performance had on people. Not only did her audition video become viral on the internet, but she was recognized right and left on the streets by people whose hearts were touched by her voice. Being thrown under the spotlight was no problem for Roberta though, as all of it had 'opened many doors' for her, as she affirmed in an interview with Monsters & Critics: 'My life has become exciting because of "AGT", and because of getting the Golden Buzzer. It has been an enormous change.'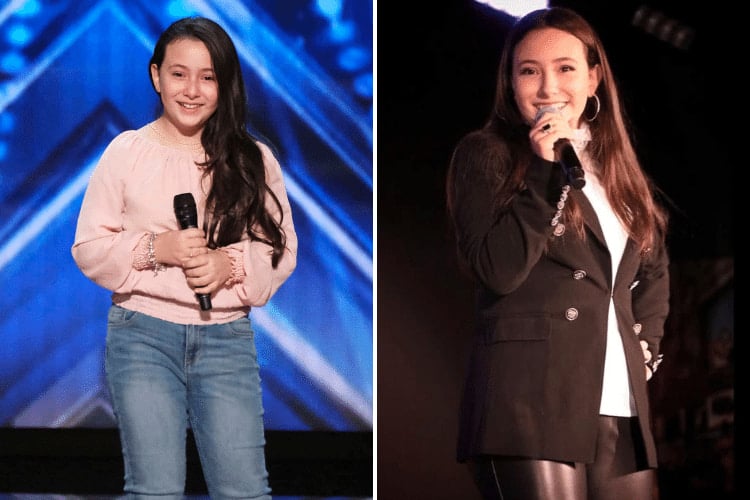 Even some of Roberta's bullies congratulated her for her audition, describing it as 'amazing', as she told Metro.co.uk. Nonetheless, probably the best part of appearing in "America's Got Talent" was being noticed by her idols, such as Lauren Daigle whose song "You Say" was sung by Roberta on the quarter-finals night. Later in 2022, Lady Gaga also praised Roberta's voice on a TikTok video of her audition, something which was deeply special for the young singer.
Roberta's Beginnings
Roberta's voice skills don't come out of nowhere, as she's been singing since she was barely more than a toddler. Her first artistic influences come from her very musically-inclined family, who introduced her to a variety of music from Italy and other places.
Roberta's father Alessandro had the biggest influence on his daughter's taste for music, as he taught her to sing and play the piano. As Roberta recalled in an interview with Monsters & Critics, she was always inclined to follow her father's musical steps from an early age, but it wasn't until she couldn't stop singing during one of Alessandro's performances, that it dawned on her how much she loved music.
From then on, Roberta developed her talents and had her start performing alongside her father. Later, in 2019, the then-nine-year-old Roberta joined the Rising Star Talent Competition at the Canadian National Exhibition, in which she was a local favorite and resulted in being runner-up. That was only one year and a half before she set foot on "America's Got Talent" stage.
It wasn't an easy path for Roberta, though. As her mother Gabriella recalled during a 2020 interview with City Life, her daughter had been severely bullied at school during 5th grade, to the point that she once needed to be taken to a hospital. The young singer also received very hurtful comments about her musical abilities at school, but luckily Roberta had the fortitude and support of her parents to overcome those difficulties.
Musical Influences
There's no question that Roberta's Canadian-Italian family greatly influenced her love for music. Part of that inspiration can be seen in Roberta's song choice for her "America's Got Talent" audition, given how she connected with Lady Gaga, both for her music and her Italian ancestry.
As affirmed by Roberta in a 2020 interview, both Lady Gaga and Pink are her 'idols', and dreams of meeting them and getting to perform with them one day. Another singer whom Roberta deeply admires is Kelly Clarkson, whom she got to meet during her stint in "America's Got Talent", and who praised the young singer for her voice, filling Roberta with 'strength' and 'courage', as she told ET Canada back then. Later in 2023, Roberta told the Toronto Guardian that she'd recently become a fan of The Weeknd's music.
With that being said, Roberta's biggest influence is her parents, who have encouraged and supported her interest in music from an early age. As Roberta told City Life in 2020, her parents are her role models not only in a musical sense, but also for having big hearts and lots of kindness in themselves.
Her Plans For The Future
As any other young artist on the rise, Roberta has many big dreams she's keen on accomplishing. Some of the goals she's set for her career are to perform at the Super Bowl Half-Time Show, meet her favorite singers, and overall grow as an artist.
That being said, Roberta is already moving towards accomplishing those dreams. For a start, she's very active in her native Toronto music scene, performing at music festivals and sports events. As stated on her website, those who admire Roberta's singing can book her for events, starting from birthday parties to weddings and fairs.
Besides updating her YouTube channel with her song covers, Roberta also collaborates with charities such as Believe To Achieve and The Terry Fox Foundation, the latter centered on Cancer awareness and research.
Regarding her personal life, in 2022 Roberta had her Grade 8 ceremony, which is the equivalent of a middle school matriculation in the US. Though she hasn't revealed much about her plans for college once she eventually finishes high school, it's clear that she's successfully splitting her time between her studies and pursuing a music career.
What's the next stage of Roberta Battaglia's career? That is yet to be seen, but one thing for sure is that she has a bright future ahead of her.