Who is Aislinn Derbez?
Aislinn Derbez is a Mexican actress known for her prominent roles both in film and on television. She gained recognition through her performances in projects such as "La Casa de las Flores" and "A la mala", in addition to several other notable roles she has had so far in her career.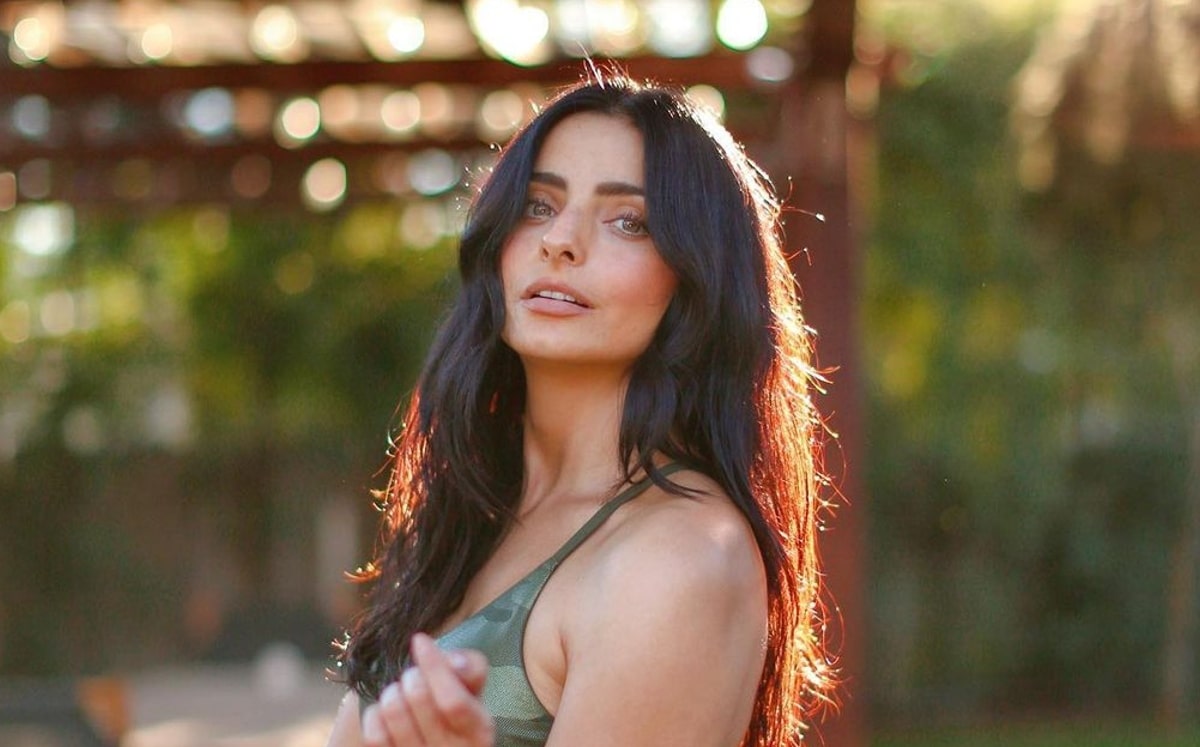 Wiki: Age, Childhood, and Education
Aislinn González Michel was born on 18 March 1987 in Mexico City, Mexico. Her parents are actors Eugenio Derbez and Gabriela Michel. Her father, Eugenio González Derbez was born on 2 September 1961, and is a prominent Mexican actor and comedian renowned for his versatile performances in both film and television. His extensive career includes notable appearances in various films and TV series, showcasing his remarkable acting range. Among his notable film roles are in "The Book of Life", "The Angry Birds Movie 2", and the Oscar-winning film "CODA".
Throughout the 2010s, Derbez extended his presence into American cinema and television with appearances in projects such as "Jack and Jill", "Girl in Progress", "Rob!", and "Miracles from Heaven". His talent transcends live-action roles, as he's lent his voice to animated films as well. Derbez's contributions to the Spanish versions of American films are noteworthy, as he provided Spanish dubs for characters in films such as "Dr. Dolittle", "Mulan", "102 Dalmatians", and the beloved "Shrek" franchise.
Through him, Aislinn has two half-brothers, Vadhir and Jose Eduardo, both actors, and a half-sister, Aitana, born in 2014.
She pursued an education at the School of Visual Arts and acting at the Actors Studio in New York City.
Career Beginnings
Before launching her acting career, Aislinn Derbez initiated her journey as a model at the young age of 15. In 2008, Aislinn Derbez made her acting debut in the short film "Served Cold", in which she portrayed the character Mercedes.
Following her debut, Aislinn Derbez took on a series of minor roles in various projects. In 2009, she appeared in "Ellas son, la Alegría del Hogar" alongside main stars such as Ludwika Paleta. In 2010, she featured in "Los Minondo" and "Niñas Mal", acting alongside figures such as Vadhir Derbez and Martha Higareda, contributing to her growing acting portfolio.
Aislinn Derbez steadily gained recognition in Spanish language cinema through impactful roles. In 2010, she appeared in the episode "Marta, Manipuladora" of the series "Mujeres Asesinas" showcasing her talents alongside notable figures. Subsequently, in 2012, she starred in "Los Héroes del Norte", in which she portrayed Natasha in six episodes. Her journey continued with roles in projects such as "Abolición de la Propiedad" and "Sobre Ella" in 2012 and 2013 respectively.
During 2013, Aislinn's prominence grew with her roles in "Little Baby Jesús", in which she played Penélope, and "Gossip Girl: Acapulco", portraying Giovanna in four episodes.
Rise to Stardom
The year 2015 marked a significant turning point in Aislinn Derbez's career, as she secured pivotal roles alongside distinguished co-stars. In "A la Mala", she portrayed Maria Laura "Mala" Medina, a woman who tests fidelity in relationships, co-starring Mauricio Ochmann. Simultaneously, in "Estar o no Estar", she portrayed Nastenka, alongside figures such as José María de Tavira. Her portrayal garnered attention, earning her a Diosa de Plata nomination for Best Actress.
In 2016, Aislinn Derbez's career continued to thrive as she took on a variety of roles, sharing the screen with notable co-stars. In the action-comedy film "Compadres", she portrayed María, joining forces with Omar Chaparro and Joey Morgan in a plot that follows a former cop and a hacker as they work to rescue a kidnapped woman and uncover a criminal conspiracy. The film sparked some controversy due to a kiss scene, further propelling Aislinn's recognition.
In the drama-comedy "Macho", Aislinn played the role of Viviana, engaging in a narrative that explores a young advertising executive's sudden gender change and the unique insights it brings to societal norms. This year also saw her in "Qué pena tu vida," a romantic comedy in which she portrayed Andrea, contributing to the film's exploration of self-discovery and personal growth after a breakup.
Stepping into 2017, Aislinn Derbez starred as Eva in "Win It All", a comedy-drama that follows a gambling addict's struggle to resist the urge to gamble when entrusted with a duffel bag full of cash. She also took on the role of Nati in "Hazlo Como Hombre", a film that delves into themes of friendship and acceptance when a man's best friend reveals he is gay.
From 2018 to the present, Aislinn Derbez has played the main role of Elena de la Mora in the series "La Casa de las Flores" (The House of Flowers). The show delves into the secrets and scandals of a wealthy Mexican family, with Aislinn's character at the heart of the narrative. Alongside her, the series features prominent stars such as Cecilia Suárez, Dario Yazbek Bernal and Verónica Castro.
The year 2019 saw Aislinn's participation in the action-thriller "Miss Bala", in which she portrayed Isabel. Alongside Gina Rodriguez and Ismael Cruz Córdova, the film follows a woman who becomes entangled in the treacherous world of cross-border crime and drug cartels while searching for her missing friend.
Continuing her impressive accomplishments, Aislinn Derbez has made her mark as Isabela, a main character in the animated series "Seis Manos", which has been ongoing since 2019. The show combines martial arts, mystery, and supernatural themes in its captivating storyline. Aislinn's voice acting talents join forces with other notable stars including Mike Colter, Jonny Cruz, and Danny Trejo. Her role in "Seis Manos" demonstrates her versatility across different mediums, further solidifying her reputation as a multifaceted and influential figure in the entertainment industry.
In 2021, she returned to her iconic character Elena de la Mora in "The House of Flowers: The Movie". This film provided closure to the storyline of the popular series, and Aislinn's portrayal once again captivated audiences.
The same year, Aislinn lent her voice to the character Legs in the animated film "Back to the Outback". The story follows a group of Australian animals seeking freedom from captivity and a return to the wild. Aislinn's voice acting talents were complemented by a cast including Isla Fisher, Eric Bana, and Keith Urban.
Net Worth
According to authoritative sources, Aislinn Derbez's net worth is estimated at $1.5 million as of mid-2023.
Personal Life, Married, Husband, Children
Aislinn Derbez was married to Mauricio Ochmann from 2016 until 2020. The couple began dating when they worked together on "A La Mala" back in 2014, and had a daughter together, Kailani in 2018. As of 2023 she's apparently unattached.
Appearance and Body Measurements
Aislinn Derbez has black hair and green eyes. She stands at a height of 5ft 4ins (1.63m), weighs approximately 110lbs (49kgs), with vital statistics of 31-24-33 and bra size 36A.