For devoted fans of "The Bold and the Beautiful", Annika Noelle needs no introduction. They've seen and admired her as Hope Logan in the show for years. Not only is Annika very pleasing to look at, but she can really act her heart out. Her adoring fans are always happy to see her on their screens, but many of them can't help but wonder who she is when she's not portraying Hope.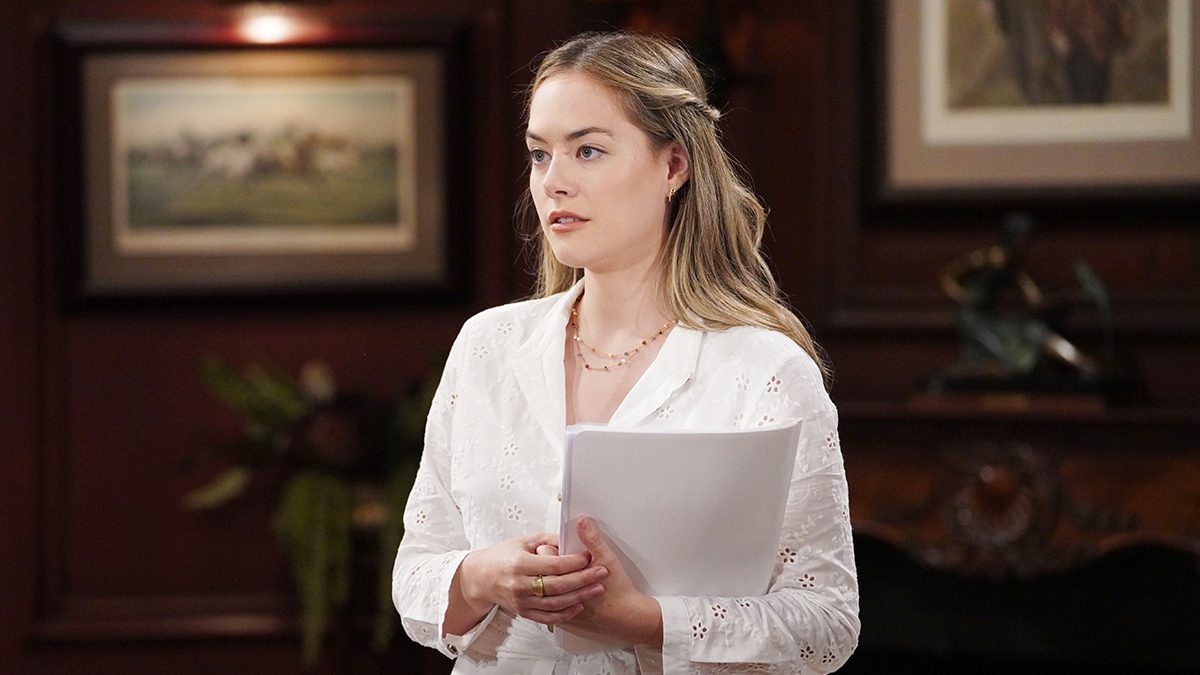 For those who don't know, Annika is an American actress who landed a role in the immensely popular TV drama "The Bold and the Beautiful" years ago, and has since become the perfect personification of Hope Logan. Hope herself is often embroiled in drama, but always seems to get back on her feet.
Is Annika's life the same, or is it less drama-filled? This, and many other questions often pop up when Annika and her acting talent and career are discussed. The beauty, who is a lovely look-alike to her younger sister Krista, was born on Christmas Eve of 1986 in Boston, Massachussetts.
It was as if the world was given a gift of beauty and talent on that night, and her fans are all happy that she decided to become a acting celebrity.
What To Expect
As we take a closer look at Annika's life, we'll discuss her acting career but also learn more about her private life. If you're curious about what this captivating woman's childhood was like and how lucky she was in love, stick around because we'll be taking a deep dive into her experiences and the things that happen when we're not looking.
A Seed Was Planted
As a child, Annika harbored a deep-seated desire to make her mark on the screen as an actress. Call it serendipity or perhaps destiny, but her inaugural role came early in life when she was cast as a sloth in a preschool production of 'The Great Kapok Tree.' This initial taste of the stage ignited an unwavering passion within the budding actress, propelling her towards a career in acting.
She kicked off her career at Geffen Playhouse and the Kennedy Center.
Annika's decision to pursue this path likely came as only a small surprise to her parents, William and Teri, who were initially, and expectedly, filled with trepidation upon learning of her intent to relocate to Los Angeles in pursuit of her acting dreams. Yet, despite their concerns, they provided unwavering support.
With determination in her heart, Annika made the move to the bustling city of L.A., where she embarked on the journey of applying to various theater schools.
A Difficult Road to Success
While navigating the vast expanse of the big, bustling city without any established connections, Annika achieved the remarkable feat of gaining admission into the prestigious UCLA acting program.
While one might anticipate that her career would have reached its zenith upon securing a spot in this renowned institution, Annika's journey took an unexpected turn. In an interview, she candidly shared that it took her a span of eight years to reach the point she stands at today.
Annika openly shared with the showbiz world that the wonderful things she enjoys today were not handed to her on a silver platter. To make ends meet, she worked tirelessly as a hostess and bartender, taking on these roles with unwavering determination.
Additionally, she graced the screen in various commercials, including memorable spots for GEICO, Dairy Queen, and Infiniti Cars. Throughout this journey, Annika held steadfast to her dream of making a mark in Hollywood.
In 2011, the pivotal moment arrived when she secured a role in "Love's Christmas Journey." This marked the beginning of an expanding résumé. Annika's talent shone brightly as she appeared in "Venice the Series" (2011-12), "Jersey Boys" (2014), and "Chasing Life" (2015).
Entering the TV Drama Scene
Her career-defining role came in 2018, when she stepped into the shoes of Hope Logan in the renowned soap opera "The Bold and the Beautiful". As she replaced the beloved Kim Matula, apprehension loomed among fans, casting doubt on whether she could match or surpass the previous actress's performance.
Yet, with a determined heart, Annika defied expectations and left an indelible mark on soap opera enthusiasts, astonishing them with her remarkable talents and versatility. In the role of Hope, she seamlessly integrated herself, fitting into the character like a glove.
Annika the Animal and Environment Lover
When she's not captivating audiences on their television screens, this star can often be found passionately championing the causes of animal rights and environmental preservation. She wholeheartedly dedicates herself to the advocacy of animal welfare and the conservation of our environment.
Her commitment extends to volunteering at local shelters, and collaborating closely with organizations such as the Thailand Wildlife Friends Foundation, where she actively contributes to the noble efforts of rescuing and rehabilitating elephants and other wildlife.
A Tragic Loss
In October 2021, Annika published a deeply personal and emotional story about the time she and her fiancé were told they had lost their second child in a matter of months. Her recounting of how she felt and how she was able to cope is detailed in an essay she posted on "Glamour" magazine's website.
In the post, Annika says, Noelle revealed, "We lost him at eight weeks. And all the while, I was filming."
"Fans and news articles speculated whether I was pregnant or just gained weight during quarantine. And once again the storyline called for ceaseless tears when I felt like I had no more to give. I guess looking back at it now, I was scared to jinx anything. I didn't want people to know and have things not work out. And yet I wish I had because I would have given anything to have the understanding and support of the cast and crew. I felt so alone."
Annika's secret remained concealed from everyone around her. She fabricated explanations for her hesitancy to wear white attire and her sporadic bouts of nausea while on set. Fans and media outlets began to speculate, debating whether her condition was due to pregnancy or merely the consequence of quarantine-induced weight gain.
Nevertheless, the script relentlessly demanded a continuous flow of tears, even when it seemed she had exhausted every drop. In hindsight, she now realizes that fear had consumed her, making her reluctant to tempt fate. She chose to keep her truth hidden, fearing that divulging it might disrupt the course of events.
Looking back, she deeply regrets not confiding in others, as she would have given anything for the understanding and support of her fellow cast and crew members. During those challenging moments, she felt profoundly isolated, according to the post.
"As a woman, I never imagined having a child to be a difficult feat. From a young age we are told how easy it is to get pregnant, even with a condom, while on birth control, and pulling out—don't forget about the precum! I took the responsibility of it seriously, and had been so careful for so many years of my life. I never thought that when I actually wanted it to happen, it wouldn't."
When Annika and her fiancé received the news of her pregnancy, they were filled with a mix of elation and trepidation. This marked the initial steps on their shared path towards parenthood. Her shopping carts brimmed with baby books, while her web browser overflowed with tabs on everything from bassinets to doula services to red-light baby dream machines.
In the subsequent weeks, their lives were a whirlwind of medical appointments, blood tests, and ultrasounds, all meticulously scheduled amidst her demanding filming commitments. However, it was only when the progesterone results were disclosed that the situation took a turn for the worse; sadly, she lost her baby at 10 weeks.
After the heartbroken woman took time to heal physically and emotionally, she was determined to try again – she really wanted to be a mother, but was told that the chances of her getting pregnant again was slim to none.
However, she did get pregnant again, but in a cruel twist of fate, this pregnancy was fated to cause heartache as well. She lost her baby boy at eight weeks, which prompted the narrative she wrote for "Glamour" magazine.
Love Couldn't Conquer All
Annika never named the man she became engaged to —the couple highly valued their privacy— and they were seemingly happy until the loss rocked their worlds so intensely.
On Father's Day, she announced that she and her fiancé had ended their engagement in a post on Instagram; it has since been deleted.
"Happy Father's Day ~ while we never got our chance to hold our rainbow, for a brief moment in time we held each other," she wrote on Instagram. "And even though we could no longer bear the weight of the losses, you have left a lasting imprint on my heart. Thank you." She ended her post using the "white heart" emoji, which is meant to symbolize love and affection.
Annika's post apparently garnered almost 7,000 likes and received over 300 comments following its publication. Among those who commented were Courtney Hope, known for her role as Sally Spectra in "The Young and the Restless," and her "The Bold and the Beautiful" co-star Jennifer Gareis, who plays Donna Logan.
Courtney expressed her support with the words, "So much love," accompanied by two heart emojis. Jennifer replied with optimism, saying, "You will get your rainbow one day!!!" and adding three heart emojis to convey her heartfelt sentiments.
Conclusion
Annika experienced a heartbreaking tragedy but like her character Hope, she remains strong and brave and tries to continue to chase her dreams. As she continues to build her acting career, her family, friends and fans stand behind her and admire her for being a wonderful woman despite the harsh punches life has dealt her. She serves as an inspiration to many and her smile warms the hearts of even more, as she graces their screens on a regular basis.