• Bruno Massel Jr. is a television host, sports reporter and race car driver.
• His father is a racing veteran and started his career in the mid• '50s.
• Bruno has won two NHRA Championships and the West Central Division Competition championships five times.
• He is the host of the Velocity TV show "Garage Squad" and "Truck Universe".
• His net worth is estimated to be over $6 million.

Known for movies

Who is Bruno Massel?
Bruno Massel Jr. was born on the 23rd May 1974, in Woodridge, Illinois USA, and is a television host, sports reporter and race car driver who competes in the National Hot Rod Association and has won two championships, in 2009 and 2012. However, he is probably best recognized as the host of the Velocity TV show "Garage Squad" (2014-2017).
Early Life, Parents, and Education
Bruno is the son of Roz and Bruno Massel Sr., a professional hot rod racer and chef of the racing team Bruno Massel Racing. His father, now a racing veteran, started his career in the mid- '50s, and since then has set numerous track records, which have made him legend in hot rod drag racing. Growing up surrounded by cars and racers, Bruno fell in love with speed, but instead of chasing a career as a drag racer from an early age, he focused on other interests. Upon finishing high school, Bruno enrolled at the University of Iowa, from which he obtained a Bachelor's degree in Business Administration.
Career Beginnings and Success in Drag Racing
At first, Bruno was a model; he was discovered by a modeling agent from Chicago, and was soon campaigning for Ralph Lauren and other designers. After a few years of modeling, he turned to pursue a career in the family business, taking up several tours, and ever since then has been an active racer. Gradually his racing skills improved and he started winning races, so far 37 and has won two NHRA Championships, the first in 2009, and the second in 2012. Furthermore, Bruno has also won the West Central Division Competition championships five times in a row, starting in 2008.
Television Career
Parallel with his racing career, Bruno started developing his career as a broadcaster and reporter, beginning on TNN and SPEED as a television commentator for the IHRA racing series. He gradually moved on, reaching ESPN 2 on which he hosted the NHRA Import Racing Series, and D1 Grand Prix Drifting, while he also appeared in the pilot episode of the BBC show "Top Gear".
With Ravens great Jamal Lewis @NHRA @southernnationals pic.twitter.com/MTG1s6A58l

— Bruno Massel (@BrunoMassel) May 14, 2016
Rise to Prominence
As he was becoming more successful as both a racer and commentator, Bruno's name started resounding in the halls of ESPN Channel, and he was ultimately given the role of the pit reporter of "NHRA Drag Racing". This brought him new engagements, including on the Discovery channel, on which he has been the host of the "Garage Squad" show, while on Velocity Channel he is the host of "Truck Universe". All of his engagements as a sports broadcaster and reporter have turned him into a star, which significantly increased his popularity and wealth.
7 days until the @GarageSquadTV on @Velocity Season Premiere @autogeekcom pic.twitter.com/f4e2HelzR2

— Bruno Massel (@BrunoMassel) August 23, 2017
Do You Know How Rich Bruno Massel Is?
Have you ever wondered how rich successful drag racer and television host, Bruno Massel is? Sources estimate that his net worth is over $6 million, garmered from his joint careers as a racer and broadcaster.
Gotta admit, I'm feeling at home being back behind the wheel of a Camaro for this season of Garage Squad on Velocity Team Chevy Autogeek

Posted by Bruno Massel on Thursday, April 19, 2018
Do You Know about Bruno Massel's Personal Affairs, Marriage, Wife, Children?
When it comes to his life behind the camera and outside the dragsters, Bruno has been rather secretive. Luckily, the media has discovered that he is married and that he has two children. His wife, Dayna Purgatorio Massel and he have welcomed two sons, but otherwise have been quite mysterious about their marital life, as they have kept hidden the names of their boys, but also the information when the two married.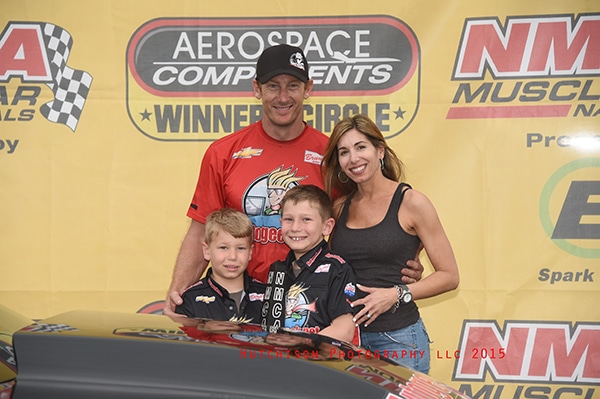 Is Bruno Massel on Social Media?
Bruno Massel can be found on such social media platforms as Facebook and Instagram. Though his fan base isn't large, he is still a star on social media. His official Instagram page has close to 3,000 followers, with whom Massel shares his latest career endeavors, but also details from his personal life. Recently, he published a picture on which he celebrates his wife's birthday, and has also shared a picture of the entire family on vacation at the JW Marriott Marco Island Beach Resort. Bruno is also active on Facebook, on which he has a fan base of more than 10,000 people, and which he uses to promote his career, recently sharing a picture of himself and his father, Bruno Sr, celebrating a Father's Day on the track next to their touring car.
So, if you aren't already a fan of this prominent drag racer and television host, then this is a fantastic opportunity for you to become one.
Movies
Self
| Title | Year | Status | Character |
| --- | --- | --- | --- |
| Garage Squad | 2014-2017 | TV Series | Himself - Co-Host |
| Truck Universe | 2010-2016 | TV Series | Himself - Host |
Source:
IMDb
,
Wikipedia