Chad Hiltz, popularly known as "Bad Chad," has emerged as a true maverick in the world of custom car building. His successful journey from humble beginnings to a thriving career was highlighted through his reality television series, "Bad Chad Customs," aired on Discovery Channel.  It was also a testament to his ingenuity and passion, which was encouraged and supported by his family.
Get to know the man behind "Bad Chad Customs"
His journey from a small-town craftsman to a global sensation is an inspiration to aspiring car builders and enthusiasts worldwide.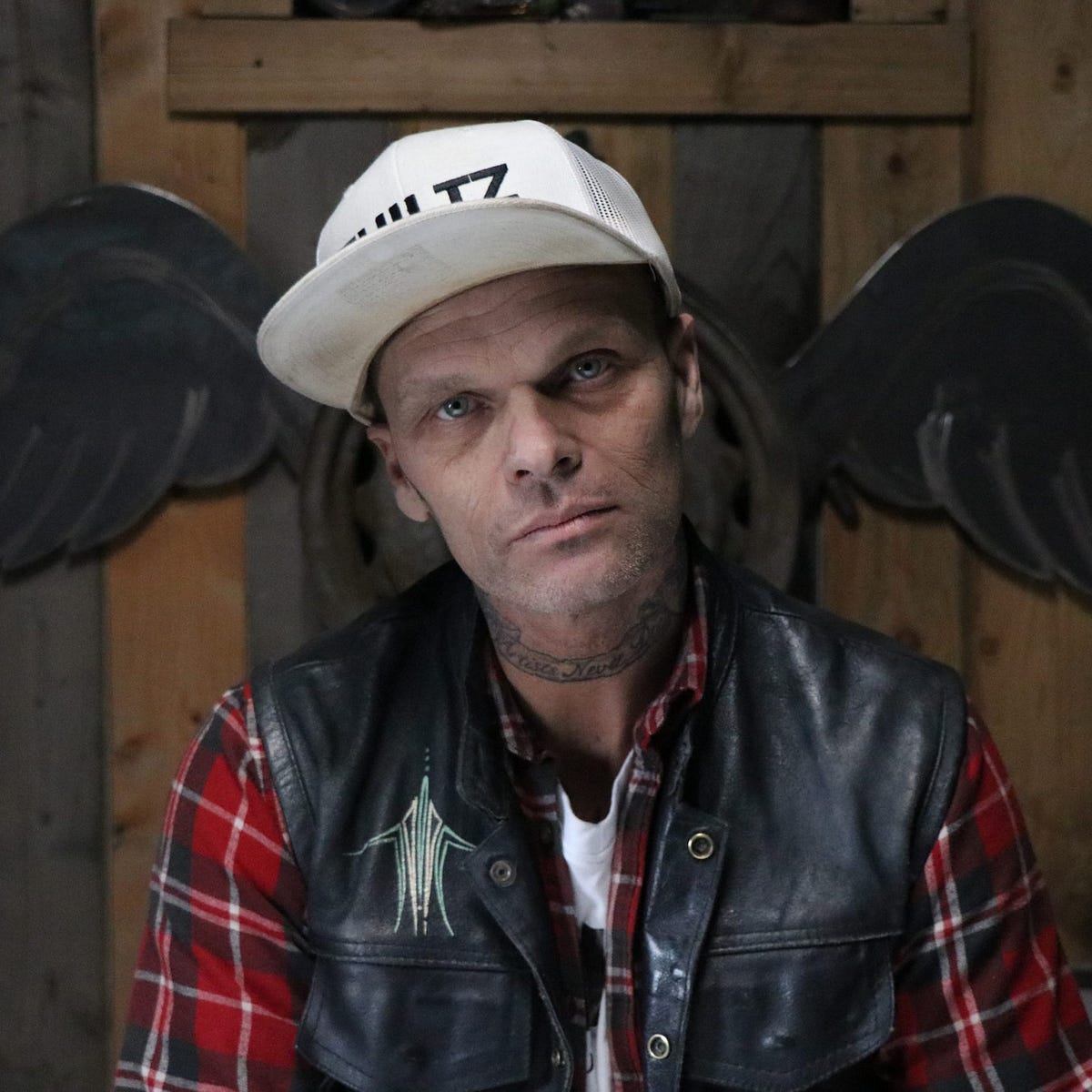 Early years and education
Chad Hiltz was born on 13 August 1971, in Nova Scotia, Canada. He spent his formative years in the same picturesque town where he would later establish his automotive empire. Chad's love affair with cars began in his youth, revealing his innate talent for tinkering with machines. Although he briefly attended a local college, his true education unfolded through life's experiences.
At 16 years old, Chad left college to pursue an auto-body course, a decision that would set the course for his extraordinary career in the automotive industry. He embarked on a journey of hands-on learning, honing his skills and craftsmanship.
Chad's deep-rooted passion for cars traced back to his family. He's the son of Dough Hiltz and Patricia Hiltz, who were proprietors of White Rose Gas Station. His father was into automobiles, and that interest was passed on to him, which he fully embraced with relentless pursuit.
His major influence on car customization
His career trajectory took an important turn in 2008 when he crossed paths with Gene Winfield, a legendary figure in customization, which marked the beginning of his aspiration to establish a career in vehicle customization. Under Gene's mentorship, Chad meticulously refined his craft, mastering the art of transforming abandoned vehicles into extraordinary works of art. Gene's guidance fueled his determination and inspired him to create unique pieces and participate in prestigious car shows, all the while balancing side projects to make ends meet.
Thinking outside the box
His innovative thinking was partly shaped by the limitations of his hometown, which lacked hot rod shops or readily accessible car part stores. Consequently, he had to rely on his creativity while waiting for supplies to arrive from the US, forcing him to think outside the box. This approach yielded splendidly unique results, even if they weren't to everyone's taste. As Chad put it, 'The only reason anybody would find it funny is that they'd never seen it before on the street.' His mission was to leave a lasting impression on future car enthusiasts, aiming to avoid redoing tricks or designs that had already been explored.
Fired from every job he worked at
Chad's desire for creative freedom eventually led to his departure from every conventional job he held. Realizing that he could carve out a niche in custom car design, he felt a surge of purpose; not wanting to be confined by others' directives, he aimed to chart his own course, designing cars none had ever seen before. He co-founded his workshop, Green Goblin Customs, with his fiancée, Jolene MacIntyre, and built it up with his own hands, both literally and figuratively. Many of the tools and parts he used in his shop were personally handcrafted. This shop provided him the opportunity to showcase his unique creative vision. In due course, he expanded his team. His innovative approach earned him recognition, including three prestigious awards at the World of Wheels in Boston, and soon his creations graced the pages of magazines.
Jolene played an indispensable role in bringing Chad's car-building talents to the public eye. Her passion for cars combined with her interest in film production helped illustrate her boyfriend's unique approach to customization. Chad possessed an extraordinary talent for transforming discarded materials and remnants into award-winning automobiles. Jolene thought that it would be a waste if she didn't share his creativity and workmanship with the rest of the world through social media pages.
The Rockabilly Weekend and international fame
His entrepreneurial drive extended far beyond car building in his shop. He took a monumental stride by initiating "Rockabilly Weekend," an annual automotive extravaganza that debuted in the early 2010s. This spectacular event – known as the Biggest Little Antique Car Show in the World – drew car aficionados to witness his extraordinary custom creations while reveling in a vibrant blend of music, dance, tattoos and thrilling contests.
"Bad Chad Customs," Chad's reality TV series
Chad Hiltz skyrocketed to fame as the central figure in Discovery Channel's "Bad Chad Customs."
Premise and TV premiere
The reality TV show, which premiered on 1 January 2019, offered a captivating glimpse into Chad's unorthodox approach to car designing and fabricating. Diverging from the typical restoration programs, Chad's distinctive style involved the disassembly of vintage automobiles and the ingenious use of unconventional materials, often repurposed from boats, airplanes, and other unexpected sources. It centered on Chad's remarkable ability to breathe new life into old, neglected vehicles, exemplifying the adage that 'one man's junk is another man's treasure.' Each episode showcased a distinct car build project, highlighting Chad's resourcefulness, creativity, and the skillful craftsmanship of his tight-knit team.
Small-town car artist "Bad Chad" is a genius builder like no other. Bad Chad uses limited resources, basic tools, and his endless ingenuity to bring his crazy ideas to life. You don't want to miss Bad Chad Customs, coming to @Discovery on New Year's Day! https://t.co/zVOOegWP07 pic.twitter.com/rnM8Zu9PUk

— Warner Bros. Discovery (@wbd) December 18, 2018
"Bad Chad Customs" crew
Behind Chad's visionary work were dedicated individuals who brought their expertise to the custom builds. The synergy between Chad and his team cultivated an environment in which innovation and creativity flourished, making "Bad Chad Customs" a unique and compelling TV series.
Leading his team was Jolene MacIntyre, Chad's fiancée, with a degree in business management. She managed the shop, maintained budgetary control, promoted their services, and tracked expenses meticulously. Aaron Rand, a childhood friend from their hometown, specialized in upholstery work, contributing to the distinctive interiors of the shop's custom creations. Alex Gould, the shop's mechanical whiz, possessed an uncanny ability to fix machinery and keep the vehicles running smoothly.
Last but not least, there was Colton, Chad's son from a past failed relationship. Though they were separated when Colton was just a year old, Chad had summer visitation rights. During the show's premiere season, Colton joined as his father's apprentice, learning the ropes of the family business..
Built "Royal Respect" on the season opener
Chad recognized the need to gain visibility, expand their business, and attract a larger clientele. In the opening episode, he presented a bold challenge to his team: construct a car for the Atlantic Nationals car show in just one month, using a weathered 1939 Studebaker Commander as their canvas. This opportunity not only allowed them to showcase their skills, but also held the promise of a potential sale.
Despite some hurdles along the way, the crew's determination prevailed, and they met the stringent deadline. Chad proudly unveiled the freshly customized car, christened "Royal Respect," at the Atlantic Nationals; to his delight, his mentor and hero, Gene Winfield, was in attendance and offered glowing praise. Gene marveled at Chad's creation, emphasizing its distinctiveness compared to the other vehicles on display. A multitude of onlookers admired Chad's ingenuity, and ultimately, a passionate car enthusiast acquired "Royal Respect" for $48,000. It proved a worthwhile endeavor, especially considering the just $17,000 investment Chad and Jolene had made.
The hunt is always on
Many car enthusiasts hailed Chad as a genius in the world of car customization, noting his exceptional ability to fashion dream cars from seemingly inconsequential materials. Chad reveled in exploring nearby towns, for he believed the hunt for decrepit, rust-covered cars was an ongoing endeavor. He scoured remote barnyards, seeking potential in whatever he found. This pursuit set him apart from other car builders, as he never restricted himself to seeking specific classic cars like Camaros, Mustangs, or Cadillacs. Chad possessed utmost confidence that anything he salvaged from a junkyard would emerge as a completely distinct creation once he worked his magic on it.
From Green Goblin Customs to Hiltz Auto Co"
Following the triumphant first season of "Bad Chad Customs," Chad and his team confronted a licensing dilemma associated with their business name. Marvel Comics owned the trademark for "Green Goblin," a name prominently linked to one of its beloved supervillains within the Marvel universe – to navigate this challenge, they underwent a rebranding process and emerged as "Hiltz Auto Co." This new identity allowed them to create and market their products and services without the encumbrance of copyright restrictions. This transition marked a pivotal step toward their international expansion.
Notable builds in Bad Chad's Hiltz Auto Co
The promised Bugatti for Jolene
Every masterpiece craves an enchanting backstory to elevate it to legendary status. Their journey began when Chad posed a question to Jolene when they started dating, one that would set their extraordinary tale in motion: 'If you could own any dream car, what would it be?' Jolene's answer was as extravagant as it was captivating – a Bugatti akin to the rare gem nestled in Ralph Lauren's collection, a vehicle that Forbes Magazine had estimated to be worth a staggering $40 million in 2010.
Chad, determined to weave his way into her heart through his craft, made an audacious promise. 'I'll build you one,' he declared as if embarking on a quest. He used an abandoned, rusty 1962 Volvo found in a desolate junkyard as its canvas. In a mere six months, Chad masterfully transformed this forsaken relic into a breathtaking 1938 Bugatti Type 57 SC, an achievement that defied all expectations. The meticulous process of this transformation was carefully chronicled, and shared with the world through his YouTube channel.
The multi-awarded Green Goblin
In December 2014, Chad had already performed his magic on a 1962 four-door Chrysler, a cast-off relic destined for the scrap heap. Out of this unlikely foundation emerged the iconic Green Goblin, a vehicle that would go on to grace the stages of three illustrious car shows shortly after its creation. Its maiden appearance took place at Boston's prestigious World of Wheels event, where it immediately left an impressive mark, with Judges and spectators left in awe of Chad's unparalleled customization prowess. The transformation was nothing short of remarkable – the roof severed, the doors meticulously welded, and the crowning touch: the roof of a 1974 Oldsmobile Cutlass, ingeniously perched above the front fenders. Chad's innovation didn't stop there as he relocated the engine to the rear of the car, stretching the vehicle's length to an astonishing five meters beyond its original configuration.
As news of this vehicular masterpiece spread, accolades and awards followed suit, cementing the Green Goblin's status as one-of-a-kind in the automotive world, a testament to Chad's extraordinary talent.
The Cruella De Ville stunner
Chad and a dedicated co-worker embarked on a remarkable year-long journey to breathe life into a masterpiece they would aptly christen Cruella De Ville. The inspiration for this automotive marvel was sparked by a single image, a picture that ignited their creative fire; every inch of this extraordinary automobile was painstakingly crafted from scratch. Adding an extra layer of prestige, Chad's esteemed mentor, Gene Winfield, lent his expertise and painted the car, leaving behind his signature fade look, a mark of true craftsmanship. It all began with a mere sixteen flat sheets of metal, but in Chad's capable hands, they were transformed into a sleek, head-turning automobile that became an instant sensation at car events across the land.
'Why buy when you can build'
At the heart of Chad Hiltz's craftsmanship lays a philosophy rooted in frugality and creativity. He ardently believes that nothing should be squandered, and every object, no matter how seemingly worthless, possesses a purpose. Chad's resourcefulness and the mantra 'why buy when you can build' epitomized his unwavering dedication to sustainability and innovation. This made his car builds even more spectacular, especially for those who love to preserve the environment.
Personal Life – children and relationships
While it was Jolene who played a pivotal role in shaping Chad's illustrious career, making his life shine as he often describes it, she wasn't the one who first introduced him to fatherhood. Chad went through a few failed relationships prior to meeting Jolene, but both of them maintained a discreet approach when it came to their personal lives, seldom sharing details publicly. In fact, Chad initially hesitated to involve his son, Colton, in "Bad Chad Customs," concerned about the potential pressure it might place on him.
The decision to include Colton in the show was, in fact, Jolene's idea. Colton had recently matriculated from high school and was without a job, making it an opportune moment for father and son to strengthen their bond.
However, Colton, born in April 1998, wasn't Chad's first child. Rumors suggested that he had a daughter from a previous marriage, and it appears that the car builder turned reality TV star became a father at the tender age of 16, marrying the mother of his eldest child. Regrettably, their identities remain shrouded in secrecy – subsequently, Chad divorced his first wife and later wed Colton's mother, but their relationship soured within just a year following Colton's birth.
Chad soon found himself with another woman, welcoming a daughter named Harlee in 2004. Harlee, who notably played for Nova Scotia's Northeast Kings Education Centre soccer team during her high school years, became a part of Chad's family. Remarkably, Jolene fostered strong relationships with Chad's children, cementing her place in their lives. She even documented significant moments, like Harlee's departure for her prom in grand style, arriving with her date in the very first car Chad crafted in "Bad Chad Customs," aptly named Royal Respect.
Update on "Bad Chad Customs"
While "Bad Chad Customs" may have only aired for two seasons, its impact transcended the confines of television, leaving an enduring legacy. Not only did the show catapult Chad Hiltz as a household name within the car customization community, it also cast a spotlight on the quaint town of Canning, Nova Scotia.
As the series unfolded, viewers from around the world found themselves increasingly curious about the location of Chad's workshop. When questioned about why the TV show ceased production after just two seasons, Chad revealed during a podcast that the hiatus was initially prompted by the onset of the COVID-19 pandemic. Later, when the Discovery Channel sought to extend his contract, he made the bold decision to decline the offer.
Chad and his crew had discovered a new platform to express their creativity. They found joy in crafting content for various social media and video-sharing platforms, including Instagram, YouTube, and Facebook. His online channel had become monetized, and Chad found immense satisfaction in this new avenue. He appreciated the freedom it afforded him, allowing his creativity to flourish without the constraints of TV contracts. Chad relished the chance to be his own boss, a step that took his customization journey to even greater heights.
Net worth
Chad Hiltz, the creative genius behind "Bad Chad Customs," has piqued interest with net worth estimates spanning from a conservative $1 million to a staggering $90 million. His journey started with his fervent passion for transforming old cars into unique masterpieces, and his TV fame boosted both his recognition and earnings. His extensive car collection, a testament to his love for automotive artistry, adds to his financial portfolio. Moreover, Chad leveraged his online presence and monetized YouTube channel, on which he showcases his automotive wizardry, while also selling merchandise online—a dual-income strategy that has significantly contributed to his financial success. While the precise figure of his net worth remains a puzzle, Chad's remarkable story serves as a vivid illustration of the immense potential forged by passion and relentless dedication in the realms of car customization and digital entrepreneurship.