• Summit1g is a competitive gamer, best known for streaming popular video games on Twitch.tv
• He was born as Jaryd Lazar in Colorado Springs, USA
• He joined the Exertus eSports team in 2012 and competed in various tournaments with different teams
• His Twitch account has over 3.2 million followers and over 500,000 subscribers on YouTube
• Summit1g has an estimated net worth of $1.5 million and is currently dating fellow streamer lilchipmunk

Known for movies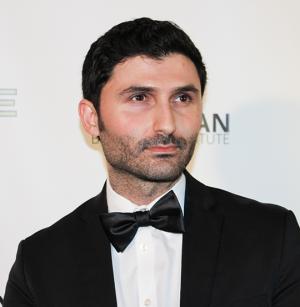 Who is Summit1g?
Summit1g is a competitive gamer, who semi-professionally contested playing "Counter-Strike: Global Offensive" as a member of Mythic as well as of Area 51 Gaming teams. He is probably best known for streaming his gaming videos on Twitch.tv, in which he plays popular video games such as "GTA V", "PlayerUnknown's Battlegrounds" and "Fortnite".
Yo @TomRyanOGRE2 when a good version of Halo hits PC one day(Lul) we bringin it back?! pic.twitter.com/aozqXna3xk

— summit1g (@summit1g) July 5, 2018
Summit1g's Early Life
Born Jaryd Lazar on the 23rd April 1987 in Colorado Springs, USA, he is the older of two sons, but except for him being American of part-Hungarian ancestry, while his zodiac sign Taurus, There isn't any other relevant information about Summit1g, his parents, other family or his educational background.
Summit1g's Early Career
Being interested in video games since his early childhood, it is no wonder that Summit1g has managed to become a successful gamer himself. However, prior to achieving serious success from playing video games, he served as a call representative for Time Warner Cable. In early 2012, Summit1g began to upload his gaming videos on Twitch, and eventually dived into the world of live game streaming, with a focus on "Counter-Strike: Global Offensive". Steadily building his reputation, in December 2012 he joined the Exertus eSports team, then in 2013 he participated at the North American ESEA (E-Sports Entertainment Association) Invite Season 15 event, in which he finished at No. 7.
In 2015, as a member of the Quantic Gamic team Summit1g competed in the Clutch Con tournament and in the Alienware Cup. Additionally, he helped his team to reach No. 4 at the CEVO Professional Placement event, before teaming up with the Ze Pug Godz and participating at the CEVO Professional North America Tournament. During 2016, as a member of Team Mythic, Summit1g participated at the Esports Championship Series Qualifier event, while in 2017 he significantly contributed to his team's overall ranking in the North American Open ESL One: Cologne event as well as during the North American Open Qualifier. At the MLG Americas Minor Championship, Summit1g was honored as the second best player of the Counter-Strike: Global Offensive.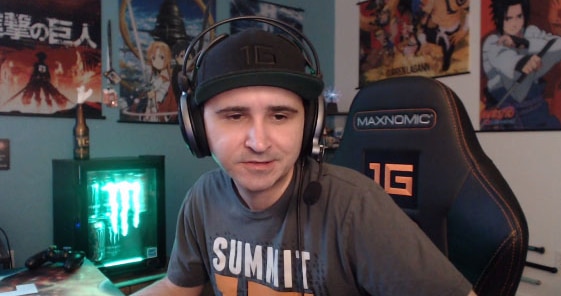 Summit1g on Twitch
After streaming the pre-fight conference in August 2017 for the heavily anticipated fight between Floyd Mayweather Jr. and Conor McGregor, his popularity reached a meteoric ranking, and he was featured in the Twitch's IRL section for the day. Currently, Summit1g's Twitch counts over 330 videos, and has amassed more than 3.2 million followers.
Some of the most popular streaming videos of Summit1g aside from those already mentioned, include video games such as "Infestation: Survivor Stories", "Tom Clancy's The Division" as well as "Day Z" and several games from the "ARMA" franchise.
Summit1g uploads new videos on a daily basis, streaming six days a week beginning at 12 pm PST (3 pm EST), every day except Thursday.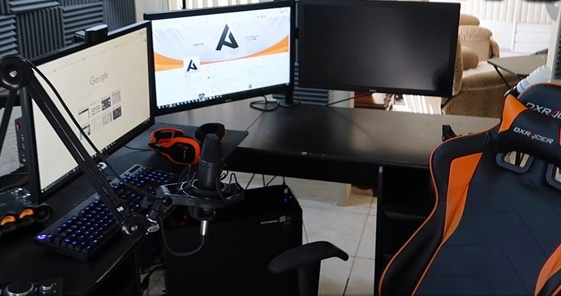 Summit1g's PC Specification
You can't be among the world top class gamers without an adequate gaming PC. According to sources, Summit1g uses a custom built gaming rig which features an i9-7900x processor in combination with 64 GB of Corsair Vengeance RGB 3000Mhz RAM, and two MSI GTX 1080 Ti Seahawk X 11GB GDDR5x graphic cards, all packed into the Corsair Obsidian 900D Gaming Case, and powered by the Corsair RM1000X. Speaking of his peripherals, Summit1g uses ASUS VG248QE 24-inch 144hz monitor, FinalMouse 2015 and Corsair Gaming K70 RGB RAPIDFIR keyboard in addition to Audio Technica headset ATH-ADG1X.
Summit1g on Social Media Networks
In addition to Twitch, Summit1g is also very active on several other social media networks, including Twitter on which he is followed by almost 600,000 fans. Summit1g's eponymous official YouTube channel currently counts more than 500 videos, which have attracted over 73 million views, and counts over 500,000 subscribers. Summit1g is also active on Instagram and Facebook.
Summit1g's Net Worth
Have you ever wondered how much wealth this popular gamer has accumulated so far? How rich Summit1g is? According to authoritative sources, it is estimated that the total of Summit1g's net worth, as of mid-2018, approaches the sum of $1.5 million, boosted by various sponsorship deals with companies such as Alienware and Audio Techica, and includes assets such as the $150,000-valued Nissan GT-R.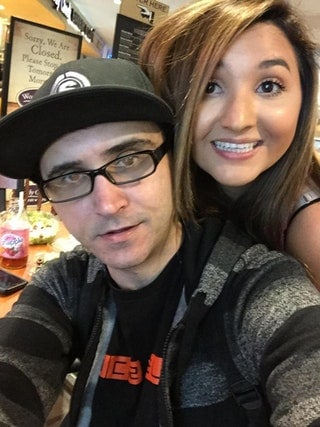 Is Summit1g Married? More about his Personal Life
Summit1g was married to a fellow colleague, a streamer Desirae Lazar. However, the couple separated and divorced in 2016, but further information about the cause of this hasn't been publically revealed. Although, they are no longer married, Summit1g and Desirae are still best friends, for over nine years in total, and she is also serving as his manager.
Currently, Summit1g is dating another fellow colleague, a streamer known under her alias lilchipmunk.
Pictures
Movies
Actor
| Title | Year | Status | Character |
| --- | --- | --- | --- |
| The Second Coming of Christ | 2018 | completed | Pvt. Sassounian (as Naz Aslanian) |
| Fermysk | 2017 | Short post-production | Victor |
| 2016 | | announced | Trevor |
| America | | filming | Anton |
| Dead on Arrival | 2017 | | Detective Naroyan |
| The Mason Brothers | 2017 | | Adrian |
| Armenia, My Love... | 2016 | | Grigor Orbelian |
| Vigilante Diaries | 2016 | | Sayid |
| Anonymous Addiction | 2015 | Short | Sam |
| Dilemma | 2012 | TV Series | Alex (as Naz Aslanian) |
| Southland | 2012 | TV Series | Young Asshole |
| 4 Minutes | 2011 | Short | Dr. Aziz Malik (as Naz Aslanian) |
| Martyrs | 2011/II | Short | Militant (as Naz Aslanian) |
| The Infamous Exploits of Jack West | 2011 | | Demetrio (as Naz Aslanian) |
| Conan | 2011 | TV Series | Sketch Comedy Player |
| I Want Him Dead | 2010 | Short | Bus stop attendee (as Naz Aslanian) |
| Paradise | 2010/I | Short | Henchman (as Naz Aslanian) |
| Taking the Fall | 2010 | Short | Wilmont (as Naz Aslanian) |
| Short on Time | 2010 | Short | Running Surgeon (as Naz Aslanian) |
| Chinaman's Chance: America's Other Slaves | 2008 | | Bar Patron (as Naz Aslanian) |
Soundtrack
| Title | Year | Status | Character |
| --- | --- | --- | --- |
| 2016 | | performer: "Put It In Reverse" / writer: "Put It In Reverse" - as N. Aslanian announced | |
| Vigilante Diaries | 2016 | performer: "Focus", "Armenian American The Anthem" / writer: "Focus", "Armenian American The Anthem" - as Nazaret Aslanian | |
| Anonymous Addiction | 2015 | Short performer: "The Truth CaliNovas Remix" / writer: "The Truth CaliNovas Remix" - as N. Aslanian | |
| Aram, Aram | 2015 | performer: "Before I Die" / writer: "Before I Die" - as N. Aslanian | |
| Armenian American | | TV Series documentary performer - 2 episodes, 2015 writer - 2 episodes, 2015 | |
| Before I Die | 2014/II | Short performer: "Before I Die" / writer: "Before I Die" - as N. Aslanian | |
| Tattoo Nation | 2013 | Documentary performer: "Swag Drip" / writer: "Swag Drip" - as N. Aslanian | |
| Betrayal | 2013/II | performer: "The Mighty High", "Swag Drip" / writer: "The Mighty High", "Swag Drip" - as N. Aslanian | |
Producer
| Title | Year | Status | Character |
| --- | --- | --- | --- |
| Dead on Arrival | 2017 | co-producer | |
| Armenia, My Love... | 2016 | producer | |
| Anonymous Addiction | 2015 | Short producer | |
| Armenian American | 2015 | TV Series documentary producer - 8 episodes | |
Writer
| Title | Year | Status | Character |
| --- | --- | --- | --- |
| Armenian American | 2015 | TV Series documentary created by - 8 episodes | |
Director
| Title | Year | Status | Character |
| --- | --- | --- | --- |
| Armenian American | 2015 | TV Series documentary 8 episodes | |
Assistant Director
| Title | Year | Status | Character |
| --- | --- | --- | --- |
| Anonymous Addiction | 2015 | Short first assistant director: second unit | |
Self
| Title | Year | Status | Character |
| --- | --- | --- | --- |
| Armenian American | 2015 | TV Series documentary | Himself |
| House of Young J | 2012 | TV Series | Himself - musicial guest |
Source:
IMDb
,
Wikipedia