Jynxzi aka Junko is a popular gamer, Twitch star, and YouTuber, who is predominantly known for streaming gameplay for the online shooter video game "Tom Clancy's Rainbow Six Siege" on his self-titled Twitch account.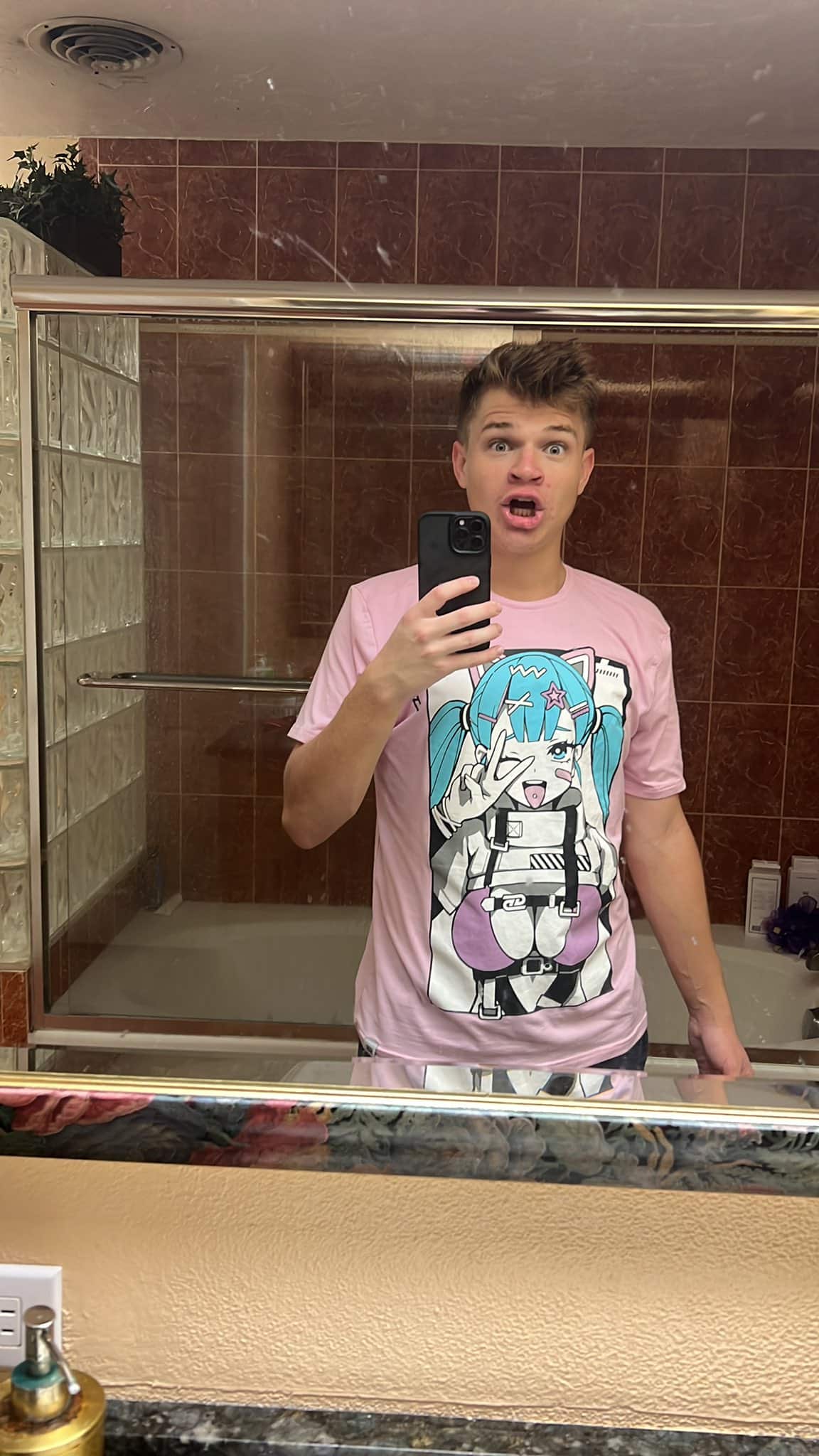 Age, Early Life, and Education Background
Jynxzi was born Nicholas Stewart under the Libra zodiac sign on 26 September 2001, in Washington DC, USA, so is 22 years old as of 2023; he hasn't disclosed any details regarding his parents or siblings, if any. Jynxzi grew up very interested in gaming, especially e-sports. He played "Clash Royale" professionally for nearly two years when he was in his early teens. He also grew up playing the shooter video game "Call of Duty: Black Ops 2," which was his favorite.
Previously, Jynxzi gave a brief glimpse into his life before he became a successful professional gamer. He revealed that he didn't perform very well in school adding that most of his teachers doubted he would amount to anything in life. He described himself as an underdog who was always looked down upon and revealed that he found solace in gaming. Jynxzi hasn't revealed the exact high school he attended, and it's unclear if he now attends college.
Career
Inspired by various successful professional gamers such as Daequan Loco and Hamlinz, Jynxzi launched his Twitch account in 2019 and immediately began uploading competitive and comedic gaming videos. He began by making gameplays for "NBA 2K" and transitioned to steaming "Rainbow Six Siege," which increased his fame significantly. Jynxzi has collaborated with numerous Twitch stars including Brennon O'Neil, with whom he live-streamed gameplay for the "NBA 2K" franchise.
Jynxzi's Twitch followers surpassed 1 million on 12 April 2023. He shortly afterward became the most subscribed Twitch streamer in the world with over 82,000 monthly active subscribers, dethroning the likes of Felix Lengyel, best known as xQc, and Kai Cenat. The latter had taken the number one spot on Twitch's active subscriber list on 15 October 2022, after setting a record of over 300,000 subscribers.
In addition to Twitch competitive gameplay, Jynxzi streams conversational content on Just Chatting.
@jynxzi #RainbowSixSiege #jynxzi pic.twitter.com/3SZkVZYRtw

— sourxim (@sourxim) February 21, 2022
YouTube
Jynxzi opened his self-titled YouTube channel on 20 January 2020. He often posts gaming-related content on the channel and his first video was "JYNXZI RAGE COMPILATION #1 (Rainbow Six Siege)," which was uploaded on 16 September 2020. Some of his most viewed videos are "Copper to Champion Episode 1 (Rainbow Six Siege)" (uploaded on 15 April 2023), "3 Hours of Copper to Diamond…" (posted on 1 November 2022), and "Copper to Champion Episode 1… (Rainbow Six Siege)" (posted on 6 July 2023) with over 2.64 million, 2 million, and 1.88 million views respectively. He has over 1.4 million subscribers, and has uploaded over 700 videos, which have a total of over 243 million views.
Jynxzi launched his second YouTube Channel (Jynxzi Live) on 14 August 2023. He posts gameplay compilations, pranks, and hilarious reaction videos on his channel, which has at least 95,000 subscribers. The gamer has posted at least 175 videos, which have attracted around 18 million views as of October 2023. On 20 August 2023, Jynxzi partnered with the online streamer, Adin Ross, to create his most viewed video on his secondary YouTube channel – "Jynxzi & Adin Ross Best Moments!" – which has around 920,000 views.
Other Social Media Platforms
Nick is active on Twitter (@jynxzi) with over 160,000 followers. He joined the platform in August 2019. He's also active on Instagram (@jynxziyt) with around 67,000 followers. Jynxzi uses his social media platforms to popularize various brands, including meal-kit firm HelloFresh. Recently, Jynxzi featured his mother on his TikTok channel, where they rated the 2021 superhero film "Spider-Man: No Way Home."
Personal Life
Jynxzi is a very private person, who hasn't revealed his current relationship status; he's seemingly focused on his social media and gaming careers. When he asked in a 2021 interview whether he was dating, the gamer replied 'I don't have a girlfriend bro. I play "Siege" all day.'
Jynxzi follows the Christianity religion. He currently lives in Florida.
Height, Weight, and Physical Appearance
Jynxzi is of White ethnicity and has a pair of green eyes and blonde hair. He stands 5ft 10ins (1.78m) tall and weighs approximately 180lbs (82kgs); he wears shoe size 10.5 (US). One of Jynxzi's most distinctive features is his strong jawline.
Net Worth
Jynxzi's main source of income is Twitch – he's subscribed to the platform's Partner Program, which enables him to earn through cheers, contributions, and commercials. Additionally, the professional gamer advertises various brands on his YouTube channel, which significantly contributes to his net worth. He is reportedly worth approximately $725,000 as of 2023, and seemingly leads a luxurious lifestyle, thanks to his steady sources of income.
Most Subscribed Twitch Streamers
Currently, Jynxzi has the most subscribed to Twitch Channel. He's closely followed by Kai Cenat and Ludwig.
Kai Cenat
Kai was born Kailen Carlo Cenat III in New York City, under the Sagittarius zodiac sign on 16 December 2001, which makes him 22 years old as of 2023. He is a student at the State University of New York at Morrisville. On top of Twitch (he has 7.2 million followers), Cenat has a self-titled YouTube channel, that has over 4.83 million subscribers and nearly 310 million views. He usually posts challenge and prank videos. Kai has completed a wild challenge, where he streamed non-stop for 30 days. He is active on Instagram (@kaicenat) with has over seven million followers.
Kailen won the title of 'Streamer of the Year' at the 2023 Streamer Awards, and the 12th Streamy Awards festival. On 4 August 2023, the professional gamer found himself in trouble with the law after a riot broke out at Union Square Park, Manhattan, during his giveaway of gaming-related items. The failed giveaway incident took a huge toll on his subscriber count.
Ludwig
Ludwig Ahgren hails from New Hampshire, USA, and was born under the Cancer zodiac sign on 6 July 1995, which makes him 28 years old as of 2023. The content creator and video game streamer became famous for his self-titled YouTube channel – he has over 5.44m subscribers and over 1.8 billion views – on which he posts commentary and footage related to numerous games including "Super Smash Bros." Ludwig has over 3.1 million Twitch followers. He stopped frequently streaming gameplay in 2021. Ludwig won the title of 'Steamer of the Year' at the 2022 Streamer Awards. During the peak of his Twitch career, he reached over 282,000 active subscribers, and once beat the record set by Richard Tyler Blevins, best known as Ninja.