Danny "The Count" Koker would have a more challenging time operating his automobile and motorcycle restoration shop, Count's Kustoms, if it weren't for his wife, Korie. Danny, also a mechanic, business owner, and hard rock band frontman, started his shop in the 1990s, initially almost exclusively for painting vehicles. Through hard work, trial and error, great crew, and unrelated media prominence, such as hosting "Saturday Fright at the Movies," the weekly host horror movie show where he earned his nickname, Danny landed the reality TV show with History Channel.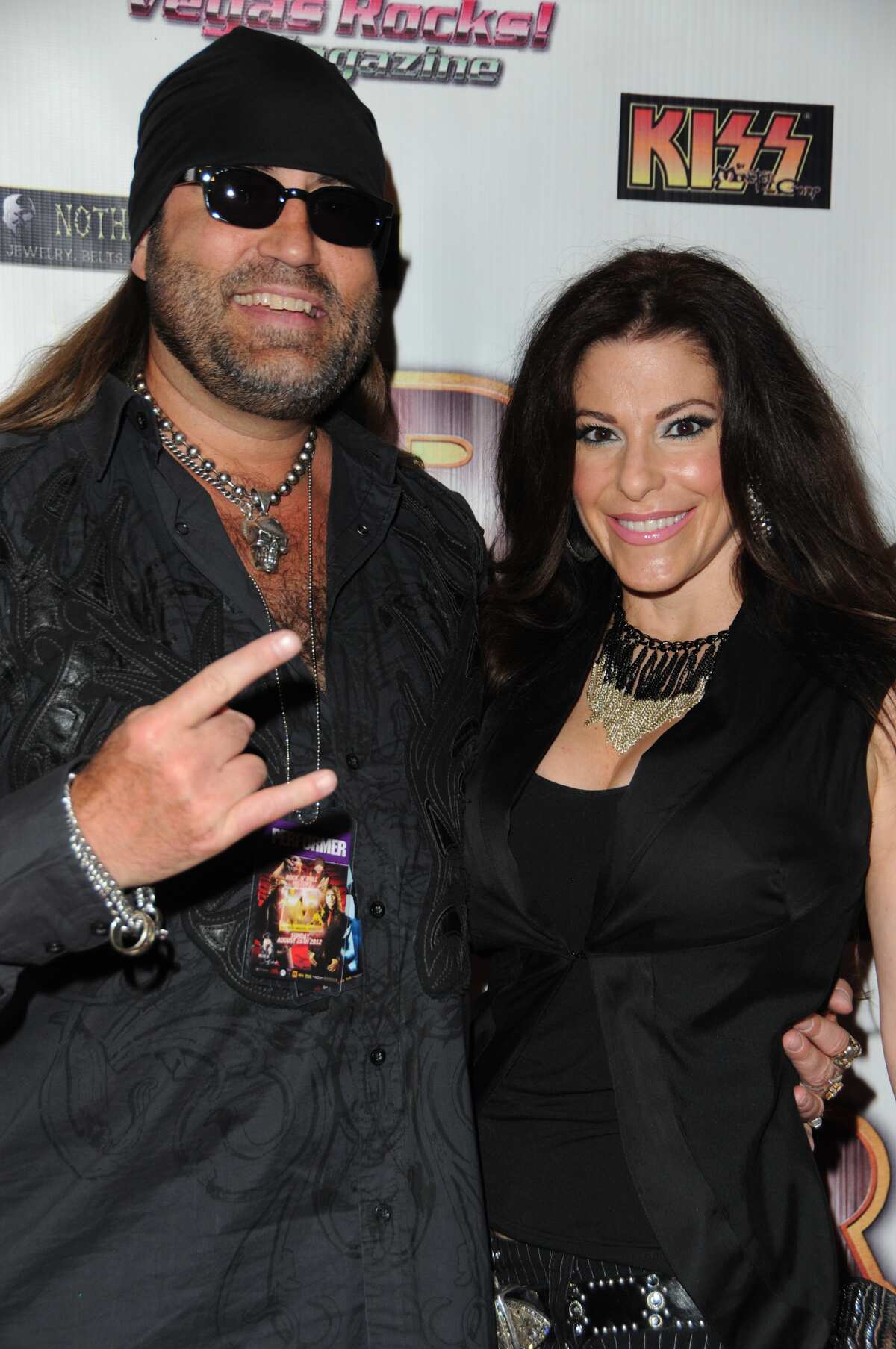 "Counting Cars" premiered on 13 August 2012, as the second spin-off from "Pawn Stars," the TV show in whiche Danny regularly appraised classic cars. For 10 seasons until 1 December 2021, Count's Kustoms in Las Vegas, Nevada, restored classic automobiles and motorcycles to their former glory while adding an artistic touch to the form or function through custom parts, paint, polish and bodywork.
Korie only married Danny in the second half of the show's run, but occasionally appeared in front of the cameras. However, she supported him behind the scenes while working on her career, and joined him and his team for car shows and fan meet-and-greet events. Here's more about Korie.
Korie and Danny are wealthy
Korie has known Danny for over two decades, but it's uncertain how long she'd dated him before they married in 2015. Today, she's his best friend, wife, business partner, and entertainment director for Danny. Korie is unofficially involved in all their businesses in Las Vegas, from the car repair shop to a tattoo parlor, but officially leads a restaurant and manages his band, Count's 77. It is hard to estimate the net worth of the Kokers, but it's undoubtedly in the millions of US dollars; some online net worth estimates mention numbers up to $12 million. Danny and Korie likely don't know the number themselves because they are clearly not resting on their laurels. Instead, they reinvest their profits to expand their empire, and branch into new industries.
Korie is a Sin City native
Korie Fera Koker was born on 8 August 1965 in Las Vegas, Nevada, and spent her early childhood there with her mother and brother. She said that music and arts marked her youth, as her father worked as a musician, and she loved accompanying him to his performances. Moreover, Korie sang in the church choir and played the piano.
She relocated to Chicago, Illinois at some point, before matriculating from high school there. Korie continued her education there, eventually getting a bachelor's degree in broadcasting and working as a production coordinator and camera operator.
While she enjoyed her work, Korie started missing her family, who lived in or near Nevada State, and felt a strong urge to do something related to automobiles. She moved to Las Vegas in 1990 to seek a job in the vehicle industry, solving both problems.
Knight time is the right time! @GoldenKnights #VegasBorn #GoKnightsGo 💛🏒🖤 pic.twitter.com/rG6pKeB97j

— Korie Fera Koker (@KorieKoker) December 24, 2019
She met Danny in Las Vegas
Korie worked in the banking and finance sector, as a hairdresser, and a salesperson in real estate. Although the timeline of those jobs is unclear, she likely did so in the 1990s, however, Korie's passion for cars grew, and meeting Danny in 2001 showed her that she enjoyed being surrounded by vehicles. She began helping her husband at the shop, and promoting his work at vehicle expos and shows, helping him expand the network. Danny and Korie married in 2015, but have never revealed whether they have children. Unconfirmed information tells that she was part of an amateur rock band and met Danny that way.
Korie works with Danny
Eventually, Danny wanted to expand his brand, which allowed Korie to step into many more roles. She is the co-owner and primary operator of Count's Vamp'd Rock Bar and Grill in Las Vegas; besides offering great food, drinks, and atmosphere, they help local and international bands. The bar has an outdoor patio and live music room, built to revive the rock 'n' roll and classic rock era. That allows Danny's hard rock and classic rock band, "Count's 77," and many others paying tribute to the 1970s and the 1980s rock scene, to play in an intimate setting rather than perform a concert. Speaking of Danny's band, Korie is their manager and formally the entertainment director.
Korie also undoubtedly helps with other businesses, primarily Count's Car Tour. The Count's Kustoms customized tour bus departs from Treasure Island or Siner's Cove, and takes fans to several Las Vegas sights, including its famous sign, before it arrives at Count's Kustoms shop, allowing fans to see Danny's extensive vehicle collection.
Danny also sells VIP tickets that grant the buyer access to Danny's Personal Show Room, and a gift voucher towards a VIP dinner at Count's Vamp'd Rock Bar & Grill. Korie likely oversees the sale of Count Kustoms merchandise, and the work of Count's Tattoo Company at Rio All-Suite Hotel & Casino Las Vegas. Finally, she 's committed to charity work, with organizations that assist veterans, and animal rescue. Korie is also trained in the trap-and-neuter method to reduce stray cat populations.
They are multimillionaires
Korie and Danny are undoubtedly worth several million US dollars, but it's challenging to establish an amount. Count's Kustoms is no longer their most profitable venture but a passion project that brings money. Viewers of "Counting Cars" and similar History and Discovery Channel shows know that turning a profit in that niche is difficult. Therefore, the cast members welcome the salaries from the production company with open arms, and do side hustles or work for clients off-camera. Thankfully, Danny collected his paychecks from about a decade on TV and reinvested into his vehicle customization shop and a private collection, before the COVID-19 pandemic prevented the filming of the 11th season.
In 2020, Danny revealed that his collection included 55 cars and 70 motorcycles  – it was bigger, but he sold some to free space. He keeps the remaining vehicles in his public, VIP, and private showrooms, and earns a modest sum from people who book Count's Car Tour and take pictures or look at his beloved possessions. Danny and Korie now earn considerable money through Kount's Customs Shop online-exclusive t-shirts, Count's 77 concerts and tours, and their grill and tattoo studio businesses.
Furthermore, after History left the future of "Counting Cars" in limbo, Danny and his team uploaded over 200 videos to their YouTube channel, Count's Kustoms Network. It's amassed over 134,000 subscribers as of early August 2023, and allows the shop to post ongoing projects, behind-the-scenes footage, and updates on old designs. It's taking off slowly; it made about $18,000 last year, and probably up to $50,000 since its inception in April 2019, through YouTube advertisements and much more by marketing its merchandise. The official website, countskustoms.com, has a Sponsors page that invites potential collaboration; Borla, Dynacorn, Lincoln Electric, Rocket Racing Wheels, and many others have sponsored them.
Korie only mentions Danny online during special occasions, such as Valentine's Day, Christmas, Halloween, and the Fourth of July. When fans bombarded her with questions about his absence, she posted a selfie with Danny jokingly saying that she 'scored a picture and had to ask for one, as if she were a fan.' On the other hand, Korie frequently posts about her favorite things. For instance, Monterey Bay, California, is one of her favorite places, as are many beaches and mountain retreats nationwide.
Unsurprisingly, Korie is a huge music fan and has hosted or attended concerts of some of her favorite bands and performers. She has gushed about bands such as ZZ Top, Shinedown, The Scorpions, and Judas Priest, and singers and musicians such as Alice Cooper, Jeff Beck, Billy Gibbons, and Rob Zombie. Rob had gifted her a signed guitar – she'd been a fan of The Scorpions for over 40 years. She is also a huge fan of actor Clint Eastwood, and wished him a happy 92nd birthday in 2022, and has cosplayed Freddy Krueger, a character from one of her favorite horror movies, "A Nightmare on Elm Street."
Korie is also a sports fan; her favorite hockey team is Vegas Golden Knights, and the American football Las Vegas Raiders. Korie enjoys coffee, champagne, and Jack Daniels whiskey. Her favorite foods include lobster, chocolate, French fries, and pepperoni pizza.
Korie enjoys photography, particularly sunsets, and loves wild animals such as otters, sea lions, tigers, and peacocks. Korie had a Husky named Mya and two cats. Bela, who turned 18 in 2018, was named after Bela Lugosi. Boris, her other cat, was named after Boris Karloff. Her family has a horse named Tango, and one unintentional pet, a lizard she calls Jim Lizzy.