Picture this – two co-workers at a real estate firm get along well despite being in different levels in the company. They have a similar sense of humor, and share some inside jokes, but their friendship does not extend beyond the confines of their office. One of them, the man, is married, while the woman is focused on rising up the corporate ladder and crashing the glass ceiling. Fast forward a few years: the male colleague is going through a contentious divorce, and that is when the stars start turning. It turns out that his friend and colleague is experienced in family law, having passed the bar a few years before they started working together, and successfully represented herself in a similar situation. She helps him through the divorce process and they start talking outside their work hours. Once his divorce is finalized, their friendship grows but intimacy is the farthest thing from either of their minds. That is until one evening when he asks her to marry him over Google Chat. A few weeks later, the two friends and colleagues add a new dynamic to their relationship. They become husband and wife and go on to have three children. Nine years after their wedding, they tell us their story, and allow us into their lives on reality television. This is the story of Emily Simpson and a glimpse into her family life as she navigates the treacherous world of reality television in "The Real Housewives of Orange County" while raising a large blended family and setting aside some time for selfcare.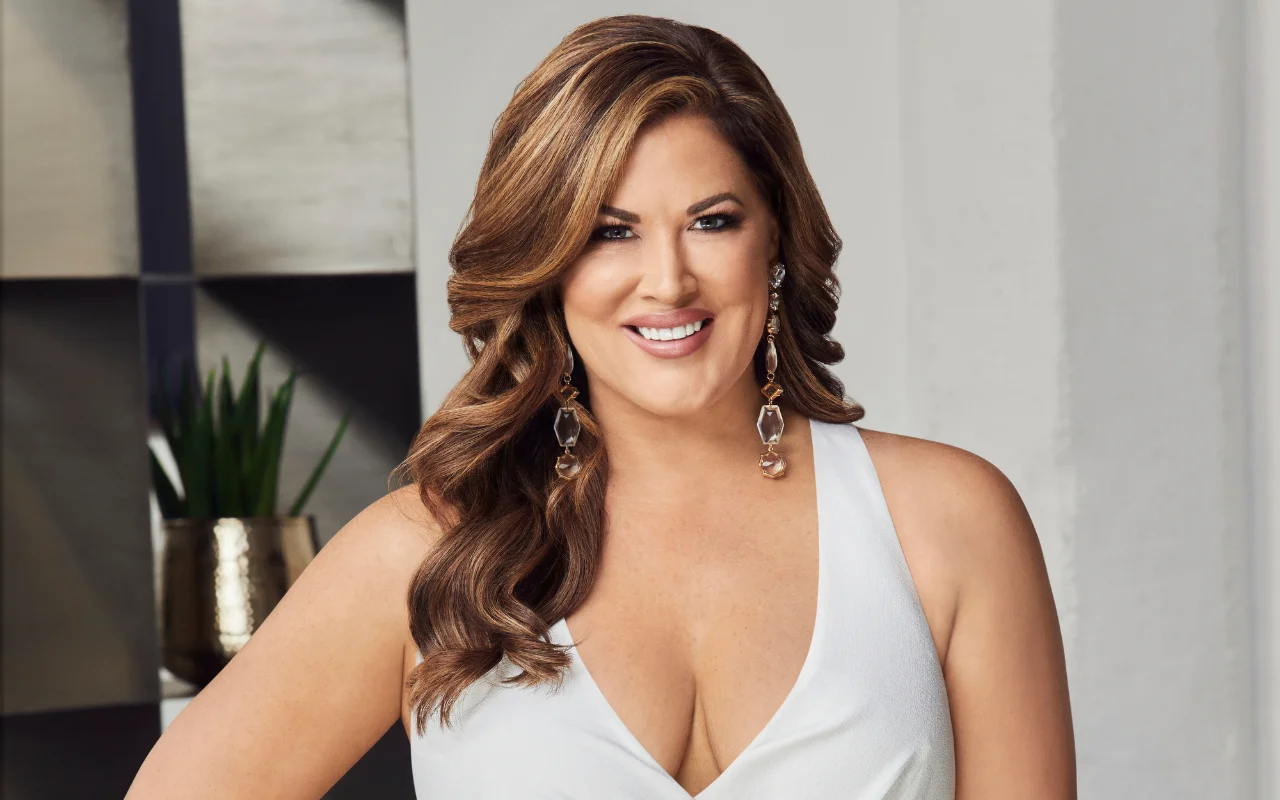 Sprinting Down the Altar
The journey that led Emily to her husband, Shane, sounds like a movie script or the plot of a romantic novel complete with boss/employee to lovers and friends to lovers tropes and a rushed trip down the aisle. Emily met Shane in 2005, when she'd just started working for a real estate company,y and Shane was her immediate boss. Professionally, the two hit it off immediately, particularly since they had followed similar career paths. They were both lawyers, although Emily had passed the bar and was licensed to practice in California, while Shane was only licensed to practice law in Utah. Although she and Shane were just an employee and supervisor with a great working relationship, they often had random casual conversations unrelated to work. One of the conversations was about reality television, which Shane enjoyed watching occasionally.
While Emily's career was taking off, Shane's life was falling apart. He was fielding allegations of abuse from his then-wife, Miriam, who claimed that he was excessively controlling and made her feel trapped. Her situation became unbearable and had her hospitalized a few times as the stress took a toll on her body, leaving her no choice but to end their relationship. Emily offered Shane professional advice on the divorce settlement, child support, and the custody of his two children with Miriam. When his divorce was settled in 2008, Shane sought comfort in his friendship with Emily. A few kisses later, the two were walking down the aisle barely two weeks after his proposal. They took their vows on Valentine's Day 2009.
Motherhood
From her Instagram bio, which reads "Wife, Mom, Attorney," Emily takes pride in being a wife and mother, but her path to motherhood was a long and winding one that almost led her to lose hope of ever becoming a mother. Emily and Shane waited until their wedding night to consummate their relationship, due to his religion. They hoped to have children immediately, but fate had other plans for them. After years of trying and a few miscarriages, Emily was on the brink of disillusionment when her sister, Sara, offered to become her surrogate. With Sara's help, Emily and Shane had three children.
The couple has a semi-blended family with two children from Shane's first marriage and the three children they had through surrogacy. Shelby, Shane's oldest child, and Emily's stepdaughter, graduated from Utah University and is currently studying at Brigham Young University. Her sister, Chanel, was still in high school in 2022. Since Emily helped Shane get 50-50 custody of the children during his divorce, Chanel lives with Emily and Shane half the time. Emily had her first child, Annabelle, in 2013. A few years later, Sarah carried another child for her sister, actually delivering twin boys, Luke and Keller, completing Emily and Shane's large family of seven.
Emily is a hands-on mother who nurtures her children's talents. She takes pride in waking-up early to ensure that they get a healthy breakfast before heading out. In the last season, her devotion towards her children showed when she supported Annabelle in her modeling career by affirming her decision to pursue modeling, driving her to photo shoots, and getting her signed with a model management agency. Emily has kept up with her twins' interests despite being busy helping her firstborn follow her dreams. She helps Luke with his art, affirming his talent, and has noticed Keller's love for history and obsession with presidents, which she nurtures by quizzing him every chance she gets.
Bed of Roses and Thorns
Emily was thriving as a mother, but her relationship with Shane was deteriorating by the day. It didn't help when Emily went to Shane with the idea of appearing on reality television, which would open up their already struggling relationship to public scrutiny; naturally, Shane was against the idea. He made his displeasure over the suggestion clear when he insisted that not only did he not want to be on television, but he also hoped that she would decide against being on a show as well. Clearly, Emily won because the couple joined the cast of "The Real Housewives of Orange County" for the show's 13th season, which premiered in July 2018.
RHOC
Emily is the resident level-headed character and often the voice of reason in the show. She isn't shy to take and defend hard stances on things she believes in, or call out her fellow cast members. She's made some solid friendships in the show; her friendship with Gina immediately comes to mind, and had her share of antagonism from characters such as Shannon. Amidst all this, Emily has remained a fan favorite. However, the reality show would not live up to its name without drama, unfounded rumors, false accusations, a villain, and the occasional backlash against some characters. Emily has been in the middle of all this courtesy of her husband.
Unknown to many fans, Emily was married before she met Shane. The marriage lasted five years and ended after she got her law degree. Emily represented herself in the divorce, and hasn't heard from her ex-husband since then. With one failed marriage under her belt, Emily was determined to make her marriage to Shane last. However, being in reality television made it near impossible to maintain a healthy relationship, particularly after Shane inadvertently became the villain in the show, and had fans advising Emily to divorce him.
Emily's first act of defiance in RHOC was defending Shane and her marriage. She begged viewers to give him a chance, arguing that he wasn't a jerk but rather a man who was uncomfortable being in front of the cameras. All Shane had to do to prove Emily right was show that he was a good partner, but he did the opposite, by giving fans reasons to dislike him more. For instance, viewers learned that Shane had passed the Utah bar exam but failed the California exam after multiple attempts; on the other hand, Emily had passed on her first try.
Viewers picked up some passive-aggressive behavior coming from Shane, which Emily confirmed when she confronted him about talking down on her, and making jokes at her expense; she confessed to feeling as if he resented her for passing the bar. Shane confirmed the fans' and Emily's observations when he moved out of their house into a hotel in the days leading to the exam, and was rumored to have been on the brink of filing for divorce when he failed the exam again.
Things have since blown over between Emily and Shane. From their interactions in the show and their posts about their relationship, the two appear to be making their marriage work. Shane has also grown on fans and the cast of RHOC, particularly Gina, who was initially wary of him, but now admits that he is a good guy.
Self-Care
As a stay-at-home and hands-on mother, Emily has her hands full. When she's not driving one of the children around, making their meals, or helping them discover and build their hobbies, she is filming, going on press tours and interviews to promote the show, and spending time with Shane. Over the past seven years, she put taking care of herself on the back burner until earlier this year, when she decided to focus more on herself and her health.
Her first act of self-care was fitness, after a doctor's visit revealed that she had pre-diabetes, jolting her to action. She took the short route to weight loss by having liposuction alongside the Ozempic that was prescribed to control her blood sugar. Emily has received backlash from some of her fans for using the drug to lose weight rapidly, and supposedly setting unachievable standards for other women but her resolve to keep the weight off has remained strong amidst all the criticism. She's working with a celebrity trainer to keep losing weight until she reaches her goal. 
Net Worth
Emily has had a long career spanning across industries since she earned her law degree and passed the bar. She has worked in real estate, practiced family law, and worked as a party planner in addition to her work as a reality television star. Even now, as a stay-at-home wife and mother, Emily brings in an income from her role in the "Real Housewives of Orange County." With her income from all her ventures, as much as $2 million.
We look forward to getting to know the new Emily, and watch her take care of herself as we catch up with her on Bravo for the ongoing 17th season of ROHC.