Fans understandably want to know more about Faye Hadley, considering "All Girls Garage" entered its 12th season this year. Lafayette "Faye" Hadley (née Lewis), is certified by Automotive Service Excellence (ASE) and is an experienced automotive technician and mechanic. She's renowned as one of the co-hosts of the reality TV show, which premiered on 3 March 2012 on Discovery's Velocity channel but only joined later. It followed Rachel De Barros, Cristy Lee and Bogi Lateiner, who worked at Girl Gang Garage, a car shop that Bogi started. Bogi owned the Arizona-based shop 180 Degrees Automotive for over a decade but wanted to lead a team of female professionals, who would restore vehicles in harmony, display their designs at the annual Specialty Equipment Market Association (SEMA) show, and create workshops for aspiring female mechanics.
The show moved to MotorTrend, the new name for the Velocity network, in August 2016, months before Discovery Network cast Faye to replace Rachael De Barros as the third host.
Faye leveraged her on-screen appearance to land more related gigs, such as hosting the "Best of Top Gear" TV mini-series and a star-studded cast of the reality TV holiday special, "Holiday Hooptie Challenge," in 2020 and '21. Faye also hosted "Motor MythBusters" in 2021, operated her Pistons & Pixie Dust auto repair shop and an online company that she started to host Do-It-Yourself (DIY) workshops and showcase her work. Here's more information about Faye that viewers should know.
Faye found success quickly
Although her family claims that she was always interested in automobiles, Faye only joined the industry in her young adulthood, and was an apprentice at a Volkswagen car repair shop before she started working in other car dealerships, and taking courses in mechanics. When she felt ready to make her dreams come true, she started her own car repair shop, Pistons & PixieDust, which allowed her to work on her favorite cars, including those from manufacturers Toyota, Scion, and Lexus, and post YouTube videos to educate others, share more about herself, and sell products from her brand. Faye has a husband, despite which, although she never sought it, her career as a TV host is on the rise.
She was always into cars
Faye was born on 25 September 1986 in San Antonio, Texas, USA, and according to her mother, Cindy Copeland, she fell in love with cars as soon as she exited the womb. She also wanted cake toppers to be construction vehicles as a toddler. That wasn't entirely surprising, as her father reportedly has a doctorate from the Massachusetts Institute of Technology (MIT). Hence, from a young age, Faye was surrounded by ingenuity, design, and mechanics.
Moreover, at 15 she found her style, including fashion choices and makeup, and never changed it, but she laughs at the assumptions that she is an anti-establishment rebel or a punk-rock die-hard fan. Consequently, Faye finds it amusing that her best-rated YouTube video's runner-up was the makeup tutorial she posted as a joke.
Faye worked as a therapist
Many fans are stunned to learn that Faye graduated with a bachelor's degree in psychology from Harvard University in 2010. Her passion for automobiles never waned, but felt that she would miss an excellent opportunity if she didn't attend. After graduating at 22, Faye worked as a licensed therapist for a year, but her mother noticed that she wasn't fully satisfied, and motivated her to quit, and Faye moved to Portland, Oregon.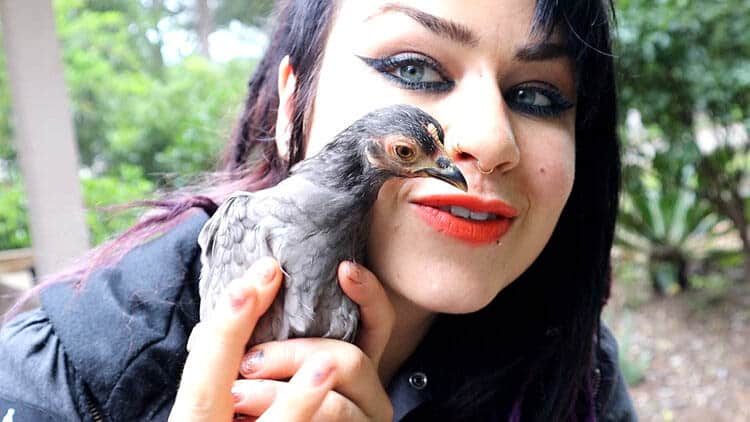 One Volkswagen car changed her life
Although her heart sings when she encounters or works on cars from the brands above, Faye admitted that two Volkswagen vehicles changed her life. She said that she met the owner of a Volkswagen Golf GTI with Alaskan license plates halfway through college in 2006. The owner explained that he was on a cross-country trip, and that the car was reliable and robust. Luckily, Faye had received enough credits from Harvard to take a break from studying.
She was miserable with academia and needed it, so she bought the same model and embarked on her first cross-country road trip the following year.
Faye was unprepared and only vaguely knew that she wanted to go to Alaska, but that she should bring a bike and a tent from Walmart as Plan B, but without a phone or means to contact family and friends. Her car quickly broke down, and Faye ran out of money, as gas was $6 per gallon, and her car consumed 22 to 25 gallons per 1,000 miles, or about 5.8 liters per 100 kilometers. Thus, she had to stop by a friend's place in Portland, and fixing the car was the first mechanical issue that she solved. and
She loves her second Volkswagen
Faye worked a short-term job to save money, and after she earned enough and felt ready, Faye sold her 1996 Golf GTI with 120,000 miles and full equipment. She bought a white 1980 Volkswagen Rabbit with 300,000 miles, barely any equipment, and a baby blue interior, naming it "Gaia." She was introduced to alternative fuel sources then, and decided to convert her diesel engine to run on vegetable oil. She credits this as her first comprehensive automotive engineering project, and it left her uplifted and fulfilled.
Moreover, her Gaia, which she lovingly called 'a piece of junk,' consistently broke down, forcing her to solve problems on the go. Surprisingly, it survived a trip of 2,500 miles or 4,025km back to New England; the engine died when she reached her college campus. That was a blessing in disguise; finding a local Volkswagen restoration shop led her to learn how to perform her first engine rebuild and got her an apprenticeship.
Gaia plays a significant role in her life
After deciding that being a therapist wouldn't cut it for her, Faye admitted that she had two difficult obstacles to conquer. First, she had a late start in the car repair industry. Second, she wanted to solidify her leadership position in a male-dominated industry. While challenging, Faye decided to embark on that journey. She initially worked as an after-hours apprentice for a mechanic in Providence, Rhode Island, while attending a community college in Portland.
Faye then used her newfound experience to work on Gaia, and modified it with inspiration from one of her favorite movies, "The Love Bug," released in 1968, which featured a Volkswagen Beetle, Herbie.
Her car was why she met her mentor, Jesse, in the early 2000s, as Volkswagen Rabbit vehicles were more common in Europe. Jesse helped her learn to perform an engine swap, and Faye only paid $200 for a new 2.0-liter engine. Years later, in April 2023, Gaia was the finalist of the 4th Covercraft "Show at Home" car show, meaning that her love for her second car never faded.
She runs a Texas-based car repair shop
Faye revealed that she worked for the government for a while; she tested coolants, oil, and fuel for the US Environmental Protection Agency (EPA) before she landed a job at a Toyota dealership. Moreover, she briefly worked with an independent shop specializing in older vehicles. Faye explained that she had to abandon software such as ALLDATA and Identifix during that time, because the cars weren't in those databases. Therefore, she had to rely on YouTube videos to troubleshoot old vehicles.
That habit became crucial when in 2013, she started an auto repair shop, Pistons & PixieDust, near Canyon Lake, Texas. To return the favor, she launched a personal YouTube channel, now under the handle @FayeHadley, on 23 April 2013, which has amassed over 143,000 subscribers 10 years later.
Her shop specializes in vehicles manufactured by Toyota, Lexus, and Scion, Toyota's marquee brand for younger customers. Therefore, her content focused on build tips and tricks, DIY tutorials, maintenance how-tos, and occasionally things happening in her life, or to her chickens that live in the shop. She calls herself a crazy chicken lady, and her beloved birds 'the Hadley Hens.'
The shop's official website, www.pistonsandpixiedust.com, allows Faye to organize her YouTube videos and post extra information on the cars in her garage. She also uses it to sell branded merchandise, such as autographed posters, stickers, pins and magnets. The demand is high; for example, Faye nearly instantly sold 900 newly released posters out of 1000 at $25 a piece during the 2022 SEMA show in Las Vegas.
Faye is married
Faye Lewis took a different last name when she married Brandon Hadley, a wood artist and car and motorcycle enthusiast, on 25 September 2016, her birthday. Brandon has a minor social media presence on Instagram under the handle @street675r. He frequently posts about projects that he helped with or uploads selfies with Faye. Brandon's vehicle, Toyota Tacoma Overland, appeared in two YouTube videos, while the third and latest part was part of an August 2022 "All Girls Garage" episode. Thus, it's clear that Faye enjoys involving him in her projects and that viewers want to get to know Brandon better. They have no children, and apparently haven't broached the subject yet.
She thought the show was a scam
Faye explained that MotorTrend, entitled Velocity back then, contacted her through email. Since she had never been on TV, the request for an audition tape was suspicious, so she concluded that it must be a scam to steal her information; luckily, Faye did some research and saw that it was legitimate. She knew of Cristy and Bogi, so she recorded an off-the-cuff video of herself working on a car in her shop. MotorTrend liked it, so she flew to Florida for a screen test and fitted right in.
Faye later said that 'she doesn't feel that she belongs on TV, and that the celebrity status doesn't appeal to her at all, despite her success.' She also stated that she never thought about her gender as a disadvantage. However, Faye recognized that she was lucky to have met great people, and understood that some women mechanics have had bad experiences with men in the workplace.
Faye has a dozen tattoos
Although it's hard not to notice, Faye has several meaningful tattoos. She owns and maintains her Volkswagen Gaia to this day, and instead of tattooing its Vehicle Identification Number (VIN), it was her first vehicle portrait tattoo. Faye also has tattoos of a heart pierced by swords on her right bicep, a leopard print on her left calf, a crab on her thigh, and some on her arms and chest. Interestingly, although she sticks to dying her hair black nowadays, Faye also experimented and had a fire engine red hair color in 2010, among many other colors.
She is expanding her reach
Faye is managed by Agency 133, a talent and management agency that signs reality TV stars who are car racers, wake surfers, and landscapers; that shows her desire to grow her brand by promoting products or services that she uses. Faye notably partnered with Hunter Industrial in October 2020 to install two large Jan Fans, improving air circulation and cooling the air in her shop during the humid, hot Texas weather. Similarly, Dupli-Color Paint sponsored a YouTube video series that involved painting her $100 trailer in September 2022, working with 303 Car Care, Schumacher Electric, and other brands.
Furthermore, Faye co-founded Woman and Machine, a US-based organization that hosts in-person and remote workshops for women in or joining the automotive industry. She stated that her primary goal is to help or educate people. Faye realized this when she worked as a therapist, declaring, 'You jump into people's lives; it was too intense for me. I want to help people; with a car, I can just jump in right away. I can change an alternator and make the check-engine light go away!'
I'll repost this for your entertainment, but it's so annoying that @ASEtests never provides the answers to the questions they post. Doesn't really help that much with studying IMO, because -as most of us know- sometimes shop life (reality) and ASE (theory) do not align. https://t.co/Y4mlFvAFJY

— Faye Hadley (@SupraFaye) August 10, 2022
Faye remains in love with Toyota
While Faye still takes road trips regularly and appears at car shows and race tracks across the country, particularly those that Toyota hosts, as a nod to how her story started, she is also willing to challenge herself outside of work. For instance, she cycled for 60 miles or 96.5kms in two days in July 2023 after visiting her father in Knoxville, Tennessee. A day later, Faye played ice hockey after a 25-year break. In contrast, she isn't a huge proponent of Artificial Intelligence, so shies away from it.
She quickly returned to work on the 1989 Toyota Supra Mk3 with a 7MGTE engine, her dream car, that she emptied her bank account to purchase on 2 June 2013. Regrettably, she outsourced the work on the engine in 2015, and it no longer ran how she wanted. Faye also drives an MK5 A91 2021 Supra, in 2023.
When asked about her love for Toyota, Faye confessed that she wanted to specialize in something when she started. She quickly settled on the Japanese manufacturer, because 'it was known for longevity and durability, but also cutting-edge technology and rad products.' Faye said that she feels inspired that Toyotas are known as cars with high mileage that never quit, and the brand has dominated the electric, hybrid, and alternative fuels industries.