Who is FemSteph? Wiki Biography
Stephanie Driscoll was born in the USA on 24 July 1988, so under the zodiac sign of Leo and holding American nationality. As FemSteph, she is popular for her Twitch channel, on which she mostly livestreams while playing the "Counter Strike: Global Offensive" video game, while she can also be seen playing other games such as "Rocket League", and "Grand Theft Auto V".
Just a simple reminder that article is created and owned only by biographytribune.com. Article cannot be re-published in any other pages or documents. Copyright is protected by DMCA. All found copies will be reported.
Original source: https://biographytribune.com/who-is-femsteph-wiki-age-measurements-boyfriend-height/
Early life and education
FemSteph grew up playing video games. It was her brother who started playing first, and she wanted to join in the fun – she fell in love with games as soon as she tried them, and time showed that she was a lot better at them than her brother.
She had good grades at school, and was an avid gamer by the time she reached high school – although her peers thought she wasn't sociable, FemSteph was simply more interested in playing video games than hanging out with them. She still had friends, mostly male, as they were gamers as well, and they often played together.
She becomes very secretive when it comes to her parents, as she hasn't shared any details regarding them with her fans – they raised her alongside her brother Gabriel, and although she is currently residing in Washington, it isn't known if she was born there.
After FemSteph matriculated from high school, she completely focused on her career online, rather than to enroll at college and pursue a degree.
Career of a YouTuber and a Twitcher
FemSteph's career began the moment she launched her YouTube channel on 26 September 2012, and there are currently more than 32,000 people subscribed to it while it also counts more than a million views combined of all her videos. While she was mostly focused on uploading her gameplays of the popular "Counter Strike: Global Offensive" video game, she has also been uploading "Apex Legends" and "Inside" gameplays, while you can also find some of her vlogging videos.
twitch stream is ON ?
hoping the servers hold up today ?https://t.co/gfrfzamiO3 pic.twitter.com/3Fd4l3JTKz

— Sterf (@FemSteph) January 23, 2020
FemSteph is not that active on YouTube, as months can pass without her uploading any videos.
FemSteph is more popular for her Twitch channel, launched around the same time she began using YouTube – her channel is currently followed by more than 230,000 people, while she's uploaded more than 100 videos onto it. She can be seen playing numerous games, including "Counter Strike: Global Offensive", "The Sinking City", and "Apex Legends". FemSteph has an average of over 93,000 viewers per hour of her livestream, and has so far spent more than 172 hours livestreaming.
The idea behind her nickname 'FemSteph' came from the Female Shepard character in the "Mass Effect" video game, whose nickname is 'FemShep' – when you change 'Shep' with 'Steph' you get her nickname.
"Counter Strike: Global Offensive" video game
CS:GO is a multiplayer first person shooter video game created by the Hidden Path Entertainment and Valve Corporation which worked on all former versions of the "Counter Strike" game. All the games were mainly released for Microsoft Windows, but have later been released for OS X, Xbox 360, and PlayStation 3 – the version for the Linux operating system was released in 2014.
At the start of the game, players are divided into two teams, first one consisting of terrorists and the other consisting of counter-terrorists. Both teams' main task is to kill the players of the opposite team while they can also win by completing objectives. Objectives depend on the game mode which can either be for terrorists to plan a bomb and keep their hostages, while counter-terrorists have to prevent terrorists from planting the bomb, defuse the bomb if it was already planted, or rescue the hostages held by the terrorists. Players are also allowed to create their own maps and game modes while a completely new game mode called "Danger Zone" was introduced in 2018.
CS:GO was praised by the critics at its launch for both its gameplay and for staying true to the previous versions, as it has the same maps and the same gameplay. As of 2019, the game is played by an average of 11 million people every month, and because it is so popular, numerous tournaments are organized all around the world, many sponsored by the Valve Corporation, and are known to have big cash prizes.
Love life and relationships
FemSteph is quite secretive when it comes to her love life, as she hasn't shared much about it with her fans. It is known that FemSteph is currently dating a fellow Twitch streamer named Brennon O'Neill who is better known online for his nickname GoldGlove.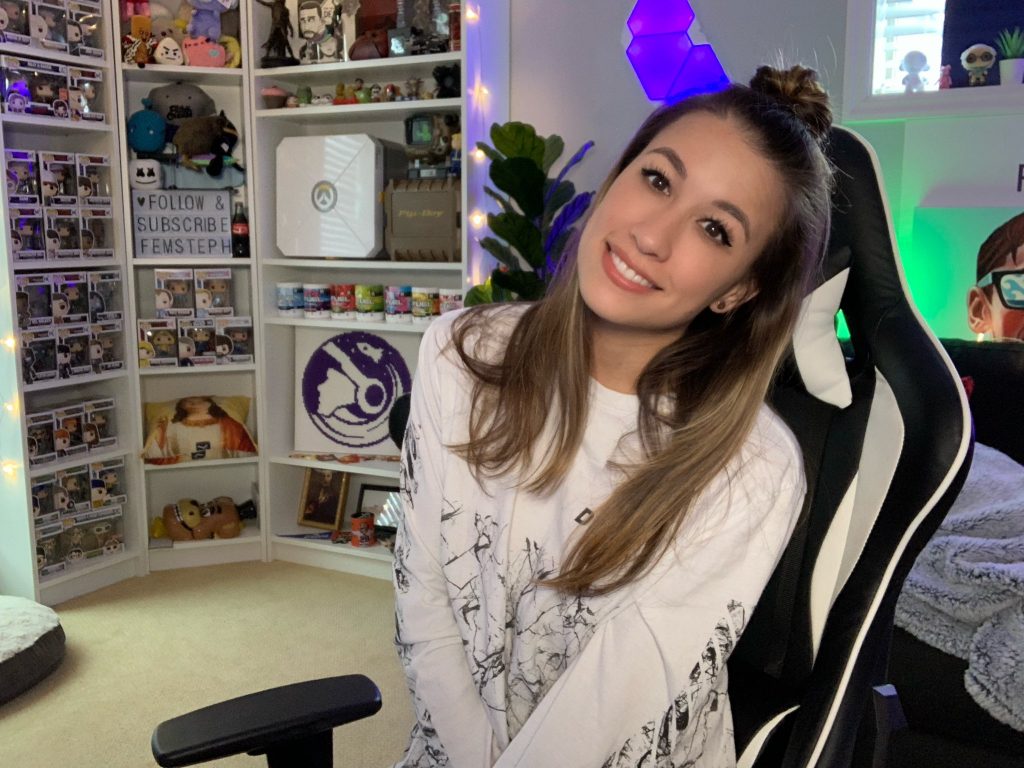 The two met online after Brennon sent her a message and after talking for several days, they decided to collaborate on a video or two as they have a very similar taste in games. After their collaboration continued for more than just a few days, they decided to meet and as they instantly fell for one another, they went out on a proper date and went on from there.
The two have been together for more than two years now, and there are no rumors or controversies whatsoever regarding their relationship. FemSteph hasn't married, and doesn't have any kids.
Who is Brennon O'Neill?
Brennon O'Neill was born in Washington US on 22 April 1991 so under the zodiac sign of Taurus and holding American nationality – he is very active on the Twitch platform, but is more popular for his YouTube channel.
Brennon launched his main YouTube channel on 21 October 2009 which marked the beginning of his online career – there are currently nearly 1.3 million people subscribed to it, while it also counts more than 332 million views of all his videos combined. Brennon is not focused on playing a single game, but rather a variety of games and reviewing them for his fans. He has another YouTube channel which he launched on 11 January 2011, and onto which he only uploads videos of his everyday life – there are more than 110,000 people currently subscribed to the channel, which counts more than five million views combined of all his videos.
My neck isn't even that long pic.twitter.com/ovKFdqZF2y

— Goldy (@GoldGloveTV) January 23, 2020
His third channel – 'GoldGlove Let's Plays' – was launched on 10 April 2011, and there  are now more than 450,000 people subscribed to it, while it also counts well over 100 million views of all his videos combined. Brennon mostly uploads walkthroughs, playthroughs, and 'let's play' videos onto this channel. He is also very popular for his Twitch channel, which is currently followed by more than 1.4 million people while he has uploaded nearly 2,000 videos onto it – Twitch and YouTube are currently his main sources of income, and his channels have helped him get his net worth to as high as $600,000.
Brennon can be found on his Instagram account which is currently followed by nearly 160,000 people, while he has uploaded nearly 1,400 pictures onto it.
FemSteph's hobbies and other interests
FemSteph loves to pose although she is not a model, and would gladly start a modelling career if she would only be given a chance. She loves to travel, and whenever she does it's with her boyfriend, and the two upload plenty of pictures of themselves together onto their Instagram accounts. Both are lovers of animals, and they have a pet dog whose name is not known.
She goes to GameCons and any events which are in one way or another connected to gaming – she has recently been to the "Fortnite Camp" event, which was made-up of gamers of all age. FemSteph also enjoys going to parties from time to time, but not too often as she is usually not much of a party person.
Appearance and net worth
FemSteph is currently 30 years old. She has long brown hair and brown eyes while her height and weight are nunknown. She is a fan of tattoos, and has several inked onto her body. According to authoritative sources, her current net worth is estimated to be more than $200,000, and is steadily rising mostly thanks to her Twitch channel.
Real name
FemSteph keeps her secrecy at a certain level, but is not one of the most secretive people online as there are many streamers and YouTubers who haven't shown their faces online even after years of livestreaming and uploading videos.
Social media presence
FemSteph is quite active on several popular social media platforms as this is very important for her career of an internet personality. She launched her Twitter account in July 2009 and has tweeted nearly 28,000 times. Her Instagram account is currently followed by over 50,000 people, while she has uploaded nearly 350 pictures onto it – she has a Facebook page as well.