George Hamilton Wiki
In the dazzling world of Hollywood, there are stars who shine brighter than others, and then there's George Hamilton, a renowned actor with over 120 acting credits to his name, who is perhaps still known best for his roles in movies such as "Crime & Punishment, USA" and "Love at First Bite" which both earned him numerous accolades and praise.
According to many, with his distinctive good looks, charismatic charm, and impeccable acting skills, he has left an indelible mark on both Hollywood and popular culture. Let's tell you more about George Hamilton, his career, his life, and what he's up to.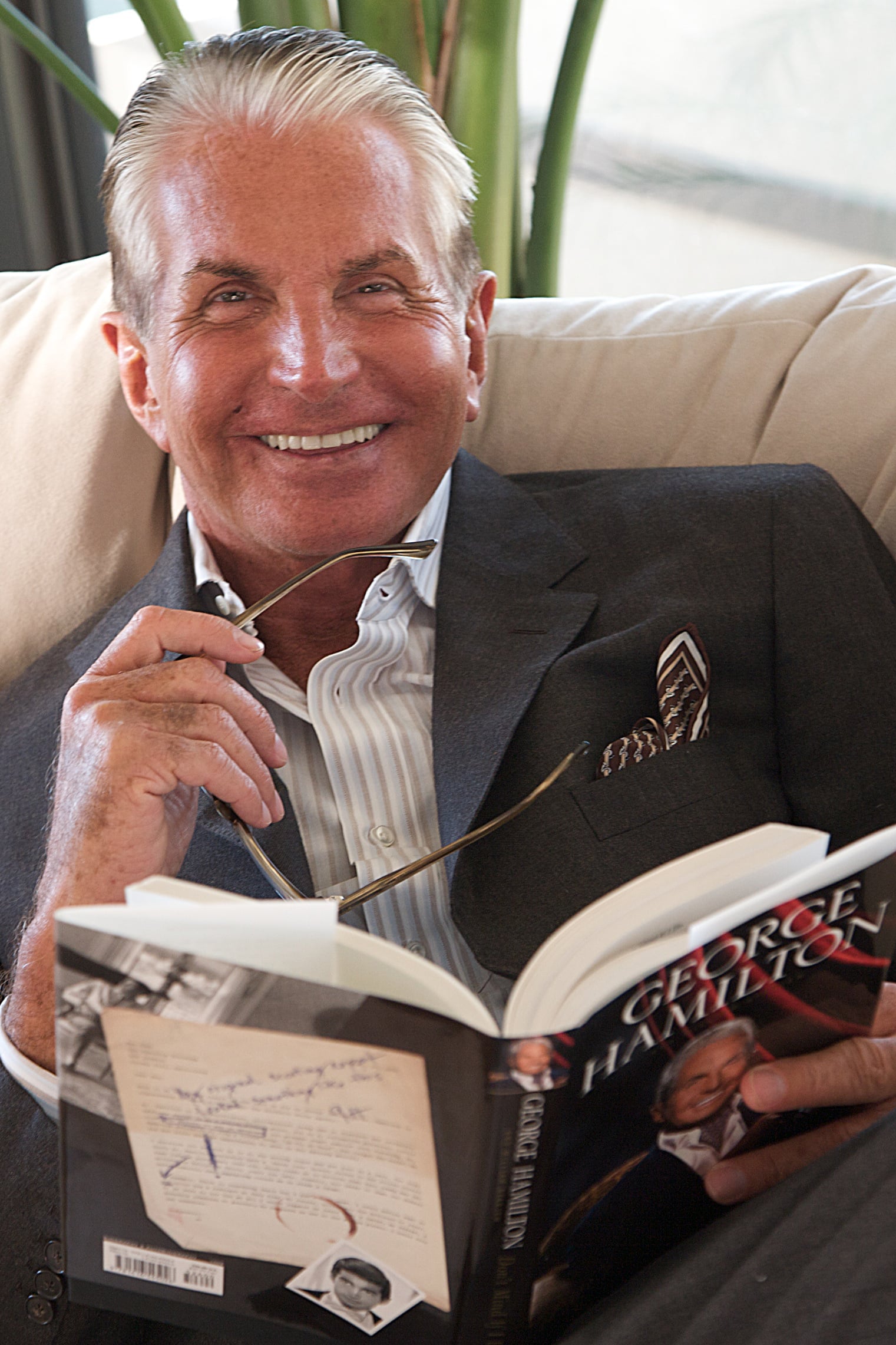 Early life, family, and education
Born George Stevens Hamilton under the zodiac sign of Leo on 12 August 1939, he recently celebrated his 84th birthday. A native of Memphis, Tennessee USA, George holds American nationality and comes from a family of English descent. He's the son of Ann Stevens, a Southern beauty, and George 'Spike' Hamilton, a bandleader, whose marriage didn't last long.
Most of his formative years George spent in Blytheville, Mississippi, at his maternal grandparent's house, alongside his older half-brother (from their mother's first marriage) and younger brother, born from one of their mother's relationships. In his memoirs, George wrote that the boys had 'an idyllic life in a small town', however, when Ann's parents died, she decided to take boys across the country, seeking the perfect new home.
A comedy "My One and Only" is loosely based on a story about George's life on the road with his mother and brothers. When it comes to George's educational background, he attended Hackley School, in Tarrytown, New York, and upon matriculating in 1957, he didn't go to college but pursued his acting career.
Entry into acting
George made his acting debut playing Krishna Vernoy in the 1958 TV mini-series "The Veil". In the following year, George mostly guest-starred in an episode of various shows, before he landed his breakthrough role as Robert in the 1959 crime drama "Crime & Punishment, USA". For his performance, George was nominated for the British Academy of Film and Television Arts (BAFTA) Award for Best Foreign Actor, and won the Golden Globe for Most Promising Newcomer – Male.
In 1960, George was seen in the movies "Home from the Hill" and "All the Fine Young Cannibals", followed by another of his notable roles, as Ryder Smith in "Where the Boys Are". He gained widespread recognition and acclaim for his role in this coming-of-age comedy film. His portrayal of a charming college student made him a heartthrob and a favorite among audiences. George was nominated for the Golden Laurel Award – Top Male New Personality.
He followed with his roles in "By Love Possessed" (1961), "Light in the Piazza" (1962), which also earned him the BAFTA nomination for Best Foreign Actor, "Act One" (1963), and "Your Cheatin' Heart" (1964), among many others. The '60s and '70s, saw George starring in numerous popular movies, but since the list of George's roles is too long, we will mention some of his most significant.
Most notable roles
George was seen in "Togetherness" (1970), "The Man Who Loved Cat Dancing" (1973), "Once is Not Enough" (1975), and "The Magnificent Hustle" (1978), among many others, however, the early '80s brought him one of his most recognizable roles.
George's comedic talents shone in the cult classic, "Love at First Bite", in which he played the role of Count Dracula with a humorous twist. His portrayal of the suave vampire garnered him a new generation of fans, as well as the Golden Globe Award nomination for Best Actor in a Motion Picture – Comedy or Musical, and won him the Academy of Science Fiction, Fantasy & Horror Films USA/Saturn Award for Best Actor.
George was cast to play Don Diego Vega in the 1981 action comedy "Zorro: The Gay Blade", also starring Lauren Hutton and Brenda Vaccaro, which brought him another Golden Globe Award nomination for Best Actor in a Motion Picture – Comedy or Musical.
When it comes to his television work, during 1985 and 1986, George was seen as Joel Abrigore in the world-popular drama series "Dynasty".
In 1990, George's career took a dramatic turn when he appeared in the third installment of Francis Ford Coppola's iconic mafia saga, "The Godfather III", portraying B.J. Harrison, a conniving lawyer, and held his own alongside legendary actors including Al Pacino, Andy Garcia, and Diane Keaton.
The '90s saw George in the movies "Amore!" (1993), "Playback" (1996), and "Casper Meets Wendy" (1998), none of which achieved much success. It seemed that George's acting career went down, and the early 2000s weren't promising, as he mostly played support roles in the movies which were poorly rated by the critics and the audience.
However, on 12 August 2009, George received his Star on the Walk of Fame (Motion Picture) at 7021 Hollywood Boulevard.
Most recently, he was seen in the movies "The Congressman" (2016) and "Swiped" (2018), while from 2017 through 2019, George had a recurring role as Spencer Blitz in the comedy series "American Housewife", starring Katy Mixon.
Love life and wife
It's safe to say that George Hamilton had a colorful love life. In the early '60s, George Hamilton found himself in the spotlight for his relationship with Lynda Bird Johnson, the elder daughter of the 36th US President Lyndon B. Johnson. The romance garnered significant media attention, with Hamilton often seen accompanying Lynda Bird to various social events. However, their relationship eventually ended, and they went their separate ways.
One of George's most significant and enduring relationships was with actress Alana Stewart. She is also a Primetime Emmy-nominated producer for her work on the TV movie "Farrah's Story". The couple married on 29 October 1972.
They had one son together, Ashley Hamilton, born on 30 September 1974, who is also an actor. George's and Alana's marriage lasted for nearly four years before they divorced on 13 October 1976, despite which they remained on good terms and continued to co-parent their son.
George's love life has been marked by a series of high-profile relationships with some of Hollywood's most famous women. He was romantically linked to Elizabeth Taylor, a legendary actress, and was in a relationship with actress Connie Sellecca. George also dated Barbara Carrera in the early '80s.
From 1995 through 1999, George was in a relationship with Kimberly Blackford, a swim-suit model who gave birth to his second son, George Thomas Hamilton, known as 'GT' and 'George Junior', born on 6 December 1999. George and Kimberly never married, but stayed close friends.
In the following years, George stated that he is 'romantically unattached but enjoys dating different ladies'. In 2019, his ex-wife Alana stated that they live like a married couple but although they considered remarrying, they decided that they are happier officially living apart, but enjoying the close intimate friendship.
What he is doing now?
Beyond his on-screen success, George's unique persona, often characterized by his famous tan, has made him a beloved figure in the world of entertainment, partly proven by his Instagram account, which has been followed by nearly 55,000 people. Judging by his photos, George seemingly enjoys his life with his family and friends.
Although in his '80s, George hasn't stopped acting, and has finished the filming of his latest movie, entitled "All Terrain", which is currently in development.
How rich is George Hamilton?
According to critics, his contributions to film and television have entertained audiences for decades, and his place in the pantheon of Hollywood legends is well-deserved. George Hamilton's story is a testament to the power of talent, determination, and a charming smile that can light up both the big screen and the hearts of millions. Thanks to all that, George has made a good living for himself.
He is also known for his tanning salons and a line of cigars bearing his name.
According to sources, as of September 2023, his net worth has been estimated at over $20 million.