• Gianno Caldwell is an American political analyst on FOX News Political News
• Grew up in South Side of Chicago and studied psychology at Chicago State University and Grand Canyon University
• Worked as a legal analyst at the Social Security Administration, Director of Government Relations, Legislative Associate, and Community Affairs Specialist
• Founded Caldwell Strategic Consulting, a bipartisan firm in Washington D.C.
• Contributor to The Hill and The Washington Times, and contributes to various news networks; net worth of $2 million
 
Who is Gianno Caldwell?
Gianno Caldwell is an American political analyst on FOX News Political News, who has featured on various channels including Fox News, Fox Business, and CNN. He is a founder of the Caldwell Strategic Consulting, a firm based in Washington, D.C., and is a contributor to The Hill and The Washington Times.
So, do you want to find out more about the life and work of Gianno Caldwell, from his early childhood to date, including his personal life? If yes, then stay with us for the length of the article as we bring you closer to the American political analyst.
Gianno Caldwell Wiki: Early Life, Family, and Education
Gianno Caldwell was born on the 27th December 1986, in Chicago, Illinois, USA and was raised in South Side of Chicago with his, two younger brothers, Christian and Matthew, and an elder sister. Gianno grew up in a poverty – his mother was a cocaine addict, so at the age of 10, Caldwell went to live with his grandmother but she was also unable to provide for him and his siblings. Gianno stressed his father's influence on him as he taught him the importance of wearing a suit, and Caldwell dreamt of becoming an elected official or a pastor, but life wanted him to become something else. Along with his father and grandfather, Gianno worked as a plumbing assistant before getting a job as an intern for the Social Security Administration. There he met a woman who became one of his mentors, and later his godmother. From 2005 to 2009, he studied psychology at Chicago State University and after graduating went to Grand Canyon University and obtained a Bachelor of Science degree in psychology in 2010.
Early Career
During his studies, Gianno also worked as a legal analyst at the Social Security Administration, where he trained and managed employees to use scheduling software before working 11 months as a senior legal analyst while serving as the policy adviser to the National Medicare Chief Administrative Law Judge. Gianno was a Director of Government Relations at Naperville Township, DuPage County, Illinois, and also a Legislative Associate and Community Affairs Specialist at Illinois State Treasurer's Office. Between July and November 2012, Caldwell worked in Romney for President Inc., a non-profit organization.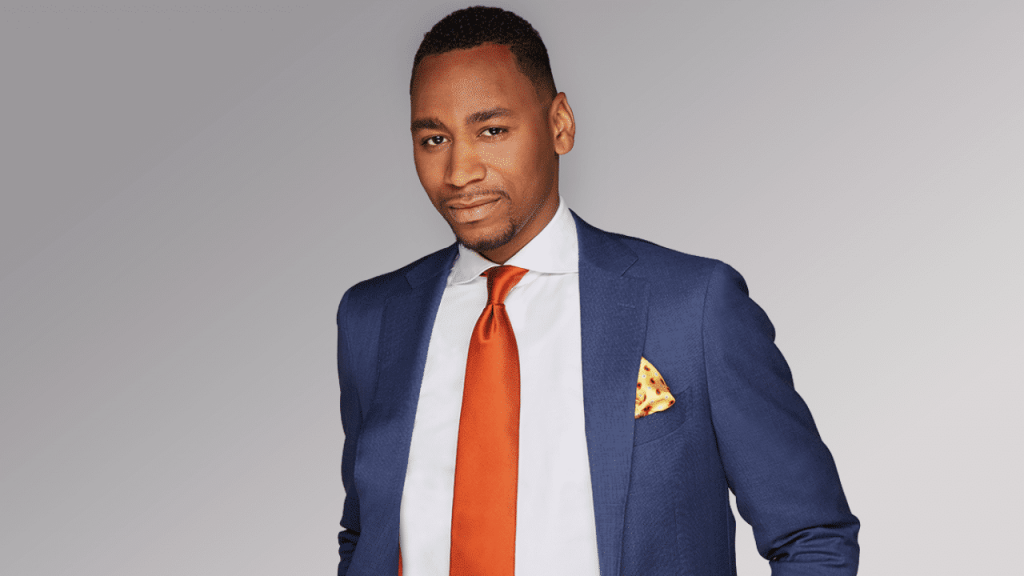 John Shimkus and Donald Trump
Gianno worked as Republican Congressman John Shimkus' intern for nine months, and during that span analyzed health, telecommunications, and energy legislation, while studying the state's Patient Protection and Affordable Care Act. Despite being a Republican lobbyist, Caldwell criticized President Donald Trump for not condemning white supremacists for the racially-charged incidents in Charlottesville, Virginia in 2017, stating that anyone who supports Trump is "morally bankrupt."
The Caldwell Strategic Consulting and Working for Several Networks
Gianno Caldwell is a founder and principal of Caldwell Strategic Consulting, a bipartisan firm with headquarters in Washington D.C., and which focuses on issues such as energy, healthcare, local government, and financial services.
Caldwell is contributing as a political analyst for channels including Fox Business, Fox News, CNN, HLN, BET, and TV One, among others. Also he regularly contributes to influential publications such as The Hill and The Washington Times' American CurrentSee Magazine, and he is also a special correspondent for ExtraTV.
Thank you for joining me for Fox and Friends this morning. Join me from Chicago on Cavuto live at 10:40am ET. Discussing the #jussiesmollett case. pic.twitter.com/bUTevMa7H6

— Gianno Caldwell (@GiannoCaldwell) February 23, 2019
Gianno Caldwell Net Worth
Since launching his career, Caldwell worked various jobs, all of which have contributed to his wealth. So, have you ever wondered how rich Gianno Caldwell is, as of early 2019? According to authoritative sources, it has been estimated that Caldwell's net worth is as high as $2 million. Undoubtedly, his wealth will become higher in the upcoming years, assuming that he successfully continues his career. As per glassdoor.com, an estimated average salary of a FOX News Political News Analyst ranges between $41k and $45k.
Does Gianno Caldwell Has a Wife?
Considering that Caldwell is a public figure, people want to know more about his personal life, and if he is a married man or does he have a girlfriend. It is known that Gianno is a workaholic and he supposedly doesn't have enough time for relationships and even if he had girlfriends in the past, he successfully managed to keep their identities away from public eyes. At the moment, he is unmarried and although there were rumors that he is gay, that wasn't confirmed.
Social Media and Other Facts
Although Gianno is known to be a quite private person, he sometimes shares details of his work and public life with followers using his Instagram profile. Caldwell's Instagram account consists of pictures of him with his colleagues, his work on news channels, also a few his personal life pictures and with celebrity friends such as the stand-up comedian Brandon T. Jackson. In 2016, Gianno was named one of Red Alert Politics' "30 Under 30" Award winners. During Memorial Day weekend in 2017, his younger brother and two of his friends were wounded in Chicago gun violence, as two men fired 25 shots on them while they were sitting in a car. One of his friends were killed on the spot, but the other friend and his brother made it out alive.
Source:
IMDb