• Joan Lin is an award-winning actress born in 1953 in Taipei, Taiwan.
• She starred in over 80 films and is also known for being the wife of actor Jackie Chan.
• She launched her career when she was 19 years old, and was an acclaimed actress in Hong Kong and Taiwan by the '70s.
• Her net worth is estimated to be over $5 million.
• Her son Jaycee is also an actor and singer, while her husband Jackie Chan has starred in over 130 films and has a net worth of $350 million.

Known for movies
Short Info
| | |
| --- | --- |
| Spouse | Jackie Chan |
| Fact | Sold the LA home and moved to Hong Kong where husband and son have their careers. [2007] |

Who is Joan Lin?
Born Joan Lin Feng-Jiao on the 30th June 1953 in Taipei, Taiwan, she is an award-winning actress, who came to prominence during the '70s, starring in a number of box-office hits of the Taiwanese and Hong Kong film industry, such as "Shaolin Long Arm" (1974), and "A Story of a Small Town" (1979), among many other films. Her career spanned ten years, during which time she appeared in over 80 films. She is also known to the world as the wife of actor Jackie Chan.
Joan Lin Bio: Early Life, Family, and Education
Growing up in Taipei was rather hard for Joan; being the second of five children, Joan had to leave school when she was only 12 years old, as her family was poor and she had to find a job to provide for them. She decided to try herself in the show business, particularly acting, and it eventually turned out to be a rather smart move.
Career Beginnings
Determined to rise above the poverty that her family lived in, young Joan started auditioning for roles in Hong Kong and Taiwanese films. It was in 1972 when she was 19 years old that she made her acting debut in the kung-fu film "The Hero of Chiu Chow", and stunned the critics and casting producers which resulted in new leading roles. Gradually, Joan's career improved and she became more popular, more so after 1976 when she starred in the popular comedy film "Coffee, Wine & Lemon Juice", next to Han Chin and Chuan-Ju Wang.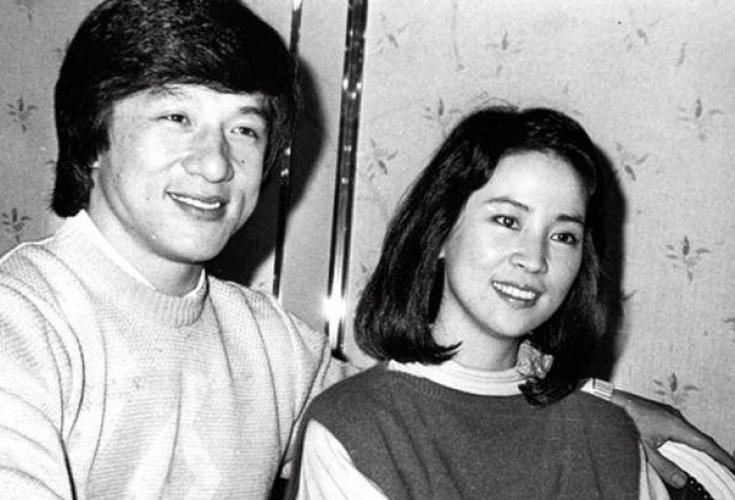 Rise to Prominence
Year after year, Joan was becoming better known within the Hong Kong and Taiwanese film industry, making her a star actress. In the second half of the '70s, Joan continued her dominance and became one of the most popular actresses in Hong Kong, and together with her future husband, Jackie Chan starred in several box-office hits. In 1977 she starred in the film "Hi Honey!" and the romantic drama film "Love Rings a Bell", while also had the lead role in another romantic drama film, "Let's Fall in Love". Her most notable role came in 1979, when she starred in the romantic drama film "The Story of a Small Town", for which she won Best Leading Actress at the 16th Golden Horse Awards. She remained in show business until the early '80s and until then starred in several other box office hits, such as the comedy film "Good Morning, Taipei", then the historical drama "The Battle for the Republic of China" in 1981, and ended her career with the leading role in the horror film "Devil Returns" in 1982.
Joan Lin Net Worth
When she launched her career, Joan had in mind only one thing; provide for her family. Well, she managed to achieve that and much more. She became an acclaimed actress, popular all across the world, featuring in over 80 films, which steadily increased her wealth. So, have you ever wondered how rich Joan Lin is, as of mid- 2018? Sources estimate that her net worth is over $5 million, earned through her acting career and no doubt boosted by her husband.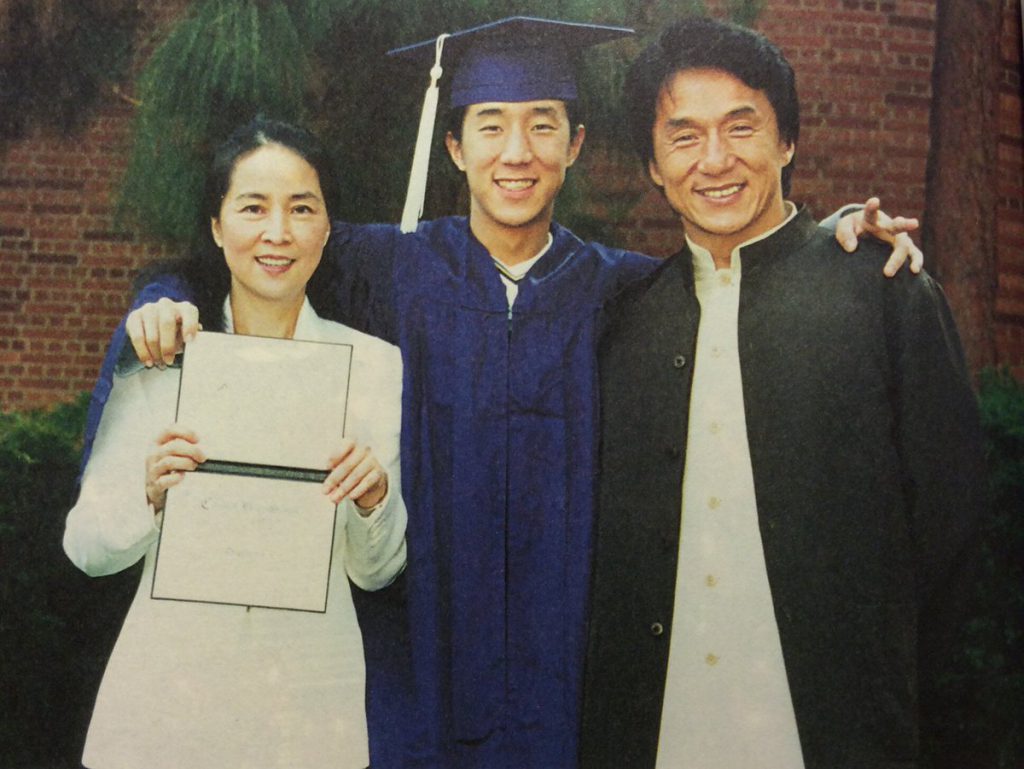 Do You Know About Joan Lin's Personal Life, Marriage, Husband, Children?
Joan met Jackie Chan in 1981 when they worked together on a film. After only a year, the two married and their son Jaycee was born that same year. According to reports, Jackie
didn't want to marry Joan
but had to when she became pregnant with their son. Joan retired from the show business to focus entirely on her husband and their newborn child. As the years went by, Joan decided not to return to acting, and became interested in other things. Her son Jaycee and her husband Jackie haven't been on good terms for quite a long time now, and she and Jaycee live together in Taipei.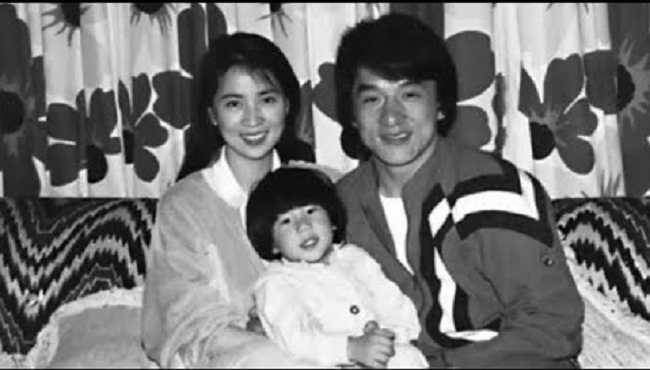 Joan Lin Son, Jaycee Chan
Now that we have covered all the major details about Joan, let's share some information about her son. Born as Jaycee Chan Jo-Ming on the 3rd December 1982 in Los Angeles, California USA, he is an actor and singer, best known to the world for appearing in the films "The Drummer" (2007), "Invisible Target" (2007), and "Sun Also Rises" the same year.

The son of Jackie and Joan, it was only a matter of time until he launched his own career, however, he was primarily focused on education, finishing high school firstly, and then enrolling at the College of William and Mary in Williamsburg, Virginia, but his poor grades stopped him from continuing, and Jaycee launched his career instead. He started as a singer, releasing the debut album "Jaycee" in 2004, but then became more focused on acting, and starred in such films as "The Drummer" in 2007, and "Mulan: Rise of a Warrior" among others. Back in 2014, he was arrested for drug possession and spent six months in jail. Since coming out Jaycee has starred in the film "Railroad Tigers", and is now working on the film "The Diary".
Joan Lin Husband, Jackie Chan
Born Chan Kong-sang on the 7th April 1954, in Victoria Peak, British Hong Kong, he is an actor, producer, film director, singer, and martial artist. Jackie has featured in over 130 films, and has won over 30 awards. Some of his most successful films include the "Rush Hour" film series, then "Police Story" film series, "Mr. Nice Guy", "The Spy Next Door", and many other films. In addition to a rather rich filmography, Jackie has released 12 studio albums.

The son of Charles and Lee-Lee Chan, refugees from the Chinese Civil War, Jackie went to Nah-Hwa Primary School, but he failed in his first year, so his parents withdrew him from school, and it was in the early '60s that he started his rigorous training in martial arts and acrobatics at the China Drama Academy, a Peking Opera School, run by Master Jim-yuen.

His career started when he was only five, but it wasn't until his adolescent years that he started gaining more notable roles. His first lead role was in the film "Little Tiger of Canton", released in 1973, and the rest is history. Jackie Chan's net worth is estimated at $350 million.
General Info
| | |
| --- | --- |
| Full Name | Joan Lin |
| Profession | Actor |
| Nationality | Taiwanese |
Family
| | |
| --- | --- |
| Spouse | Jackie Chan |
| Children | Jaycee Chan |
Accomplishments
| | |
| --- | --- |
| Movies | Devil Returns, The Battle for the Republic of China, The Story of a Small Town, He Never Gives Up, Shaolin Vengeance |
Social profile links
Facts
| # | Fact |
| --- | --- |
| 1 | Sold the LA home and moved to Hong Kong where husband and son have their careers. [2007] |
| 2 | Living in Los Angeles with her son; left the show business right after her marriage with Jackie Chan [2001] |
| 3 | Has a son with husband Jackie Chan named Jaycee Chan. |
| 4 | She made over 100 films in Taiwan and Hong Kong. She was a movie star way before her husband Jackie Chan. A well respected actress in the Chinese film industry. |
Movies
Actress
| Title | Year | Status | Character |
| --- | --- | --- | --- |
| Sap ji sang ciu | 2012 | | Sister (uncredited) |
| Jiu dian ling san fen | 1982 | | |
| Jing hun feng yu ye | 1982 | | Hsiao-ling Shen |
| Long de chuan ren | 1981 | | Fan Chin-Wen |
| Huan xi yuan jia | 1981 | | |
| Xin hai shuang shi | 1981 | | Madame Yu |
| You jian chun tian | 1981 | | Fang Yi-Ting |
| He ye lian hua ou | 1980 | | |
| Tian liang hao ge qiu | 1980 | | |
| Te bie zhi zhai | 1980 | | |
| Ai qing duo bi qiu | 1980 | | |
| Yuan xiang ren | 1980 | | Chung Ping Chu |
| Wo cong shan zhong lai | 1980 | | |
| Qing wang | 1980 | | |
| Cheng gong ling shang | 1979 | | |
| Luo hua liu shui chun qu ye | 1979 | | |
| Wang yang zhong de yi tiao chuan | 1979 | | Cheng's girlfriend |
| Zao an tai bei | 1979 | | Kao Wen-ying |
| Zhai xing | 1979 | | |
| Zuo ri yu xiao xiao | 1979 | | |
| Zuo yu xiao xiao | 1979 | | |
| Hua ban wu chun feng | 1979 | | Hsia Yu-Lian |
| Chong ci | 1979 | | |
| Wang ai cao | 1979 | | Shen Yun-Bai |
| Xiao cheng de gu shi | 1979 | | |
| Ai qing huo la la | 1978 | | |
| Bao zha de ai qing | 1978 | | |
| Ci qing ke wen tian | 1978 | | |
| Han yan bo shang | 1978 | | |
| Hi, qin ai de! | 1978 | | |
| Man shan hua kai yi pian qing | 1978 | | |
| Sui xin lan | 1978 | | |
| Xi yang lang hua ai | 1978 | | |
| Yan bo jiang shang | 1978 | | |
| You shi huang hun | 1978 | as Lin Fong-Chiao | |
| Cai zai xi yang li | 1978 | | |
| Nan hai yu nü hai de zhan zheng | 1978 | | Ming-Ming |
| Wo ta lang er lai | 1978 | | |
| Ai qing zou lang | 1977 | | Sang Wu |
| Chao ji lian ai | 1977 | | |
| Du juan hua kai shi | 1977 | | |
| Fei yue ai qing qiao | 1977 | | |
| Wo men shi nian qing de | 1977 | | |
| Wo xin mi wang | 1977 | | |
| You shi qi feng shi | 1977 | | |
| Yun ai yun ai | 1977 | | |
| Cai yun zai fei yue | 1977 | | |
| Ai qing yu kai hua | 1977 | | |
| Feng ling feng ling | 1977 | | |
| Yan yang san yue tian | 1977 | | |
| Bai hua piao xue hua piao | 1977 | as Joan Lin | |
| Dan dan san yue qing meng long | 1977 | | |
| Tiao yue de ai qing | 1977 | | |
| Wo men lian ai qu le | 1977 | | |
| Cui hu han | 1976 | | Li Meng-Lan |
| Qing hua mian mian | 1976 | | |
| Sang yuan | 1976 | | |
| Yi feng mo sheng nü zi de lai xin | 1976 | | |
| Ka fei mei jiu ning meng zhi | 1976 | | |
| Yue hui zai zao chen | 1976 | | Li Yi-wen |
| Ai qing wen ping niu zi ku | 1976 | | |
| Lang hua | 1976 | | |
| Xia ri jia qi mei gui hua | 1976 | | Ho Yi-mei (as Fong Chiao Lin) |
| Bi yun tian | 1976 | | |
| Hu die gu | 1976 | | |
| Nü xue sheng | 1975 | | |
| Bu bu jing hun | 1975 | | |
| Wu tu wu min | 1975 | | |
| Fei che long hu dou | 1975 | | |
| Tao hua san niang zi | 1975 | | |
| Feng yun qun ying | 1974 | | |
| Jin yong lü tai | 1974 | | |
| Jin shui lou tai | 1974 | | |
| Shaolin Vengeance | 1974 | | |
| Chu zu zuo shou di ren | 1974 | Guest star | |
| Shaolin Long Arm | 1974 | | |
| Xiao zi you zhong | 1974 | | |
| Yi dui yi | 1974 | | |
| Yi quan yi kuai qian | 1974 | | |
| Chao Zhou nu han | 1973 | | |
| Da sha san fang | 1973 | | Li Ying |
| Jiang hu yi kuang long | 1973 | | Hu Yuan-Fang |
Awards
Won Awards
| Year | Award | Ceremony | Nomination | Movie |
| --- | --- | --- | --- | --- |
| 1979 | Golden Horse Award | Golden Horse Film Festival | Best Leading Actress | Xiao cheng de gu shi (1979) |
Nominated Awards
| Year | Award | Ceremony | Nomination | Movie |
| --- | --- | --- | --- | --- |
| 1978 | Golden Horse Award | Golden Horse Film Festival | Best Leading Actress | Wang yang zhong de yi tiao chuan (1979) |
Source:
IMDb
,
Wikipedia