• Connie Chung is a journalist best known for her work on various TV news networks such as CBS, MSNBC, ABC, and CNN.
• She has an estimated net worth of $30 million, earned from her successful career in broadcast journalism.
• She was born in Washington D.C. and studied journalism at the University of Maryland.
• She is married to talk show host Maury Povich and the couple have an adopted son.
• Chung accepted a teaching fellowship at Harvard University's John F. Kennedy School of Government.

Known for movies
Short Info
| | |
| --- | --- |
| Net Worth | $15 Million |
| Date Of Birth | August 20, 1946 |
| Spouse | Maury Povich |
| Fact | Attended the University of Maryland, where she first majored in Biology and then switched to Journalism. |

Who is Connie Chung?
Constance Yu-Hwa Chung Povich was born on 20 August 1946, in Washington D.C., USA, and is a journalist, best known from working as a reporter and anchor for various television news networks; these include MSNBC, CBS, NC, CNN and ABC.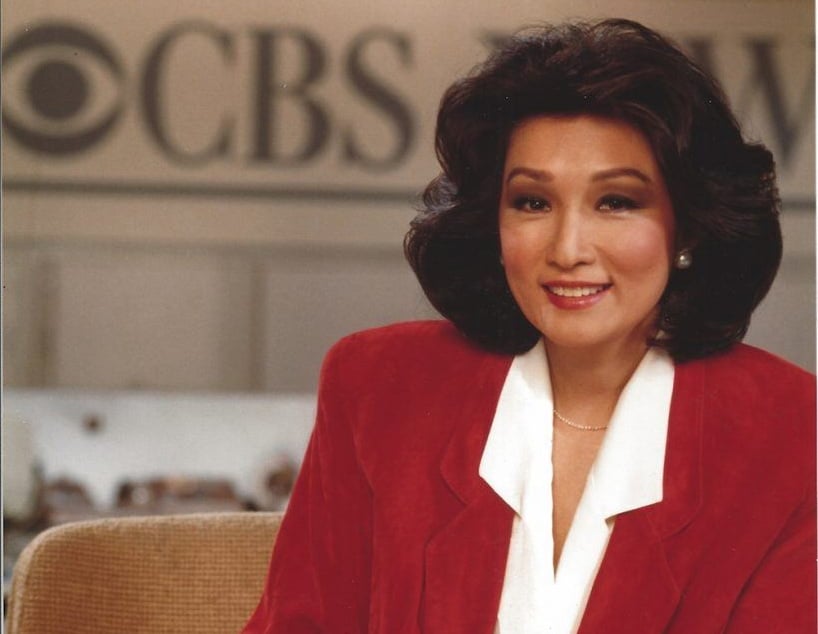 The Net Worth of Connie Chung
How rich is Connie Chung? As of mid-2018, sources inform us of a net worth that is at $30 million, mostly earned through a successful career in broadcast journalism. She has participated in numerous high profile events and interviews throughout her career, and as she continues her endeavors, it is expected that her wealth will also continue to increase.
Early Life and Education
Connie is the youngest of five children, born less than a year after her family moved to Washington D.C. from China; her father previously worked as an intelligence officer for the Chinese Nationalist Government. She was educated at Montgomery Blair High School, and after matriculating attended the University of Maryland, where she would study journalism, graduating in 1969, and then pursuing a career relating to her degree.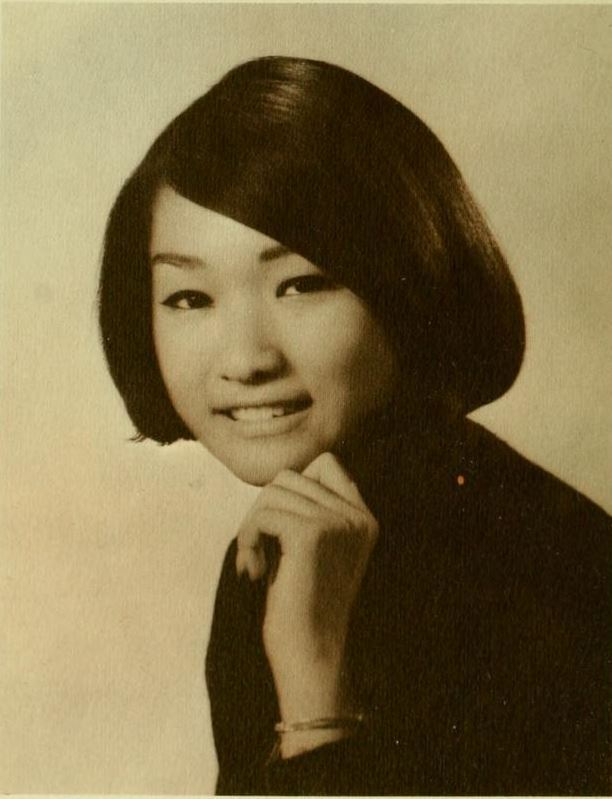 Early Career
Chung started working as a Washington-based correspondent for "CBS Evening News", initially mainly giving updates regarding the Watergate political scandal. She later left the network to work as an anchor for KNXT's evening newscasts, operating in Los Angeles, and subsequently also anchored the network's primetime news updates. In 1983, she signed with NBC as an anchor of their early program entitled "NBC News at Sunrise", but also became the anchor of the Saturday edition of "NBC Nightly News", plus serving as a fill-in reporter when required.
After six years, she left NBC for CBS, where she was given her own show – "Saturday Night with Connie Chung" – which ran for a year. She also anchored "CBS Sunday Evening News", just the second woman to co-anchor a major network's national news weekday broadcast. She also had other projects with the network, including "Eye to Eye with Connie Chung". In 1995, she left CBS and moved to ABC News, becoming the co-host of the Monday edition of "20/20", as well as conducting interviews which would help her rise to prominence, and which actually became her trademak.
Notable Interviews
In 1995, Connie had a controversial interview with Kathleen Gingrich, the mother of politician Newt Gingrich; during the interview, Kathleen mentioned that she didn't want to state on air what her son thought of First Lady Hillary Clinton, which prompted Connie to ask her to just whisper it to her, never really implying that the statement would be off the air. She received a lot of criticism by suggesting that the statement would be 'off the record' but the interview made Connie famous – or infamous – in journalistic circles.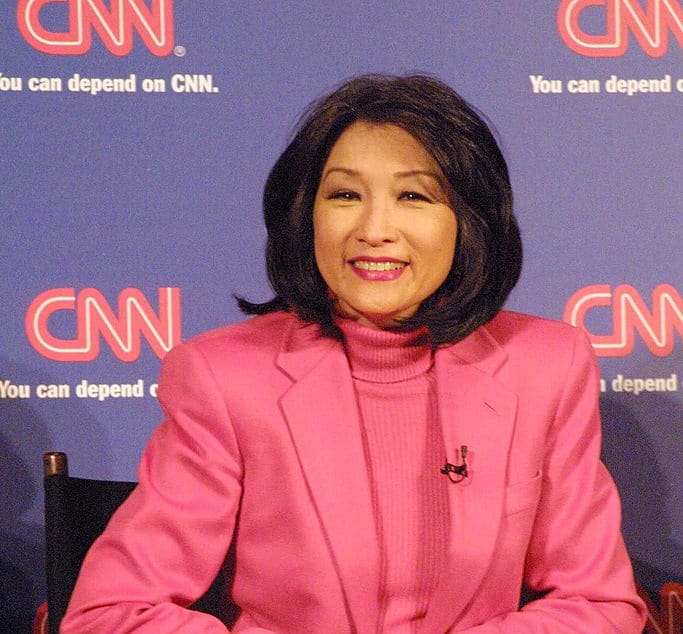 A few months later, she was again criticized for sarcasm – during an interview with the Oklahoma City Fire Department spokesman, she expressed her doubts on the capability of the Fire Department during the Oklahoma City bombing. Thousands of viewers wrote in protest, demanding that Chung either resign from CBS or move to a weekend slot – she chose to resign, and moved to the ABC.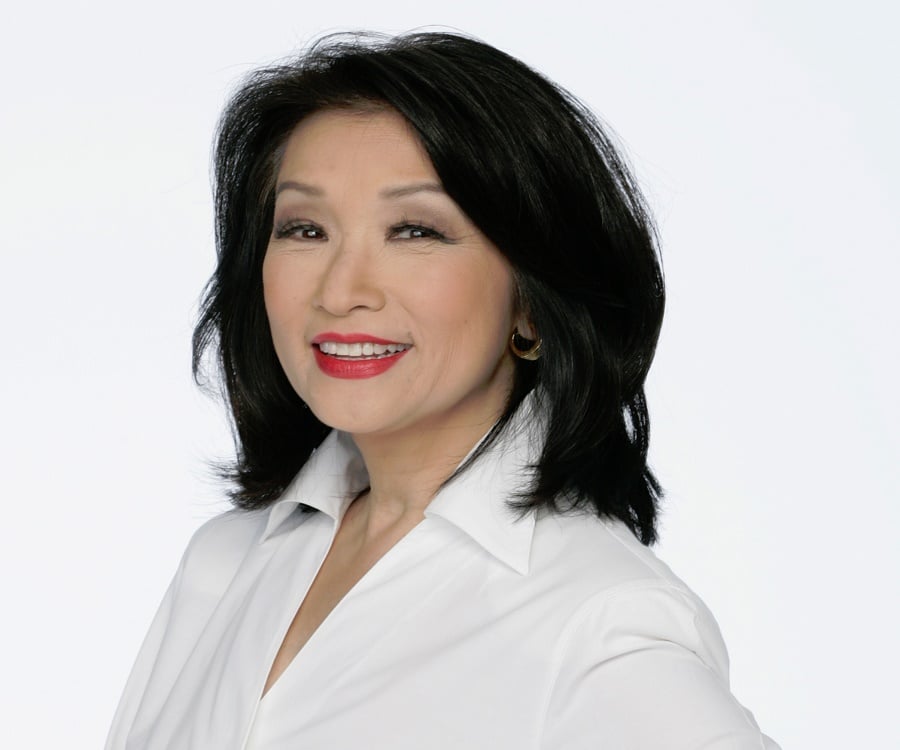 During her time with ABC, her interviews included one with Gary Condit after the murder of Washington D.C. intern Chandra Levy. She was also a guest host of the morning program "Good Morning America", but declined to take a permanent role after being offered one.
Later Work
Chung would later move to CNN and have her own show there, entitled "Connie Chung Tonight", which proved moderately successful despite criticisms, but it was suspended during the 2003 Iraq War. When regular programming resumed, she demanded a resumption of her show, prompting CNN to cancel it entirely, so she then moved to MSNBC where she hosted the show entitled "Weekend with Maury and Conny", working with Maury Povich, but it was unsuccessful and soon cancelled. During the last episode of the show, Chung sang a parody to the tune of "Thanks for the Memory", and the somewhat bizarre performance was circulated on the internet. She later mentioned that it was '… a private joke meant for our show's two viewers…!' The show was supposed to be a light-hearted take on news anyway.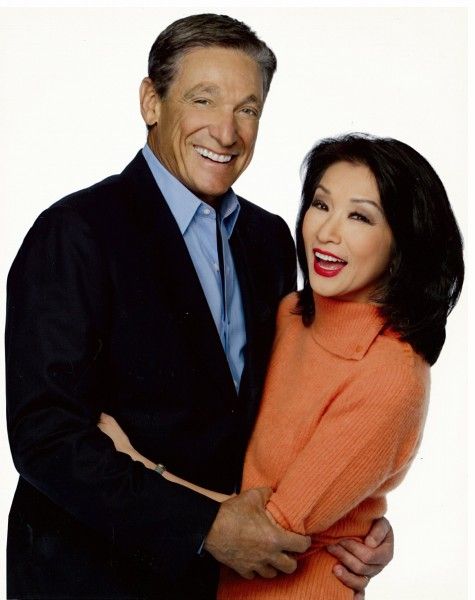 Personal Life
It is known that Connie is married to talk show host Maury Povich and they have an adopted son. She attends a synagogue with her family, but has not converted to Judaism. According to her husband, she has become more devoted to the faith in recent years and the couple maintain a kosher lifestyle. The two tried unsuccessfully to have children, leading them to adopt. Aside from her journalism work, Connie has accepted a teaching fellowship at Harvard University's John F. Kennedy School of Government.
General Info
| | |
| --- | --- |
| Full Name | Connie Chung |
| Net Worth | $15 Million |
| Date Of Birth | August 20, 1946 |
| Profession | Journalist, Television producer, Actor, Newscaster |
| Education | Montgomery Blair High School, University of Maryland, College Park |
| Nationality | American |
Family
| | |
| --- | --- |
| Spouse | Maury Povich |
| Children | Matthew Jay Povich |
| Parents | William Ling Chung, Margaret Ma |
| Siblings | Josephine Chen |
Accomplishments
| | |
| --- | --- |
| Awards | Special Classification for Outstanding News and Documentary Program Achievement - Programs |
| TV Shows | CBS Evening News, Eye to Eye with Connie Chung, Connie Chung Tonight, NBC News at Sunrise, Weekends with Maury and Connie, ABC 2000 Today, 1986 |
Social profile links
Quotes
| # | Quote |
| --- | --- |
| 1 | I was just going at this career - boom, boom, boom! Then all of a sudden, at 38, Oh, my God - I forgot to get married! |
Facts
| # | Fact |
| --- | --- |
| 1 | She was nominated for the 2016 New Jersey Hall of Fame in the Arts and Letters category. |
| 2 | She was nominated for a 2013 New Jersey Hall of Fame for General Services. |
| 3 | She received teaching fellowship at the Kennedy School of Government at Harvard University. |
| 4 | She was the first journalist to interview basketball legend Magic Johnson, after he went public about being HIV-positive. She was also the first to interview congressman Gary Condit, after his intern Chandra Levy disappeared. |
| 5 | Youngest of 10, 5 of whom died in China. She has 4 older living sisters |
| 6 | Met her future husband, Maury Povich, in 1968 at the local TV station in Washington, DC (WTTG), where she was a secretary and he was an anchorman. |
| 7 | Attended the University of Maryland, where she first majored in Biology and then switched to Journalism. |
| 8 | The only person in history (male or female) to have served as a substitute anchor for all three network nightly newscasts (NBC Nightly News with Lester Holt (1970), CBS Evening News with Walter Cronkite (1962) and ABC World News Tonight with David Muir (1953)); as well as all three network morning newscasts (Today (1952), CBS This Morning (1987) and Good Morning America (1975)). |
| 9 | Daughter-in-law of Shirley Povich. |
| 10 | Attended Montgomery Blair High School in Silver Spring Maryland |
| 11 | Newscaster |
| 12 | Son, Matthew Jay Povich, adopted in 1995 |
Pictures
Movies
Actress
| Title | Year | Status | Character |
| --- | --- | --- | --- |
| Murphy Brown | 1989 | TV Series | Connie Chung |
Producer
| Title | Year | Status | Character |
| --- | --- | --- | --- |
| Evening Magazine | 1977 | TV Series series producer - 1 episode | |
Self
| Title | Year | Status | Character |
| --- | --- | --- | --- |
| The Insider | 2016 | TV Series | Herself |
| Entertainment Tonight | 2014 | TV Series | Herself |
| The View | 2005-2014 | TV Series | Herself |
| Watch What Happens: Live | 2014 | TV Series | Herself |
| 30 for 30 | 2014 | TV Series documentary | Herself - CBS News Anchor |
| Nancy & Tonya | 2014 | TV Movie documentary | Herself |
| Politics Nation with Al Sharpton | 2013 | TV Series | Herself - Guest Host |
| Clockwork Orange County | 2012 | Video documentary | Herself |
| Miss Universe 2011 | 2011 | TV Special | Herself - Judge |
| Who Wants to Be a Millionaire | 2009 | TV Series | Herself - Expert |
| Urban Struggle: The Battle of the Cuckoo's Nest | 2008 | Video documentary voice | |
| Paula's Party | 2008 | TV Series | Herself |
| The Tonight Show with Jay Leno | 2006 | TV Series | Herself |
| The Colbert Report | 2006 | TV Series | Herself |
| Today | 2006 | TV Series | Herself |
| Connie Chung Tonight | 2002 | TV Series | Herself |
| Late Show with David Letterman | 1993-2002 | TV Series | Herself |
| Good Morning America | 2002 | TV Series | Herself - Substitute Co-Host |
| America.01 | 2001 | TV Series | Herself / Correspondent |
| Orlan, carnal art | 2001 | Documentary | Herself |
| ABC 2000: The Millennium | 1999 | TV Movie documentary | |
| 20/20 | 1999 | TV Series documentary | Herself - Contributing Anchor |
| The Rosie O'Donnell Show | 1999 | TV Series | Herself |
| Knife to the Heart | 1997 | TV Mini-Series documentary | Narrator |
| Eye to Eye with Connie Chung | 1993 | TV Series | Herself (Host) (1993-1995) |
| Late Night with David Letterman | 1983-1992 | TV Series | Herself |
| The Howard Stern Show | 1990-1992 | TV Series | Herself |
| Face to Face with Connie Chung | 1990 | TV Series | Herself (Anchor) (1990) |
| Donahue | 1985-1990 | TV Series | Herself |
| The Arsenio Hall Show | 1990 | TV Series | Herself |
| Saturday Night with Connie Chung | 1989 | TV Series | Herself (Anchor) (1989-1990) |
| CBS This Morning | 1987 | TV Series | Herself - Substitute Co-Host (1990-1993) |
| Hour Magazine | 1987 | TV Series | Herself |
| 1986 | 1986 | TV Series documentary | Herself - Co-Host |
| NBC 60th Anniversary Celebration | 1986 | TV Special documentary | Herself |
| American Almanac | 1985 | TV Movie | Herself |
| The Tonight Show Starring Johnny Carson | 1985 | TV Series | Herself |
| NBC News at Sunrise | 1983 | TV Series | Herself - Anchor (1983-1986) |
| CBS Evening News with Dan Rather | 1981 | TV Series | Herself - Substitute Anchor (1989-1995) / Co-anchor (1993-1995) |
| CBS Evening News with Walter Cronkite | 1975 | TV Series | Herself - Correspondent |
| NBC Nightly News with Lester Holt | 1970 | TV Series | Herself - Substitute Anchor (1983-1989) |
| ABC World News Tonight with David Muir | 1953 | TV Series | Herself - Substitute anchor (1998-2002) |
Archive Footage
| Title | Year | Status | Character |
| --- | --- | --- | --- |
| The Eighties | 2016 | TV Mini-Series documentary | Herself - CBS News / Herself - NBC News |
| Eat That Question: Frank Zappa in His Own Words | 2016 | Documentary | Herself |
| Traficant: The Congressman of Crimetown | 2015 | Documentary | Herself |
| Black Mass | 2015 | | Herself (uncredited) |
| Above the Fray: The Lessons of Dukakis '88 | 2014 | Documentary short | Herself |
| Mad As Hell | 2014 | Documentary | Herself |
| Killer Legends | 2014 | Documentary | Herself - Newscaster |
| The '80s: The Decade That Made Us | 2013 | TV Mini-Series documentary | Herself |
| Big Miracle | 2012 | | Herself (uncredited) |
| Ethos | 2011/I | Documentary | Herself - CBS News Reporter |
| 30 for 30 | 2010 | TV Series documentary | Herself |
| Boogie Man: The Lee Atwater Story | 2008 | Documentary | Herself - News Anchor |
| The O'Reilly Factor | 2008 | TV Series | Herself |
| 911 Amateur | 2007 | Video documentary short | Herself - ABC Reporter |
| Maxed Out | 2006 | Documentary | Herself |
| Mademoiselle and the Doctor | 2004 | Documentary | Herself |
| Tupac: Resurrection | 2003 | Documentary | Herself |
| Brother's Keeper | 1992 | Documentary | Herself (uncredited) |
| Slaying the Dragon | 1988 | TV Movie documentary | Herself (uncredited) |
Awards
Won Awards
| Year | Award | Ceremony | Nomination | Movie |
| --- | --- | --- | --- | --- |
| 2000 | Emmy | News & Documentary Emmy Awards | Outstanding News and Documentary Program Achievement - Programs & Segments | ABC 2000: The Millennium (1999) |
Source:
IMDb
,
Wikipedia