• Julie Durda is a TV personality, reporter and meteorologist
• She began her professional career while still a student and is currently the weather anchor of the WPLG Local 10 TV channel in Miami, Florida
• She holds a Bachelor of Applied Science degree from Mississippi State University and is a member of the National Weather Association (NWA)
• She is married to David Radliff and has a net worth of $2 million
• She is involved in various charity organizations such as The Breast Cancer Awareness Campaign, Joe DiMaggio Children's Hospital, and Boys & Girls Club of America
 
Who is Julie Durda?
Julie Durda is a TV personality, reporter as well as a meteorologist, who is probably best known for currently serving as the weather anchor of the WPLG Local 10 TV channel in Miami, Florida USA. She is also widely recognized for being the cheerleader of the San Francisco 49ers American Football team.
Julie Durda's Early Life, Childhood and Education
Julie Ann Durda was born on the 29
th
January 1980, in Sacramento, California USA, but there isn't much relevant information about her childhood or family background, except that she is of American nationality and white ethnicity, while her zodiac sign is Aquarius. Upon matriculating from Casa Roble Fundamental High School in Orangevale, California, Julie continued her education at the American River College in her home town. She then enrolled at Sacramento State University before transferring to Mississippi State University, from which she graduated in 2009 with her Bachelor of Applied Science degree, majoring in broadcast meteorology.
Julie Durda's Early Career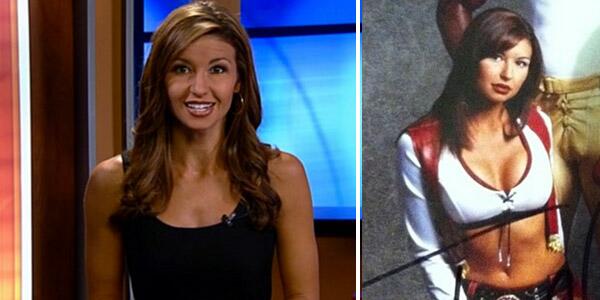 Julie began her professional career while she was still a student, when she began serving as a traffic reporter for the Sacramento KXTV channel. She then transferred to San Francisco where, apart from being a member of the San Francisco 49ers' Gold Rush Cheerleading Squad between 2002 and 2004, she also served as the Time-Saver Traffic Team's head at the KRON-TV channel, appearing on-camera every day between 4.30 and 7 am, to help early commuters plan their travel routes to work. She then moved to Phoenix, Arizona, where she was traffic and weather anchor for the CBS affiliate TV channel KPHO, before in 2006 serving an internship at the WSVN, the Fox-affiliated TV station based in Miami, Florida. Right after her graduation in 2009, she teamed up with the WSVN again, this time serving as the station's weather forecaster in the course of the next couple of years.
Weather Anchor at WPLG
In 2012, Durda left WSVN and joined the WPLG Local 10, the ABC-affiliated TV station, also based in Miami, for which she has been serving as the main weather anchor ever since. Besides this, she has also appeared on several other ABC programs, including "World News" and "Good Morning America". All these engagements have helped Julie Durda to become one of the leading weather forecasters nationwide, as well as to gain a huge dose of popularity.
Since 2006, Julie Durda has been a member of the National Weather Association (NWA) while she also holds a license for television weather-casting, approved by the American Meteorological Society (AMS).
Julie Durda's Personal Appearance
The exact body measurements of Julie Durda haven't been revealed, but it has been publically acknowledged that she sports a slim and toned body, and can often be seen on-cameras in tight dresses which reveal her "curvalicious" figure. Speaking more about her physique, during her "tenure" at the WPLG, Julie Durda was praised as the "South Florida's #1-morning meteorologist". She was ranked as No.1 on the America's 15 Hottest Weather Forecasters list by the Business Insider in 2012 and was enlisted among Miami's Ten Hottest Female TV reporters in 2013 by the Miami New Times as well. With her alluring appearance, it is no wonder that this 38-year old, 5 ft 10″ tall American weathercaster has managed to make quite a successful on-camera career.
Your @WPLGLocal10 Weather Authority doing some amazing stuff that you will see in our Hurricane Special at the end of the month!! @LukeDorris @thebettydavis HERE WE GO!! pic.twitter.com/BYCcj6XlvD

— Julie Durda (@JulieDurda) May 10, 2018
Julie Durda on Social Media
Julie Durda is also active on several social media networks including Twitter, on which she regularly posts about her professional career, and has over 14,500 followers, as well as on her official Instagram account which is abundant with photos of her daily routine and family members, regularly followed by a total of more than 6,300 fans.
Hi all just want to share the great news with you Dillon David Radliff was born last night at 9:05pm weights 6 pounds 10…

Posted by Julie Durda on Thursday, June 9, 2016
Julie Durda's Net Worth
Have you ever wondered how much wealth this popular meteorologist has accumulated so far? How rich Julie Durda is? According to sources, it is estimated that the total of Julie Durda's net worth, as of mid-2018, revolves around the sum of $2 million, and includes assets such as a mansion in Silver Shores, Miramar, Florida, valued at $330,000, and all acquired through her professional television career of a reporter and a weather anchor that has been active since the mid-2000.
What a treat!! Big thank you to our Miami Heat for sending Baby Durda some gear!!! This is just another reason to LOVE & Support our Miami Heat!!! Can't wait to bring the baby to a game!! #goheat

Posted by Julie Durda on Thursday, January 21, 2016
Is Julie Durda married? More about her Personal Life
Julie Durda is a married woman – since 2012 she has been married to David Radliff who is a TV advertising "guru", and serves as the WPLG's sales executive. Their wedding ceremony took place in the Albany Country Club in Voorheesville, New York. Prior to this, Julie was married to her personal trainer Bryan Francis from who she divorced in 2010.

Being an avid runner, Julie often promotes running events in order to raise money for various charity organizations and is also actively involved in The Breast Cancer Awareness Campaign, as well as in Joe DiMaggio Children's Hospital and Boys & Girls Club of America.
With her husband and alongside their Black Lab Stolie, Julie resides in Miramar, Florida.
Movies
Self
| Title | Year | Status | Character |
| --- | --- | --- | --- |
| Good Morning America Weekend Edition | 2014-2015 | TV Series | Herself - Rotating Weather Anchor / Herself - Substitute Weather Anchor |
Source:
IMDb
,
Wikipedia