• Katrina Weidman is a paranormal investigator, actress, and reality TV star
• She graduated from Pennsylvania State University with a degree in Integrative Arts
• She has appeared in several reality shows and films
• She is engaged, but has not revealed her partner's name
• She stands at 5ft 4ins and weighs approximately 150lbs

Known for movies

Who is Katrina Weidman?
Katrina Weidman is one of those people who believe in the paranormal, and has dedicated her life to the search for spirits and ghosts. If you are similar to her then you must have followed her in her pursuits by watching the show "Paranormal State" (2007-2011), then "Paranormal Lockdown" (2016-2019), and the newest one – "Portals to Hell" (2019).
So, do you want to find out more about Katrina Weidman, from her childhood years to most recent career endeavors, including her personal life as well? If yes, then stay with us for the length of the article, as we introduce you to this prominent paranormal investigator, and an actress as well.
Katrina Weidman Wiki: Age, Childhood, and Education
Katrina Weidman was born on the 2nd March 1983, in Bucks County, Pennsylvania USA, and had a rather odd childhood; according to her own words, Katrina grew up in a haunted house, and it was then and there that she became interested in the paranormal. Unexplainable things started happening in the family home, so the family moved to a different house, but Katrina remained interested in the paranormal. She started reading and investigating paranormal as she got older, which affected her academics, as she struggled in school to attain good grades. The teachers began talking ill of her, saying that she wouldn't do anything with her life, not even getting into college.
However, she proved them all wrong. She matriculated from high school, and then continued her pursuit for paranormal, deciding not to enroll at any college right away. Instead, she enrolled at the Pennsylvania State University a few years later, when she had an epiphany moment; she was driving her friend to the University, and suddenly had the feeling that she belonged there. She started with a community college, but soon got good enough grades to enter Penn State, and eventually graduated with a degree in Integrative Arts. During her time at University, Katrina became a member of the world-renown Paranormal Research Society (PRS).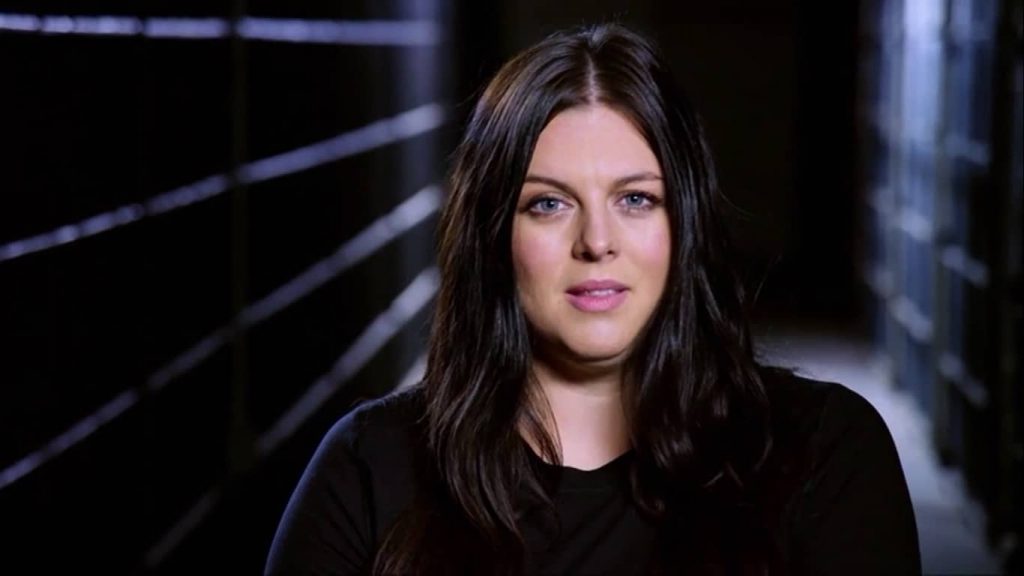 Career Start
As she joined the PRS, Katrina's career started; she appeared in the reality TV series "Paranormal State", aired on A&E Television, which followed the daily activities of the society. Katrina featured in more than 30 episodes of the acclaimed series, which increased both her popularity and wealth. She served as a case manager and was a trainee in the team of already experienced paranormal investigators, which included Ryan Buell and Chip Coffey. As she progressed with the show, Katrina eventually became an official paranormal investigator, which secured her yet another appearance in a reality series, this time it was "Paranormal Lockdown". It premiered in 2016 on Destination America Channel, and after the first season's end, the show was picked up by the TLC.
Rise to Prominence
Gradually, Katrina was becoming more popular, and after more than 30 episodes in the reality show next to Nick Groff, she became a national star. The show lasted until 2019 when it was announced that it wouldn't be returning for another season. However, Katrina has found a new engagement, as she has teamed up with another investigator, Jack Osbourne, with whom she has launched the new reality series "Portals to Hell". So far, the two have appeared in eight episodes, which have further increased Katrina's popularity and net worth.
4 any1 who missed it: LOCATIONS & GUESTS announced for #ParanormalLockdown https://t.co/GCRSe7QeZg
March 4th! pic.twitter.com/9xzLlxDl0W

— Katrina Weidman (@KatrinaWeidman) February 25, 2016
An Acting Career
In addition to reality series', Katrina has also started appearing in acting roles; she made her debut in 2013 with a minor role in the film "Kilimanjaro", and then continued with other minor roles, firstly in the horror film "The Last Apartment" in 2015, then in the comedy film "Who's Jenna…?" in 2018. She is currently working on several projects, including films "Café Artist" and "F. Godfather", currently in post-production, in both of which Katrina has the lead role.
Katrina Weidman Net Worth
Since launching her career, Katrina has become a respected paranormal investigator, and her success has increased her wealth by a large margin. So, have you ever wondered how rich Katrina Weidman is, as of mid- 2019? According to authoritative sources, Katrina's net worth is estimated at $500,000, which is quite decent don't you agree? Undoubtedly, Katrina's net worth will increase further in the upcoming years, assuming that she successfully continues her career.
Katrina Weidman Personal Life, Boyfriend, Engagement, Husband, Children
What do you know about the personal life of this prominent paranormal investigator and rising actress? Well, Katrina isn't one of those celebrities who tend to share all the information about their personal life. In fact, she is quite the opposite of that and has hidden all the major information about herself from the media. However, when you are as popular as she is, it gets hard to keep the information all to yourself. As a result, we have discovered some facts about Katrina; she became engaged on 4th May 2018, but hasn't revealed the name of her partner, nor about their wedding (or breakup). She doesn't have children.
In the past, she was often romantically connected by the media to her colleague Nick Groff, but Nick and she are just friends since Nick has been married for 14 years to Veronica.
Katrina Weidman Social Media Presence
Since starting her career, Katrina has built a decent fan base on social media platforms, including Facebook and Twitter, and you can reach her on Instagram as well.
On her official Facebook page, Katrina has just under 90,000 followers, and has used her popularity to promote her career, and announced the newest episode of "Portals to Hell", among numerous other posts. Katrina has used Twitter as well to promote her career, and already has more than 70,000 followers. You can also become one of more than 70,000 fans on Katrina's Instagram account, So, if you haven't already become a fan of this successful paranormal investigator and reality TV star, then this is a perfect opportunity for you to become one, just skip over to her official pages and see what she is up to next, both personally and professionally.
Katrina Weidman Height, Weight, Body Measurements and Appearance
Do you know how tall Katrina Weidman is, and how much she weighs? Katrina stands at 5ft 4ins, which is equal to 1.62m, while she weighs approximately 150lbs or 68kg. If you want to know, her vital statistics are 38-26-37 inches, and she has brown hair and piercing blue eyes.
Movies
Actress
| Title | Year | Status | Character |
| --- | --- | --- | --- |
| F. Godfather | 2017 | post-production | Pauline |
| Who's Jenna...? | 2016 | completed | Woman at Train |
| Jerith | | Short filming | The Woman |
| Cafe Artist | 2017 | | Boha |
| The Last Apartment | 2015 | | Caroline |
| Kilimanjaro | 2013/I | | Funeral mourner |
Producer
| Title | Year | Status | Character |
| --- | --- | --- | --- |
| Real Fear 2: The Truth Behind More Movies | 2013 | Documentary associate producer | |
| Real Fear: The Truth Behind the Movies | 2012 | TV Movie documentary associate producer | |
Location Management
| Title | Year | Status | Character |
| --- | --- | --- | --- |
| The Suspect | 2013 | location manager | |
Self
| Title | Year | Status | Character |
| --- | --- | --- | --- |
| Paranormal Lockdown | 2016-2017 | TV Series | Herself - Investigator |
| The Ghost Hunting TV Talk Show: Paranormal TV Stars Special | 2015 | | Himself - Paranormal State |
| Real Fear 2: The Truth Behind More Movies | 2013 | Documentary | Herself |
| Real Fear: The Truth Behind the Movies | 2012 | TV Movie documentary | Herself - Host |
| Paranormal State | 2007-2011 | TV Series | Herself - Trainee / Herself |
Source:
IMDb
,
Wikipedia