• Kehlani Ashley Parrish was born in Oakland, California in 1995.
• She is a singer, songwriter, rapper, dancer, and record producer.
• She started her singing career in 2009 as part of PopLyfe, and released her first mixtape in 2014.
• She won several awards and was nominated for a Grammy Award in 2016.
• Her current net worth is estimated to be over $3 million.
 
Kehlani Wiki Bio
Kehlani Ashley Parrish was born in Oakland, California USA on 24 April 1995, so under the zodiac sign of Taurus and holding American nationality – she is a popular singer, songwriter, rapper, dancer, and a record producer. She is of mixed ethnicity as her father is African-American while her mother is of white, Spanish and Native American ethnicity.
Who is Kehlani's girlfriend today?
Kehlani is pansexual and has dated both men and women in the past. She is currently dating Javaugh Young-White, her guitarist, and the two have a daughter together named Adeya Nomi – they are not married and it doesn't appear as they are planning to marry. Before Javaugh, Kehlani was seeing Shaina Negron.
Kehlani's teen years and education
Kehlani did not have an easy childhood – her mother was a drug addict who spent some time in prison. Her father died from a drug overdose when she was a baby, and her aunt adopted her when her mother was sent to jail for the first time.
Kehlani learned how to dance during the years she spent at the Oakland School of Arts – she didn't enroll at college after she matriculated. Dancing was Kehlani's first choice of career, but after she injured her knee, she switched her plans to singing – she used dancing and singing to escape the harsh reality of her life.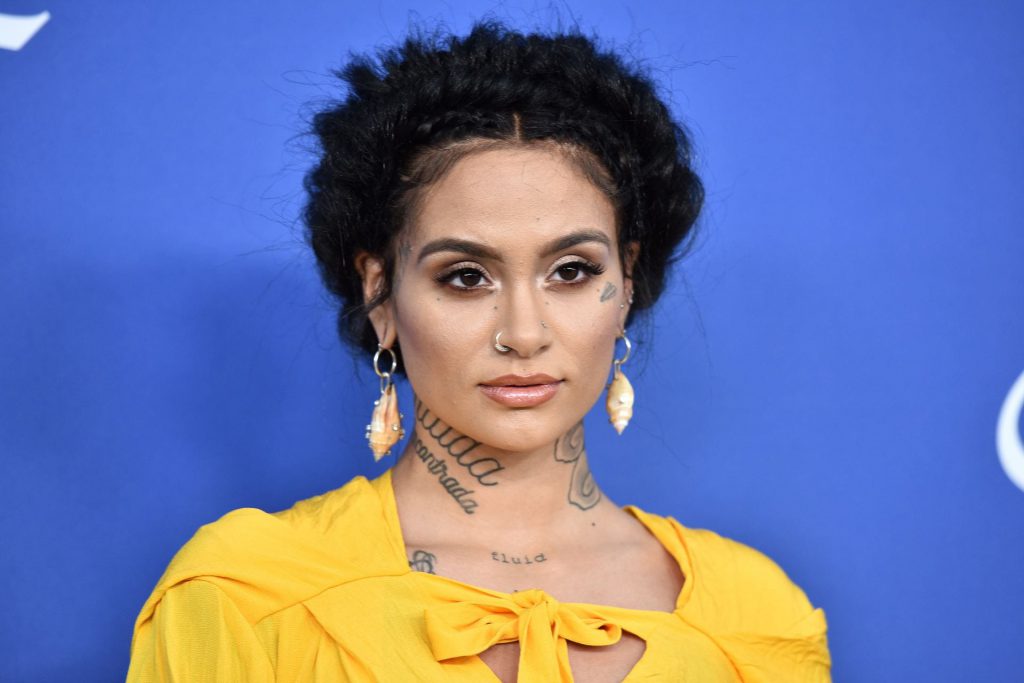 The launch of her singing career
Kehlani's career started in 2009 when she became a member of the PopLyfe cover band. The band helped Kehlani to become somewhat popular, and they spent 2010 and 2011 performing at many places around San Francisco Bay Area. In 2011, they competed in the "America's Got Talent" TV series and finished fourth; Piers Morgan, one of the judges, advised Kehlani to leave the group because he thought she could do better without them, and she took his advice – as soon as the competition was over, Kehlani was no longer a member of PopLyfe.
However, life became somewhat difficult for Kehlani, who couldn't sing for half a year due to her contract with PopLyfe – she was homeless, and spent nights on couches at her friends' houses. She became part of a rap group in 2013, but it lasted for only two months as she wanted the group to move in a different direction. Thanks to a lack of food and money, Kehlani started stealing phones to sell and food to eat – she wrote her first solo song which was about that part of her life called "ANTISUMMERLUV". The song was uploaded onto Soundcloud, and after popular American rapper Nick Cannon heard the song, he found an apartment for Kehlani in Los Angeles, and paid for a recording studio for her.
Becoming popular
Thanks to this help, Kehlani released her first mixtape in 2014 entitled "Cloud 19", which was ranked #28 on the "50 Best Albums of 2014" list by "Complex" magazine. Nick Cannon is to be credited with most of Kehlani's success, as he was there to pay for the making of her mixtape and songs, and introduced Kehlani to some of the best record producers in the US, including Jahaan Sweet.
Her second mixtape – "You Should Be Here" – was released on 28 April 2015, and got to #5 on the US Billboard's "Top R&B/Hip-Hop Albums" chart. Kehlani went on to sign a contract with Atlantic Records, and then toured across North America and Europe. During 2015, Kehlani won a couple of awards and many honors, while she was also nominated for a Grammy Award in 2016, but didn't manage to win it.
What made Kehlani gain wider recognition was the featuring of her song "Gangsta" in the "Suicide Squad" movie, which remains very popular. In January 2017, she released her first album entitled "Sweet Sexy Savage", while the event which marked her career was the announcement of Eminem about the two making a song together.
Kehlani is currently signed to David Ali of Above Ground Management. She launched her third mixtape entitled "While We Wait" in February 2019, and it rose to #9 on the US Billboard 200 – the most popular singles on the mixtape are "Nights Like This" and "Nunya".
Kehlani's relationships, dating, cheating, affairs
Kehlani has been romantically involved with several people throughout the years. Her first boyfriend who the public knows about is Kyrie Irving, a famous basketball player – the two were dating from January to March 2016, when the popular musician from Canada PartyNextDoor uploaded a picture of Kehlani on his Instagram account – the picture meant that the two were sharing the same bed – many people were judging Kehlani because she seemed to have cheated on Kyrie, but it turned out to not be true, as Kyrie stated during an interview that they had split before the picture was uploaded on Instagram. 'No one was cheated on, and I'm not a bad person…' is what Kehlani wrote on her social media accounts, while she was also addressing her attempt of suicide in the same year.
In 2017 Kehlani was dating Shaina Negron, an artist from New Jersey, then in 2018 she publicly identified herself as queer and pansexual – queer is a term tied to the LGBT community meaning that one is attracted to both men and women, while pansexual means to be attracted to someone regardless of their gender.
On 12 October 2018, Kehlani announced that she was pregnant to Javaughn Young-White who plays the guitar while she performs – their daughter Adeya Nomi was born on 23 March 2019 in the bathroom of Kehlani's home.
Likes and other interests
Dancing still remains something Kehlani enjoys doing the most. She doesn't have much time for other things now that she's a mother, but she enjoys watching movies in her free time, while her favorite is "Pulp Fiction". She is a big animal lover and has a tiny dog named Frank. She loves shopping and experimenting with the clothes she wears – you can often see her in unique dresses and outfits at popular events.
Appearance and net worth
Kehlani is currently 24 years old. She has long brown hair and brown eyes, is 5ft 4ins (1.62m) tall, weighs around 112lb (51kg), and her vital statistics are 33-25-33. She wears dress size six and shoes size 9.5, and has numerous tattoos on her body, including Coraline from the dark fantasy children's novella, Regina Rocket from the "Rocket Power" TV series, Mia Wallace and Vincent Vega from the "Pulp Fiction" crime movie, and Frida Kahlo, a Mexican artist. After a failed suicide attempt, Kehlani tattooed "perdida y encontrada" which means "lost and found". She has numerous other tattoos on her body, including a sunflower, a broken skateboard, a tigress, and many more.
According to authoritative sources, Kehlani's current net worth is estimated to be over $3 million, and is slowly rising.
sidekick in the cut ☺️ pic.twitter.com/KnWLBLBf0I

— Kehlani (@Kehlani) May 6, 2019
Social media presence
Kehlani is quite active on several social media platforms – she launched her Twitter account in September 2016 and has so far gathered over 940,000 followers and tweeted nearly 1,900 times. Her Instagram account is followed by nearly eight million people, while she has uploaded over 290 pictures – her Facebook page is followed by over 700,000 fans.
General Info
| | |
| --- | --- |
| Full Name | Kehlani |
| Profession | Singer-songwriter, Dancer |
| Nationality | American |
Accomplishments
| | |
| --- | --- |
| Music Groups | The HBK Gang |
| Nominations | Grammy Award for Best Urban Contemporary Album, BET Award for Best New Artist, BET Centric Award, BET Award for Best Female R&B/Pop Artist |
Social profile links
Source:
IMDb
,
Wikipedia