• Megan Denise is a celebrity, model and actress
• She rose to fame via her Instagram account in 2017
• She worked as a dancer at the famous strip club, Girl Collection
• She is currently engaged to NFL outside linebacker Von Miller
• She has a net worth of $300,000
 
Who is Megan X Denise?
Nothing has been revealed about Megan Denise's early life, including date and place of birth, parents, any siblings nor her education. Megan  is better known by her online alias "Megan X", and is now a celebrity, model and actress, who rose to fame via her Instagram account in 2017, and has since expanded her exposure by dating several high profile celebrities. She is currently engaged to Vonnie B'Vsean Miller Jr., better known as Von Miller, a football outside linebacker for the Denver Broncos of the National Football League (NFL).
Megan Denise's Career
Before rising to prominence via social media Megan worked as a dancer at "Girl Collection", famous strip club in Las Vegas owned by professional boxer Floyd Mayweather. The club opened in 2017 and Denise worked there for over a year before hitting it big on social media. She has always been a big fitness enthusiast and is known for her amazing physique and voluptuous figure. She would post photographs of herself doing various exercises and thus gained attention on Instagram.
She was noticed by fans as well as modeling agencies, and was soon able to use her online fame to launch her modeling career. In addition to this, in 2018 Denise started her own clothing company and her designs can be purchased via her official website. Beside this, she has added five acting credits to her resume over the years – the mini-series "The Hat: Viral Spots", television series "Private Investigations" and "Typecasted", and movies "Fates of Ambition" and "Bikini Mayhem". There is no information on whether Denise still works as a dancer at Floyd Mayweather's strip club.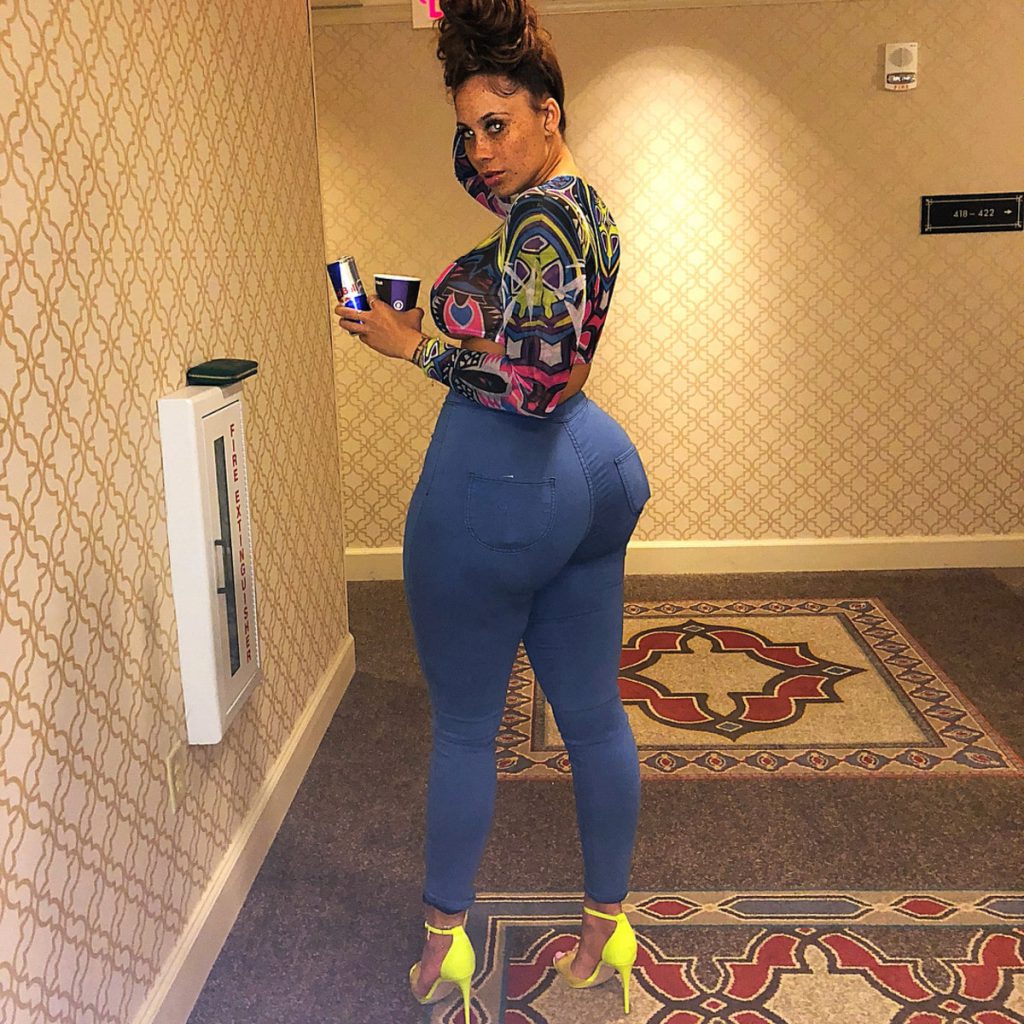 Relationship with Rapper Lil Yachty
Regarding her personal life, during late 2017 Denise was rumored to be in a relationship with rapper, singer and songwriter Miles Parks McCollum, known professionally as Lil Yachty. During a radio interview, Denise admitted that the two shared romantic feelings but would not confirm that they were officially dating. Megan also stated that the two met after Lil Yachty contacted her via social media, however, after a few months, the rumors about their relationship stopped as Lil Yachty was seen in public with other girls.
Relationship with Von Miller
Denise first appeared with Von Miller on 18th July 2018 at the ESPY Awards ceremony held in Los Angeles. Von Miller is considered to be among the best defenders in the NFL; he has been selected seven times for the Pro Bowl, receiving first-team All-Pro honors in his rookie season. After his team won the Super Bowl 50 by defeating the Carolina Panthers, he was named Super Bowl MVP. In addition to his football career, he appeared on the 22nd season of the dance competition television series "Dancing with the Stars".
The 2018 ESPY Awards ceremony was the first time that Denver Broncos' outside linebacker was seen with a girlfriend in public. Since then, Denise and Miller have been outspoken about their relationship and often post pictures together on their social media accounts. Denise posted a photo recently showing off her new tattoo – the name "Vonnie" in red ink tattooed on her breast. In addition to this, she wore a diamond ring on several occasions, sparking rumors that Miller proposed to her. Since they started dating, Megan has made numerous appearances at Denver Broncos' games, supporting her future husband.
Alleged Affair with Antonio Gates
According to the website "Sports Gossip", prior to her relationship with Von Miller Denise had an affair with Antonio Ethan Gates Jr., a football tight end who played for the San Diego Chargers during the time that the rumors were circulating. The rumors caused a lot of controversy because of the fact that Gates has been married to model Sasha Dindayal since 2011. However, they have never been officially confirmed by either Gates or Denise.
Social Media
Social media are an important part of every online celebrity's life. Denise rose to prominence via Instagram, where at one point she had around 1 million followers. However, she recently decided to shut down her Instagram profile, which surprised many of her fans, especially as she didn't state the reasons behind this decision. Nonetheless, she is still active on Twitter, where she has garnered nearly 5000 followers, and also has an account on Facebook. Von Miller's official Instagram account boasts 1.7 million followers.
Net Worth
Regarding her wealth, Megan Denise managed to acquire an overall net worth of $300,000, through her career as an online celebrity, model and actress, however, she is known to live a lavish lifestyle, so has very probably earned and spent rather more. On the other hand, her fiancé Von Miller has a net worth of $40 million, according to estimations by authoritative sources.
— Megan Denise (@MeganXdenise21) November 16, 2018
Appearance and Physical Characteristics
Megan Denise is well known for her amazing voluptuous physique, and spends a lot of time in the gym in order to maintain her figure. She is 5ft 3ins (1.6m) tall, has long curly red hair and is known for her many freckles – her Twitter bio says 'your favorite freckled face'. She has dark brown eyes.