• Molly Eskam is a social media personality, YouTuber, and model from Nebraska who has a net worth of $150,000.
• She started her YouTube channel, posting vlogs, travel videos, and comedic content.
• She also started modelling and collaborated with other YouTube personalities.
• She was in a relationship with fellow YouTuber FaZe Rug, but they later broke up.
• Molly now focuses on making consistent YouTube content, modelling for swimwear brands, and maintaining her online presence.
 
Who is Molly Eskam?
Molly Eskam was born on 29 September 1998, in Scottsbluff, Nebraska USA, and is a social media personality, YouTuber, and model, best known from initially finding popularity through a YouTube vlog channel which amassed hundreds of thousands of subscribers.
The Riches of Molly Eskam
How rich is Molly Eskam? As of mid-2018, sources estimate a net worth that is at $150,000, mostly earned through a successful career in modelling. She's also earned money through her online endeavors including through YouTube, on which she has done numerous collaborative works. As she continues her career, it is expected that her wealth will also continue to increase.
Early Life and YouTube Career
While Molly was born in Nebraska, her family moved to California, and she was raised in Carlsbad, with two older brothers – there is no information about her educational background. However, it is known that as a teen she discovered YouTube, and realized there was potential for her to start making YouTube videos. She created her own self-titled YouTube channel, and began uploading videos featuring video blogs or vlogs.
She started doing travel vlogs which had her documenting her various travels. She also posted numerous comedic content on the website which helped increase her net worth significantly. She also did story videos in which she talks about her recent experiences, and started to do fashion-related videos as well. She talks a lot about fitness, does video tours of the hotels she stays at, and also list-type videos which mainly consist of topics fans have been asking about her. She started to collaborate with other YouTube personalities too, including Rice Gum and FaZe Rug.

Social Media Popularity and Modelling
Eskam eventually increased her reach by creating several social media profiles, including an
Instagram
account on which she posted numerous photos of her modelling various types of clothing, mostly swimwear. She also uploads videos, and posts pictures of herself at several locations including beaches as well as other vacation hotspots. She also has a Facebook page on which she mainly posts selfies plus others taken during photo shoots, but doesn't update that page often only posting pictures once in a while. Nevertheless, her increase in online popularity led to her attracting attention from several clothing companies.
#NewProfilePic pic.twitter.com/doguNm6KfZ

— Molly eskam (@Mollyeskam1) August 24, 2017

She often collaborates with fashion companies to help promote their latest in clothes and accessories, also boosting her wealth thanks to payments from sponsored posts. She has established her own website too, which promotes merchandise she is selling as well as promoting her YouTube content. These have led to her being contacted to work as a swimwear and lingerie model, and she's has appeared on catwalk events including the Courtney Allegra Runway Show.
Personal Life
For her personal life, it is known that Molly was in a relationship with fellow YouTube personality, and director of professional gaming group FaZe Clan named Brian Awardis (FaZe Rug). He initially earned popularity through posting gaming videos as his self-titled videos, which originally consisted of content from the video game "Call of Duty". He also did numerous pranks which earned him millions of views, which success online led him to focus on YouTube full time.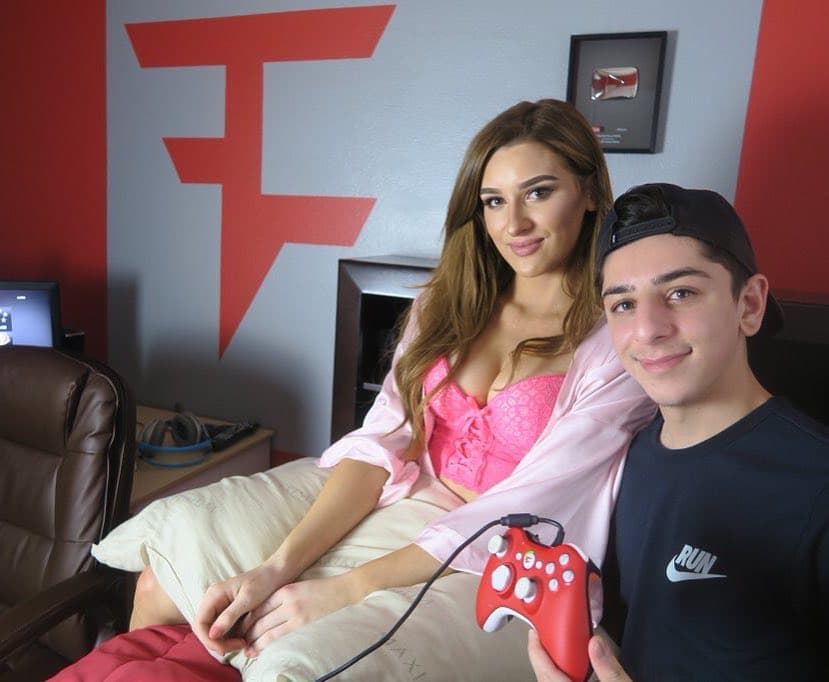 There have been numerous rumors surrounding the two's romantic life, as Rug was seen kissing another girl in a video and also posted a video on a date with yet another, however, those girls never went on to become confirmed relationships. Later on, it was noticed that he and Molly got closer, appearing in numerous videos together, and she has been seen hanging out at his house located in Poway, California. Many fans stated that the two were in a relationship, though they haven't confirmed it – Molly went on to state that they are not dating but are just good friends, however, eventually the rumors proved true as the two confirmed that they were already dating, but apparently the relationship never really took-off, and they broke-up. Despite that, the two still remain friends and continue to work on video content together.
After the Relationship
While Eskam has put her focus back on making consistent YouTube content, she mentioned that she still juggles her time working as a model for various swimwear companies, while maintaining her online presence. Her videos also feature a lot of Rug, though they have lessened in favor of videos of her travelling with friends, and videos of her showing off her recent swimwear buys. Many fans are drawn to her videos mainly because of her physical attractiveness, especially since she puts in a lot of effort in making her body look well maintained.
,
Wikipedia