• Nadine Velazquez is an American actress from Chicago, Illinois.
• She attended Notre Dame High School for Girls and then Columbia College, Chicago.
• She is best known for roles in My Name Is Earl, The League, and Major Crimes.
• Her net worth is estimated to be over $3 million.
• She is active on Instagram and Twitter.

Known for movies
Short Info
| | |
| --- | --- |
| Net Worth | $3 million |
| Date Of Birth | November 20, 1978 |
| Fact | Ranked #41 on the Maxim magazine Hot 100 of 2008 list. |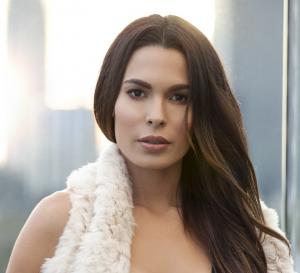 Who is Nadine Velazquez?
Nadine Enid Velazquez was born on the 20th November 1978, in Chicago, Illinois USA, of Puerto Rican ancestry. She is an actress, who is probably best recognized for starring in the role of Catalina Aruca in the NBC sitcom "My Name Is Earl" (2005-2009), playing Sofia Ruxin in the FX' fantasy football sitcom "The League" (2009-2015) and as D.D.A. Emma Rios in the TNT crime drama series "Major Crimes" (2013-2017).
Early Life
When it comes to speak about her early life, there is no reliable information about it in the media, except that she spent her childhood in Chicago, raised by her parents but information on whom and any siblings has not been revealed to the public.
Education
Regarding her education, Nadine attended Notre Dame High School for Girls, but she was kicked out of the school for fighting at the age of 14. Two years later, she left her home and spent some time working as a waitress until she enrolled in Columbia College, Chicago, from which she graduated with a Bachelor of Arts degree in Marketing in 2001. However, Nadine knew that her vocation was acting, so she then attended The Joanne Baron DW Brown Studio in Santa Monica, California for two years, and then graduated.
Career Beginnings
Prior to becoming an actress, Nadine worked as a model, appearing in various advertising commercials including for McDonalds. Speaking about Nadine's acting career, it began in 2003, when she made her debut film appearance by landing a small role in the film "Biker Boyz", which was followed by another small role in the comedy film entitled "Chasing Papi", and also guest-starred in an episode of the CBS soap opera "The Bold And The Beautiful", all in the same year. In 2004, Nadine was cast as JJ Cruz in the TV film "The Last Rade", after which she starred in the role of Luna in the comedy thriller "Blast". All of these roles marked the beginning of an increase of her popularity, and firmly established her net worth.
Rise to Prominence and "My Name Is Earl"
In 2005, Nadine was again busy as she played Marla Flynt in the TV film "Hollywood Vice", featured as Claudia in the comedy-drama "Sueño (Dream)" and starred in the role of Private Maria Rodriguez in the horror film entitled "House Of The Dead 2". During the same year, she came to real prominence when she was chosen to portray Catalina Aruca in the NBC sitcom "My Name Is Earl", which lasted until 2009, adding a considerable amount to her net worth, and arned her four Alma Award nominations in the category of Best Supporting Actress. Thanks to her talent, she was also named as one of "Ten Actors To Watch for 2005" by Daily Variety, as well as one of "Five Rising Stars to Watch Closely" by USA Today.e
Other Projects in the 2000s and "The League"
Parallel with filming "My Name Is Earl", Nadine also starred as Olivia Palacios in the TV film "Kings Of South Beach" (2007), and in the same year came her next major role, when she played Maria in the crime thriller "War", next to Jason Statham and Jet Li. She was subsequently cast as Lola in the TV film "Husband For Hire" (2008), portrayed Special Agent Natasha in the musical crime film "A Day In The Life" (2009), and featured as Mathilda in the comedy "All's Faire In Love" (2009), directed by Scott Marshall. Moreover, in 2009, Nadine won the role of Sofia in the FX' fantasy football sitcom "The League", which lasted until 2015, increasing enormously not only her popularity but also her wealth. By the end of the decade, she had also guest-starred in such TV series as "CSI: NY", "Scrubs" and "Hawaii Five-0", among several others.
The 2010s
In the very beginning of the next decade, Nadine appeared as Gloria Martinez in the pilot episode of the ABC drama series "Charlie's Angels", but her character was killed and then she was replaced by Minka Kelly. However, she continued to line up successes, by starring in the role of Didi Ruano in The CW's comedy-drama series "Hart Of Dixie" between 2011 and 2012, playing Ana Lucia in the short film "Guitar Face" (2012) and featuring as Katerina Marquez in Robert Zemeckis' drama thriller "Flight" (2012) next to Denzel Washington and Don Cheadle.
"Major Crimes" and Other Projects
In 2013, Nadine starred in the role of Analisa in the thriller "Snitch", alongside Dwayne Johnson, Susan Sarandon and Jon Bernthal, after which she was chosen to portray D.D.A. Emma Rios in the TNT sitcom "Major Crimes", which represents the spin-off from the TV series "The Closer" (2005), which aired until 2017. Concurrently she worked on other projects, including guest-starring in such TV series as "Raising Hope", "Arrested Development" and "The Exes". In 2015, Nadine appeared in two TV film titles – "Win, Lose Or Love" as Nancy Gander and "Love Is A Four-Letter Word" as Rebecca, which was followed by her portrayal of Carmen in the drama "Clarity" (2015), which she also produced.
Recent Years
To speak further about her acting career, Nadine appeared in five film titles during 2016, including the horror "Within", featuring as Melanie Alexander, the horror-thriller "The Charnel House", starring in the role of Charlotte Reaves, and the comedy romance "The Bounce Back" as Kristin Peralto, all of which increased her net worth by a large margin. Most recently, she was selected to play Jackie Ortiz in the History channel drama series "Six" (2017-2018). It is also announced that she will feature in such titles as "Sharon 1.2.3.", "Discarnate" and "A World Away", so she is still in demand, and her net worth will be certainly increase in the forthcoming years.
Shout out 2 all the fierce women out there who can stand in their power & allow other women 2 stand in their own. Here are my #ladiesofsix ❤ pic.twitter.com/PXi5W8djAv

— Nadine Velazquez (@nadinevelazquez) March 8, 2017
Nadine Velazquez Net Worth
Her career started in 2003, and she has been an active member of the entertainment industry as a professional actress ever since. So, if you ever wondered how rich Nadine Velazquez is, it has been estimated by authoritative sources that the total size of her net worth is over $3 million, accumulated through her successful acting career.
Personal Life, Ex-Husband, Residence, Charity
Regarding her personal life, Nadine Velazquez was married to talent agent Marc Provissiero from 2005 until 2012, but has been officially single since then, with no rumours of romances. Her current residence is in Los Angeles, California. In her spare time, Nadine frequently collaborates with various charitable organizations which provide help to disenfranchised women.
Appearance and Vital Statistics
Speaking about her appearance, thanks to her beauty Nadine has been named several times as one of Maxim's "100 Sexiest Women". Additionally, she was chosen to be one of the judges in the Miss Universe 2008 and to host the Miss USA 2009 beauty pageants. She is recognizable by her long wavy light brown hair and dark brown eyes, as well as her amazing body with a height of 5ft 4ins (1.63m) and weight which is reputed to be around 147lbs (54kgs), while her vital statistics are 36-26-37.
More from my snap: nadinevelazquez #fotoshoot #topshop #?? pic.twitter.com/xJWCbnuLFD

— Nadine Velazquez (@nadinevelazquez) February 24, 2016
Social Media Presence
In addition to her involvement in the entertainment industry, Nadine is an active member across several of the most popular social media sites, on which she promotes her upcoming projects and frequently posts various photos from her private life. She runs her official Instagram account, on which she has more than 74,000 followers, as well as her official Twitter account.
General Info
| | |
| --- | --- |
| Full Name | Nadine Velazquez |
| Net Worth | $3 million |
| Date Of Birth | November 20, 1978 |
| Height | 1.64 m |
| Profession | Actor, Fashion Model |
| Education | Notre Dame High School for Girls |
| Nationality | American |
Accomplishments
| | |
| --- | --- |
| Nominations | Screen Actors Guild Award for Outstanding Performance by an Ensemble in a Comedy Series, ALMA Award for Favorite TV Actress - Supporting Role, ALMA Award for Favorite TV Actress - Comedy |
| Movies | Flight, Ride Along 2, Snitch, War, The Bounce Back, Biker Boyz, The Last Ride, Husband for Hire, All's Faire in Love, House of the Dead 2, Aztec Warrior, Chasing Papi, A Day in the Life, Blast, Sueño, Within, The Charnel House, Byron |
| TV Shows | The League, Rob, My Name Is Earl |
Social profile links
Quotes
| # | Quote |
| --- | --- |
| 1 | I want Prince to see something I do and call me and ask me to be on an album or if I want to dance! |
| 2 | I've never been driven to just be a celebrity or just get me on TV. Never ever. What's always driven me is being successful and being good at what I do. |
| 3 | When you're rehearsing, you get really inspired in the beginning, but then it becomes repetitious and you lose the magic. How do you get the magic again? The magic happens when you're not pushing it. |
| 4 | I would love to have a drink with Meryl Streep or Prince. Those are my top two people I would love to talk to. |
| 5 | I want to move people, stir something within them that makes them feel. That's what a movie should do and an actor should do, make you feel something. I think that's why people love films so much. |
| 6 | My party trick is that I ask everybody questions. I'm just nosey. |
| 7 | I love acting and I have a need to do it, even when the business is down. |
| 8 | I simply wanted to get through college as quickly as humanly possible. I had no interest in extracurricular activities or anything that required me to be social. I was allergic to people. |
| 9 | My first job was a McDonald's commercial. It made me want to wake up at 4 A.M. to do something I loved. I haven't been the same since. |
| 10 | I've always exuded some connection to my sexuality even as a kid. So to me, being sexy means staying connected to that part of me. |
| 11 | I'm very comfortable being naked. It's one of my favorite things to do. |
| 12 | Whatever's missing in your relationship, including a marriage, is what you're not bringing to it. |
| 13 | Things aren't always clear at the beginning of a relationship. Be up-front. Don't play on her confusion or vulnerability. Women want and appreciate clarity. |
| 14 | I am Puerto Rican. I think Latinas are sexy, and being one, it has influenced a lot of my style, but being an official Los Angelite, this town has influenced most of my daily style, which is relaxed & easy. |
| 15 | Really hairy backs on men turn me off. I'm not into the ape thing at all. Or beer bellies and flabby arms, either. Also, one random nose hair which is longer than the others... that's gross. |
| 16 | I am inspired by anything beautiful. Sometime it's a pair of eyes or flowing gorgeous hair, other times it's the sky or a sunset. I've been inspired by supple skin or the texture of a soft shirt. |
| 17 | When I die, I want to be buried in a long long-sleeve black Ralph Lauren dress and brown chunky boots. I want my hair styled like his models, long hair that flows. I also want natural makeup with a light pink lip. |
| 18 | We spend so much of our lives not feeling but doing, doing, doing, and movies remind us that we are human. That life is all the things we see, and yet there is beauty there. There's a celebration of life and all of its intricacies. Movies are magnificent. |
| 19 | I'm a driven person, but I'm also cautious, and I overthink things sometimes. |
| 20 | As a child, I was hyper, I was a clown and I was sensitive. Today I'm all of the above, except I've refrained from bouncing off the walls. |
| 21 | I'd seen "Punky Brewster," I'd seen "Webster," I saw "Annie," and it was time to either be an orphan or an actress. |
Facts
| # | Fact |
| --- | --- |
| 1 | She was one of the judges in the Miss Universe 2008 beauty pageant and the host for the Miss USA 2009 pageant. |
| 2 | Nadine trained for two years and graduated from The Joanne Baron DW Brown Studio in Santa Monica California. |
| 3 | Has studied under acclaimed booking coach Amy Lyndon. |
| 4 | Studies cold reading with Amy Lyndon. |
| 5 | Ranked #41 on the Maxim magazine Hot 100 of 2008 list. |
| 6 | Ranked #61 on the Maxim magazine Hot 100 of 2007 list. |
| 7 | USA Today named Nadine one of "Five Rising Stars to Watch Closely" in the October 10, 2005 issue. |
| 8 | Nadine was listed as one of Daily Variety's 'Ten Actors To Watch for 2005' in the August 29, 2005 issue. |
| 9 | Ranked #93 in Maxim's "100 Sexiest Women" (2004). |
Pictures
Movies
Actress
| Title | Year | Status | Character |
| --- | --- | --- | --- |
| Husband for Hire | 2008 | TV Movie | Lola |
| War | 2007 | | Maria |
| Kings of South Beach | 2007 | TV Movie | Olivia Palacios |
| Las Vegas | 2005 | TV Series | Myra Gonzalez |
| House of the Dead 2 | 2005 | TV Movie | Rodriguez |
| Sueño | 2005 | | Claudia |
| Hollywood Vice | 2005 | TV Movie | Marla Flynt |
| Blast | 2004 | | Luna |
| Entourage | 2004 | TV Series | Janeen |
| The Last Ride | 2004 | TV Movie | JJ Cruz |
| The Bold and the Beautiful | 2003 | TV Series | Anna |
| Chasing Papi | 2003 | | Attractive Woman at Conga Club (as Nadine E. Velazquez) |
| Biker Boyz | 2003 | | Allison (as Nadine E. Velazquez) |
| Asher | 2017/II | pre-production | Marina |
| A World Away | 2017 | post-production | Lyra |
| Sharon 1.2.3. | 2017 | post-production | Sharon #2 |
| Siempre Seras | 2014 | Short completed | Ana |
| Our Bnb Life | 2017 | TV Series | Frankie |
| Six | 2017 | TV Mini-Series | Jackie Ortiz |
| The Bounce Back | 2016 | | Kristin Peralta |
| Z Nation | 2016 | TV Series | Camilla |
| The Charnel House | 2016 | | Charlotte Reaves |
| Within | 2016 | | Melanie Alexander |
| Ride Along 2 | 2016 | | Tasha |
| Aztec Warrior | 2016 | | Lisa |
| Discarnate | 2016 | | Maya Sanchez |
| The League | 2009-2015 | TV Series | Sofia |
| Love Is a Four-Letter Word | 2015 | TV Movie | Rebecca |
| Win, Lose or Love | 2015 | TV Movie | Nancy Gander |
| Major Crimes | 2013-2015 | TV Series | D.D.A. Emma Rios |
| The Exes | 2014 | TV Series | Alessandra |
| Sister | 2014 | | |
| Killer Women | 2014 | TV Series | Martina Alvarez |
| Clarity | 2014/I | | Carmen - Adult |
| Real Husbands of Hollywood | 2013 | TV Series | Nadine Velazquez |
| Arrested Development | 2013 | TV Series | Rosalita |
| Raising Hope | 2013 | TV Series | Valentina |
| Snitch | 2013/I | | Analisa |
| Flight | 2012/I | | Katerina Marquez |
| Guitar Face | 2012 | Short | Ana Lucia |
| Hart of Dixie | 2011-2012 | TV Series | Didi Ruano |
| Charlie's Angels | 2011 | TV Series | Gloria Martinez |
| Byron | 2010 | Short | Jessica |
| PSA: An Important Message from Women EVERYWHERE | 2010 | Short | Woman |
| Hawaii Five-0 | 2010 | TV Series | Linda Leon |
| CSI: Miami | 2010 | TV Series | Sarah Walker |
| Scrubs | 2010 | TV Series | Nicole |
| Gary Unmarried | 2009 | TV Series | Sophia |
| CSI: NY | 2009 | TV Series | Marcia Vasquez |
| All's Faire in Love | 2009 | | Mathilda |
| A Day in the Life | 2009/II | | Special Agent Natasha |
| My Name Is Earl | 2005-2009 | TV Series | Catalina |
Producer
| Title | Year | Status | Character |
| --- | --- | --- | --- |
| Our Bnb Life | 2017 | TV Series associate producer | |
| Clarity | 2014/I | producer | |
| Byron | 2010 | Short associate producer | |
Soundtrack
| Title | Year | Status | Character |
| --- | --- | --- | --- |
| Raising Hope | 2013 | TV Series performer - 1 episode | |
| My Name Is Earl | 2007 | TV Series performer - 1 episode | |
Self
| Title | Year | Status | Character |
| --- | --- | --- | --- |
| Hollywood Today Live | 2016 | TV Series | Herself |
| The Wendy Williams Show | 2016 | TV Series | Herself |
| Noches con Platanito | 2014-2015 | TV Series | Herself - Guest |
| Real Husbands of Hollywood | 2013-2015 | TV Series | Herself |
| Sex with Brody | 2015 | TV Series | Herself - Guest |
| The Arsenio Hall Show | 2013 | TV Series | Herself - Guest |
| Celebrity Ghost Stories | 2013 | TV Series documentary | Herself |
| American Latino TV | 2013 | TV Series | Herself |
| The WIN Awards 2012 | 2012 | TV Special | Herself |
| Marie | 2012 | TV Series documentary | Herself |
| Hollywood Uncensored with Sam Rubin | 2012 | TV Series | Herself - Panelist |
| Hola! La | 2012 | TV Series | Herself (2016) |
| Chelsea Lately | 2009 | TV Series | Herself |
| Larry the Cable Guy's Star-Studded Christmas Extravaganza | 2008 | TV Special | Santa's Helper / Candy Cans |
| Attack of the Show! | 2008 | TV Series | Herself |
| Miss Universe Pageant | 2008 | TV Special | Herself - Judge |
| Celebrity Family Feud | 2008 | TV Series | Catalina |
| Today | 2008 | TV Series | Herself |
| Backstage: Hollywood Fashion | 2007 | TV Movie | Herself |
| 2007 ALMA Awards | 2007 | TV Special | Herself |
| Jimmy Kimmel Live! | 2007 | TV Series | Herself |
| Arby's Action Sports Awards | 2006 | TV Special | Herself |
| The Megan Mullally Show | 2006 | TV Series | Herself - Guest |
| 2006 ALMA Awards | 2006 | TV Special | Herself |
| The Late Late Show with Craig Ferguson | 2006 | TV Series | Herself |
| Last Call with Carson Daly | 2006 | TV Series | Herself |
| The 32nd Annual People's Choice Awards | 2006 | TV Special documentary | Herself |
| The Drop | 2005 | TV Series | Herself |
| The Late Late Show with Craig Kilborn | 2004 | TV Series | Herself |
Awards
Won Awards
| Year | Award | Ceremony | Nomination | Movie |
| --- | --- | --- | --- | --- |
| 2013 | EDA Special Mention Award | Alliance of Women Film Journalists | Most Egregious Age Difference Between the Leading Man and the Love Interest | Flight (2012) |
Nominated Awards
| Year | Award | Ceremony | Nomination | Movie |
| --- | --- | --- | --- | --- |
| 2012 | SLFCA Award | St. Louis Film Critics Association, US | Special Merit (for best scene, cinematic technique or other memorable aspect or moment) | Flight (2012) |
| 2009 | ALMA Award | ALMA Awards | Actress in Television - Comedy | My Name Is Earl (2005) |
| 2008 | ALMA Award | ALMA Awards | Outstanding Female Performance in a Comedy Television Series | My Name Is Earl (2005) |
| 2007 | ALMA Award | ALMA Awards | Outstanding Supporting Actress - Television Series, Mini-Series or Television Movie | My Name Is Earl (2005) |
| 2007 | Golden Nymph | Monte-Carlo TV Festival | Outstanding Actress - Comedy Series | My Name Is Earl (2005) |
| 2006 | ALMA Award | ALMA Awards | Outstanding Supporting Actress in a Television Series | My Name Is Earl (2005) |
| 2006 | Actor | Screen Actors Guild Awards | Outstanding Performance by an Ensemble in a Comedy Series | My Name Is Earl (2005) |
Source:
IMDb
,
Wikipedia