• Nora Arnezeder is an actress of Austrian and Egyptian descent, best known for her performance as Anna Maria in the Amazon series "Mozart in the Jungle".
• She has a net worth of over $2 million, earned through a successful career in acting since 2007.
• She studied at The Cours Florent, a private drama school in Paris, and her first major role was in 2008's "Paris 36".
• She has gained recognition through roles in "Safe House", "The Words", "Maniac", "Angelique", "Zoo", "Mozart in the Jungle" and "Origin".
• She does not have any social media accounts and prefers to keep her personal life away from the public.
 
Who is Nora Arnezeder?
Nora Arnezeder was born on 8 May 1989, in Paris, France, of Austrian and Egyptian descent, and is an actress, best known for her performance in the Amazon series entitled "Mozart in the Jungle", in which she portrayed Anna Maria. She also played Chloe Tousignant in the series "Zoo" which aired on CBS.
The Net Worth of Nora Arnezeder
How rich is Nora Arnezeder? As of mid-2019, sources inform us of a net worth that is over $2 million, earned through a successful career in acting. She's been active in the entertainment industry since 2007, and has won several awards over the course of her career.
Early Life, Education, and Career Beginnings
Nora grew up in Paris, though little is known about her family life and childhood. It is known that at a young age she developed a passion for the performing arts, leading her to study more on acting, singing and dancing. She attended The Cours Florent, which is a private drama school in Paris established in 1967, and one of most prestigious drama schools in France, offering a three year drama program for children and teenagers.
After completing her education, she looked for acting work, gaining her first major role in 2008's "Paris 36" – or "Faubourg 36" – which was directed by Christophe Barratier. The film was nominated for an Academy Award for Best Original Song, and also led her to win the Lumieres Award as well as the Etoile d'Or Award. The following year, she became the face of the fragrance called "L'ldylle" by the company Guerlain. After a few more local projects, she moved to the US to look for more Hollywood-based projects.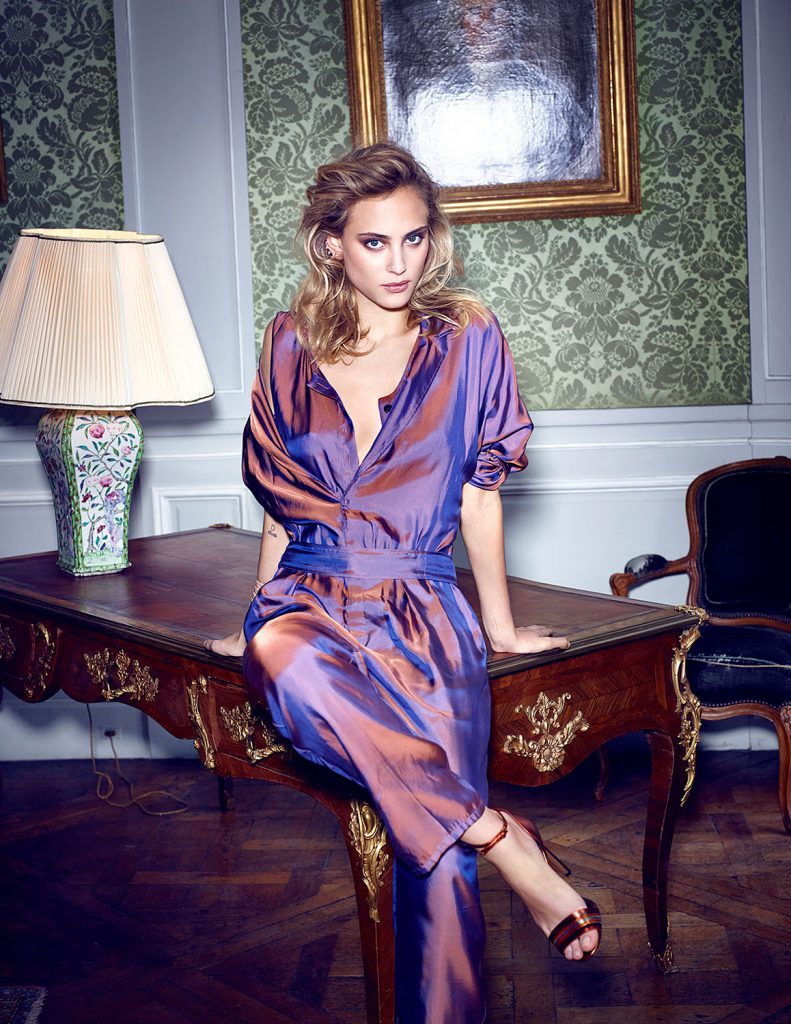 Rise to Fame
In 2012, Arnezeder got one of her first notable Hollywood projects, being cast in the film "Safe House" alongside Ryan Reynolds and Denzel Washington. The film follows a CIA agent as he takes charge of a safe house where a veteran operative who has allegedly betrayed the agency is residing. She then worked with Bradley Cooper and Ben Barnes in the film "The Words", playing the character Celia. The film premiered at the Sundance Film Festival, and is the directorial debut of Brian Klugman.
Around the same time, she became one of the stars of the horror slasher film entitled "Maniac" alongside Elijah Wood, in a remake of the 1980 film of the same name, following the exploits of a brutal serial killer, and created with the collaboration of several French film companies. In 2013 she gained a leading role in the costume drama called "Angelique", and her performance gained international acclaim. The film is loosely based on the novel entitled "Angelique, the Marquise of the Angels" written by Anne Golon, with other stars of the film including Gerard Lanvin and Tomer Sisley.
Recent Projects
In 2014, Nora was cast in the television series entitled "Zoo", which is based on the novel of the same name written by James Patterson and Michael Ledwidge, and stars her alongside James Wolk and Kristen Connolly. She becomes a part of a team of professionals who begin investigating a mysterious worldwide phenomena of violent animal attacks; the show aired for three seasons before ending. She only stayed for the first two seasons, however, and concurrently had a recurring role in another series, entitled "Mozart in the Jungle".
In the show, she plays the wife of the main character, a gifted and rambunctious woman named Anna Maria. The show has won two Golden Globe awards over the course of its run. One of her latest projects is a lead role in the YouTube science fiction series "Origin". The series follows a group of strangers who are stranded on a spacecraft bound for a distant planet, then later realizing that one of them is not who he/she claims to be. She is also working on the action horror film entitled "Army of the Dead", directed by Zack Snyder, also starring Dave Bautista and Ella Purnell, and to be released through Netflix.
Personal Life and Social Media
For her personal life, not much is known in terms of Arnezeder's romantic relationships. There is a lot of speculation on whether or not she is single or in a relationship, due to the lack of any information on this aspect of her life. According to her, she was approached by talent scouts when she was 14 years old, and invited to become a professional model, but she had to lose more weight. She declined the offer, stating that she wanted to eat French fries.
One of the reasons why there is very limited information about many aspects of her life away from her work is due to the lack of any online presence. She doesn't have any accounts on social media, preferring to keep people away from her personal endeavors. This is uncommon, as in recent years a lot of actors have flocked to create personal social media accounts, to promote their work and connect with their fans. She has also expressed a lot of love for the projects she's worked on, as she often chooses roles that she will enjoy, and stories that she is very interested in.