• Levi Kilcher was born in Homer, Alaska, USA in 1982
• His net worth is estimated to be $500,000
• He has a PhD in physical oceanography from Oregon State University
• He is a researcher and reality television personality appearing on the show "Alaska: The Last Frontier"
• He is active on social media, particularly Twitter and LinkedIn
 
Who is Levi Kilcher?
Levi Kilcher was born in Homer, Alaska, USA, in 1982, and is a researcher and reality television personality, best known from appearing as a part of the television show "Alaska: The Last Frontier", which focuses on the family living in a community outside Homer.
The Wealth of Levi Kilcher
How rich is Levi Kilcher? As of mid-2018, sources inform us of a net worth that is at $500,000, earned through success in his various endeavors, including a significant amount from the television show, and having travelled to various locations around the country. As he continues his career, it is expected that his wealth will also continue to increase.
Brothers. #tbthursday pic.twitter.com/RwFBLX9kYD

— Levi Kilcher (@farenorth) August 13, 2015
Early Life and Education
Levi grew up with the Kilcher family who are known to have been living in Alaska for four generations. They are the descendants of Swiss immigrants, and are considered pioneers of Alaska. They lived without plumbing or modern heating and appliances, and had to use their ingenuity to survive the long winters. He is related to singer Jewel, who was also later featured on their show.
While he mainly grew up in Homer, he had the opportunity to travel for his studies. He went on to study for a degree in physics at Oregon State University, and during his time there, he was also active in participating in competitive ultimate Frisbee, which as the name denotes, is a non-contact sport played with a Frisbee. After graduating in 2003, he then furthered his studies by studying for a PhD in physical oceanography. His studies took a lengthy period of, time and he would go on and stay with the university from 2003 to 2011.
Just spent a week at home. Got to hang with these crazy dudes! #AKTLF @kilcherfrontier pic.twitter.com/2Dir8FQj0w

— Levi Kilcher (@farenorth) October 15, 2015
Career
After completing his doctorate, Levi started working for the National Renewable Energy Laboratory which is a part of the National Wind Technology Center located in Boulder, Colorado. He works as a post-doctoral researcher focusing on Marine Hydrokinetics and Integrated Development. His task is to accumulate research and data for development of tools for hydro-turbine designs, in which regard he studies rivers and the movement in oceans. The technology is mainly used to help both wind- and water-based power industries. The research can then be used to help locations which are usually far from common energy sources such as in Alaska. He has been working in his position for over six years.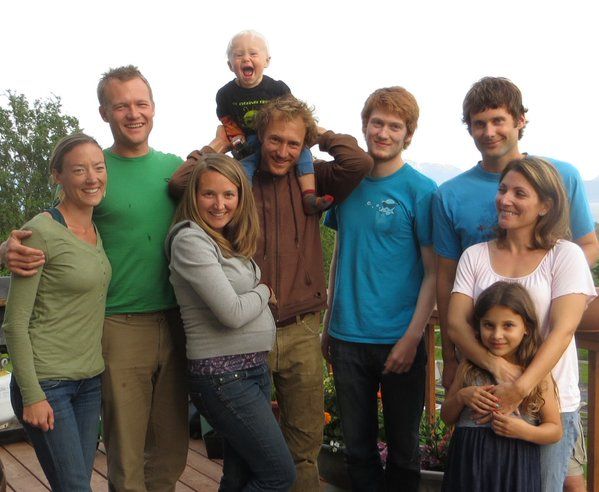 Alaska: The Last Frontier
Levi's popularity and net worth skyrocketed when the family became a part of the television show "Alaska: The Last Frontier". The show focuses on the family which hails from European immigrants during World War II, who moved to Alaska in hopes of greener pastures. They've lived off the land for four generations, and reside with other homesteaders nearby. However, as common in Alaska, their homestead is far outside the usual city area, in this case around 11 miles outside of Homer.
The show also features them without any form of plumbing or modern heating. Due to this, the family mainly survives through hunting, farming and preparing for long winters. While Levi isn't really a mainstay of the show, he appears often as a part of several episodes during his trips back to Alaska. The show has won several awards including a Telly Award and a Communicator Award. They've also been running for a total of 17 seasons now with each consisting of 20 episodes save for the first season which only had three. The show is a part of the Discovery Channel.
Family and Social Media
Levi's father is one of the main features of "Alaska: The Last Frontier" and is considered as one of the tinkerers of the family. He helps to fix numerous things broken on the homestead, and has collected numerous useful equipment over the years too. Of course he helps to run the property, and in particular is charged with husbanding the cows. One of the other main features of the show is his eldest son Eivin and his wife Eve who reside in a cabin at the homestead with their two children. Levi is also related to singer Jewel Kilcher, who has released numerous top Billboard hits which has earned her critical acclaim.
Two Farenorths crammed in the backseat with Auntie-Belle! @Eivinkilcher @EveKilcher @kilcherfrontier #AKTLF pic.twitter.com/qJYjvkATOd

— Levi Kilcher (@farenorth) August 15, 2015

Like numerous television personalities, Levi is also active on social media, particularly on Twitter which he uses to express his opinions on the latest events in the world. His interests vary from politics to travel as he posts a lot of pictures of the places he's visited. He also spends a lot of time back at home, and often takes pictures of the family homestead. Aside from Twitter, he also has a LinkedIn account which details his education and work, and also has accounts associated with other minor social media websites such as Medium.
Source:
IMDb
,
Wikipedia