• Kimetrius Foose, professionally known as Lil Skies, is a rapper from Chambersburg, Pennsylvania.
• As of mid-2018, his net worth is estimated at $1.5 million.
• His father, Dark Skies, was a hip hop artist and an early inspiration.
• He has released several singles, and had his debut album reach 10th spot on the Billboard 200 chart.
• Lil Skies is active on social media, and has a personal website to promote his music and upcoming events.
 
Who is Lil Skies?
Kimetrius Foose was born on 4 August 1998, in Chambersburg, Pennsylvania USA, and is a rapper, best known for performing professionally under the name Lil Skies. He's released several singles which have reached the Billboard Hot 100, and also had his debut mixtape reach 10th spot on the Billboard 200 chart.
https://www.instagram.com/p/Bmt0_9aAo_F/?hl=en&taken-by=lilskies
The Wealth of Lil Skies
How rich is Lil Skies? As of mid-2018, sources inform us of a net worth that is at $1.5 million, mostly earned through a successful career in the music industry. He's performed with other high profile artists, and has also toured the country. As he continues his career, it is expected that his wealth will also continue to increase.
Early Life and Education
While Lil Skies was born in Chambersburg to multiracial parents, he later grew up in nearby Waynesboro, Pennsylvania. He became interested in music at a young age, apparently even writing songs when he was four years old. His father was also a hip hop artist – known professionally as Dark Skies – and he was responsible for influencing Lil Skies music inclinations. He later named himself based on his father's stage name.
When he was 11 years old, his father was injured due to a workplace chemical explosion at a Rust-Oleum plant, and while his father was recovering, the two started working on the album "Father-Son Talk". Lil Skies attended Waynesboro Area Senior High School, and after matriculating enrolled at Shippensburg University of Pennsylvania, but was only there for a short time as he dropped out to focus on his rap career. This was after he had opened for Fetty Wap at a Shippensburg University concert.
https://twitter.com/LilSkies/status/1013974692686901251
Rap Career
In 2017, Lil Skies released his first mixtape – "Alone" – and would also continue writing music. A few months later, he released "Red Roses" featuring Landon Cube, which would hit 69th spot on the Billboard Hot 100. The song later became the first single for his debut studio album/mixtape "Life of a Dark Rose", meantime writing and releasing other songs such as "Signs of Jealousy". His various singles would catch the attention of Atlantic Records, who partnered with Lil Skies own label, All We Got.

This led to the release of "Life of a Dark Rouse" the following year, which debuted on the Billboard 200 chart in 23
rd
spot, before it climbed to reach a peak in 10
th
spot. He also released the song "Nowadays" which debuted in 85
th
spot on the Billboard Hot 100, before peaking in 55
th
position. Due to his popularity, he started to tour nationally with other artists such as Lil Uzi Vert, then embarked on his own "Life of a Dark Rose" tour, but which was cut short due to illness. He's since released a new single entitled "I Know You", featuring Yung Pinch, and featured in the song "Off the Gas" by 6 Dogs.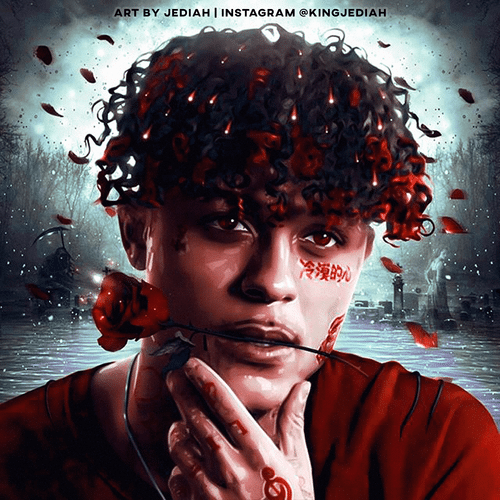 Personal Life
For his personal life, not much is known about Lil Skies in terms of romantic relationships. Many sources believe that he is likely single, and is focused on his music career since he is just 19 years old. He has a younger brother, an aspiring rapper named Suigeneris. He is often identified through the numerous tattoos on his face and body, specifically under his left eye and in between his eyebrows.
Is Lil Skies on Social Media?
Prior to being signed to a major label, Lil Skies built his popularity through the website SoundCloud, releasing most of his songs. The platform is known to have been a starting point for numerous rappers and other musicians. Similar to other rappers, he's very active on social media, particularly on Facebook, Twitter and Instagram. He's recently promoted some of his latest work, including his raps featuring in video games such as "Madden NFL 19", and posted numerous personal photos, and photos from shoots he's done as a part of his music promotions.

Lil Skies has posted videos of some of his latest work too, including new songs featuring artists such as Rich the Kid. He's showcased videos of himself touring, and used Twitter to show behind the scenes footage, as well as post some of his daily thoughts. He also posts a few personal videos on his Instagram page, and some photos of himself out, and going about his day-to-day business. He also has a personal website which promotes his music and upcoming events. Videos of him performing, and lyric videos of his songs are also available through the website YouTube.
Source:
IMDb
,
Wikipedia