Sarah Ward rose to prominence along with the rest of her Rust Bros vehicle repair shop coworkers, when History Channel's one-of-a-kind documentary TV series entitled "Rust Valley Restorers" was released on 6 December 2018. She is one of the few individuals instrumental to the day-to-day operations of this unique business with an even more impressive backstory.
She serves as the parts manager on the premises, in charge of all the many vehicle pieces required to bring abandoned wrecks to their maximum potential. It is undoubtable that Rust Bros employees would have a hard time delivering their orders without Ward's clever management skills and masterful organization proficiency.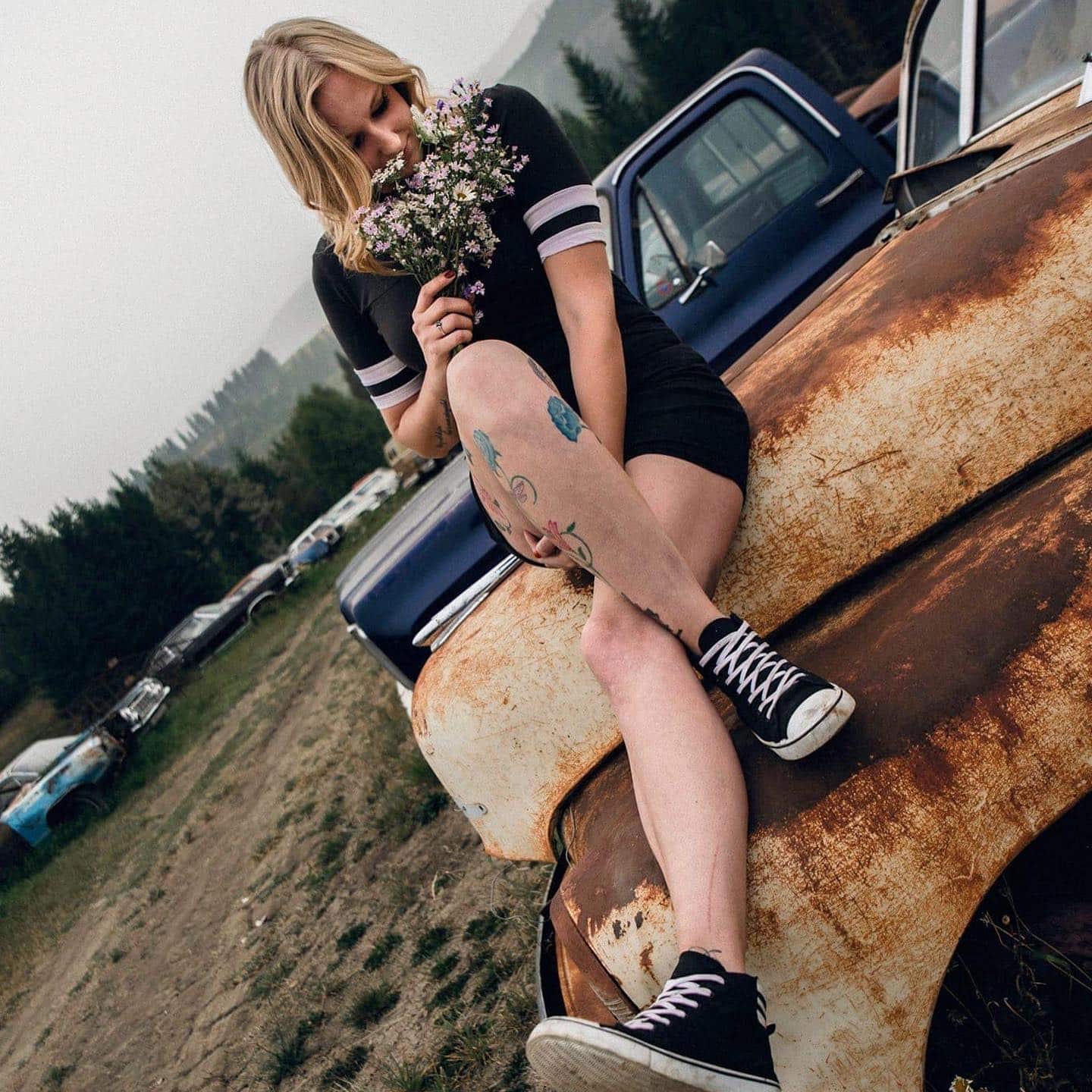 Who really is Sarah Ward?
Sarah Ward was born in 1993, in Tappen, located right next to Shuswap Lake in South Interior of British Columbia, Canada. She spent her formative years around numerous car enthusiasts, including those in close relation to Mike Hall and Avery Shoaf, the superstars of "Rust Valley Restorers."
She attended high school in the tiny unincorporated settlement of Blind Bay, which stands at less than 2,500 registered residents. It's safe to say that the future star led a rather isolated lifestyle, through no fault of her own, but simply due to the circumstances she came to grow up in.
This lack of contact with the broader population of her country was by no means a negative influence, however, as it allowed her to focus on what truly mattered at the time – becoming part of the automotive world. She quickly developed a penchant for all things vehicular, in the company of her family and tight-knit community members.
Ward comes from a family deeply passionate about cars, particularly her father, who is a skilled mechanic with a well-known fondness for Harley Davidson motorcycles. Her upbringing was steeped in the household craft, which fostered her profound appreciation for the business she would one day venture into. Sarah showcased her mechanical aptitude even during her teenage years, by undertaking restoration projects for a virtual fleet of damaged cars.
Her venture into car ownership commenced with the acquisition of a 1938 Buick Special, affectionately named Medusa. This vintage beauty ended up sitting around for a number of years, until she finally took the decision to bring it up to its former glory, allowing for a rather special episode of the series.
Sarah's automotive collection also includes a 2014 Camaro RS/SS, known as RedRum – an homage to the legendary film "The Shining" by Stanley Kubrick – and an '87 Honda Accord Hatchback, lovingly referred to as Tonto, which means 'silly' in Spanish, showcasing her diverse automotive interests and cultural influences.
What's the show all about?
"Rust Valley Restorers" is a one-of-a-kind TV series that offers viewers an intimate look into the world of automotive restoration like never before. Having first hit the screens in December 2018, the action takes place in rural Canada, where a team of passionate experts works tirelessly to breathe new life into classic cars and trucks.
At its core the show is about taking forgotten relics of the past and turning them into stunning pieces of automotive history. The founder of the business, Mike Hall, is a charismatic and determined car enthusiast who leads the charge in restoring these neglected gems. Together with his dedicated team, which includes Avery Shoaf and Connor Hall, they tackle a wide array of projects, from vintage muscle cars to iconic pickups.
The series doesn't just focus on the glamour of a finished restoration – it delves into the nitty-gritty aspects of the meticulous process as well, providing crucial information to the audience along the way. Viewers get to witness the challenges and triumphs of each project, from diagnosing engine issues to painstakingly detailing interiors.
Their unwavering commitment to preserving the authenticity of these vehicles is the center theme, as they often go to great lengths to source original parts or assiduously refurbish existing ones, ensuring that every restoration is as close to perfection as possible.
"Rust Valley Restorers" also offers a glimpse into the human stories behind each vehicle. Many of these classics hold sentimental value for their owners, and the show explores the emotional connections people have with their cars. Whether it's a family heirloom or a dream vehicle from the past, these tales add depth and meaning to the restoration process.
Viewers are treated to a mix of challenges, successes, and some unexpected twists throughout the series, as the team overcomes their many hurdles one at a time, from project to project. They face tight deadlines, budget constraints, and the occasional setback, making each restoration a rollercoaster ride of determination and innovation.
As "Rust Valley Restorers" progresses, it's not just about restoring cars; it's about preserving a piece of history, and passing it down to future generations. The show's authenticity, the dedication of its team, and the unique stories behind each project have made it a hit among automotive enthusiasts and those who appreciate the art of restoration. With every episode, viewers get a front-row seat to the fascinating world of breathing life back into rusty relics, one wrench turn at a time.
The great backstory: Rust Bros origins
Mike Hall, often affectionately referred to as 'Rasta Blasta' due to his distinctive dreadlocked hairstyle, entered this world in 1956, in Saint Boniface, Manitoba, Canada. His formative years were spent in this province, but destiny had a different plan for him. His family relocated to Kamloops, British Columbia, when his father secured a position with CP Rail.
This shift marked the beginning of young Michael's fascination with the mechanical world, mirroring his father's interests. He immersed himself in the family garage, tinkering with his parents' car and unraveling the intricacies of various machinery contained within.
He later ventured into the world of business and established Chimera Springs Rock Works – a venture that had him mount various cliffs to blow them up with dynamite. His primary focus was on slope stabilization, meticulously restoring rock face sculptures, and ensuring the safety of these environments. With hard work and dedication, this enterprise became a lucrative source of income, affording Mike both financial security and the freedom to pursue his true passion.
Sarah Ward is a crew member of the Rust Bros garage & is known for her role in the reality series, Rust Valley Restorers. Click the link to know all about Sarah Ward's life of Rust Valley Restorers.https://t.co/Mnmdp7igUC pic.twitter.com/VabvN89fMN

— eCelebrityFacts (@ecelebrityfacts) December 5, 2021
Weekends became a treasure hunt for Hall, as he combed through old garages, junkyards and scrap yards in search of hidden automotive gems awaiting restoration. Each discovery fueled his passion, and as he undertook several successful restoration projects, he realized that his calling lay in breathing life back into classic cars. This prompted him to return to British Columbia and establish Rust Bros Restorations – the one true haven for these priceless relics.
Initially he had no intention of parting with the cars he restored, as the work was driven purely by passion, a labor of love. However, he was eventually forced by the circumstances into recognizing that the extensive collection which eventually numbered over 400 cars, might become a burden for his family in the future.
He shared his thoughts in an interview with theglobeandmail.com, stating, 'I'll be 62 soon, my dad died at 60. I've seen buddies dying or running into health problems, leaving their families with all kinds of stuff to deal with. What are my wife and kids going to do with 400 cars in a field?'
He then made the difficult decision to part with the fruits of his lifelong dedication, putting his five-acre property in Tappen, BC up for sale in 2016, complete with the entire collection of cars and the well-equipped shop, all for the price of $1.19 million. However, the market response was underwhelming, with no takers for a year.
Frustrated but undeterred, Mike increased the price to $1.45 million in 2017, and that was seemingly the spark required to ignite his career. The story of a seasoned Canadian man selling a vast piece of land with hundreds of meticulously restored cars captured minds worldwide, spawning great interest in his day-to-day activities and owned antiques.
Collectors from distant corners of the globe desperately wanted their own piece of this unique automotive legacy, but production companies saw the potential for a captivating documentary as well, eagerly vying for Mike's story and expertise to be presented on their network.
It was ultimately Matt Shewchuk and Tyson Hepburn of Mayhem Entertainment in Vancouver who secured the deal, thus marking a dramatic turn in Mike's life, propelling him into a realm he had never anticipated.
It catapulted him to global recognition, fostering a devoted fan base that has grown exponentially over the five years since the show's inception – a momentum that shows no signs of wearing out anytime soon.
Where does Sarah fit into all this?
Ward's significant part in Mike's business was discussed and emphasized in an episode of the YouTube documentary series entitled "Cruising the Okanagan," which had women in the automotive industry detail the nature of their work, their business dynamic, and share their success-oriented mindset with the audience.
Sarah for the first time relayed to the public exactly what it is she does at Rust Bros, because although she definitely doesn't do a lot of vehicle body work, she's still one of the most important individuals present on the premises.
She noted that Mike himself tracked her down, as he required someone of her caliber and experience to handle the unenviable task of making sure every single required part is in the shop on time, as well as keeping track of the entire inventory.
Hall was acquainted with her as she was from the area, and Ward apparently showed great promise when it comes to understanding even the most intricate differences between parts that are identical on first glance. He also respected her as a fellow connoisseur of antique rides, and had complete trust in her ability to discern what's required in the day-to-day operations of the business.
The young employee keeps a mental note of everything in stock, as well as when new parts are coming. This allows the rest of the crew at Rust Bros to focus on their own tasks without having to worry about logistics. In the words of Hall himself, 'Thank god for Sarah, or we would never get anything done here.'
Ward was also interviewed about the more physical and normally more masculine part of the business – performing actual work on vehicles with her hands and tools. She mentioned knowing her way around a toolbox, and revealed that her free time is most often spent performing some sort of upgrade on ether one of her beloved cars.
The truth is that it's impossible for any enthusiast not to learn the craft when constantly surrounded with such dedicated experts, but Sarah also arrived into the business with a wealth of knowledge to boot. All in all, it's undeniable that she can perform excellent work on most drivable machines, as that is both her passion and calling.
Her final advice for all the young women watching who want to get into the world of cars was to not be intimidated, as the path might seem difficult to tread at first, but the most important thing is not to give up. She nudged those needing this advice in the direction of understanding that their gender doesn't matter – only the quality of the work they do.
What does Sarah do today?
Ward's Instagram page bio confirms that she's still employed at Rust Bros Restorations in September 2023, but since the fifth season of the series has no airing date set, fans will have to make do with what they get from the cast's social media activity. Those with a particular preference for Sarah can enjoy a number of comedic posts that she shares on her Instagram page, some of which are from TikTok.
She also has multiple posts that focus on her newest undertaking – a boyfriend. The man named Ted Turner sports a rugged appearance and can be seen next to Sarah in several pictures, including one uploaded on 2023's Valentine's Day. Her relationship seems to be blossoming, but further details from the star herself are required in order to ascertain anything beyond that point.
Sarah has also been vocal on Facebook regarding a wildfire that destroyed her cousin's home, having posted a family photo and numerous views of the aftermath, which show a charred wasteland left behind by the inferno.
Her most recent interaction with the fans was a plea to help the family get a new home, having shared a GoFundMe campaign with a $1 million CAD goal and close to $2,800 CAD raised by various donors. She hopes that her involvement with spreading the word could help the family reach many more potential donors and ultimately get back on their feet in a brand-new home.