• Rebecca Claire Miller was born on September 23, 1971 in Nashville, Tennessee
• She has a Bachelor's degree in Telecommunications from the University of Indiana in Bloomington and a BA in Art History and Studio Art from Sewanee • the University of the South
• She served as an Associate Director of Communications at the White House and is currently Chief Communications Officer of the National Beer Wholesalers Association
• She is married to Sean Spicer, former White House Press Secretary, with whom she has two children
• Rebecca is involved with numerous philanthropic and educational organizations and received the Young Alumni Award from Sewanee for her volunteer work

Known for movies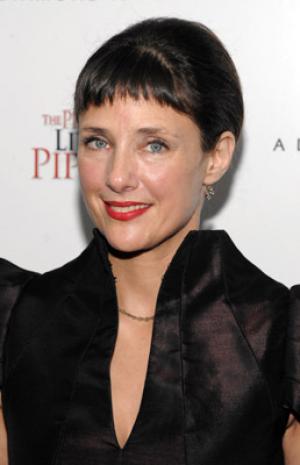 Who is Rebecca Claire Miller?
Rebecca Claire Miller was born on the 23rd September 1971, in Nashville, Tennessee USA, and is a versatile woman, involved in a number of areas of the news industry, serving as a television producer and also as a senior vice president of communications and public affairs for the National Beer Wholesalers Association (NBWA). However, she is probably best known to the world as the wife of former White House Press Secretary, Sean Spicer.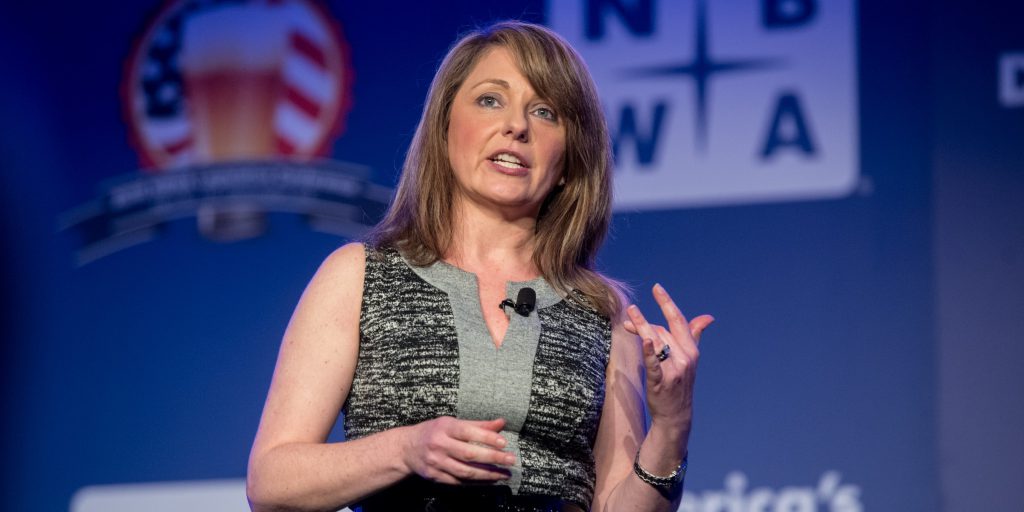 Early Life, Family, and Education
The daughter of Sally and Harry Miller Jr. and his wife, her father served as the president of Miller Properties, which is a real estate agency with headquarters in Madison, Alabama, while her mother was an assistant to Vanderbilt University's director of graduate studies. There is no information on whether Rebecca was an only child or she has siblings. After she finished high school, she enrolled at the University of Indiana in Bloomington, from which she obtained a Bachelor's degree in telecommunications. Furthermore, Rebecca also obtained a BA degree in art history and studio art from the Sewanee- the University of the South.
Career Beginnings
Following the end of her studies, Rebecca started pursuing a career in her preferred field of work, and found a spot for herself as a producer at KTRK-TV, an ABC affiliate with headquarters in Houston, Texas, remaining at the station until 2001, honing her skills and gaining experience for the future.
Rise to Prominence and White House Work
Rebecca left her post to join Washington D.C. Metro Area's WJLA-TV, also an ABC affiliate, and remained there for the next five years, which increased her net worth to a large degree, but also helped her learn new things about television production work, especially as she was in charge of producing the newscast that aired at 6 pm. During her five years at WJLA, she was awarded the Outstanding Newscast Award, given by the Associated Press, for her coverage of the dreadful September 11, 2001 attacks, and receiving an Emmy Award nomination.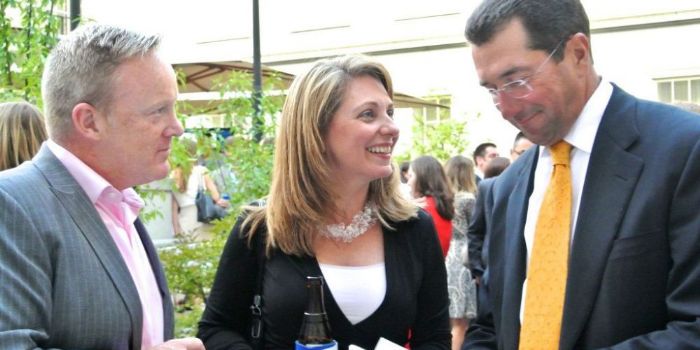 Associate Director of Communications at White House
In 2006 she left WJLA-TV and joined White House as associate director of communications during George W. Bush's presidency, producing televised events for the 43rd President of the USA, but remained there for only one year, before joining her current company, National Beer Wholesalers Association (NBWA), as a chief communications officer.
Work for NBWA
On joining NBWA, Rebecca was named chief communication officer, which means that she is responsible for the entire communications strategy, including internal, membership and external communications, and is also in charge of public relations strategies. Rebecca has been in her post since then, earning a name for herself, while also increasing her net worth. Thanks to her hard work, Rebecca was named as one of the USA's "Top 40 Under 40″ public relations professionals, by PR Week magazine, and also won the Rising Star Award, presented by the American Society of Association Executives.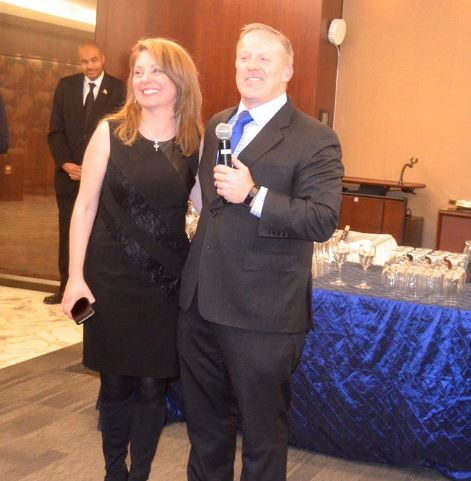 Do You Know How Rich, TV Producer Rebecca Claire Miller is?
Since launching her career in the late '90s, Rebecca wandered from station to station, and worked for stations in Houston, Texas, New Haven, Connecticut, and Birmingham, Alabama, as well as CNN in Atlanta, until finding her place at NBWA, where she has been for more than a decade. All of this increased her net worth to a large degree, so have you ever wondered how rich Rebecca Claire Miller is, as of mid-2018? Rebecca's net worth is estimated by authoritative sources at over $5 million, accumulated during her 20-year career in broadcast journalism.

Popularity Through Marriage; Children
Besides her work, Rebecca has also gained some fame through her marriage to Sean Spicer, a former White House Press Secretary and political strategist, who has worked on a number of political campaigns, and served as communication director in several committees. The couple married on the 13th November 2004, in a ceremony held at St. Alban's Episcopal Church in Washington, D.C. The couple now resides in Alexandra, Virginia with their two children.
Volunteer Work
When she is not on her job or with family, Rebecca is a volunteer; she is involved with a number of philanthropic, educational and other organizations, including the Salvation Army National Capital Region, then the National Council for Adoption, and was also a part of the National Advisory Council of the Harpeth Hall School. Furthermore, Rebecca received the Young Alumni Award given by her alma mater – Sewanee – for her volunteer work, and her service on the Board of Trustees of the university.
General Info
| | |
| --- | --- |
| Full Name | Rebecca Miller |
| Profession | Actor, Author, Film director, Screenwriter |
| Nationality | American |
Family
| | |
| --- | --- |
| Spouse | Daniel Day-Lewis |
| Children | Cashel Blake Day-Lewis, Ronan Cal Day-Lewis |
| Parents | Arthur Miller, Inge Morath |
| Siblings | Jane Ellen Miller, Robert A. Miller, Daniel Miller |
Accomplishments
| | |
| --- | --- |
| Awards | Independent Spirit John Cassavetes Award, Gotham Open Palm Award |
| Nominations | Best Screenplay Award |
| Movies | Maggie's Plan, The Private Lives of Pippa Lee, The Ballad of Jack and Rose, Personal Velocity: Three Portraits, Consenting Adults, Regarding Henry, Mrs. Parker and the Vicious Circle, The Murder of Mary Phagan, Seven Minutes, Love Affair, Angela, Proof, Wind, The Meyerowitz Stories, The Pickle |
| TV Shows | The Murder of Mary Phagan |
Social profile links
Quotes
| # | Quote |
| --- | --- |
| 1 | Thank God my movies were flops. If I had become a movie star that would have been a personal disaster. Friends wondered what the hell I was doing at that time because acting seemed so out of character. But I knew I wasn't suited to it. I don't like my face being the focus. |
| 2 | I hope that as I build a body of work, that tendency to connect me with my father in particular will diminish. Already, it varies from country to country. In Britain, my father was very important. Not that he wasn't in the States, but somehow, it seems to matter more here. |
| 3 | My father was my father. His well-known-ness was something separate from that. It had no reality for me. That Arthur Miller was like a shadow person. So the only time I think about it now is when I am doing interviews and people ask me about it. Otherwise, I feel totally disconnected from that line of thought. |
| 4 | Nobody who makes anything can tell someone else exactly how they do it, because they don't really know themselves. |
Facts
| # | Fact |
| --- | --- |
| 1 | Member of the 'Academy of Motion Picture Arts and Sciences' (AMPAS) since 2016. |
| 2 | Granddaughter of Augusta Miller and Isidore Miller. |
| 3 | Her father was of Austrian Jewish descent. Her mother was Austrian (born in Graz), and was from a Christian background. |
| 4 | Niece of Joan Copeland. |
| 5 | Younger half-sister of producer Robert A. Miller. |
| 6 | Stepmother of Gabriel-Kane Day Lewis. |
| 7 | Sister-in-law of Tamasin Day-Lewis. |
| 8 | Daughter-in-law of Poet Laureate (1968-1972) Cecil Day-Lewis (Nicholas Blake) and Jill Balcon. Sister-in-law of Tamasin Day-Lewis. |
| 9 | Son by Daniel Day-Lewis, Ronan Cal, born on 14 June 1998. |
| 10 | Daughter of playwright Arthur Miller and photographer Inge Morath. |
| 11 | Rebecca's mother was on a crane taking photographs in the Brooklyn Navy Yard hours before going into labour with her. |
| 12 | Son, Cashel Blake Day-Lewis (b. May 2002) |
| 13 | Met her future husband, Daniel Day-Lewis, at her father's house while the two men were preparing the film version of Miller's play "The Crucible". |
| 14 | Began her career as a painter and sculptor at Yale, exhibiting in several galleries before the theatrical urge struck. |
| 15 | Middle name Augusta comes from her paternal grandmother. |
Pictures
Movies
Actress
| Title | Year | Status | Character |
| --- | --- | --- | --- |
| Yeh Din Ka Kissa | 2017 | post-production | Loretta Shapiro |
| Love Affair | 1994 | | Receptionist |
| Mrs. Parker and the Vicious Circle | 1994 | | Neysa McMein |
| The American Clock | 1993 | TV Movie | Edie |
| The Pickle | 1993 | | Carrie |
| Consenting Adults | 1992 | | Kay Otis |
| Wind | 1992/I | | Abigail Weld |
| Regarding Henry | 1991 | | Linda |
| Georg Elser - Einer aus Deutschland | 1989 | | Anneliese |
| The Murder of Mary Phagan | 1988 | TV Mini-Series | Lucille Frank |
Writer
| Title | Year | Status | Character |
| --- | --- | --- | --- |
| Maggie's Plan | 2015 | written by | |
| The Private Lives of Pippa Lee | 2009 | book / screenplay | |
| Proof | 2005 | screenplay | |
| The Ballad of Jack and Rose | 2005 | written by | |
| Personal Velocity | 2002 | book "Personal Velocity" / written by | |
| Angela | 1995 | written by | |
Director
| Title | Year | Status | Character |
| --- | --- | --- | --- |
| Maggie's Plan | 2015 | | |
| The Private Lives of Pippa Lee | 2009 | | |
| The Ballad of Jack and Rose | 2005 | | |
| Personal Velocity | 2002 | | |
| Angela | 1995 | | |
Producer
| Title | Year | Status | Character |
| --- | --- | --- | --- |
| Saturday Church | 2016 | producer post-production | |
| Maggie's Plan | 2015 | producer | |
Soundtrack
| Title | Year | Status | Character |
| --- | --- | --- | --- |
| Shutter Island | 2010 | performer: "SUITE FOR SYMPHONIC STRINGS: NOCTURNE" 1960 | |
| The Private Lives of Pippa Lee | 2009 | writer: "Still To Be Painted" | |
| The Ballad of Jack and Rose | 2005 | writer: "Promise Me" 2005 | |
Thanks
| Title | Year | Status | Character |
| --- | --- | --- | --- |
| Wear | | acknowledgment completed | |
| In a World... | 2013 | thanks | |
| Personal Velocity: Creating 'Personal Velocity' | 2003 | Video documentary short special thanks | |
Self
| Title | Year | Status | Character |
| --- | --- | --- | --- |
| Días de cine | 2009-2016 | TV Series | Herself - Interviewee |
| Made in Hollywood | 2016 | TV Series | Herself |
| Charlie Rose | 1996-2013 | TV Series | Herself - Guest |
| 70th Golden Globe Awards | 2013 | TV Special | Herself - Audience Member (uncredited) |
| Breakfast | 2008 | TV Series | Herself - Guest |
| The 2003 IFP Independent Spirit Awards | 2003 | TV Movie documentary | Herself |
| Personal Velocity: Creating 'Personal Velocity' | 2003 | Video documentary short | Herself |
| Personal Velocity: In Conversation Rebecca, Parker, Fairuza, and Kyra | 2003 | Video documentary short | Herself |
| Lauren Hutton and... | 1996 | TV Series | Herself - Guest |
Awards
Won Awards
| Year | Award | Ceremony | Nomination | Movie |
| --- | --- | --- | --- | --- |
| 2016 | Founders Prize | Traverse City Film Festival | Best US Fiction | Maggie's Plan (2015) |
| 2003 | John Cassavetes Award | Independent Spirit Awards | | Personal Velocity: Three Portraits (2002) |
| 2003 | Special Prize of the Jury | Istanbul International Film Festival | International Competition | Personal Velocity: Three Portraits (2002) |
| 2003 | People's Choice Award | Istanbul International Film Festival | International Competition | Personal Velocity: Three Portraits (2002) |
| 2002 | Grand Jury Prize | Sundance Film Festival | Dramatic | Personal Velocity: Three Portraits (2002) |
| 1996 | Silver Raven | Brussels International Festival of Fantasy Film (BIFFF) | | Angela (1995) |
| 1995 | Open Palm Award | Gotham Awards | | Angela (1995) |
| 1995 | Filmmakers Trophy | Sundance Film Festival | Dramatic | Angela (1995) |
Nominated Awards
| Year | Award | Ceremony | Nomination | Movie |
| --- | --- | --- | --- | --- |
| 2016 | Audience Award | Edinburgh International Film Festival | | Maggie's Plan (2015) |
| 2009 | EDA Female Focus Award | Alliance of Women Film Journalists | Best Woman Screenwriter | The Private Lives of Pippa Lee (2009) |
| 2009 | WFCC Award | Women Film Critics Circle Awards | Best Woman Storyteller | The Private Lives of Pippa Lee (2009) |
| 2005 | Grand Special Prize | Deauville Film Festival | | The Ballad of Jack and Rose (2005) |
| 2005 | Golden Star | Marrakech International Film Festival | | The Ballad of Jack and Rose (2005) |
| 2003 | Golden Tulip | Istanbul International Film Festival | | Personal Velocity: Three Portraits (2002) |
| 2002 | Golden Leopard | Locarno International Film Festival | | Personal Velocity: Three Portraits (2002) |
| 1995 | Grand Jury Prize | Sundance Film Festival | Dramatic | Angela (1995) |
Source:
IMDb
,
Wikipedia