• Steven Yeun is a Korean-American actor, voice actor, and former psychology major
• He rose to fame due to his role as Glenn Rhee on the hit television show The Walking Dead
• He has also worked on several animated shows, video games, and movies such as Okja and Mayhem
• His net worth is estimated to be $4 million as of 2018
• He is married to photographer Joana Pak and the couple have a son named Jude Malcolm Yeun

Known for movies
Short Info
| | |
| --- | --- |
| Date Of Birth | December 21, 1983 |
| Spouse | Joana Pak |
| Fact | Steven was born in Korea. He and his family moved to the United States, to the state of Michigan - just like his character Glenn in the AMC hit TV series The Walking Dead. |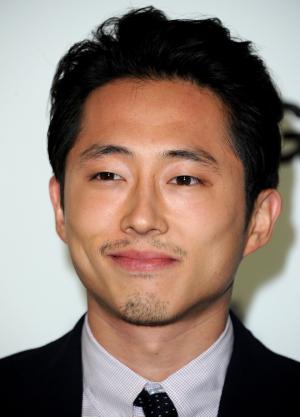 Who is Steven Yeun?
Born Yeun Sang-yeop, on the 21st of December, 1983, Steven Yeun is a Korean-American actor who became famous for his role as Glenn Rhee in the hit television show "The Walking Dead." He is also a known voice actor, and has worked in several animated shows as well as video games. "Steven" isn't actually Yeun's stage name, but one he adopted when he was young, after meeting a doctor of the same name.
https://www.instagram.com/p/BnmQs17AB7e/?taken-by=steveyeun
Steven Yeun's Early Life
Yeun was born in Seoul, South Korea to Je and Jun Yeun. Although Yeun's father was trained as an architect in South Korea, both his parents later on become owners of beauty-supply stores when they moved to the United States. Before settling in Detroit, the Yeun family lived in Regina, Saskatchewan Canada, as well as Michigan in the US. Yeun was raised in a Christian household. Yeun attended Kalamazoo College, from where he graduated with a degree in psychology, with a specific major in neuroscience.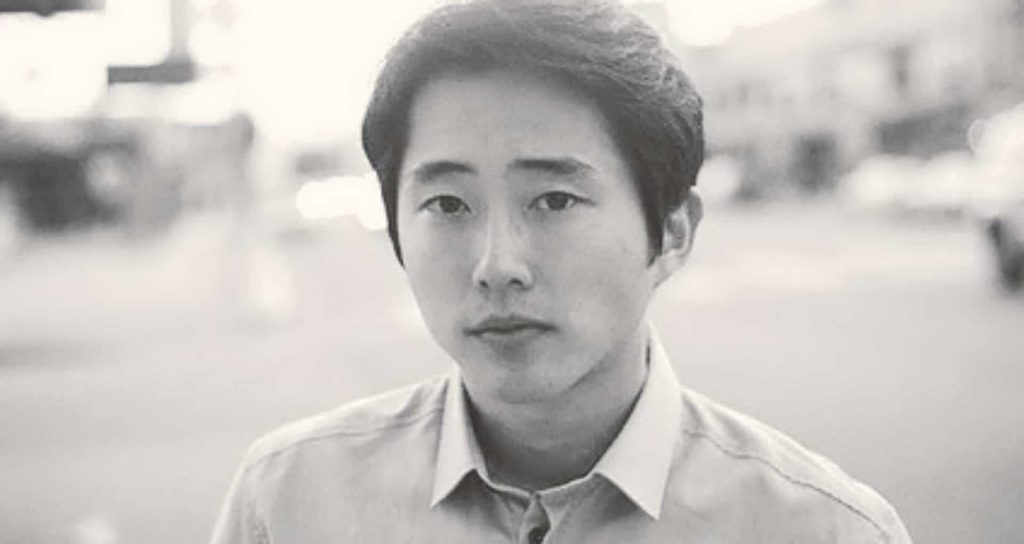 Steven Yeun's Career
Despite his subject of study, Yeun's acting career started when he was still in college. During his freshman year in Kalamazoo, he came across the improvisation group Monkapult, and became a fan of the group, auditioning for it but not make it until his sophomore year. Upon falling in love with performing, he told his parents that he wanted to pursue a career in acting and imrpov, instead of studying law or going to medical school. Despite their misgivings, Yeun's parents eventually decided to support his dreams.
After college, Yeun moved to Chicago with his brother and joined a comedy sketch group, Stir Friday Night. The Asian-American comedy group became his training ground while in Chicago, as well as the comedy group The Second City. In 2009 Yeun moved to Los Angeles, and began acting in front of the camera. He debuted in the short film "The Kari Files", and then in the feature film "My Name is Jerry." The following year, he also debuted on the small screen, when he appeared in an episode of highly popular series "The Big Bang Theory." His early years as an actor certainly helped establish his career as well as his wealth.
Steven Yeun in The Walking Dead
In 2010, Yeun achieved his huge career break when he became part of the series "The Walking Dead;" he is one of the original members of the series, playing the role of Glenn Rhee, who is among the survivors after the world is taken over by zombies that they call the walkers. "The Walking Dead" became one of the highest rated series in cable television history, and Yeun's role also became one of the most popular characters on the show. After being a regular for six years and much to
his and the fans disappointment
, Yeun left the show in 2016 after his character was killed in the seventh season's premiere. The popularity of the series helped catapult his career to new heights, and also increased his net worth tremendously, not least reflected in the ensemble winning Saturn and Satellite Awards in 2012. Yeun continued acting, and has appeared in several movies and series, In 2017, he joined the cast of the films "Okja" and "Mayhem." He also made an appearance in an episode of the series "Bajilion Dollar Propertie$" in 2017.
Yeun has also worked as a voice actor, lending his talent to various shows including "Voldron: Legendary Defender" – more than 50 episodes from 2016 – and concurrently in over 20 episodes of "Trollhunters", both of which are still running. In 2017 he became involved in "Stretch Armstrong and the Flex Fighters" which is also still running, with all of these projects steadily increasing his wealth. Continuing his career, Yeun will also appear in the South Korean film "Burning" based on a short story by Haruki Murakami. The film is directed by Lee Chang-dong, whom Yeun calls one of his heroes, and will compete in the 2018 Cannes Film Festival. He is also in the cast of "Chew", scheduled for release in 2019.
https://twitter.com/steveyeun/status/1038187283898200064
Steven Yeun's Body Measurements
In terms of his body measurement, Yeun is 5ft 9ins (1.75 m.) tall and weighs around 150lbs. (68 kg.) He has black hair and blue eyes, and has a shoe size of 9 US.
Steven Yeun's Net Worth
As of late 2018 and based on authoritative sources, Yeun's net worth is reported to be $4 million, acquired from his years working in the entertainment industry over the last decade.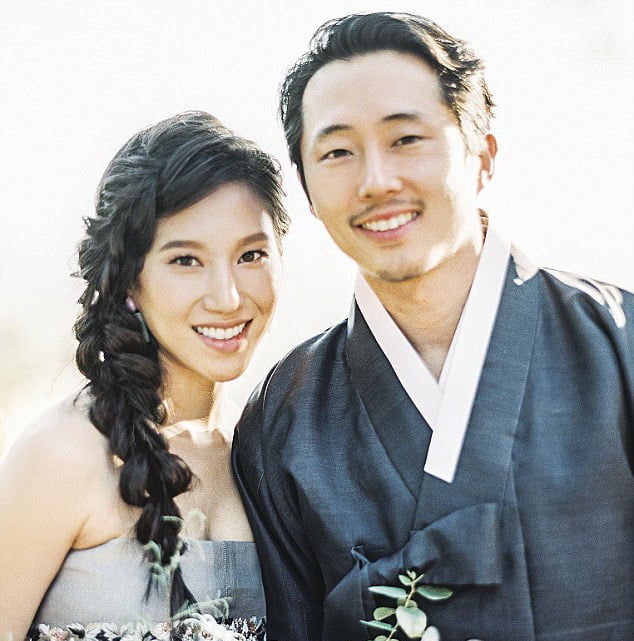 Steven Yeun's Personal Life
In terms of his personal life, Yeun has been married to photographer Joana Pak since the two tied the knot on 3 December 2016, and they have a son named Jude Malcolm Yeun. Steven continues to support Detroit sports teams, attending a variety of games whenever possible.
General Info
| | |
| --- | --- |
| Full Name | Steven Yeun |
| Date Of Birth | December 21, 1983 |
| Height | 1.75 m |
| Weight | 150 pounds |
| Profession | Actor |
| Education | Kalamazoo College |
Family
| | |
| --- | --- |
| Spouse | Joana Pak |
| Parents | Je Yeun, June Yeun |
| Siblings | Brian Yeun |
Accomplishments
| | |
| --- | --- |
| Awards | Satellite Award for Best Television Ensemble |
| Movies | I Origins, Okja, My Name Is Jerry, Like a French Film, Chew, Blowout Sale, The Star |
| TV Shows | The Legend of Korra, The Walking Dead, Trollhunters, Voltron: Legendary Defender |
Social profile links
Quotes
| # | Quote |
| --- | --- |
| 1 | Many people, not just Asians, are more concerned with hustling and getting to meetings with contacts to gain success. |
| 2 | People think that Detroit is this barren wasteland. While there are parts that are not as nice as others, the misconception is not true. It is definitely not a thriving community in Detroit, but it is getting there. There is a lot of heart and love in this city. |
| 3 | Whatever I lack in size and strength and speed, I kind of make up for in being grittier. When it comes to something like basketball I'm definitely not the best guy on the court, but I love elbowing and pushing people out or boxing them out. |
| 4 | I believe that we are still hovering around the realm of Asians playing all types of Asians. I do not see that changing any time soon just because there is a limited pool of Asian actors. |
| 5 | I felt like I've needed to ask my parents up until about four years ago about everything. They have helped me tremendously, I came out of college with no debt. Everything they made, they just poured into my education. |
| 6 | I grew up in Michigan, so I played hockey, football and basketball. I played a little bit of lacrosse, too. My brother played more lacrosse and ran track. |
| 7 | I was a psych major in college and I actually owned two white lab rats. I had to train them and I took them home so that's just kind of missing for me. |
| 8 | Maybe it's a cultural thing, being Korean, but my first reflex has always been to exude humility - but it doesn't help you in acting. For acting, humility isn't the best thing. It'll weaken your work. |
| 9 | Well, my parents originally wanted me to become a doctor - that's why I was in school; I was pre-med, and I graduated with a degree in psychology and a concentration in neuroscience. Really, the plan was for me to go to med school. |
| 10 | What brought me to L.A. was work! I moved to Chicago after college - I went to Kalamazoo - did my nerd thing, graduated, and moved to Chicago to pursue improv. |
| 11 | I like documentaries because there's nothing to nitpick or criticize about scenes if they aren't just right. It's about honesty and real-life circumstances coming out. Granted it can be swayed by how people tell that story, but overall, I like it because it is true. |
| 12 | I'm Korean-American. Not Colombian. My parents are first-generation, and I'm like... in-between, because I moved over here when I was four or five. |
| 13 | At the end of the day, if you can't say a line right, it does not matter who your contacts are. |
| 14 | I am a huge Pistons fan. Those were some of my best times in college, watching the Detroit Pistons. |
| 15 | I took up boxing to get in shape for filming because it's grueling - all the running, the heat, the yelling, the crying that we do. |
| 16 | I was raised in a Christian household and heard a lot of praise music, so that's what helps me get to an emotional place. |
| 17 | I'm good at keeping secrets, but if it's not something super serious I usually tell people not to tell me because I'll tell someone else. |
| 18 | I'm not much of a horror fan. When it comes to ghost stuff and demon stuff, I can't watch that. |
| 19 | I'm stupidly curious. I will go and touch anything until I find out that it's very harmful. |
| 20 | If you work in Chicago in the improv scene, anyone is happy for you if you get a job. |
Facts
| # | Fact |
| --- | --- |
| 1 | He was born in Korea; but grew up in Troy, Michigan. Troy is a suburb of Detroit. |
| 2 | Steven was born in Korea. He and his family moved to the United States, to the state of Michigan - just like his character Glenn in the AMC hit TV series The Walking Dead. |
| 3 | He received a bachelor's degree in psychology from Kalamazoo College in 2005. His interest in acting and improv came during his freshman year at Kalamazoo, when he watched the college's improv group, Monkapult. |
| 4 | He speaks a good amount of Korean. |
Pictures
Movies
Actor
| Title | Year | Status | Character |
| --- | --- | --- | --- |
| Chew | 2018 | post-production | Tony Chu (voice) |
| Sorry to Bother You | 2018 | filming | |
| The Star | 2017 | post-production | Bo the Donkey (voice) |
| Final Space | 2017 | TV Series 2018 | |
| Bajillion Dollar Propertie$ | 2017 | TV Series | Eric |
| Okja | 2017 | | K |
| Mayhem | 2017 | | Derek Cho |
| Voltron | 2016-2017 | TV Series | Keith |
| Trollhunters | 2016 | TV Series | Steve Palchuk |
| The Walking Dead | 2010-2016 | TV Series | Glenn Rhee |
| American Dad! | 2014 | TV Series | Charles |
| Drunk History | 2014 | TV Series | Daniel Inouye |
| The Soup | 2011-2014 | TV Series | Steven Yeun / Glenn Rhee |
| I Origins | 2014 | | Kenny |
| Crash Site | 2013/I | Short | Max |
| The Legend of Korra | 2013 | TV Series | Wan |
| Filthy | 2013 | TV Movie | Martin |
| Harder Than It Looks | 2012 | TV Series | Steven |
| NTSF:SD:SUV | 2012 | TV Series | Ricky Meeker |
| Warehouse 13 | 2011 | TV Series | Gibson Rice |
| A Moment of Youth | 2011 | segment "Carpe Millennium" | |
| Law & Order: LA | 2011 | TV Series | Ken Hasui |
| Lemons the Show | 2010 | TV Series | Asian Guy |
| The Big Bang Theory | 2010 | TV Series | Sebastian |
| Blowout Sale | 2010 | Short | Customer |
| Carpe Millennium | 2010 | Short | Kevin |
| The Kari Files | 2009 | Short | Chip |
| Jerry | 2009 | | Chaz |
| Warhead | 2008 | Video Game | Korean Soldier (voice) |
| Crysis | 2007 | Video Game | Korean Soldier 2 (voice) |
Soundtrack
| Title | Year | Status | Character |
| --- | --- | --- | --- |
| Conan | 2016 | TV Series performer - 1 episode | |
Thanks
| Title | Year | Status | Character |
| --- | --- | --- | --- |
| The Walking Dead: The Journey So Far | 2016 | TV Movie documentary special thanks | |
Self
| Title | Year | Status | Character |
| --- | --- | --- | --- |
| Ok! TV | 2017 | TV Series | Himself |
| Live with Kelly and Ryan | 2014-2017 | TV Series | Himself / Himself - Guest |
| 23rd Annual Screen Actors Guild Awards | 2017 | TV Special | Himself - Presenter |
| Conan | 2012-2016 | TV Series | Himself - Guest / Himself / Himself - Tour Guide / ... |
| The Meltdown with Jonah and Kumail | 2016 | TV Series | Himself - Guest |
| Talking Dead | 2011-2016 | TV Series | Himself - 'Glenn' / Himself - Guest / Himself |
| The Walking Dead: The Journey So Far | 2016 | TV Movie documentary | Himself / Glenn Rhee |
| IMDb at San Diego Comic-Con | 2016 | TV Series | Himself |
| The Tonight Show Starring Jimmy Fallon | 2015 | TV Series | Himself |
| IHeartRadio Music Awards | 2015 | TV Special | Himself |
| Jimmy Kimmel Live! | 2013-2015 | TV Series | Himself / Himself - Guest |
| Today | 2015 | TV Series | Himself - Guest |
| Comedy Bang! Bang! | 2014 | TV Series | Himself |
| The Ellen DeGeneres Show | 2014 | TV Series | Himself - The Walking Dead |
| MTVu Fandom Awards | 2014 | TV Special | Himself - Presenter (as Steven Yuen) |
| Inside the Walking Dead: Walker University | 2014 | TV Movie documentary | Himself (as Steven Yuen) |
| The Late Late Show with Craig Ferguson | 2013 | TV Series | Himself - Guest |
| Larry King Now | 2013 | TV Series | Himself - Guest |
| The Walking Dead: Cast and Creators Live at Paleyfest | 2013 | TV Special | Himself - Panelist |
| Speakeasy: With Paul F. Tompkins | 2013 | TV Series | Himself |
| The Soup | 2012 | TV Series | Himself |
| The Walking Dead: LA Audition | 2012 | TV Special | Judge |
| Chris Hardwick's All-Star Celebrity Bowling | 2012 | TV Series | Himself |
| Attack of the Show! | 2012 | TV Series | Himself - Guest / Actor, The Walking Dead |
| BPM: Beats Per Mnet | 2011 | TV Series | Himself |
| The Making of The Walking Dead | 2010 | Documentary short | Glenn Rhee |
Archive Footage
| Title | Year | Status | Character |
| --- | --- | --- | --- |
| Conan | 2017 | TV Series | Himself - Featuring |
| Live with Kelly and Ryan | 2014 | TV Series | Himself - Guest |
Awards
Nominated Awards
| Year | Award | Ceremony | Nomination | Movie |
| --- | --- | --- | --- | --- |
| 2011 | Saturn Award | Academy of Science Fiction, Fantasy & Horror Films, USA | Best Supporting Actor on Television | The Walking Dead (2010) |
Source:
IMDb
,
Wikipedia