Vehicle modifications and restorations have been a popular niche in the entertainment industry since shows such as "Top Gear," "Overhaulin'," "Fast n' Loud," and "Street Outlaws" graced the TV screens. However, they all had several things in common with a minor twist, usually the level of modification, the business model, the preference for a brand, or the specific manufacturing period. Some TV shows had a dramatic premise, such as 'stealing' cars from unsuspecting owners, only to return them weeks later fully refurbished. Others involved street racing and tuning, or well-known people behind the wheel. All such shows typically had entire teams of professionals producing the content.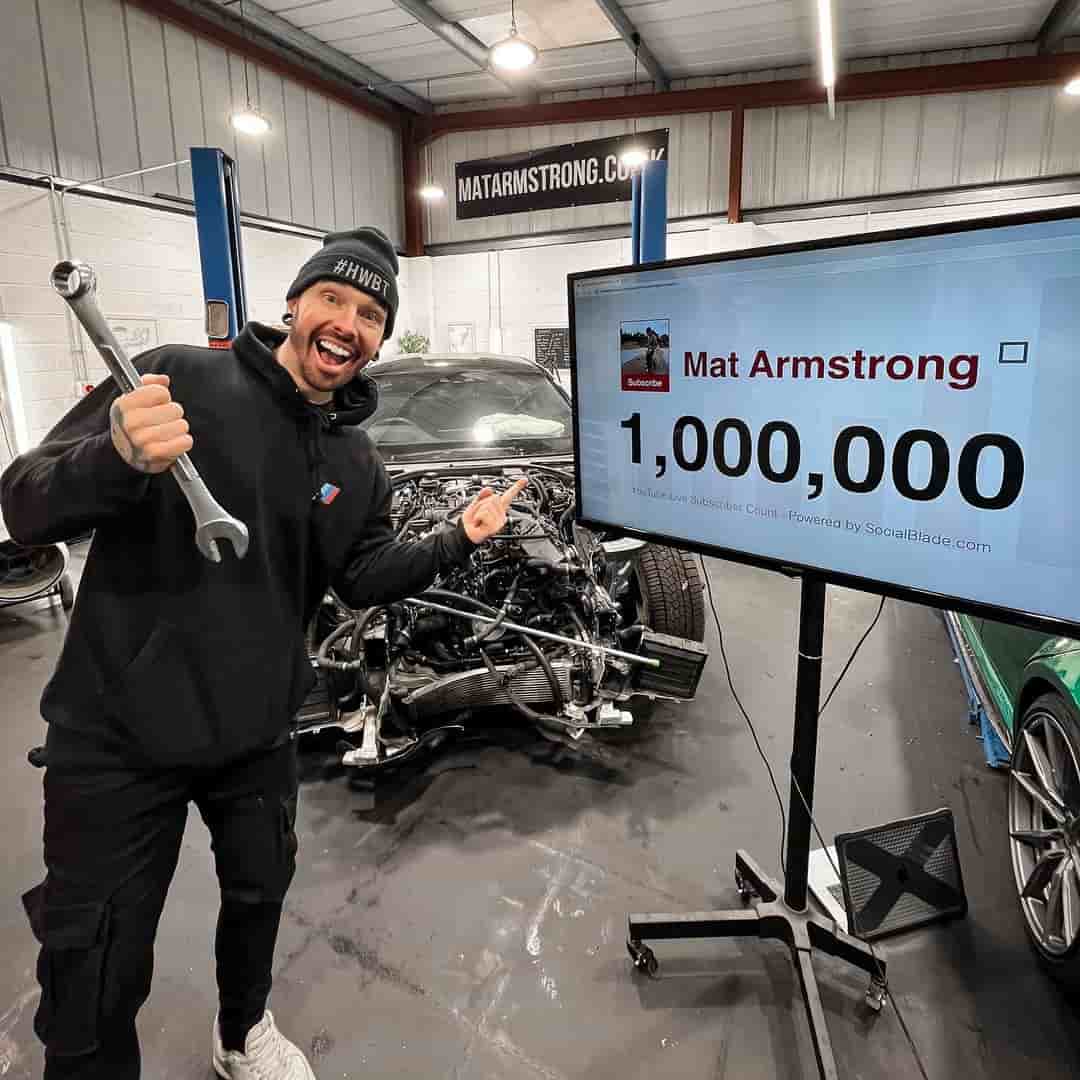 Mat Armstrong, born in Leicester, England, UK on 11 June 1993, proved that people captivated seeing one guy without professional training restore vehicles to their former glory and beyond. He claims that he is 'just a regular guy from Leicester, winging it on YouTube for a good time, as he never takes things seriously.' He has no favorite manufacturer or car model but loves building and modifying cars with a personal touch with a slight inclination towards vehicles built with German engineering.
Mat has rarely worked on the cheapest cars, but has owned and repaired some affordable Volkswagen and Mercedes-Benz models. As his YouTube channel grew, he moved on to high-powered automobiles from Maserati, Bentley, Porsche, and Lamborghini. Regardless, his primary goal has always been to 'bring a smile to viewers' faces and inspire some to pick up the spanner.' Here's more about Mat Armstrong.
Mat has amassed over 1.8 million subscribers and more than 243 million views from over 430 videos on his YouTube channel, @matarmstrongbmx. However, despite him starting the channel in 2013, that is the result of the last few years of work. Matt has consistently posted car overhaul videos since 2017 but only became a full-time YouTuber in April 2021, and experienced rapid, exponential channel growth after September 2022, when he had about 500,000 subscribers.
He bought his first supercar, a Maserati GranTurismo, and added the wide-body Liberty Walk kit around that time, so that was unsurprising. However, owning four homes, five other cars, and some money in savings gave him the confidence to quit his full-time job and side hustles and commit to YouTube content creation.
Matt now works his dream job while helping viewers save money on their car projects, giving away cars in raffles, and motivating aspiring mechanics. While doing so, he continues increasing his net worth, estimated at $2.5 million, which comes from over 12 cars, five houses, three YouTube channels, and merchandising.
He started in 2013
Many fans need to realize that Mat created his YouTube channel on 6 April 2013, meaning he has been active for over a decade. However, his early videos showed him riding his BMX bike with friends, in nature or at skate parks. Mat frequently attended BMX competitions worldwide, and demonstrated complex tricks. He later said that 'he didn't know that YouTube was a viable career choice and that he always wanted to be a professional BMX rider.' Mat added that he learned to edit videos to submit montages of his skills to competition representatives.
The first mention of a car was in a video uploaded on 19 February 2017, where he went to the XDubai Skatepark and barely managed to fit his BMX into his white Audi R8's trunk. Mat also revealed that he had a surgical operation on his shoulder, which prevented him from testing the equipment. He must have noticed a boost in viewer numbers, because he filmed lowering the suspension of his Mercedes E350 Eibach almost immediately.
He also modified his Golf GTI MK7, Audi A6 C7, BMW E46 M3, and Audi TT MK2 in front of the camera. Mat then uploaded footage of more vehicle modification and restoration projects in 2018, shunning BMX videos almost entirely.
Mat builds and modifies cars
The change in content wasn't accidental. Mat later said that his girlfriend Hanna crashed the Audi TT MK2 in 2018, forcing him to buy it from the insurance company. He fell in love with recording the restoration process, which drove him to become a self-taught mechanic and a better video editor. Simultaneously, he admired fellow automotive content creator Tim Burton, and said he had a fanboy moment when he met him. Mat began posting videos of lowering the suspension, changing the exhausts, adding a wrap, and tuning the cars to increase horsepower. However, he primarily worked on the cars that he owned. That changed in 2019 when he began purchasing crashed or faulty cars, then detailing the process necessary to make the car street legal with his touch, which he joked 'sometimes included him taking his angle grinder out.'
He bought a wrecked Audi S5 in 2020 and almost totally changed its appearance and functionality, which kickstarted the car rebuilding series that viewers know today. One twist boosted interest; as a self-taught and unaffiliated mechanic who had to research every project, Mat often exposed industry secrets or explained lesser-known facts. For instance, he showed viewers that a Volkswagen Golf MK5 GTI could unlock a few hidden features through the My Carly mobile application.
Similarly, he explained that Lamborghini Murcielago uses side turn indicator lights identical to the ones on the MK 1 Ford Focus. The car also utilizes the same air conditioning unit as the Rover 45. Thus, Mat paid about $30 for the climate control unit, while Lamborghini charged nearly $1,900 for the AC, and almost as much money for buying the cheap blinkers. Interestingly, Pagani Zonda S, the supercar that sold for upwards of $900,000 in the early 2000s, uses the same AC unit. The newfound success prompted Mat to rebuild luxurious Porsche, Aston Martin, Rolls Royce, and BMW models afterwards.
He gives away automobiles
Mat has a high turnover rate for his projects; he installs parts below market value by doing everything himself including finding replacement parts. Although he's nowhere near as wealthy as fellow car enthusiasts, comedians Jay Leno and Jerry Seinfeld, or fashion icon Ralph Lauren, Mat isn't afraid to part with some cars in his collection. After all, the viewers allowed him to get to where he is now.
Mat and his girlfriend Hanna organize raffles for some cars that he restores, and he typically charges £9.95 or about $12.5 per entry. He often requires fans to click a link in the description and answer a question before confirming the purchase to prevent cheating or using bots. One notable giveaway was his Bentley Continental GT, which he bought for £10,000, invested at least triple that for repair, and gave away to a lucky fan in September 2020 for a lottery ticket worth £15. Mat had become a full-time YouTuber a few months before, and that car was the turning point in his life. That's because he had to decide between buying it or using the money as a deposit for another house, meaning that he would have kept his full-time job.
😍 WIN MAT ARMSTRONG'S BENTLY CONTINENTAL GT + £2,000 CASH 😍 Only £15 🎫 Don't miss out.. The last time we did one of Mat's cars it sold out in under half an hour 😳https://xclusivecompetitions.com/product/win-mat-armstrongs-bentley-continental-gt/⚔️ Supersports Body Kit⚔️ 22" Axe Alloys⚔️ Satin Black Wrap⚔️ 576 BHP⚔️ Miltek Secondary Cat Delete Exhaust⚔️ + MUCH MORE!!Don't miss out on this one, it won't last long 😝🤞https://xclusivecompetitions.com/product/win-mat-armstrongs-bentley-continental-gt/

Posted by X-Clusive Competitions on Saturday, September 5, 2020
Mat is growing his brand
Matt has a distinctive personal style. He typically wears a black beanie or snapback hat and torn jeans with holes near his knees. He also has tattoo sleeves on both arms and massive black ring earrings in his earlobes. Fans frequently notice that Mat has 'HWBT' printed on his clothing. That's the name of his collection of hoodies, oversized t-shirts, beanies, and hats available exclusively on his official website, www.matarmstrong.co.uk.
Mat has also released the MSport collection, although it only has an oversized fit t-shirt. When the interest is high, he creates t-shirts and hoodies inspired by his projects, for example, the BMW M3 and the Audi V8 Desert Sand. He earns extra money selling car parts from personal projects such as Audi A5, S5, and RS5, and BMW 1 Series E81 and E87. Mat also has a line of car detailing products, such as car shampoos, glass cleaners, and polishing foams, and has sold miscellaneous items, such as tags and lanyards, for years.
He has a girlfriend
Mat introduced his girlfriend, Hanna Lucy Smith, in a video from his 2017 vacation to Portugal, filmed with the GoPro Hero 5 camera, but they allegedly began dating in 2014. Hanna is a model who gained some fame online in October 2016 by getting featured on the Instagram page for the Suicide Girls community-based website for pin-up-like girls with tattoos. A tattoo artist handed the gun over to Hanna for a few dots or lines when he tattooed Mat's back in June 2018. Moreover, Mat explained that his girlfriend drove the Audi TT MK2, presumably her first car, for some time before the crash in 2018.
He got her a Boston terrier named Kevin for Christmas in 2018, which genuinely surprised her because they wanted to get a female one together a year later. Mat also bought and restored a wrecked white Audi Q5 for her, which she loved so much that she swore never to get a new vehicle unless it was a Mercedes G Wagon or a Range Rover. His friend won a blue Range Rover SVR in June 2020, so he pretended to gift it to her as a surprise. He bought her a black Mercedes C63 AMG, then a red Ford Mustang, so she didn't hold a grudge.
Earning the initial wealth
Mat uploaded a walkthrough video of the second house that he purchased with his girlfriend in March 2018. It was evidently a distressed property, and he showed that their families helped them renovate it to a rent-friendly condition. Mat filmed a parody of the "Homes under the Hammer" TV show in September 2018 to show the complete renovation before and after. He mentioned that he bought his first home in 2016 at 21.
Most viewers overlooked the videos or took them as Mat bragging, an opinion that he tried to change in April 2021 with videos entitled "How I Bought a Lamborghini" and "I Bought 4 Houses and 5 Cars Then Quit My Job."
Mat explained that he didn't have a high-paying job, or a college degree as he quit Lutterworth College at 16, or a wealthy family, as his parents split when he was young. Instead, he worked two to four jobs as a young adult, one at the Indian restaurant Spice 45 for nine years, to save enough money to invest in his first house, often doing 13-hour shifts seven days a week. He aimed to create passive income with the BRRR method, which stands for 'buy, renovate, rent, refinance.'
He bought his fifth home
On 1 January 2023, Matt updated his viewers on his financial situation and provided concrete examples of how his system worked. He said that he now owns 12 cars and just became the owner of his fifth house. Mat revealed that he bought his first house for £100,000 or $124,000, paid £10,000 for the deposit, and invested £5,000 into the renovation. His family members helped him, keeping the renovation costs low. Mat said that the bank estimated that the house was worth about £140,000 or $173,500 afterwards, so he remortgaged the house. That increased his debt to £105.000, letting him borrow an extra £15,000 without a new loan.
Mat said that the rent paid his new mortgage, and left him with about £450 in passive income. He used the extra money as a deposit for a new home, which he also renovated and rented before buying a tiny one-bedroom cottage as his third home. Instead of buying another house with the proceeds, he purchased the Bentley Continental GT, as mentioned. The fourth home, which Mat eventually bought, came with a small garage, which he planned to knock down to build a larger one. However, Mat ultimately rented or built a warehouse unit for fixing and storing vehicles, and recording YouTube videos.
That was the right decision because his girlfriend eventually quit her job to help him create content, and he rented the home to buy the current one. Although he did not provide information beyond the first house, we can assume that he gradually bought more expensive homes, judging by his fifth. Thus, Mat's net worth in real estate is probably around £1 million or $1.24 million.
He has three YouTube channels
Matt earns up to $63,100 per month from his main YouTube channel, according to SocialBlade.com. That means that he can make $756,000 in 2023 if nothing changes. The website calculates the CPM (cost per thousand) in ranges of $0.25 to $4 for every 1,000 views of an impressionable audience. If we use the total views on his channel, about 243 million, we can see that Mat has earned between $60,750 and $972,000 so far, and could earn his first million before 2023 is over.
However, viewers must remember that Mat sells products from his brand. He has also promoted products or services such as Adrian Flux insurance, yfood, PUSH Performance, and Squarespace. Moreover, he's establishing a working relationship with some car manufacturers, judging by the videos of employees inspecting his rebuilds. Thus, his income has increased by over $500,000 from these sources.
Mat also has two other YouTube channels:hHis secondary, @matarmstrongmk2, with 367,000 subscribers, earned him between $5,200 and $84,000, while @matarmstrongshorts, despite having 114,000 subscribers, made between $12,300 and $197,000.