• Trippie Redd is a rapper, singer, songwriter and musician with a net worth of $7 million.
• He grew up in Canton and Columbus, Ohio, and was inspired to rap by a friend who was later killed in a car crash.
• He released his debut mixtape "A Love Letter to You" in 2017 and its lead single "Love Scars" became a hit.
• He has had feuds with rapper 6ix9ine and XXXTentacion, but later collaborated with the latter before his passing.
• He has been arrested twice in 2018 in Cobb County, Georgia for assault and criminal trespass.
 
Who is Trippie Redd?
Michael Lamar White IV was born on 18 June 1999, in Canton, Ohio USA, and performing professionally as Trippie Redd, is a rapper/singer, songwriter and musician, best known for his gold certified songs "Love Cars" and "Poles1469".
https://www.instagram.com/p/BjliXUklR3T/?hl=en&taken-by=trippieredd
The Net Worth of Trippie Redd
How rich is Trippie Redd? As of mid-2018, sources estimate a net worth that is at $7 million, mostly earned through a successful career in the music industry. His wealth shot up significantly after he was recently offered a record deal, and as he continues his endeavors, it is expected that his wealth will also continue to increase.
Early Life and Career Beginnings
By the time Trippie was born, his father was in prison leaving his mother to raise him as a single parent. He initially grew up in Canton, but would move to Columbus, Ohio with his family. While growing up, his interest in music developed thanks to his mother playing songs by Ashanti, Tupac and Beyonce. He later started listening to other artists as well, including Lil Wayne, Marilyn Manson and KISS. He would later meet another rapper – Taevio Williams – who would inspire him to rap, though Williams was later killed in a car crash.
https://www.instagram.com/p/BcgVjriDz-q/?taken-by=trippieredd
After the death of his friend, Trippie started taking his music seriously, and released a few songs, initially while still attending high school in Canton – he described his teenage life as being a loner who was always popular. He then moved to Atlanta, and met rapper Lil Wop eventually leading him to get noticed by a record label. He was helped by Wop who offering him the use of  a professional recording studio, which would lead to three projects entitled "Beast Mode", "Rock the World Trippie", and "My Inner Beast".
Lil 14 pic.twitter.com/w6Gb6tAhMi

— Trippie Redd (@trippieredd) January 23, 2018
Music Career
Redd signed with the label Strainge Entertainment, later remaned to Elliot Grainge Entertainment. He released his debut mixtape in 2017, entitled "A Love Letter to You", and its lead single "Love Scars" became a hit on websites such as YouTube and SoundCloud.
He was also a part of the song "Fuck Love" by XXXTentacion, which reached 41st spot on the Billboard Hot 100. Later in the year, Redd recorded a second mixtape entitled "A Love Letter to You II" which debuted in the 34th spot of the Billboard 200.

He also started collaborating with various artists, including Lil Wop on the EP "Angels & Demons", as well as with Travis Scott in "Dark Knight Dummo" which became Redd's first lead artist single to enter the Billboard Hot 100. In early 2018, he announced that he was working on a debut studio album. featuring collaborations from Erykah Badu and Lil Wayne. The album is said to be titled "Life's a Trip" and would have 26 tracks.
Feuds
Trippie has been known to be in a feud with rapper 6ix9ine with whom he previously collaborated. He claimed that 6ix9ine was a pedophile. which lead to him being assaulted while he was in a hotel. In turn, 6ix9ine was assaulted outside Los Angeles Airport, and the two would continue trading insults through social media. Trippe has also accused 6ix9ine of having sexual relations with Danielle Bregoli – also known as Bhad Bhabie – which was later denied by Bregoli in an Instagram post, stating that they had only kissed.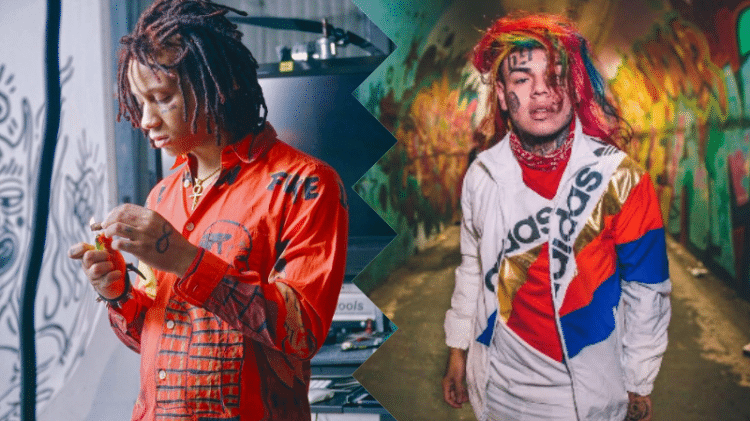 Prior to collaborating with artist XXXTentacion, it is known that Trippie had a feud with him too, due to the former having a working relationship with 6ix9ine. XXXTentacion would later apologize to Trippie in an online performance, and the two later reconciled, and collaborate on multiple occasions. However, XXXTentacion would later pass, and Trippie would go on to dye his hair in memory of him, and also released a collaborative single.
Personal Life
Not much is known about Redd's romantic relationships – if any – and many sources believe that he is focused more on his music at the moment. He mentioned in an interview that he used around $300,000 of his money to buy his mother a new home. In 2018, he was arrested in Cobb County, Georgia on charges of affray, simple battery, and criminal trespass, following an assault on rapper FDM Grady; Rapper Lil Wop and two other men were also involved in the assault after FDM Grady drew a firearm in front of Redd.  A few weeks later, he was arrested again in Georgia for allegedly pistol whipping a woman.
Best fans in the World ?? https://t.co/G30pVFhkmi pic.twitter.com/eDdNiM1ffj

— Trippie Redd (@trippieredd) April 9, 2018

He continues to stay active online through various social media accounts on Twitter, Instagram and Facebook which promote his upcoming events and music.
Movies
Actor
| Title | Year | Status | Character |
| --- | --- | --- | --- |
| Conner4Real | 2016 | post-production | Hunter |
| Empire | 2015 | TV Series | Roger |
| Greetings! From Prison | 2014 | TV Series | XXXpressive |
| Chicago P.D. | 2014 | TV Series | Carl |
| Last Laff | 2012 | TV Series | Various |
Writer
| Title | Year | Status | Character |
| --- | --- | --- | --- |
| Last Laff | 2012 | TV Series | |
Source:
IMDb
,
Wikipedia