"Diesel Creek" is the online alias of Matt Stetar, a YouTuber who gained fame through his channel of the same name. Based in western Pennsylvania, this channel primarily features heavy equipment and machinery. Its popularity surged during the COVID-19 pandemic, leading to substantial earnings for Matt as he transitioned to content creation as his full-time profession, thanks to YouTube's monetization and partnership programs.
Meet the man behind "Diesel Creek"
Matt Stetar never imagined that his passion for operating heavy machinery and documenting construction projects would catapult him into the ranks of popular content creators on YouTube. Unlike many YouTubers who freely share personal information, Matt was protective of his privacy, considering the potential risks not only to himself, but also to his loved ones. Nevertheless, he offered glimpses of his life through interviews and podcasts.
Early years and family
Born in a small town in Pennsylvania, just ten minutes from Weirton, West Virginia, Matt humorously referred to himself as the "oops" baby, since his parents hadn't planned on having another child; some speculated that they were aiming for a son because he arrived a decade after one of his sisters. While his parents never confirmed this, Matt knew that he was unplanned when they assigned him his mom's former sewing room as his bedroom.
Growing up in a comfortable home, Matt's father ran a successful business buying and selling copiers and related products for 35 years. His father was a pioneer in this field, and was considered one of the best; in the past, they'd sold numerous fax machines and gadgets. However, with advancing technology and industry changes, the business faced challenges, as his father continued with wholesale instead of adapting to the evolving market.
Education
Living near the West Virginia border, Matt attended a Catholic high school in Weirton. He confessed that he barely graduated, not because he was dumb but because he only put his heart and soul into subjects he found interesting, and did the bare minimum for others; he was the type who often daydreamed, and stared out of classroom windows. Unfortunately, his school lacked a shop class, so he aspired to attend a vocational technology program in West Virginia, but was denied residency access. Pennsylvania offered similar programs, but since he attended school out of state, that option was also unavailable. His school primarily offered college prep courses, which didn't align with his interests.
After high school, Matt enrolled in the local Community College of Allegheny County, where he discovered an excellent welding department, and earned his welding certificate. Despite stereotypes about community colleges, he found that his school boasted top-notch facilities, and cost him less than $3,000, a stark contrast to other institutions with exorbitant fees.
Most of Matt's knowledge about welding and repairing cars and machinery came from his father, who inherited these skills from his grandfather, a mechanic by profession. Like his father, Matt wasn't interested in becoming a professional mechanic; they only fixed things around the house when necessary. For him, it was just an overgrown hobby that he had fun doing in his spare time, but he wouldn't like to do it from nine to five.
His successful career before YouTube
Growing up, Matt Stetar had a vision for his life, but it didn't align with where he eventually found himself. He had a passion for construction, but back then he was told it wasn't a lucrative career choice.
Worked in a landscaping company
After obtaining his welding certificate, Matt took on various short-term jobs until he landed a position at a landscaping company. During his time there, the company was expanding and heavily involved in excavation work. Matt began his journey by building retaining walls, but eventually transitioned to house-clearing sites, where he started operating heavy equipment. Remarkably, it was there that he bought his first piece of heavy machinery, thanks to his growing expertise.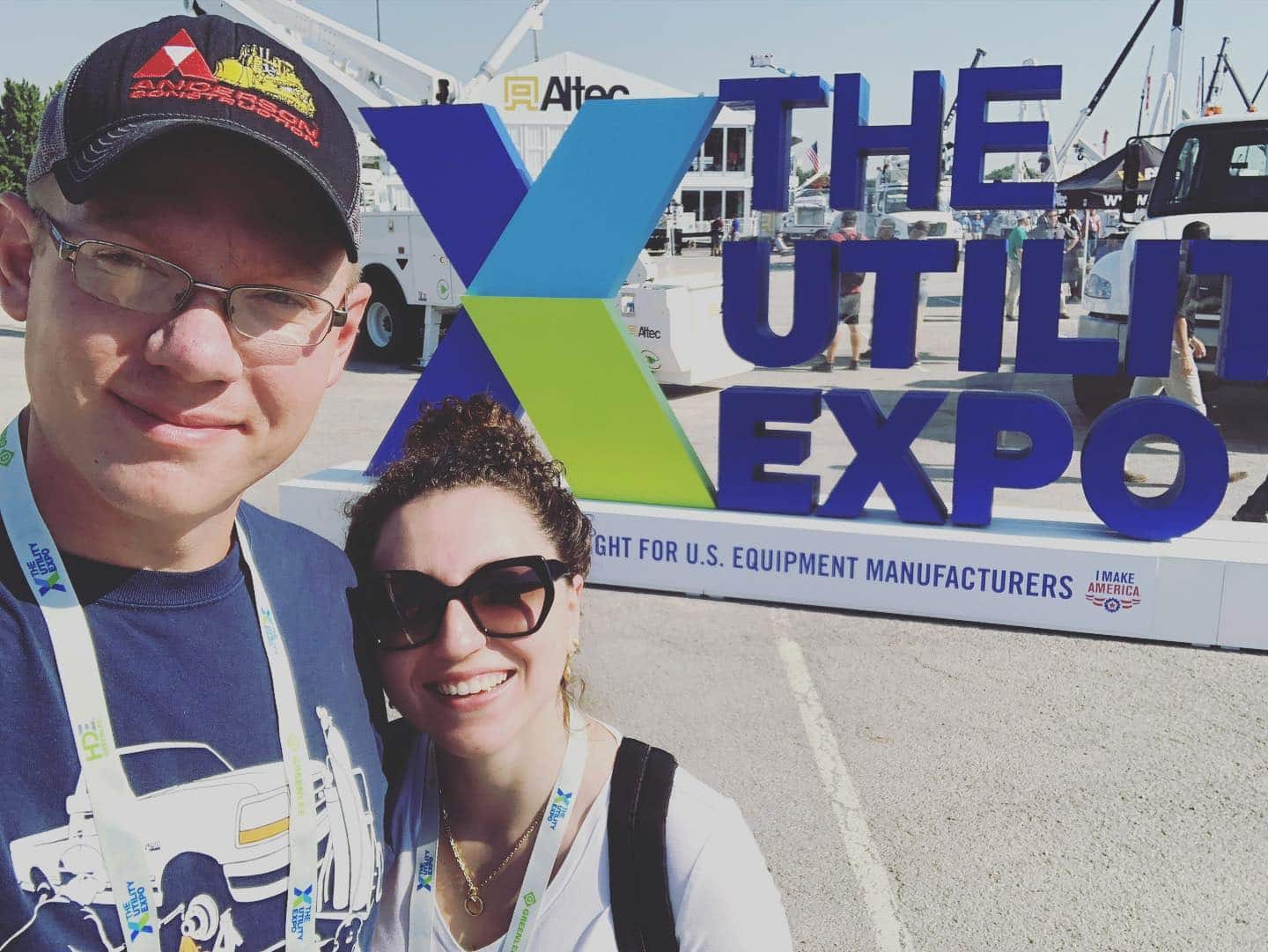 Gained plenty of experience in a Machine Shop
While his landscaping job was decent, Matt yearned for something more. When the opportunity arose to work at a local machine shop, he eagerly seized it. People around him considered the 7 AM to 3 PM shift, which offered good benefits and was close to home, as the ideal job.
Matt worked as a mechanic at the machine shop, primarily focused on repairing mine and mill machinery. It was during this time that he discovered his knack for delving into any type of equipment, and diagnosing issues – oddly enough, he believed that if he stared at a machine long enough, he could decipher its inner workings. The advantage of dealing with older mechanical equipment was that it was easier for anyone to fix it, as the cause and effect of each part were readily apparent during tinkering.
During slower periods at the shop, Matt was assigned the responsibility of operating an older version of a CNC lathe machine. Even if it was an older model, he quickly acquired proficiency in g-code programming, program verification, part inspection, and overseeing production. He also honed his skills on manual Bridgeport milling machines, even if he wasn't as fast as he'd hoped.
A botched opportunity
Matt handed in his two-week notice to his boss at the machine shop, because he had a job lined up at a plant that manufactured additives for steel; it was where his father had worked even before Matt's birth, and promised stability and a high salary. However, a few days before his notice period ended, the plant informed him that they were facing problems and couldn't offer him a position. He had to humbly beg for his old job back, and they happily re-hired him. There were whispers that something had suspiciously gone wrong with the job offer at the plant due to the machine shop's significant work relationship with the plant, but the exact details remained unclear. He was just curious if someone at the machine shop had a hand in the botched opportunity.
Secured a Union Job
While Matt's position at the machine shop was suitable for those lacking ambition, he often found himself wanting something greater. Eventually, he seized an opportunity to work at a transformer factory, a 30-minute commute from home. Over six months, he gained extensive experience building massive transformers that were transported on rail cars. This job opened doors for him – one of Matt's cousins, who was a supervisor at a roadwork company, reached out to him. Matt switched jobs again, securing a union position at the age of 23. Being part of a union brought numerous benefits and further opportunities; he tackled a variety of concrete work, pouring countless yards of concrete while re-surfacing roads and highways.
From there, Matt transitioned to pipeline construction, discovering a preference for it over labor-intensive roadwork. He despised the noise of traffic during cement pouring, and relished the time spent in the woods operating heavy equipment. His career trajectory took an unexpected turn when he received a call from the union office, offering him a role as the boss of a crew.
The "Diesel Creek" YouTube Channel
Not everyone has the privilege of turning their passion into a profitable endeavor.
How "Diesel Creek" started
Contrary to common belief, Matt didn't jump into video creation at a later stage. His journey began in high school, when he was deeply into dirt bikes. During those days, he enjoyed filming videos at the motocross track, capturing moments of himself and his friends riding and working on their bikes. Granted, these early videos were far from professional, as Matt was just an amateur filmmaker, nevertheless, he uploaded them onto his YouTube channel in 2006, because he found them fascinating. At the time, they might have been considered good, but by today's standards, they might not hold up well. Although he garnered a few hundred views, he never saw it as a potential money-making career, and eventually took an hiatus from posting.
Revival of the channel in 2019
While working in pipeline construction, Matt consistently took photos and videos, though he didn't have a clear plan for them initially. One day, at a crossroads during a project, he had "a eureka moment". He and his crew were brainstorming innovative solutions to complete a challenging task, and he thought their solution was pretty cool. He documented the process with his phone, intending to show it to his kids someday. However, after supervising one of his last significant jobs, he decided to breathe life back into his "Diesel Creek" channel, which he named as such since he lived near a creek. He believed these videos, showcasing the pipeliner life, were cool and worth sharing with the public for their enjoyment. Initially the response was modest, with mainly his buddies appreciating and sharing them.
Covid-19 pandemic fuels content creation
Matt's desire to upload more videos was hampered by his full-time job in roadwork and pipeline construction, which left little time for video editing and posting. However, when the Covid-19 pandemic hit, and the world shut down, he and many others were laid off. Finding himself without employment, he took on side jobs, as well as organizing and editing the videos he'd accumulated over time. Additionally, he utilized his machinery and equipment to document his side work, and it was during this period that he discovered some individuals were making a decent income by filming and uploading similar content online. These videos propelled his "Diesel Creek" channel, earning him his first 1,000 subscribers, and approximately 4,000 watch hours. As time passed, his subscriber count grew to around 30,000, but while he was already making money from his channel, he wasn't quite ready to commit to it as a full-time career.
Becoming a full-time YouTuber after a second layoff
His journey as a full-time YouTuber was delayed due to several factors, including the benefits of his union membership, which he would lose if he abandoned it, so initially, he played it safe and straddled the fence. Instead of immediately diving into full-time online vlogging, he returned to his equipment operating job for a while, even accepting a job offer from the union office. However, as the companies he worked for encountered difficulties due to the ongoing COVID-19 pandemic, he was laid off once more. By this time, his "Diesel Creek" channel was flourishing and the income it generated was encouraging, so when another job opportunity arose, he turned it down and took a leap of faith, fully embracing his role as a content creator.
His first video with over a million views
Leaving his union job was a tough decision, but Matt's confidence came from the assurance that he could always call the union for work. After he revived his channel, it took Matt quite a while to attract viewers, mentioning that it took roughly six months of consistent video uploads to reach his first thousand subscribers, which he considered the most challenging milestone. However, the next 100,000 subscribers came in just a couple of months, and his channel's growth continued. Matt was astonished by how rapidly his channel transformed, particularly after one of his videos went viral in December 2019. Entitled "First start of 1957 AUTOCAR Truck in 15 years!!!," this video amassed over a million views in a short period. As of September 2023, its view count had doubled.
Tips for new vloggers
Matt acknowledged that his vlogging experience might not mirror everyone else's journey. He attributed his success to patience and timing. During the Covid-19 pandemic, when most people were at home with little to do, his videos garnered substantial views. He found it amazing that he was getting around a thousand views per hour during that period, but he understood that he'd tapped into something significant. His strategy was to upload videos consistently to capitalize on the frenzy, and then gradually slow down to a manageable pace.
Matt's advice to aspiring vloggers was not to be disheartened and quit if they didn't see immediate results after just two weeks or a month of uploading. He emphasized the importance of persistence, and recommended consistently posting content for at least six months to determine if the platform was the right fit. Additionally, he pointed out that YouTube had its ups and downs, with times when a channel would soar, and others when it would decline. The key, he believed, was to enjoy the rollercoaster ride of content creation.
During a podcast, Matt shared his perspective on negative comments left on his social media pages, saying, 'It's situational for me because there's some people that I feel like they're making a comment and they're being genuine about it.' He believed that some viewers who left these comments might not have been fully attentive to what he was discussing, or they genuinely didn't comprehend the reasons behind his actions in his videos.
He recounted a particular video that still received comments, criticizing him for doing something wrong. This demonstrated that, despite his repeated explanations, some viewers couldn't grasp the rationale behind his decisions when fixing things. Matt recognized that as content creators, they couldn't provide extensive information in just a five or ten-minute video clip. In his view, some of the negative comments had valid points, even if they were expressed rudely, while others were clearly intended to provoke a reaction.
In the early stages when his channel was smaller, he enjoyed responding to all comments, both positive and negative. It was his way of telling everyone that he appreciated the time they took to watch and leave their opinion on his videos. However, as the channel grew, he found himself with less time to engage with every comment.
Personal Life
Despite his efforts to maintain privacy for his personal life and family, fans turned online investigators have uncovered some details about Matt. He tied the knot with his girlfriend, Eva Simone, in October 2021, and is currently residing in Burgettstown, Pennsylvania. The specifics of their meeting aren't entirely clear, but it seems that they hail from the same town, given that they attended the same community college. Eva's professional background included work as a content creator during her time as a promotions intern at Hilltop Animal Hospital in 2017, in which a veterinarian named Dr. Regan Stetar was registered to be its owner. However, her LinkedIn profile indicates that her last job was as an Account Manager for Single Source Property Solutions, a position she held from November 2018 to July 2020. On her Instagram profile, she listed herself as a video creator, which likely facilitated Matt in filming and editing his videos.
How rich is Matt aka "Diesel Creek" right now?
As of September 2023, Matt Stetar, known as "Diesel Creek," is estimated to have a net worth of around $1.6 million. Beyond his comfortable upbringing, a significant portion of his net worth is attributed to his popular YouTube channel, "Diesel Creek." With close to 700,000 subscribers and more than 150 million views across 300 videos, he's explored various income-generating avenues. These include developing a merchandise line, Amazon affiliate links, and brand sponsorships. Matt also owns several items of heavy equipment machinery, and trucks. His income has been substantial enough that he could even purchase an abandoned church, which he has plans to renovate or convert into apartments for rent.