• Lilly Singh (Superwoman) is a 29-year-old Canadian of Indian descent and a YouTube celebrity
• She was born in Scarborough, Ontario, Canada and is a graduate of York University with a Bachelor of Arts degree in Science
• She is a stand-up comedian, rapper, vlogger, author, singer, and motivational speaker
• She runs a YouTube channel entitled 'IISuperwomanII' as well as a daily life vlogging channel entitled 'SuperwomanVlogs'
• Her net worth is estimated to be around $16 million, earned largely from her YouTube career and her book "How to Be a Bawse: a Guide to Conquering Life"

Who is Youtuber Lilly Singh (Superwoman)?
Born Lilly Saini Singh on the 26th of September 1988, in Scarborough, Ontario Canada, Lilly is a 29-year-old woman of Indian descent, perhaps most familiar to the public under the name of 'IISuperwomanII', which is eponymous with her YouTube channel. She is classified by YouTube itself as a stand-up comedian, rapper, vlogger, author, singer and motivational speaker, having now a massive YouTube account built-up since its launch 9th of December in 2010.
Early Life and Education
While her place of birth is Scarborough, she and her family moved to Markham, Ontario Canada while she was still a child, where she lived with her parents until late December of 2015, after which she moved to Los Angeles, California USA. She was born as the second child in her family, to her older sister Tina Singh. She was a student of Mary Shadd Public School, after which she enrolled in Lester B. Pearson Collegiate Institute, and matriculated from there in 2006. She went on to study psychology at York University, where she graduated with a Bachelor of Arts degree in science in 2010. It is also generally known that she made visits to India as a child, as both of her parents are Indian, and active worshippers of Sikhism, which is also the way they raised their daughters.
Career Beginnings
As early as December 2010, Lilly began creating numerous satirical videos concerning various life situations, all under her newly-assumed pseudonym 'IISuperwomanII'; according to her own words, the inspiration for this name came from the fact that she feels like she's always had an invisible 'S' on her chest, in other words claiming herself to be Superwoman, due to, as she says, the depression period from which she formerly suffered. As she says, she has made it her mission to make people laugh just like she does, and this contrast was inspired by the previous one. The reason for the creation of the channel has also been explained in her own words: 'I was coming out of a really difficult time period, and I wanted a way to cheer myself up and also cheer-up other people'. Even though Lilly didn't experience a quick popularity boom, she kept uploading videos, and her break came around March 2013, when she uploaded her most significant video thus far, entitled "How Girls Get Ready..", which has now attracted  over 26 million views, and is undoubtedly one of her major hits.
Up To Date
One of the main features that most subscribers on YouTube greatly appreciate is constant uploading. It is likely that, for this reason, Lilly, makes two uploads each week, on every Monday and Thursday. This constant momentum has played a pivotal role in earning her the number of fans she has today, across all of her public accounts combined. As far as the public is aware, Lilly has made no comment on how long she is going to keep up these uploads, so it's safe to assume this consistency will persist throughout her career.
Also A Vlogger
Lilly owns another YouTube channel under the name of 'SuperwomanVlogs', intended for the publishing of her daily life video documentation. The channel was created in December 2011, and has gained massive momentum since, partly due to the fact that Singh now posts videos on it as frequently. To be more exact, her channel has managed to gather a total of close to two million subscribers, along with attracting over 163 million views.
Tina Singh
It looks like being a YouTube celebrity runs in Lilly's family, since her sister, Tina Singh, is also a YouTuber in her own right. She is a well-known family vlogger who runs a channel with the show called "Neurotic Mom Diaries", on which she films herself on a regular basis, being a mother to her three children. Even though Lilly herself is the one that made the family famous, Tina possesses her own fanbase, although much smaller. Her channel popped into existence on the 2nd of January 2016, and it is unknown whether her sister's previously earned fame influenced this decision or not. Nevertheless, Tina has managed to co-operate with other popular YouTubers, such as Jenna Marbles and Grace Helbig.
Ask Superwoman
Under the previously mentioned nickname, Lilly serves as an inspiration to many depressed people, as the message she keeps pushing through her content is that life can always become better. To strengthen her bond with those that need her, she even hosts a one-hour-long live show entitled "Ask Superwoman Live" on the 14th day of every month, on which her fans get to ask her questions and receive answers directly. It is likely that this interaction with the fans is what helps her grow even more as a celebrity in her own right.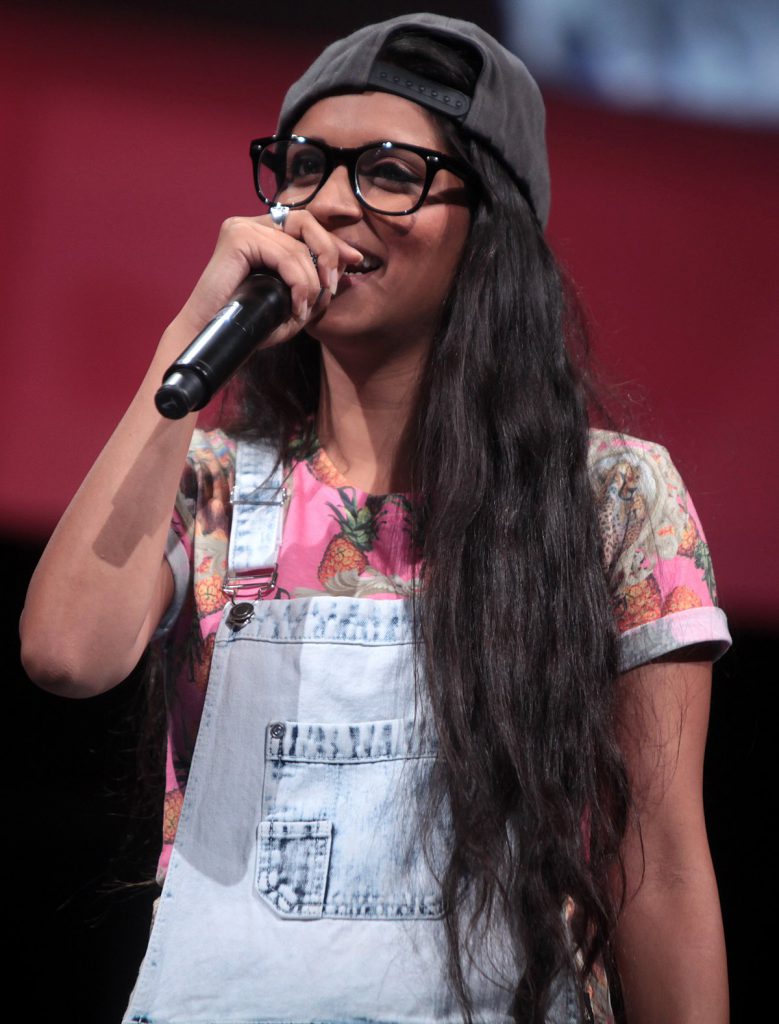 How to Be a Bawse?
Lilly is also the proud writer of a motivational book about life, entitled "How to Be a Bawse: a Guide to Conquering Life", in which she represents herself as a boxer who is stuck in the ring with life itself, which aims to give readers hints on how to achieve all of their goals in spite of the struggle needed to get there.
What is Lilly Singh's Net Worth?
Have you ever wondered how high Lilly's net worth is, as of early 2018? According to authoritative sources, it has been estimated that the current value of Singh's accumulated wealth since the beginning of her career is around $16 million. This number is almost completely influenced by her achievements on YouTube, while her book and collaborations with other celebrities in the past may have contributed somewhat as well.
YOU NEED TO SIT DOWN FOR THIS ONE BECAUSE MY SIS @JESSIEREYEZ ABOUT TO CHANGE YOUR LIFE WITH HER VOICEhttps://t.co/5WzutPP3Jl pic.twitter.com/mEC2DT6EJG

— Lilly Singh (@Lilly) May 19, 2018
Body Measurements, and Social Media Presence
When it comes to the physical specifications of Lilly Singh, it is stated by reliable sources that her height is 5 feet and 5 inches (1.65m), and that her weight is currently somewhere around 132 lbs (60kg).
Concerning her social media presence, she is a famous YouTuber, which means she needs to be ubiquitous across all the networks. Small wonder, then, that her highly active Facebook account currently has over three million followers, while her Twitter profile boasts almost six million at the moment. Lastly, her Instagram posts are seen regularly by around 7.5 million followers.
Source:
IMDb
,
Wikipedia