• Tommy Forster, better known as YoBoy PIZZA, is a YouTuber who uploads gameplays of the "Madden NFL" and "NBA 2K" franchises.
• He matriculated from high school but chose to pursue a career on the internet instead of college.
• He is an avid fan of the popular "Madden NFL" video game, which was created by EA Tiburon and is based on Pro Football Hall of Fame coach John Madden.
• YoBoy is rumored to be currently dating an Instagram star and is estimated to have a net worth of over $300,000.
• He is active on several social media platforms, including Twitter, Instagram and Facebook.
 
Who is YouTuber YoBoy PIZZA?
Tommy Forster was born in Pennsylvania USA on 25 August 1995, so under the zodiac sign of Virgo and holding American nationality – better known by his online pseudonym of YoBoy Pizza, he is popular for his YouTube channel, onto which he mostly uploads his gameplays of the "Madden NFL" franchise video games while he can also be seen uploading "NBA 2K" videos.
Childhood and education
YoBoy grew up playing video games with his sister, Brandi Forster, but the games they liked to play have always differed in genres.
As he is very fond of sports, YoBoy has always played games such as "FIFA" and "Pro Evolution Soccer", while he also enjoys playing racing and fighting video games. He wasn't much of a popular person in high school, as he wasn't that sociable and didn't spend much time with his peers – while others were going to parties and playing sports, YoBoy was sitting at home playing video games.
He hasn't talked about his parents as he appreciates their privacy, but they are rumored to be supportive of his online career, even though they do not understand this 'modern age' and the way one can have a 'career' on the internet. His sister Brandi is also a YouTuber, and the two can often be seen featured in each other's videos.
After he matriculated from high school, YoBoy chose not to enroll at college, but to rather focus on his online career.
Career of a YouTuber
YoBoy's career began the moment he launched his YouTube channel on 3 March 2014 – there are currently more than 1.25 million people subscribed to it, while it also counts almost 370 million views of all his videos combined. YoBoy's original nickname online was 'RandomGaminCrew', but he changed it to YoBoy PIZZA after only a couple of months of uploading videos.
At the time of the launch, he was fond of playing the popular "FIFA 14" video game – all of his videos were gameplays of "FIFA". He soon started making his "What If" series, in which he tried to break limitations of several games, and it was this series that made him popular on YouTube and helped him gain subscribers. The first two videos which ended up being viewed more than two million times are "5 Easy Xbox One and PS4 PRANKS – How to Prank!" and "What If a Team with Only 99 Speed Versed a Team with 10 Speed and 99 Everything Else? Madden 17".
Today, YoBoy is only uploading "Madden NFL" gameplays, as it's his favorite game, while he also does "NBA 2K" gameplays.
"Madden NFL" video game
"Madden NFL" video game was originally called "John Madden Football" until it was changed in 1993 – it is an American Football video game originally created by EA Tiburon, which is part of EA Sports. The name comes from the popular Pro Football Hall of Fame coach and commentator John Madden, and is very popular all around the world as it has sold over 130 million copies since its first version, and has encouraged numerous people to start playing the sport in real life.
BEAST. MODE. ?#Madden20 Top Plays of the Week pic.twitter.com/2J98hvHzZd

— Madden NFL 20 (@EAMaddenNFL) January 21, 2020
The game features playbooks and statistics of all players, and allows the player to listen to a voice commentary which makes one feel as the game was a real TV broadcast. By 2013, the games counted more than $4 billion just from sales.
The founder of the popular Electronic Arts (EA) video game company, Trip Hawkins began the "Madden NFL" (originally "John Madden Football") game series in 1984, when he approached John Madden and asked him for a thumbs up. Madden's main condition was to keep the game as real as possible, which led to the game being released four years later in 1988, as it required a lot of work.
Since 1990, the EA released a new version of the game every year, and the name was officially changed to "Madden NFL" in 1993 – even though John Madden retired from being a broadcaster in the second half of 2009, he has still allowed the use of his name for the game, and is still providing expertise.
Personal life and relationships
YoBoy is very secretive when it comes to his personal life, as he prefers to keep these matters to himself – he has shared some details, but very little about his love life. There are rumors circulating the internet that the popular YouTuber was dating a female YouTuber, who is a gamer just as him, back in 2017 – the two started chatting online in March and after more than a month they decided to go on a date.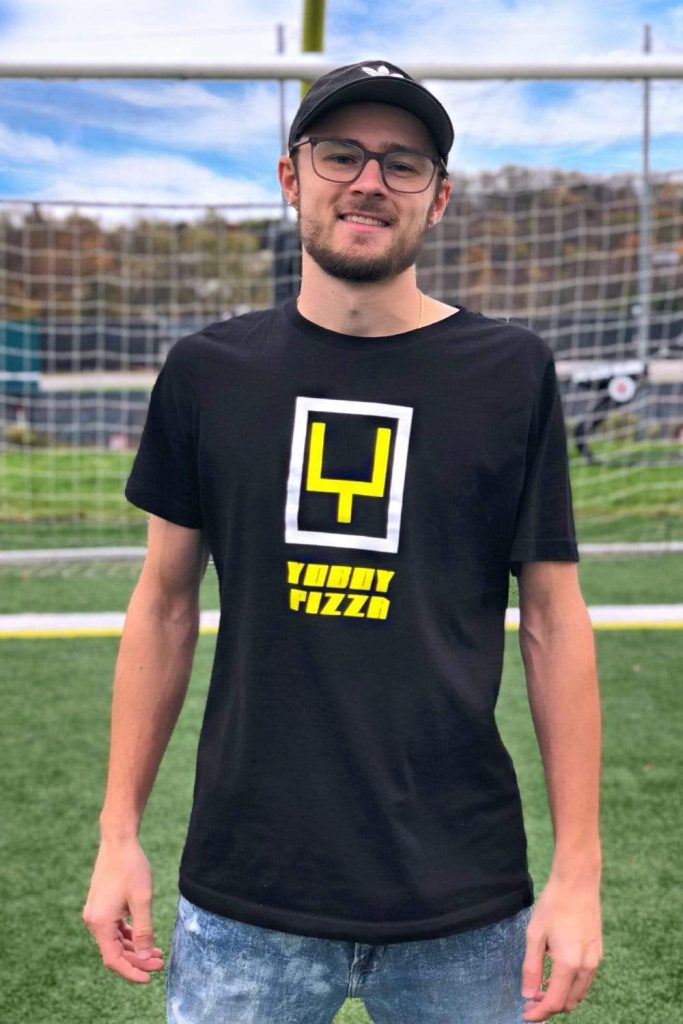 Although they instantly fell for one another, their relationship lasted for not more than two months as they were both focused on their YouTube careers, and didn't have much time to spend together.
Even though he hasn't talked about it himself, YoBoy is rumored to be currently dating an Instagram star, who loves playing video games but doesn't have a YouTube channel – it is quite normal for people who have online careers to be dating other YouTubers and Instagram stars, as it is a very unique lifestyle which those who have regular careers can rarely understand.
YoBoy hasn't confirmed the rumors regarding his current girlfriend, and judging by his social media accounts and his secrecy, he currently appears to be single, hasn't married, and doesn't have any kids.
Hobbies and other interests
YoBoy might be into playing video games and making videos, but he has many other interests and hobbies. He loves eating pizza, therefore his nickname – he looks a bit skinny and nobody could ever guess that he eats a lot of pizza almost every day. He is very sportive, and while he plays sport games on his computer – Xbox and PS4 – he also plays sports outdoors – his two favorites are baseball and football. while he plays basketball only as a video game.
He prefers to watch matches live, and he doesn't even care what sport it is as he simply enjoys the atmosphere fans and players usually create. He is also a traveler, so often travels to matches being played in other cities and states. He enjoys summer, but winter is still his favorite season as he likes to ski and snowboard.
Appearance and net worth
YoBoy is currently 23 years old. He has short brown hair, brown eyes and wears glasses – his height and weight are not known.
Our friend YoBoy PIZZA opened a $2,500 NFL Mystery Box from PRISTINE and needs to GIVE SOME OF IT AWAY! Hit the link to watch and find out how! bit.ly/YoBoyPizza2

Posted by Pristine Auction on Monday, July 29, 2019
According to authoritative sources, his current net worth is estimated to be more than $300,000, and is steadily rising thanks to his career on YouTube.
Social media presence
YoBoy is quite active on several popular social media platforms, as this is important for his career of a social media personality. He launched his Twitter account in November 2016, and has tweeted over 900 times. His Instagram account is currently followed by more than 37,000 people, while he's uploaded more than 25 pictures onto it – he has a Facebook profile as well, but seems to be using it just to keep in touch with his friends and family.