• Ivan and Emilio Martinez are YouTube and social media personalities from Catalonia, Spain.
• They are estimated to have a net worth of over $600,000.
• They started their YouTube channel in 2016, and later joined Jake Paul's Team 10.
• They left Team 10 due to bullying, and returned to their online endeavors in Spain.
• They maintain individual and collaborative Instagram and Facebook accounts, and often post pictures and video promotions of their upcoming uploads.
 
Who are the Martinez Twins?
Ivan and Emilio Martinez were born on 10 May 1999, in Catalonia, Spain, and are YouTube as well as social media personalities, best known from initially earning fame through their collaborative YouTube channel called the Martinez twins. Since starting their channel, their fame has grown to very high levels.
The Riches of the Martinez Twins
How rich are the Martinez Twins? As of early-2019, sources estimate a net worth that is over $600,000, earned through success in their online endeavors. Their online fame has led to numerous opportunities, and they've collaborated with other popular social media personalities as well. As they continue their career, it is expected that their wealth will also continue to increase.
Early Life, Education, and Career Beginnings
Ivan and Emilio grew up in Spain, but little information is known about their family, except for an older sister who they grew up with. Emilio is the older of the two, being born five minutes before his twin. According to several sources, the twins were born into a wealthy family, but their father left them when they were 15 years old, leaving them with little financial support.  They were supported instead by their mother who had to take on more responsibilities being the only caretaker of the family
The only significant way to determine their difference is to be aware that Ivan has a smaller chin, while Emilio has freckles. In 2016, the two being strong followers of the website YouTube decided that they should try their hand at making their own content. Instead of launching solo YouTube channels, the two decided to work together, creating the channel called Martinez Twins. Some of their friends helped with their channel, including their most frequent collaborator Ruben Beasley, a social media personality who is also their friend.
Career Development and Team 10
Their YouTube account initially struggled, because they weren't fluent in English. They decided to improve their use of the language by frequently listening to English songs and watching English-language movies, and took up classes in a program called Education First. Their channel started to grow significantly over time, gaining significant numbers of subscribers. Their videos often consisted of them posting comedy content or crazy challenges that attracted high numbers of views.
They also found popularity on the lip-syncing app called Musical.ly, on which they gained over 300,000 fans. They also decided to work on a joint account under the name blondtwins. Eventually, actor and YouTube personality Jake Paul offered them the opportunity to join the group called Team 10, whose aim was for a group of YouTubers to collaborate together, eventually trying to make a break towards Hollywood. They joined the group with the prospect of gaining entry into the entertainment industry.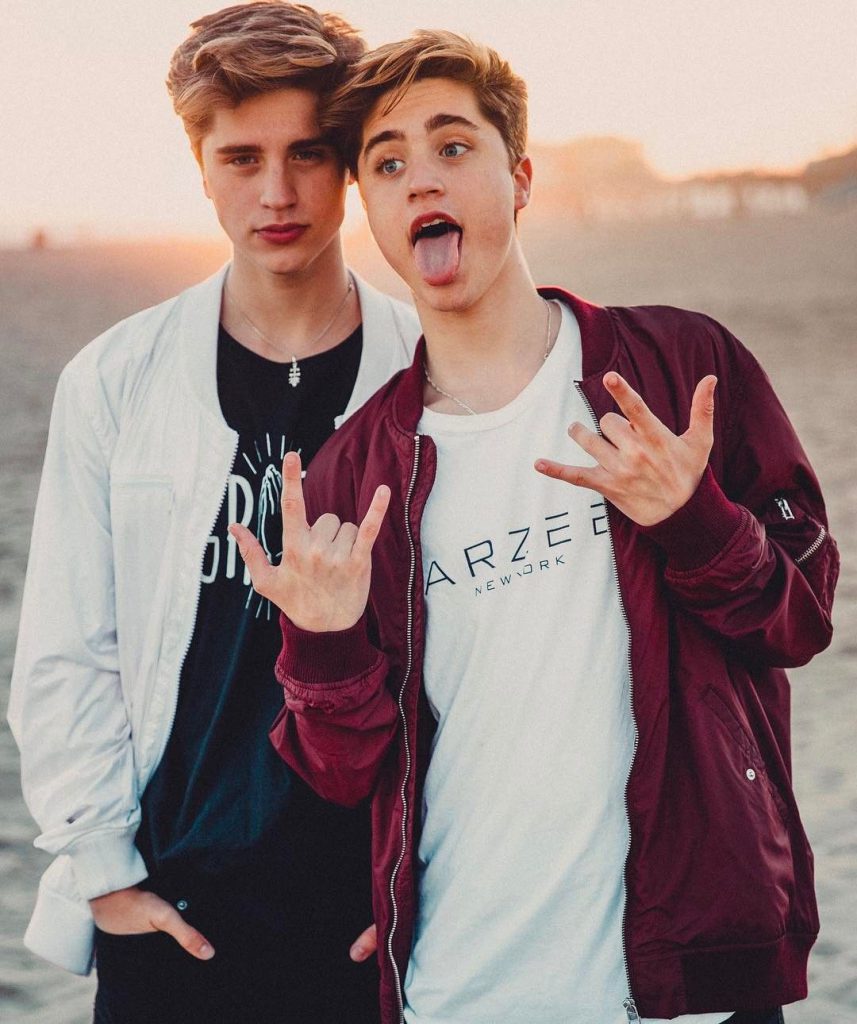 Team 10 Departure and Recent Projects
The twins did not stay long with Team 10, as a few months later they started to get bullied by various members, spearheaded by their leader Jake Paul; this was apparently because while they were staying at the Team 10 house in Los Angeles, they still had trouble communicating freely in English, leading them to be ridiculed. Other members left the group due to disputes, infighting, and other criticisms that often stem from the negative attitude of Jake Paul, who has been surrounded with controversy for most of his career.
Paul later made a public statement, apologizing for his abusive behavior during the twins stay. They eventually returned to their previous endeavors in Spain, and working on their respective online accounts. Ivan hinted that the two will be looking to go on tour, and eventually did so in 2018. The two continue to gain high numbers of views, as they upload consistent content on their channel, which now has over 4.5 million subscribers.
Personal Life and Social Media
For their personal lives, it is known that the Martinez twins have had their share of relationships, but they have not spoken publicly about any of them. There have been online posts and fan fiction about relationships with either twin, but nothing confirmed about their current or past girlfriends. When they were young, Emilio had a death scare as he nearly drowned, but he was saved by his grandfather. Both twins have tattoos on their bodies with an identical tattoo that reads Savage.
Emilio is known to be a collector of merchandise, particularly from Australian street wear designer Steph Audion. They eventually returned to the US in hopes of continuing to pursue their Hollywood dream, and reside in Los Angeles. While they have their own individual online accounts on social media, they also have collaborative Instagram and Facebook accounts. They often post pictures of themselves during photo shoots or while out and about, and video promotions of their upcoming uploads through Instagram. Their Facebook account is the lesser active one, as it usually takes long before they post on the website. Their last post on Facebook was during late 2018.
Source:
IMDb
,
Wikipedia