Just a simple reminder that article is created and owned only by biographytribune.com. Article cannot be re-published in any other pages or documents. Copyright is protected by DMCA. All found copies will be reported.
Original source: https://biographytribune.com/who-was-bill-paxton-from-titanic-when-and-how-he-died-his-wiki-cause-of-death-net-worth-wife-family/
Who was Bill Paxton from "Titanic"?
Born William Paxton on the 17th of May 1955, Bill was an American actor and director, who became famous through his roles in the films "Apollo 13" and "Twister", and the TV drama series "Big Love."
Bill Paxton's Childhood and Early Life
Born in Forth Worth, Texas, Paxton is the son of Mary Lou Gray and John Lane Paxton. His father worked in their family's lumber business, and also did some acting, appearing in the "Spider-Man" movies with Toby Maguire.
Paxton attended Arlington Heights High School, and after matriculating flew to England for college, studying in Richmond College. He then also studied for awhile at New York University, before he moved to Los Angeles to become an actor, and where he studied under the mentorship of Stella Adler, but decided to leave after two years.
How did Bill Paxton become famous?
Paxton's career started in 1974 when he moved to Los Angeles and tried to find work in the film industry. His first job was as a production assistant in an industrial film, and later on he found work as a set dresser. It wasn't until 1975 that he was cast in a support role in the film "Crazy Mama."
In the 1980's Paxton gained more projects, and starred in a couple of films including "The Lord of Discipline" in 1983, "The Terminator" in 1984, and the sci-fi hit "Aliens" in 1986. In 1992, he made a memorable appearance in the movie "One False Move", leading the film alongside Billy Bob Thornton. His early years as an actor helped establish his career, and also increased his net worth considerably.

Eventually, Paxton gained more lead roles in the '90s, initially in the movies "Tombstone" in 1993 and "True Lies" in 1994, before he gained more fame for his performances in the movie "Apollo 13" in 1995, and "Twister" in 1996, significantly raising his net worth.
Paxton appeared in more movies in the 2000s, starring in films including "Vertical Limit", "Ghosts of the Abyss", and "Thunderbirds." Then in 2006, he decided to focus more on television, and subsequently starred in the drama series "Big Love."
Happy #AlienDay tribute to the mighty #BillPaxton gone way too soon! #alienday426 pic.twitter.com/B1k6ieH3TS

— Serena Chloe Gardner (@SerenaChloe) April 26, 2018

The HBO series became a huge hit, with the story revolving around Paxton's character Bill Henrickson who's involved in a polygamous relationship. He starred alongside Jeanne Tripplehorn, Chloe Sevigny, and Ginnifer Goodwin as his wives, and received multiple nominations for Best Actor from various award-giving bodies. The success of the show also helped elevate his career, and tremendously increased his wealth.
After the success of "Big Love", Paxton continued to appear in other television series, including "Hatfields & McCoys" in 2012, "Agents of S.H.I.E.L.D." in 2014, and "Texas Rising" in 2015.

Before he passed away, Paxton also joined the film "The Circle", which became his final film appearance. The movie was released two months after his passing.
Bill Paxton's Net Worth
Based on authoritative sources, Paxton's net worth is reported to be over $40 million as of early 2018. His longstanding career in the film industry, in which he appeared in more than 60 movies and over 20 television productions, provided the main source of his wealth.
Bill Paxton's Family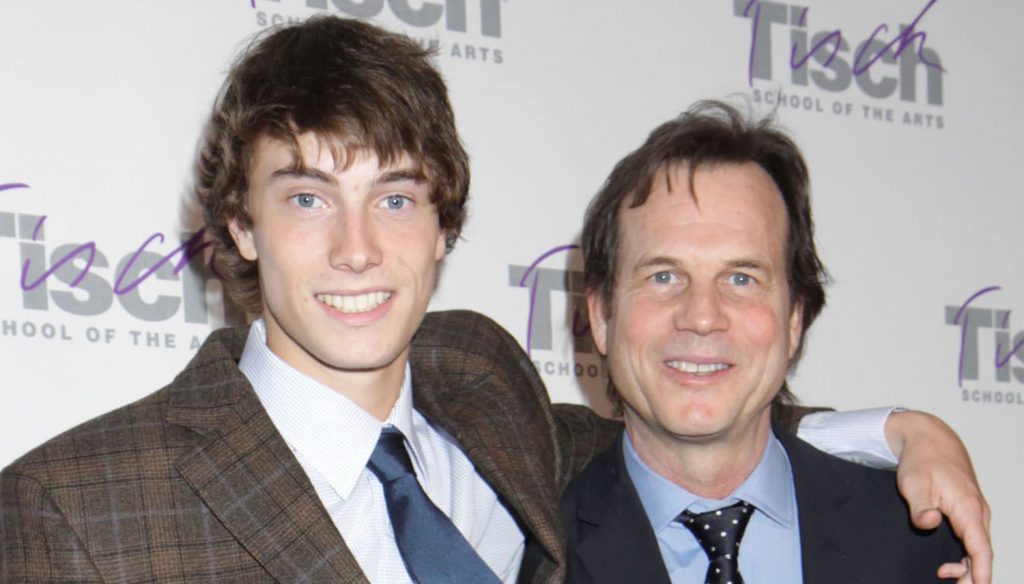 Paxton was married to Kelly Rowlan from 1979 to 1980. Later on, he remarried in 1987 to Louise Newbury and together they had two children, James and Lydia, and remained together until his demise.
Bill Paxton's Death
Paxton died on 25 February 2017 from a stroke following a heart surgery. Prior to his death, he opened up in an interview that he had a damaged heart valve due to rheumatic fever he had suffered during his youth.
Paxton had surgery to have a heart valve and aorta operated on, but complications arose afterwards that cost him his life at the age of 61. He is interred in the Forest Lawn Memorial Park.