• Rebecca Ferguson is an actor known for her roles in The White Queen, The Greatest Showman and Mission: Impossible • Rogue Nation.
• As of 2018, her net worth is estimated to be over $2 million.
• She was born in Stockholm, Sweden and is bilingual in Swedish and English.
• She has appeared in several Swedish films such as Strandvaskaren and Despite the Falling Snow.
• She has been in Hollywood films such as Life, The Snowman, and The Greatest Showman. She is set to reprise her role in Mission: Impossible • Fallout.

Known for movies

How Did Rebecca Ferguson Become Famous?
Rebecca Louisa Ferguson Sundstrom is an actress, best known for appearing in several popular films over the course of her career. She was a part of "The White Queen" as Elizabeth Woodsville, Jenny Lind in "The Greatest Showman", and Ilsa Faust in "Mission: Impossible – Rogue Nation", a role she is set to reprise in the upcoming film "Mission: Impossible – Fallout".
https://www.instagram.com/p/Bf9MFHxH0Am/?taken-by=_rebeccaferguson_
How rich is Rebecca Ferguson?
As of early-2018, sources inform us of a net worth that is over $2 million , mostly earned through a successful career in acting. She's been nominated for awards several times over the course of her career, and has also been a part of short films and television projects. As she continues her career, it is expected that her wealth will also continue to increase.
Rebecca's parents and early life
Rebecca was born on 19 October 1983, in Stockholm, Sweden, to an English mother and Swedish father, but she also has roots from Northern Ireland and Scotland. She is 34 years old and is bilingual, in both English and Swedish; at a young age, she attended an English-speaking school which helped her develop the language. Prior to finding acting work, she appeared in several magazines and television commercials as a model, working in that manner from when she was 13 years old. She also learned how to dance tango, street funk, jazz, ballet, and tap-dancing. While working on her dancing, she also started to do acting work, mainly in film projects. She would later take her mother's surname, Ferguson as her stage name.
Ferguson's acting in Swedish movies
https://www.instagram.com/p/Becckqunpyd/?taken-by=_rebeccaferguson_
Ferguson started to make strides in the film industry after appearing as a part of several Swedish projects. One of her first films was "Strandvaskaren", which was a Swedish horror slasher film meaning Drowning Ghost. The film was released in 2012, but it wasn't until three years later that she was cast as Ilsa Faust, who would become the lead in "Mission: Impossible – Rogue Nation", the fifth film of the series, produced by J. J. Abrams. Her performance in the film gained a lot of critical acclaim and went on to be commercially successful at the box office. She was reportedly hand-picked by Tom Cruise himself after seeing her performance in the film "The White Queen". Her performance also led her to be re-cast in the sixth "Mission: Impossible" film set to release in 2018. Other notable films Ferguson has appeared in include the cold war thriller "Despite the Falling Snow" in which she played dual roles; the film was shot in Belgrade, Serbia and she would win a Prague Independent Film Festival award for Best Actress for her performance, and the film also won two other awards at the Festival. She worked on "Florence Foster Jenkins" too, alongside Meryl Streep in the biographical film. Ferguson was also a part of the film adaptation of "The Girl on the Train" which is based on Paula Hawkins' debut novel of the same name, also starring Emily Blunt, and which received mixed reviews despite being successful in the box office.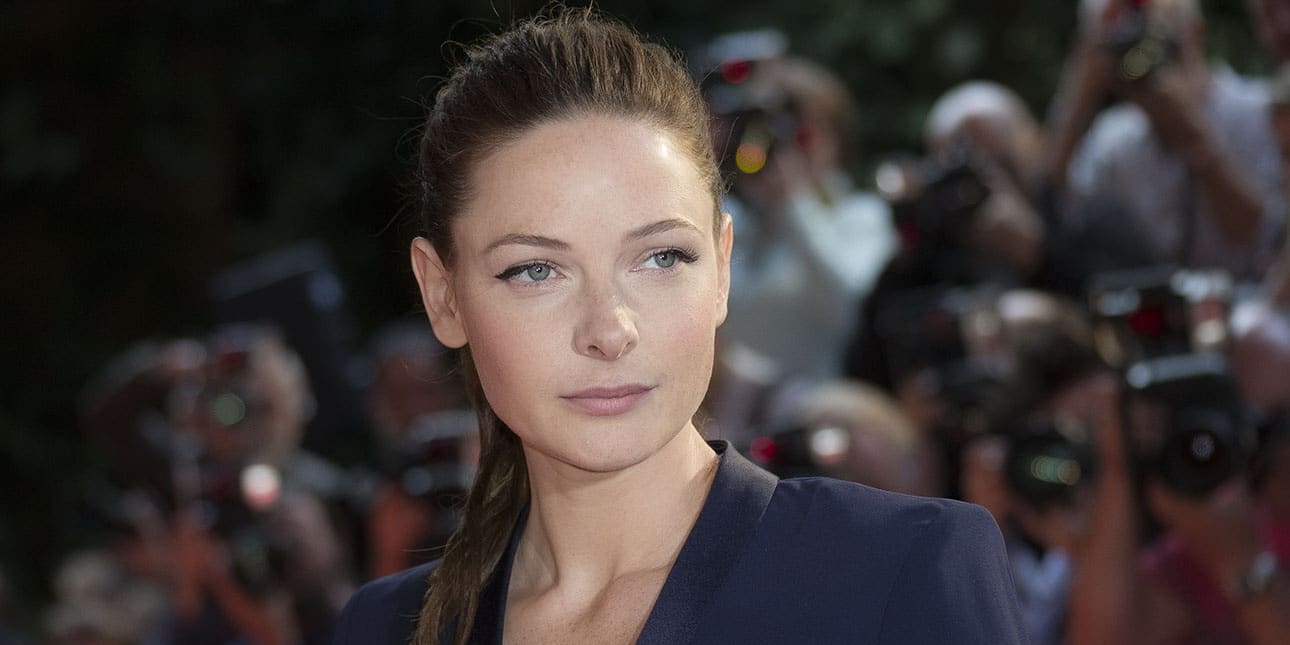 Hollywood movies
The White Queen ?#RebeccaFerguson pic.twitter.com/A9GDyiNZdp

— Rebecca Ferguson News (@RebeccaActress) April 22, 2018

Another project that Rebecca worked on is the film "Life", alongside Ryan Reynolds and Jake Gyllenhaal, which follows the International Space Station and its six-member crew discovering the first evidence of life on Mars. The film was criticized for its lack of originality, but received praise for its acting and writing, making it successful at the box office. Rebecca also appeared in the crime film "The Snowman" opposite Michael Fassbender, about a detective who tries to find the identity of a killer who uses snowmen as his calling card, but it was unsuccessful both with critics and at the box office. She redeemed herself in the musical drama "The Greatest Showman", starring Hugh Jackman and Zac Efron, playing the role of Swedish soprano Jenny Lind. The film received several nominations during the 75th Golden Globe Awards and won the Award for Best Original Song. It is the fifth-highest grossing live-action musical of all time despite some mixed reviews.
Ferguson's husband & children
https://www.instagram.com/p/Bfrl1XjHCUw/?taken-by=_rebeccaferguson_
Ferguson's most notable relationship was to Ludwig Hallberg with whom she had a child in 2007. They lived on the Swedish south-east coast at Simrishamn, but eventually separated in 2015. She then revealed that she is expecting a second child in 2018 but no other details have so far been provided as to who the father of her second child is.
Social activity
Rebecca is not active on any social media sites, however, numerous pages of her on Instagram, Twitter, and Facebook have surfaced to promote some of her work in films. There are also several fan pages of her up and running.
General Info
| | |
| --- | --- |
| Date Of Birth | July 21, 1986, October 19, 1983 |
| Place Of Birth | Stockholm, Sweden |
| Height | 1.7 m, 1.7 m |
| Profession | Actor, Model |
| Education | Adolf Fredrik's Music School, Adolf Fredrik's Music School |
| Nationality | Swedish, Swedish |
Family
| | |
| --- | --- |
| Children | Karl Dures, Jr., Lillie May Dures, I Hope, Glitter & Gold, Nothing's Real But Love, Isac Hallberg |
| Parents | Anne Jameson, Dan Ferguson, I Hope, Glitter & Gold, Nothing's Real But Love, Gerrie Ferguson |
| Siblings | Sam |
Accomplishments
| | |
| --- | --- |
| Nominations | Critics' Choice Movie Award for Best Actress in an Action Movie, Golden Globe Award for Best Performance by an Actress In A Mini-series or Motion Picture Made for Television, Empire Award for Best Female Newcomer, Critics' Choice Movie Award for Best Actress in an Action Movie, Golden Globe Award fo... |
| Movies | Mission: Impossible – Rogue Nation, The Girl on the Train, Florence Foster Jenkins, Hercules, Despite the Falling Snow, The Snowman, Life, Drowning Ghost, The Red Tent, Us, The Greatest Showman, Arctic Justice: Thunder Squad |
| TV Shows | The White Queen, The White Queen |
Social profile links
Quotes
| # | Quote |
| --- | --- |
| 1 | [on what inspired her to become an actress] I wasn't brought up in the acting world-my father is a lawyer. But as a teenager, I had the opportunity to audition for this television series: a daytime soap opera. And I got the lead part. I had just finished ninth grade in school, so I skipped what we called gymnasium and started working instead. And realized that this is a life I can see myself living. |
| 2 | At an early age, singing was something I found fun, but I never saw myself as a singer. My mother was in the avant-garde of cultural life in Sweden. She actually helped to translate ABBA's 'Waterloo' from Swedish to English. Remember the woman sitting cross-legged on a chair on the album's cover? That was my mom with the band-and they were wearing her clothes. How cool is that? And she didn't save any of it. |
| 3 | [on when she heard about the job in Mission: Impossible - Rogue Nation (2015)] I was on a camel! In the desert. In Ouarzazat [Morocco]. Filming The Red Tent (2014) for Lifetime. I had just popped over to London to meet Tom Cruise to see if the chemistry worked and 12 hours later I'm back on the camel, wrapping up production and I got a phone call. They say: 'You've got the next lead!' So I'll be back in Ouarzazat but on a motorbike! And there I was a month later. |
| 4 | [on if she feels Swedish] I do. And I feel English as well which is why I like the combination when I can do an English film and speak a bit of Swedish. It's a mish-mash. My mum's English and my father's Swedish. But I feel sort of French when I'm in France even though I have no connection to it! I think I remind myself of Ilsa [her character in Mission: Impossible - Rogue Nation (2015)] in that because I adapt and I think that's the world we live in as well - doors are more open now thank God. |
| 5 | I've been very lucky to have strong women characters to play. |
| 6 | I need challenging roles. I look forward to reading a script where I call my agent and go, 'What the f**k are you thinking? Of course I can't do this!' I'd like to be uncomfortable and challenge that. |
| 7 | [on doing her own stunts in Mission: Impossible - Rogue Nation (2015)] Jumping off a rooftop is one thing, but having your legs wrapped around Tom Cruise makes it a bit easier. |
| 8 | [on her inspiration to play Ilsa Faust in Mission: Impossible - Rogue Nation (2015)] I looked at Ingrid Bergman a lot. There's a gracefulness there that I wanted to bring in. Mission is fast and action-packed and intense and modern, so to be able to balance that with the input of something classic-it's a beautiful mixture. |
Facts
| # | Fact |
| --- | --- |
| 1 | Was considered for the lead role in Alien: Covenant (2017). |
| 2 | The actresses who inspire her are Cate Blanchett, Helena Bonham Carter, Maggie Smith and Helen Mirren. |
| 3 | Attended an English-speaking school in Sweden and was raised bilingual, speaking Swedish and English. |
| 4 | Her mother helped to translate ABBA's 'Waterloo' from Swedish to English and was also the woman sitting cross-legged on a chair on the album's cover. |
| 5 | Ranked #7 on IMDb's "Top Stars of 2015". |
| 6 | Was named one of Variety's "10 Actors to Watch" in 2015. |
| 7 | Ranked #1 on IMDb STARmeter for three consecutive weeks - from August 10, 2015 to August 30, 2015. |
| 8 | She is claustrophobic and suffers from vertigo. |
| 9 | Is often compared to fellow Swedish actress Ingrid Bergman due to their striking resemblance. Her character in Mission: Impossible - Rogue Nation (2015) is named Ilsa, just like Bergman's character in Casablanca (1942). One of Rebecca's scenes in "Rogue Nation" was set in Casablanca. Her co-star's Tom Cruise's first celebrity crush was Ingrid Bergman in Notorious (1946). |
| 10 | Tom Cruise chose her for Mission: Impossible - Rogue Nation (2015) after having seen her in the mini-series The White Queen (2013). |
| 11 | Did her own stunts in Mission: Impossible - Rogue Nation (2015). She went under vigorous fitness and stunt training, consisting of 6-weeks of 6 hours-a-day training schedule, including Pilates, fight choreography and stunt practice. |
| 12 | She wants to work with Helen Mirren, Maggie Smith, Hugh Laurie and Helena Bonham Carter. |
| 13 | From the age of 13, she worked as a model in magazines, for television/cinema commercials and different brand names (make-up, clothes, jewellery), etc. |
| 14 | First Swedish actress to be nominated for a Golden Globe award in 15 years since Ann-Margret in 1999. And the fifth Swedish actress to be nominated for a Golden Globe overall, the others are Ingrid Bergman, Anita Ekberg, Lena Olin and Ann-Margret, respectively. |
| 15 | Has danced from a very early age; ballet, tap-dancing, jazz/show and street funk to Argentinean Tango. Her interest in tango has led to her being asked to help teach beginner courses in Lund, Sweden. |
| 16 | Has a son, Isac (born in 2007), with her ex-boyfriend Ludwig Hallberg. The couple separated in April 2015. |
| 17 | She graduated from music school, Adolf Fredriks Musikskola in the spring of 1999. |
| 18 | Her father is Swedish. Her mother, Rosemary, is British. Her mother moved to Sweden when she was 25 years old. While Rebecca is sometimes said to be related to The Duchess of York, Sarah Ferguson, she denied this in a 2015 Daily Mail interview. |
| 19 | Her parents are divorced. |
| 20 | She has three siblings. |
Pictures
Movies
Actress
| Title | Year | Status | Character |
| --- | --- | --- | --- |
| M:I 6 - Mission Impossible | 2018 | pre-production | Ilsa Faust |
| The Lady and the Panda | 2017 | pre-production | Ruth Harkness |
| The Greatest Showman | 2017 | filming | Jenny Lind |
| The Snowman | 2017 | post-production | Katrine Bratt |
| Life | 2017 | post-production | |
| The Girl on the Train | 2016 | | Anna |
| Florence Foster Jenkins | 2016 | | Kathleen |
| Despite the Falling Snow | 2016 | | Katya Lauren |
| Mission: Impossible - Rogue Nation | 2015 | | Ilsa Faust |
| The Red Tent | 2014 | TV Mini-Series | Dinah |
| Hercules | 2014/I | | Ergenia |
| The White Queen | 2013 | TV Mini-Series | Queen Elizabeth / Elizabeth Woodville |
| Vi | 2013 | | Linda |
| Der Kommissar und das Meer | 2013 | TV Series | Jasmine Larsson |
| The Vatican | 2013 | TV Movie | Olivia Borghese |
| Irresistible | 2011 | Short | Woman |
| En enkel till Antibes | 2011 | | Maria |
| Puls | 2010/I | Short | Linda |
| Lennart | 2010 | Short | Hemtjänstpersonal |
| Wallander | 2008 | TV Series | Louise Fredman |
| Strandvaskaren | 2004 | | Amanda |
| Ocean Ave. | 2002 | TV Series | Chrissy Eriksson |
| Nya tider | 1999-2000 | TV Series | Anna Gripenhielm |
Self
| Title | Year | Status | Character |
| --- | --- | --- | --- |
| Rogue Nation: Cruise Control | 2015 | Video short | Herself |
| Rogue Nation: Heroes | 2015 | Video short | Herself |
| Rogue Nation: Lighting the Fuse | 2015 | Video short | Herself |
| Rogue Nation: Sand Theft Auto | 2015 | Video short | Herself |
| Rogue Nation: The Missions Continue | 2015 | Video short | Herself |
| Entertainment Tonight | 2015 | TV Series | Herself |
| Made in Hollywood | 2015 | TV Series | Herself |
| The Talk | 2015 | TV Series | Herself |
| Today | 2015 | TV Series | Herself |
| Tom Cruise: Show Me the Movies | 2015 | TV Movie documentary | Herself |
| Hercules and His Mercenaries | 2014 | Video short | Herself |
| 71st Golden Globe Awards | 2014 | TV Special | Herself - Nominee (uncredited) |
| Fox and Friends | 2013 | TV Series | Herself |
| Gomorron | 2011 | TV Series | Herself - Guest |
Archive Footage
| Title | Year | Status | Character |
| --- | --- | --- | --- |
| Gomorron | 2004 | TV Series | Herself |
Awards
Won Awards
| Year | Award | Ceremony | Nomination | Movie |
| --- | --- | --- | --- | --- |
| 2016 | Genre Award | Buffalo Niagara Film Festival | Best Actress in a Leading Role | Despite the Falling Snow (2016) |
| 2016 | Slate Award | California Independent Film Festival | Best Actress | Despite the Falling Snow (2016) |
| 2016 | Golden Statuette | Prague Independent Film Festival | Best Actress | Despite the Falling Snow (2016) |
| 2015 | Breakthrough Performer | Hamptons International Film Festival | | Mission: Impossible - Rogue Nation (2015) |
Nominated Awards
| Year | Award | Ceremony | Nomination | Movie |
| --- | --- | --- | --- | --- |
| 2016 | Critics Choice Award | Broadcast Film Critics Association Awards | Best Actress in an Action Movie | Mission: Impossible - Rogue Nation (2015) |
| 2016 | Empire Award | Empire Awards, UK | Best Female Newcomer | Mission: Impossible - Rogue Nation (2015) |
| 2016 | OFTA Film Award | Online Film & Television Association | Best Breakthrough Performance: Female | Mission: Impossible - Rogue Nation (2015) |
| 2015 | Golden Schmoes | Golden Schmoes Awards | Best T&A of the Year | Mission: Impossible - Rogue Nation (2015) |
| 2014 | Golden Globe | Golden Globes, USA | Best Performance by an Actress in a Miniseries or Motion Picture Made for Television | The White Queen (2013) |
| 2011 | Rising Star Award | Stockholm Film Festival | | En enkel till Antibes (2011) |
Source:
IMDb
,
Wikipedia