• Shelby Grace (Shubble) is a YouTuber best known for her Minecraft videos.
• She grew up in New Jersey with her two older sisters and her brother, and loves her father's job of a fireman.
• She has two YouTube channels, one where she uploads Minecraft videos and the other where she shares her everyday life.
• She has a passion for drawing and loves animals, especially her fish Dog and her dog Shadow.
• Her net worth is estimated to be over $300,000 as of 2020.
 
Who's YouTuber Shubble? Wiki Bio
Shelby Grace was born in New Jersey USA, on 20 August 1993, so under the zodiac sign of Leo and holding American nationality – better known online as Shubble, she is popular for her YouTube channel onto which she mostly uploads "Minecraft" videos, including tips and walk-throughs.
Childhood and education
Shubble spent her childhood in New Jersey, alongside her two older sisters and her older brother. She was the shyest and the quietest among them, and wanted to become an archaeologist when she grew up. Her father is a fireman, and so they had no candles or incense at home because of his fear of a fire erupting accidentally. She loves her father's job of a fireman, and she even managed to win a fire contest once.
Then, her mother was serving in the US Air Force, making Shubble want to join the Air Force as well!
Shubble had her first 'boyfriend' at the age of eight, and stole his "Pokemon" game – she was part of the girl scouts throughout her eight years of high school, achieving the highest possible level in the eighth grade. She was considered to be weird in school, and her peers were therefore not nice to her, as they excluded her from the company and also bullied her. She tried numerous things while still being a kid, as she took acting classes but wasn't good at it, and wanted to become a pilot, but her eyesight didn't allow it.
Shubble enrolled at college after she matriculated, but didn't know what she wanted to pick as a major – she finished all her general courses, and when forced to choose a major, first went with biology, and then moved to geoscience, but became dissatisfied with that, so switched to English language, and is now somewhat stuck in her senior year. She wanted to get into interior design and digital media, but her GPA (school grades) weren't good enough.
So Shubble decided to completely focus on her YouTube channel, and her online career, and is hoping to graduate from college one day, as she has put it on a hold for now.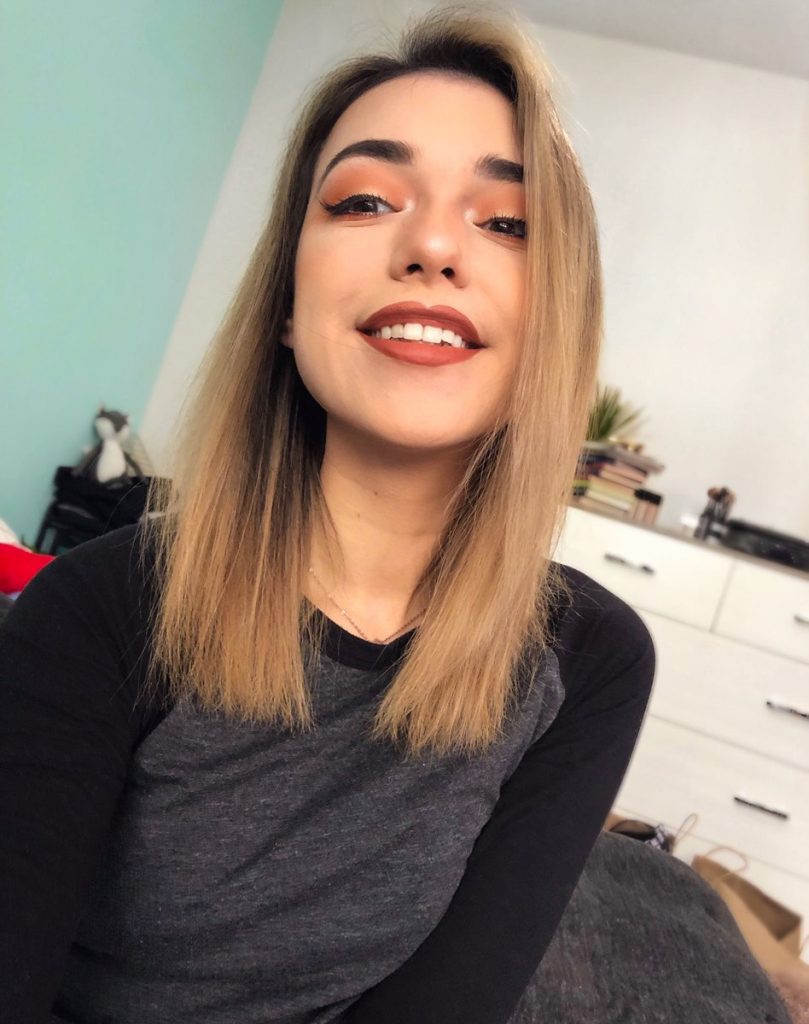 Career of a YouTuber
Shubble's friends, most of whom are YouTubers, convinced her to launch her own YouTube channel, so her career online began with her YouTube channel on 27 March 2007, and uploading her "Minecraft" videos. She is now more popular online than most of her friends – there are currently more than 630,000 people subscribed to her account, while it's attracted more than 103 million views combined of all her videos.
After seeing people create their vlogging channels, Shubble herself opened a second channel – "Shelby Grace" – on 6 November 2013 – there are currently more than 100,000 people subscribed to it, while it counts nearly 2.3 million views of all her videos.
She only uploads videos of her everyday life onto this channel, and isn't nearly as active on it as on her main channel. Shubble is also active on the Twitch platform, but has uploaded just 20 videos onto it – she only livestreams while playing the "Minecraft" video game, but has still gathered over 80,000 views.
What is "Minecraft"?
Minecraft was created in 2011 by a Swedish game developer Markus Persson, and was released by Mojang. The main goal in the game when it was released for the first time was to survive in the world in which zombies attack you at night. Players get to build houses, tools, and weapons from blocks in this 3D generated world while they also get to explore to find the resources needed for crafting different things.
Although the main game mode was survival in the past, meaning that you have to find all the resources on your own and fight the zombies, now it has a creative mode in which you can use all the blocks you want without having to make them first, and in that way make structures and be creative with them. Some people are known to have created their entire cities in Minecraft creative mode, while another YouTuber has recently made a fully functional computer using Redstone (an item in Minecraft).
Since it was officially released, Minecraft has been a very popular game and has won numerous awards and accolades over the years.
There is Minecraft merchandise being sold on the internet, numerous YouTube channels, and websites show people how to make things and how to play the game, and there are also events called MineCons which are organized all over the world. Judging by the statistics from May 2019, the game has managed to sell more than 176 million copies, and therefore currently holds the title of the best-selling video game of all times.
In September 2014, Microsoft bought Mojang and the Minecraft video game for $2.5 billion, and soon afterwards released the "Minecraft: Story Mode" version of the game.
Shubble's personality
People enjoy watching Shubble's videos and listening to her commentaries, as she is a very funny and positive girl. She is also very indecisive, as she has changed multiple jobs and college majors, while still not knowing what she wants to do with her life. She is also a very stubborn person, and an example of that is her not wanting to ride a bicycle for years now, because she doesn't like wearing a helmet.
Love life and relationships
Shubble is completely open when it comes to her relationships, and she has supposedly had many of these over the years.
She was rumored to be dating Shelax (Max) but they have both stated how they are just very close friends – she was also rumored to be dating Corby, as the two appeared in the same YouTube series in which they acted being in love, however, they are only good friends as well. She was then rumored to be dating Scolby, who in March 2018 came out as gay, and was also rumored to be dating another YouTuber, who turned out to be her cousin!
Shubble had been dating a fellow YouTuber Parker Coppins until just recently, when the two split – the official news regarding their break-up landed on her Twitter account in April 2019, even though they split months before that.
They collaborated on numerous videos, but apparently split because they didn't have time for a relationship. Shubble also dated MunchingBrotato (Tyler) over the internet, but they broke- up as they got tired of a long-distance relationship. Judging by her social media accounts, Shubble is currently single, hasn't married, and doesn't have any kids.
Hobbies and interests
Shubble's number one passion is playing video games, but she has other interests as well. Shubble has a big passion for drawing, and has bought herself a tablet which she uses specifically to draw.
She is a big lover of animals – she has a fish whose name is Dog, and a dog whose name is Shadow – she sees the two as parts of her family, while she has had several other animals in the past who have passed away. Conversely, Shubble has entomophobia, which is an irrational fear of insects.
She loves watching movies, both animated and played, while her favorite is "Oliver & Company" – she enjoys listening to music as well, and her favorite group is "NSYNC"; they were the first group whose concert she attended.
Appearance and net worth
Shubble is currently 25 years old. She has long brown hair and brown eyes, while her height is 5ft 3ins (1.6m) but her weight is unknown.
Evidently Rocket thinks I'm a jungle gym pic.twitter.com/a3y9ZmYHfP

— Shubble (@shelbygraces) January 21, 2020
According to authoritative sources, her net worth is estimated to be more than $300,000 as of early 2020, and is steadily rising thanks to her YouTube channel.
Social media presence
Shubble is very active on several popular social media platforms, as this is quite important for her online career. She launched her Twitter account in July 2013, and has tweeted more than 15,000 times. Her Instagram account is currently followed by more than 250,000 people, while she's uploaded nearly 350 pictures onto it – she has a Facebook page as well which is currently followed by over 16,000 people.