• Dellor (real name Matt Vaughn) is a professional gamer, YouTuber and Twitch star born on March 31, 1988 in Iowa, USA.
• He started his online career in 2009 on YouTube, where he posted videos of himself playing popular online games.
• He rose to prominence on Twitch, playing a variety of games such as Overwatch, Fortnite, Apex Legends and PlayerUnknown's Battlegrounds.
• Dellor was banned from Twitch on a few occasions due to his rage antics and problematic behavior, including using racial slurs and making sexist remarks.
• Dellor's net worth is estimated to be over $300,000 and he has over 325,000 YouTube subscribers, 385,000 Twitch subscribers, 23,500 Twitter followers and 121,000 Instagram fans.
 
Who is Dellor?
Matt Vaughn was born on the 31st March 1988 in Iowa USA. Better known by his online alias Dellor, he is a 31 year-old gamer, YouTuber and Twitch star, he is noted for playing a variety of games at a professional level, but also for his rage antics and problematic behavior, which eventually caused him to be banned several times from Twitch. His online career has been active since 2009.
Start on YouTube
Unfortunately, not much is known regarding Dellor's life prior to his rise to fame as an online celebrity. The first platform he joined was YouTube in 2009, and since the beginning, his channel was oriented towards games. He started regularly posting videos of himself playing a variety of popular online games, such as "World of Warcraft", "Defence of the Ancients" and "League of Legends". Thanks to his talent and gaming prowess, he was able to rise through the ranks and establish himself as one of the best players on the North American servers.
He continued to upload videos onto YouTube, and his popularity as a streamer steadily rose as well. However, his passionate style of gaming would often turn into anger if his team was not doing well, resulting in raging rants for which he would become famous. In fact, there are now a number of compilation videos featuring his rage episodes and tantrums over the years. Once Dellor realized that these "rage compilations" were becoming more and more popular, he decided to fully accept it as a part of his online persona, later selling t-shirts with prints of him screaming and smashing his keyboard.
Rise to Prominence on Twitch
Dellor's online career skyrocketed once he joined the streaming giant Twitch. He gradually expanded the list of games he was playing, becoming one of the most successful players of Blizzard's "Overwatch", "Fortnite", "Apex Legends" and "PlayerUnknown's Battlegrounds". In "Overwatch" he was among the top 250 solo players in North America, and in "Apex Legends", he was ranked number one in the world for kills and damage dealt per match. In "Fortnite", he was featured in the top 10 solo kills on North American servers, and additionally he was also among the best players in "World of Warcraft", "Diablo 3" and "Team Fortress 2".
Thanks to his gaming success, he was able to gain more exposure on his Twitch account, which reached 400,000 subscribers at one point. As a result, Dellor was approached by "Toronto Esports" club who offered him a sponsorship deal, thus enabling him to fully commit to gaming and make a living out of his streaming career.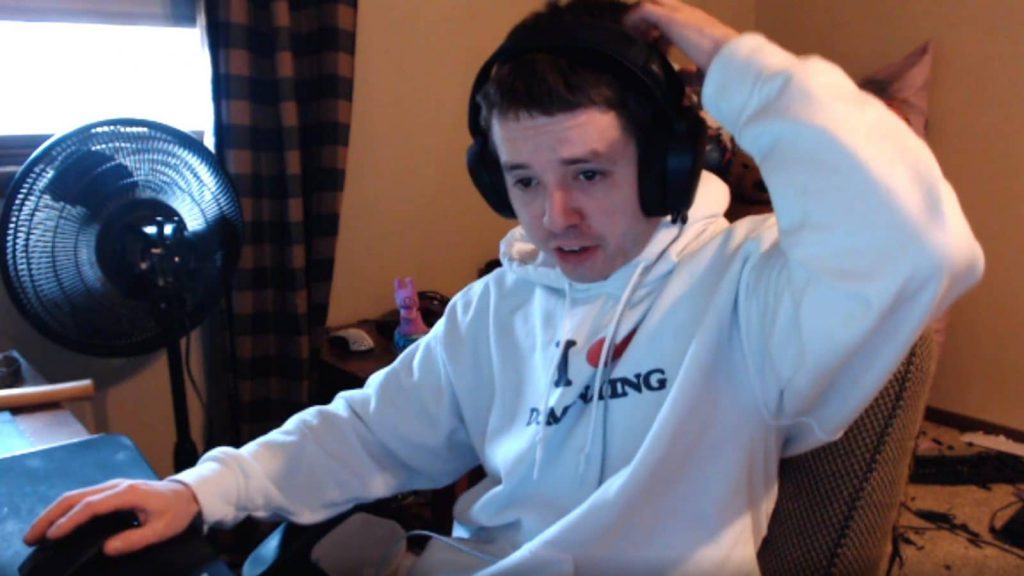 Controversy and Ban on Twitch
Unfortunately, the newly-found fame and increased exposure thanks to his partnership with "Toronto Esports" meant that Dellor's tantrums and problematic behavior could not be so easily ignored. His anger issues finally took a toll in April 2017 – during a game of "Overwatch", Dellor was convinced that one of his opponent's was cheating and started using racial slurs to provoke him. This 30-second sequence was filmed and reported to his sponsor "Toronto Esports", who reacted quickly and terminated his contract.
Besides losing his sponsorship, he was also banned from Twitch, resulting in the loss of all of his subscribers, even though the ban was not permanent. Dellor later apologized for this incident via his Twitter account, saying that he regrets his actions and insisting that he was not racist and that his reaction was prompted by his desire to take revenge on the opposing player. The ban was lifted after several months, and he was able to make a successful comeback on the platform.
new vid up. slaying and stunlocking nerds https://t.co/BEbM804233 pic.twitter.com/q7TJvwKHN4

— dellor (@dellorlol) July 9, 2019
Further Controversy and Allegations of Sexism
Even though he lost his sponsorship and a part of his subscriber base, Dellor made a complete comeback in the following year. Unfortunately, this was not the last time he was accused of insensitive behavior and banned on Twitch. In May 2019 during a game of "Apex Legends", he made sexist remarks towards one of the female players who was on the same team with him. Dellor realized his mistake immediately after he made the remark, and tried to cover it up by changing his behavior, hoping that it would not be noticed. However, he was reported by other players in the game and Twitch officials banned him indefinitely shortly afterwards. Once again, he apologised on Twitter and contacted the platform asking that his ban be reduced. Twitch accepted his apology and reduced his ban to 30 days, after which Dellor posted an emotional video on YouTube and 'vowed to not let himself take things too far again in the future for the sake of entertainment'.
Net Worth
Dellor makes a living out of his gaming and streaming career. Despite several incidents, one of which resulted in him losing his sponsorship deal, gaming remains his primary source of income. According to estimations by authoritative sources, Dellor's net worth is over $300,000 as of mid-2019.
Social Media
Since its launch in 2009, Dellor's YouTube channel has garnered around 325,000 subscribers and more than 17 million views, and his Twitch account currently has more than 385,000 subscribers. In addition, he owns a Twitter account with more than 23,500 followers and an Instagram account with around 121,000 fans as well.
Movies
Self
| Title | Year | Status | Character |
| --- | --- | --- | --- |
| South Today | 2012-2014 | TV Series | Himself - Reporter |
| Late Kick Off South | 2014 | TV Series | Himself - Commentator |
Source:
IMDb
,
Wikipedia