The American actor, Joe Lando, is perhaps best known for his performance in the TV series' "Dr. Quinn, Medicine Woman" and "One Life to Live."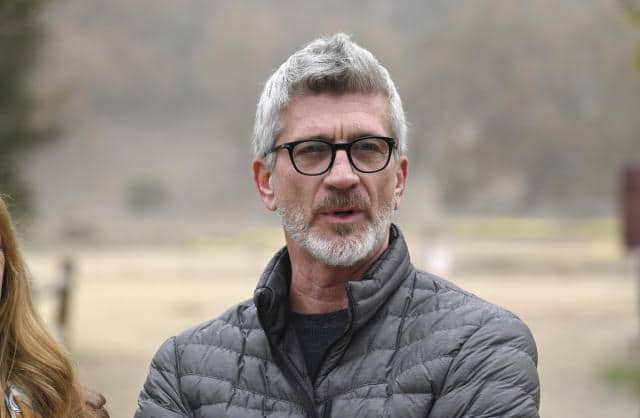 Age, Early Life, and Education Background
Joe was born Joseph John Lando in Prairie View, Illinois, under the Sagittarius zodiac sign on 9 December 1961, which makes him 62 years old as of 2023. He is the son of Joe and Virginia Lando, and is the younger brother of Kathy Lando. He's of Italian, Polish, and Russian roots.
He rarely speaks about his childhood, but Lando was educated at Stevenson High School, situated in Lincolnshire, Illinois. He became interested in acting after his high school sweetheart, the future American actress, Alison LaPlaca, advised him to audition for a role in the school's production of the musical, "Li'l Abner." Much to his surprise, Lando was selected for the role he had auditioned for, but was unable to perform because he had broken his leg a day before the musical was performed. Lando matriculated in 1980, and shortly afterwards relocated to Los Angeles, California, where he began taking acting classes.
Career Beginnings
Before he began his acting career, Joe worked as a chef in a Hollywood restaurant. In 1985, he was a contestant in the T.P.E/Rysher Entertainment-produced TV show, "Star Search." In the year that followed, Joe made his film debut as Shore in the sci-fi "Star Trek IV: The Voyage Home." He went on to appear in single episodes of two series, before he was cast as Pizza Guy – and technical advisor in the bakery and pizza kitchen – in the 1990 black comedy film "I Love You to Death."
Rise to Prominence and "Dr. Quinn, Medicine Woman"
Joe attracted attention for portraying Jake Harrison in the ABC soap opera "One Life to Live" in 1990. In 1993, he was cast as Byron Sully alongside the likes of Jane Seymour, Chad Allen and Shawn Toovey, in the Western drama series "Dr. Quinn, Medicine Woman", appearing in 143 episodes during his five-year stint. During the filming of the TV series, Joe insisted on personally doing almost all of his stunts, because it made his character feel more real to him as he's disclosed. He admitted that it's very likely that he will never have the opportunity to do some of the stunts – such as running on top of a speeding train and eating worms which he performed – in the series in the future.
Joe Lando and Jane Seymour in "Dr. Quinn, Medicine Woman.#JoeLando and #JaneSeymour in " #DrQuinn pic.twitter.com/d5IDju07MF

— MovienewsUSA (@MovienewsUsa) February 15, 2022
Joe left "Dr. Quinn, Medicine Woman" in 1998 after he disagreed with the show's creator and executive producer, Beth Sullivan, on the direction of Byron Sully and the TV series in general, which prompted her to kill off his character. The creators of the show announced that they would be replacing Joe with John Schneider, which saw his fans and supporters launch the campaign 'Save Our Sally' to protest against their plans. In response to these protests, the show's creators promised to cast Joe in a few episodes of the seasons that followed.
Joe appeared briefly in various TV series in the '90s including the "Dr. Quinn, Medicine Woman" spin-off entitled "California." In 2000, he portrayed Peter Scarbrow in 22 episodes of the TV drama series "Higher Ground", and subsequently made brief appearances in various projects including the TV series "Summerland" (2004) and ABC's "Wildfire" (2005). 2012 saw Joe appear in eight episodes of The CW series "The Secret Circle", and in 2014, he appeared in two episodes of the sports drama "Hit the Floor," which was originally entitled "Bounce." He reunited with some of his "Dr. Quinn, Medicine Woman" castmates, including Jane Seymour, in the short film "Dr. Quinn, Morphine Woman" in 2014. Joe again shared the screen with Seymour in the film "Friendsgiving" in 2020, and "A Christmas Spark" in 2022. In 2023, he portrayed Judge Craig McMullen in the CBS soap opera "The Bold and the Beautiful."
Other Works
Lando served as the executive producer of the short film "Crime Defense" in 1997, and in 2000, he produced 22 episodes of the TV series "Higher Grounds." In 2016, Joe wrote and produced the short film, "Spotlight 2."
Awards and Nominations
Out of the four awards he's been nominated for, Lando has won two – in 1996, he scooped a Family Film Award for Outstanding Actor in a Series for his performance in "Dr. Quinn, Medicine Woman", and in the year that followed, he won a Western Heritage Award (Bronze Wrangler) for Fictional Television Drama for his performance in the same TV series. Lando is a two-time nominee for the Bravo Otto Germany Award for Best Male TV Star in 1994 and 1995.
Personal Life
Lando, who was listed among "People" magazine's 50 Most Beautiful People in the World in 1993, is married. He met his wife-to-be, Kristen Barlow when he worked as a chef. Kristen is a very private person who hasn't disclosed anything about her professional life. The duo dated for a few years and eventually relocated to Arizona, where they exchanged vows at the Scottsdale-based Phoenician Luxury Collection Resort on 24 May 1997. In June 1998, the couple welcomed their first son, Jack Neville Lando, and in July 2000 were blessed with another son they named Christian Antonio Lando. Additionally, the couple has a daughter, Kate Elizabeth Lando, whom they welcomed in April 2003. Their last born is William Joseph Lando, who was born in July 2007. Lando prefers to keep his personal life under wraps, and is hardly seen in public with his wife and children.
Before marrying Barlow, Lando was in a romantic relationship with the English actress Jane Seymour. The duo met during the shooting of the pilot episode of the TV series "Dr. Quinn, Medicine Woman" in mid-1992. During the filming of the series, a flooding happened due to a rainstorm and Lando invited her to take shelter in his truck, which marked the beginning of their romance. At the time, Seymour had just divorced her third husband. The two dated briefly, and after their break-up, things got somehow weird during the filming of the show because they played love interests and some scenes required them to kiss. Before she began dating Lando, Seymour was married to the English theater director, Michael Attenborough CBE (1971-1973), the writer, Geoffrey Planer (1977-1978), and the businessman, David Flynn (1981-1992). After she broke up with Lando, she married the American filmmaker and actor, James Keach (1993-2015).
Height, Weight, and Physical Appearance
Lando is of Caucasian ethnicity and has piercing blue eyes and light brown hair. He is 5ft 10ins (1.78m) tall, weighs approximately 170lbs (77kgs), and his vital statistics are 43-34-15.
Net Worth
Joe has appeared in numerous projects, which has seen his status rise in Hollywood. He's accumulated a decent sum from his successful acting career, and is worth approximately $3 million as of late 2023.