The South Shushwap area in Tappen, British Columbia, Canada in the foothills of the Rocky Mountains, is known as Rust Valley due to its abundance of car junkyards and an avid car community. It was the setting for the popular documentary series "Rust Valley Restorers" which premiered on History Channel on 6th December 2018, and ran for 48 episodes over four seasons.  Let's get under the hood here, and explore how the show originated and why, after great success, it changed direction.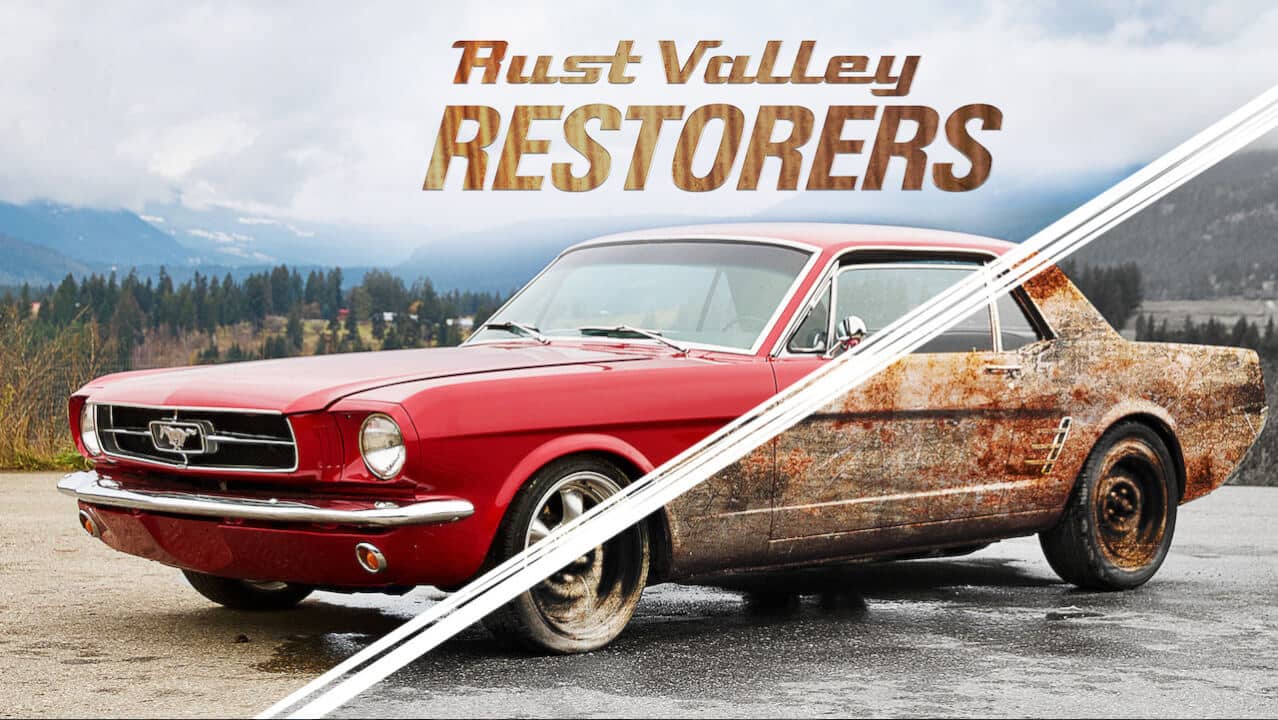 About Mike Hall and how "Rust Valley Restorers" was born
Mike Hall, was born on 4th February 1958, in Boniface, Manitoba, Canada and moved to Kamloops as a kid. From his teens onwards he developed a passion for collecting old beat-up classic cars, and over many years had accumulated over 400 cars on his property near the Trans-Canada Highway. Mike worked as a rock scaler, and owned a slope stabilization business, Chimera Springs Rock Works.
Mike's wife doesn't share his obsession with cars and he keeps her out of the spotlight. They live on a 26-acre farm, and he's been prohibited from parking any cars on their land so the cars remain in Tappen.
In 2016 Mike was in the process of trying to sell his property, cars included. In 2017 he appeared as a rock climber in an episode of the reality TV series "Highway Thru Hell", and shortly thereafter the story of his pending car auction, which was filmed by drone, went viral. This caught the attention of producers, Mayhem Entertainment, who approached him about making a documentary, so at the age of 60, Mike's passion of tinkering around old jalopies turned into a budding career.
Some other main players in "Rust Valley Restorers"
Mike hired his son, Connor Hall, and an old friend, a master mechanic well-experienced in the car vehicle restoration business and owner of Wildman Restorations, Avery Shoaf. Avery was born in Shuswap, and is the creative member on the team. He has the knack of being able to restore a vehicle at maximum speed, hence the nickname 'Muscle Car MacGyver'. He enjoys collecting stuff from the '70s, old motorcycles and track machines such as army vehicles in particular.
Avery's son, Shafin Shoaf also appeared in 11 episodes. Sarah Ward joined in 2019,and was responsible for finding parts for old cars, and in the same year, Cassidy Mceown became the auto body tech. There were many others who featured, such as Donny Kleinfelder, known as "Big Donny", who sold vehicles to Mike almost weekly, and even Avery's mother Helen made an appearance.
Mike cuts a striking figure with his long dreads, and because of his reputation of blowing things up, is known as Rasta Blasta.
Connor worked in Mike's shop from the age of 15 and, even though he's a skilled mechanic, he mostly leaves the dirty work to Mike and Avery, and is the business brains of the outfit. He admits it's difficult to put the brakes on his father's quests for buying cars or spending unreasonable amounts of money on the restoration process. Connor took over Mike's slope stabilization business. He owns a Harley Davidson and enjoys winter sports and snowmobiles, as well as surfing.
Michael Daingerfield, an actor and voice-over artist, who currently lives in Vancouver, British Columbia, was the narrator for "Rust Valley Restorers". Michael has partaken in over 2,000 voice projects, has won several Best Voice awards, and has over 60 movies under his belt.
What happens in "Rust Valley Restorers"?
Following in the tracks of many other reality shows, the "Rust Valley Restorers" team revive old, beat-up rusty wrecks in their shop Rust Bros'. Each episode features two cars – one from Mike's collection and one belonging to a client. Viewers get to enjoy the process in which members of the team find cars, negotiate deals, handle mechanical issues, and with passion and enthusiasm, use their expertise and ingenuity to overcome problems during the restoration process. The final challenge is to find buyers who would pay a worthy price.
Mike's intent was to revamp cars that the average person could afford, but he always struggled to balance the books. His love of rebuilding cars took precedence over the cost, and without considering what could be recouped in a sale. In the first season he lost a lot of money, only breaking even on the sale of two cars, which caused some stress between him and his crew. He's candidly honest about his struggles with financials, but that only adds to the show's appeal.
Mike and Connor have also appeared on "The Morning Show", and like all reality TV shows these days, Rust Bros' sell branded merchandise.
"Rust Valley Restorers" achieved pretty high ratings on IMDB (7.8), was nominated for a Leo award in several categories, and won the award for Best Information, Lifestyle or Reality Program Series in 2022.
International coverage and a change of direction
Corus Studios, a division of Corus Entertainment, in line with their commitment to offering unique content globally and in a strategic move to invest in factual lifestyle programs, broadcast that "Rust Valley Restorers" would be available on Netflix on 23rd August 2019. In that year, the series had ranked in the top five programs on History channel.
This is great news for those of you who missed it and want to catch up on the adventures of a group of auto restoration enthusiasts who hunt for and restore classic cars. In the US, the first two seasons are distributed by Netflix and the second two seasons by Motor Trend+.
From car restoration to "Backroad Truckers"
Big Donny, who sold many vehicles to the Rust Bros' team, has his own business – a highway maintenance yard in Barriere, British Columbia. He runs a huge fleet of trucks, undertakes hot shot trucking operations (which means hauling smaller loads to their destination within a certain timeframe) and has specialized equipment for towing and recovery. He also has a passion for buying old vehicles and vintage equipment on auction. His son, Donny, joined him in the business.
After appearing in six episodes on "Rust Valley Restorers", Big Donny started his own show, "Backroad Truckers", also produced by Mayhem and Corus. The show premiered on 4th March 2021. It revolves around competition between himself and Dave Schwandt, a salvage dealer and tow truck operator who previously worked for Big Donny, and who battles Big Donny's business to try and dominate the backroads. Notwithstanding the competitive edge between them, Big Donny and Dave are still friends.
"Backroad Truckers" won Leo Awards in 2021 and 2023 as a Reality Series, and has great reviews. Mike, Connor and Avery have all appeared in several episodes.
Will we be seeing more of "Rust Valley Restorers"?
Have "Rust Valley Restorers" veered off track and gone backroad trucking? Have they reached a dead end?
In 2021, new permit laws became a threat and as a result the Rust Bros' shop could have ended up being shut down. Mike was also concerned that if he 'dropped dead', he would leave his family with the burden of land and hundreds of junked cars so he wanted to streamline his life and lighten the load. With the forest fires season approaching and the fact that Mike felt he was running out of time and money, he auctioned off about 500 of his beloved cars from his 'field of dreams'. He didn't let go easily, had tears in his eyes and wondered whether he was making the biggest mistake of his life. Mike couldn't find it in his heart to sell off all the cars and kept 52 – as he quipped – 'a full deck of cards' to play with. In retrospect he admits it was a bittersweet moment because as sad as it was, he had felt really stuck with it all and selling the cars was the most freeing thing he'd ever done. It sure lifted the weight off his shoulders.
The last episode of the show was screened on 14th April 2022, and the question fans are asking is whether it will continue. The shop is still open in 2023, but their website is down. Connor is still an active part of the business and, according to him, Season 5 has been filmed, packaged and is ready to go, so they're just waiting to hear about a release date. Mike also confirmed that Season 5 will be coming, but as he's currently 65, he's got no idea whether he'll be able to do another one after that.
Finally, for all you fans out there, you'll be glad to hear that Corus Entertainment also officially announced on 8th December 2021 that there will be a Season 5. It's confirmed for early 2024 on History Canada, so be on the lookout for teasers and trailers that are expected to be flighted in the coming months.
Mike and Avery avoid social media, but nevertheless their Instagram page has attracted over 375,000 followers, and the "Rust Valley Restorers TV" profile close to 10,000 followers. Mike and Avery never share private life matters on their social media profiles, but Connor posts pictures of himself and his wife, Jada Mazikeen Kovács-Hall, a car saleslady, on his Instagram account. They married during Season 4, but the fact wasn't publicized. Connor has over 110,000 followers and Avery over 150,000 followers on their respective Instagram pages.
No posts have been added to the "Rust Valley" Facebook page with 70,000 followers since they posted about "Backroad Truckers" in June 2022.
That feeling when you find out Rust Valley Restorers is in production for Season 2! #rustvalleyrestorers #rustbros pic.twitter.com/VQBLyzSlG8

— RustBros Restorations (@rust_bros) October 2, 2019
What are the cast of "Rust Valley Restorers" worth?
We've already established that Mike isn't the most savvy businessman, and had he not been so charitable in his business dealings and lost money on projects, it's probable that he would have accumulated a small fortune earlier. His net worth is calculated based on the cars he currently owns and the income he's made over the years selling cars, and from the TV show. A couple of years ago, Mike's net worth was estimated at about $2 million, but now since he's sold off the greater part of his car collection, according to accredited sources, Mike has certainly accrued a small fortune and his net worth is estimated to be about $5 million.
Avery's net worth is approximated at $200,000; Connor's isn't known.
So what's next?
In a recent interview on 7th July 2023, with JF of Killer Kustoms, Avery said that for him the hardest thing is watching your language when being filmed. He considers himself a down-to-earth guy, and his biggest challenge when filming is to not be himself.
Mike shared that he enjoys watching the love his customers show towards the cars he restores. He's stated that he's not a party animal, and has been clean and sober for 10 years. When not filming, he hangs off cliffs with his crew, and playing with dynamite. They also spend time finishing cars that have been filmed yet were unfinished.
Mike has only been to about five car shows, and both he and Avery expressed that they're currently looking for sponsors, as they have a great desire to go to Specialty Equipment Market Association – commonly called SEMA – on 31st October to 3rd November at Las Vegas Convention Center – the premier trade-only show where car builders and traders meet.
Avery has a YouTube channel – Wild Man Restoration – with almost 550,000 subscribers. He launched his podcast, "The Avery Shoaf Show" on the 11th July 2023, and the first episode features Avery and Mike chatting about their lives while eating strawberries and grilling steaks. The video has already had almost 25,000 views.
Mike said that he'd been on the road to ruin, but that cars were the hardest habit he had to break. He also related how he had, just a week before the podcast, rolled his Dodge over a bank on a hairpin corner in freezing conditions of minus 25 degrees and his truck wouldn't turn. He's very lucky he walked out of it alive, and now lives with the motto 'Today is the first day of the rest of my life'. At this stage of his life, he's quite content to grow vegetables on his farm, and appreciate the simple things in life.