Who is Phil Heath?
American International Federation of BodyBuilding and Fitness (IFBB) professional bodybuilder Phillip Jerrod Heath was born in Seattle, Washington State USA, on 18 December 1979, making Sagittarius his zodiac sign. He's entered numerous competitions, and is perhaps known best for having been crowned Mr. Olympia winner each year from 2011 through 2017; his seventh victory in 2017 tied him at second place with famous American actor, moviemaker and former bodybuilder Arnold Alois Schwarzenegger, while the first place is tied by Lee Haney and Ronnie Coleman with eight wins.
Phil's physique is widely regarded as one of the best and well-balanced of all time.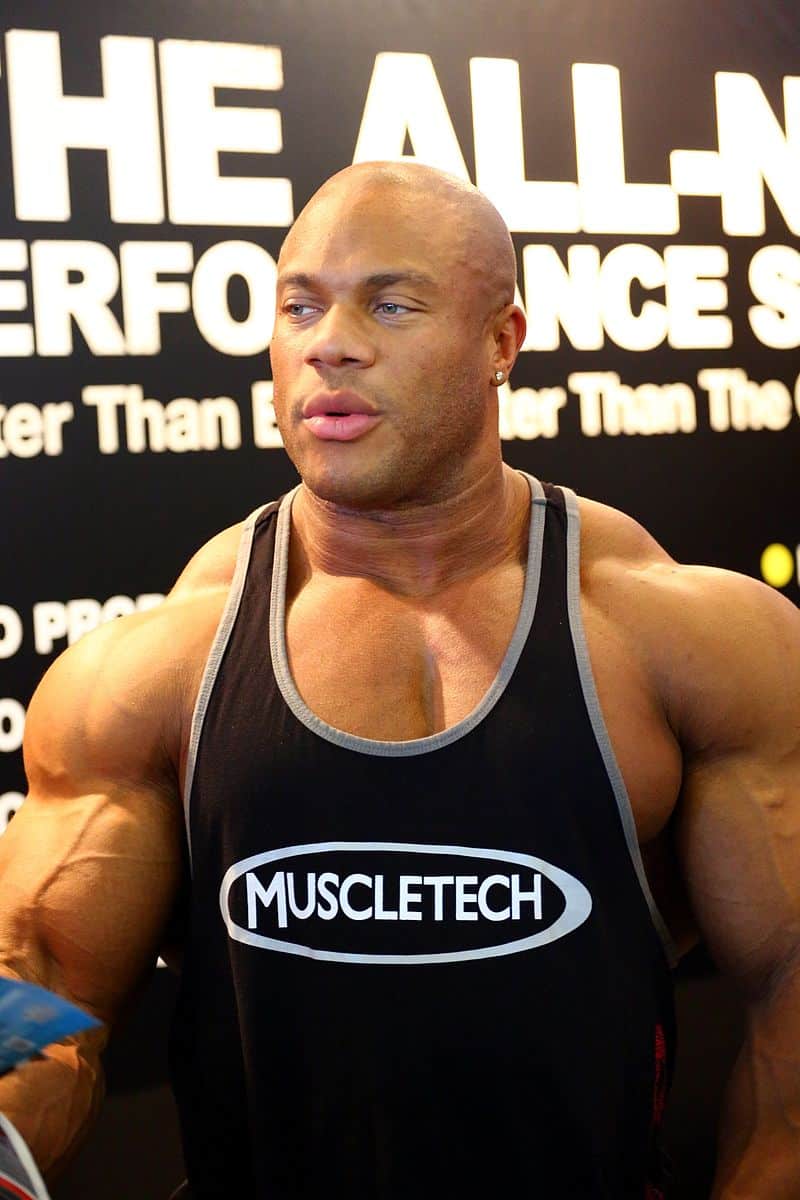 Education and early life
Phil was raised in Seattle alongside his elder sister and their paternal half-brother Brandon, by his mother Rosella Braxton and father Donald Heath; he's revealed that he feels bad about not having enough time to spend with his half-brother, as the two are very close. Phil's also revealed that Brandon was 15 when he matriculated from a local high school, and was 16 when he enrolled at college and joined the Phi Theta Kappa Honor Society.
Phil studied at Rainier Beach High School, and was passionate about basketball during his time there; he was on the school's team as a shooting guard and was a junior when he was made team captain. Phil matriculated in 1998, and then enrolled at the University of Denver on a basketball scholarship, graduating with a Bachelor's degree in business administration in 2002.
Phil's career as a bodybuilder
Phil entered the world of bodybuilding in 2002, and it was only three years later that he won the National Physique Committee (NPC) USA Championship, thus becoming an IFBB Pro.
In 2006, a year after turning professional, Phil won both The New York Pro Championship and The Colorado Pro Championships, and the year 2007 saw him rank #5 at the Arnold Classic. He had already become qualified for that year's Mr. Olympia competition, but stated that he wanted to further improve his physique, and thus didn't compete.
He won the Iron Man contest in 2008, and finished second at the Arnold Classic in the same year; his 2008 Mr. Olympia was his first, and he placed #3. The year 2009 saw him place #5 in Mr. Olympia, and  #2 in the following year; after winning Mr. Olympia for seven consecutive times, Phil placed #2 in 2018 behind Shawn Rhoden. He didn't compete in 2019, but returned in 2020, placing 3rd; Phil hasn't entered Mr. Olympia contest since then, wanting to focus on other things in his life.
Wrestling
Phil accompanied the tag team BroMans (Robbie E and Jessie Godderz) to the ring on 20 October 2013 at the Anthem Wrestling Exhibitions (TNA) Bound for Glory pre-show, which they won. He accompanied them to the TNA World Tag Team Championship later that day, which they won against James Storm and Gunner, thus becoming tag team champions.
Phil's YouTube channel
Phil launched his self-titled YouTube channel on 14 September 2009, and there are today over 80,000 people subscribed to it, while all of Phil's 56 videos combined have been watched more than 4.6 million times; most of these show Phil working out at the gym, while others feature him teaching his fans about proper dieting and workout routines, as well as about competitions. We're going to cover the three most viewed Phil's videos, which've helped him build his fanbase on the internet.
His #1 video "PHIL HEATH – SHOULDER DAY" was uploaded on 22 November 2021 and has since been watched nearly 600,000 times; it features Phil showing proper workout routine for shoulder day.
His second most popular video, "Phil Heath Back Day" was uploaded on 14 March 2022 and has since been watched close to half a million times; it features him showing best exercises for back day.
Phil's #3 video "PHIL HEATH- BACK TRAINING" was posted on 16 November 2021 and has since been viewed close to 400,000 times; it once again shows him working on his back.
Love life and wife
Phil rarely speaks about his love life in public, but we know that he's married twice.
He was married to non-celebrity American Jennie Laxson; the two exchanged vows in June 2007 but divorced in 2015, without having had children together.
He met American social media star and fitness promoter Shurie Cremona in 2015, when they were introduced by a mutual friend at a bodybuilding event; the two married in a private ceremony on 25 July 2017, attended by their closest friends and family members. Shurie's followed by close to 100,000 people on Instagram, and has posted nearly 800 pictures and videos onto the network; most of her content features her spending time with Phil.
There are no other women whom he's been with, that we know about; Phil's married to his second wife Shurie Cremona as of August 2023, and doesn't have children.
Interesting facts and hobbies
Phil's an Instagram star, as over four million people are following him today, while he's posted over 3,100 pictures and videos onto the network; most of Phil's content shows him spending time with fellow bodybuilders, while others feature him working out.
He's also a motivational speaker, and has spoken about the importance of being physically active at various events.
Phil loves to travel together with his wife, and they've been all around the world; his favorite city to visit is Berlin, Germany.
Phil's a lover of animals, and his family had two pet dogs while he was growing up; he's donated money to several charity organizations.
He occasionally goes to the casino together with his friends – his favorite game is Blackjack.
One of Phil's favorite actors is Denzel Washington, and some of his favorite movies include "The Book of Eli", "The Bone Collector" and "Safe House".
Appearance and net worth
Phil's age is 43. He has blue eyes and is bald, he's 5ft 9ins (1.75m) tall and weighs around 270lbs (120kgs).
Phil's net worth's been estimated at over $8 million, as of August 2023.