Restoring historic houses sounds very interesting, yet not many people want to dedicate their life to such a mission. Fortunately for us, Jeff Devlin from "Stone House Revival" is the right man when it comes to bringing back life to old houses in his hometown in Pennsylvania, always giving the best of himself to preserve the historical value of these houses while also making them functional, beautiful, and fully liveable.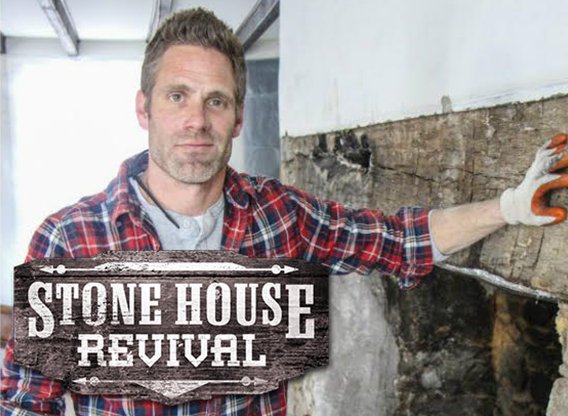 Though "Stone House Revival" was a great source of entertainment for several seasons, it's been a while since we last saw the show on TV, inevitably leading us to wonder what really happened to it.
So why was "Stone House Revival" canceled, and what is the cast doing these days? Stay here to find the answers to these questions, and more!
Why Was The Show Canceled?
For several seasons, "Stone House Revival" charmed its audiences by featuring incredible house restorations and an entertaining cast. Nonetheless, that magic came to an end in late 2021, when "Stone House Revival" was sadly canceled by HGTV.
As host Jeff Devlin revealed in a Facebook video, the show simply 'was not going to be picked back' for a new season, but whether this was due to low ratings or other off-screen reasons was left unanswered. Nevertheless, that wasn't the first time that "Stone House Revival" was cut short, as back in 2018 the show was canceled for the first time following its third season finale, then was unexpectedly picked up again for a fourth and final season in early 2021.
Though Jeff stopped himself from awakening his fans' hopes about getting new episodes of "Stone House Revival", the fact that the show was picked up for reruns by the then-recently rebranded Magnolia Network in early 2022, made him quite hopeful that there was a chance for the show to come back sometime in the future: 'You never, ever, ever know what happens. If it does well, I would assume there's potential that it would come back,' he said in his video.
Unfortunately, no news about a possible renewal of "Stone House Revival" has been announced since then, but hope is never lost.
What Is Jeff Doing Now?
Although "Stone House Revival" is no longer releasing new episodes, Jeff Devlin keeps working on what he loves the most, which is carpentry and renovations. These days he creates lots of special and unique woodworking pieces for his business, Sycamore & Stone, on top of offering craftsmanship workshops and courses.
Jeff is also very busy hosting local events, and appearing as a guest star in events around Pennsylvania and other states, sharing around his knowledge about renovations and woodworking.
Though it doesn't seem that Jeff is working on starring in a new TV show, he's made guest appearances in other shows such as "Selling Philadelphia" on American Dream TV and Magnolia Network's "In With the Old" in an episode of the third season, as he renovated an historic house from the 1800s.
While Jeff's fans would love to see him back on TV doing his renovation magic, it seems that life is going great for him, even when he's away from cameras.
Other TV Shows
Though most people know about Jeff Devlin for starring in "Stone House Revival", the truth is that he had been involved with several TV projects before that show. His debut in the entertainment world took place in 2007 when he was a carpenter in "Spice Up My Kitchen", hosted by Lauren Lake.
That first TV project came to him by pure chance, though. As he revealed during an interview with Estatenvy, he used to do freelance jobs as a cameraman for sports music events, splitting his time between that and his passion for carpentry. Back then, Jeff had recently bought his house and was renovating it himself, mindlessly accepting a friend's offer to film him as he worked on it. Before he even knew it, his friend sent the video to HGTV and he was called to audition.
Later in 2010, Jeff joined the cast of "Drill Team" alongside Brandon Russell and Lauren Makk. That show only lasted one season on air, leaving Jeff free to become the host of "I Hate My Bath" in 2011 – the latter has been Jeff's longest stint on TV, as the show lasted five seasons and aired almost 80 episodes.
Other notable TV projects of Jeff include "Hot List: Baths", in which he introduced the audiences to the then-latest trends of bath building, and also appeared in "Ellen's Design Challenge" as a contestant.
His Beginnings
Despite being one of our favorite renovators and crafters from TV, the fact is that Jeff Devlin had his sights on a different career path. Just as he affirmed in an interview with Visit Bucks County, his dream as a kid was to become a rockstar or professional sportsman, but his mind changed when he watched the classic improvement show "This Old House", and became extremely inspired by the work the hosts did.
Without even knowing it, that was the beginning of a career in carpentry for Jeff, who at only 15 years old began improving his skills in the field by building bird houses, while trying to decide what his path in life would be: 'Like most kids that age, I really wasn't sure what I wanted to do with my life, as going to college seemed like it really wasn't an option,' he told the website.
Jeff's first job in the field was as an assistant in an old house renovating company, learning how it was to bring back the light into historic constructions. It also made him improve his skills as a carpenter, at some point becoming more than enough for him to leave the company and start his independent carpentry business, a later career in the TV industry just came to Jeff by chance, but the experience he'd gained so far and his charisma, were the things which made him stand out from others.
Businesses
Besides being his hometown, Bucks County is also the place where Jeff Devlin makes his carpentry magic happen. These days, he owns several businesses in town, starting with the retailer Sycamore & Stone, where he sells most of his woodwork creations alongside a wide variety of homestyle articles, including furniture, blankets and candles.
Sycamore & Stone is more than just a shop though, as the place also offers rental space for tourists, and workshops for people of all ages who wanted to learn Jeff's craft, decorative arts, and others. As if that wasn't enough, the shop hosts events and lists a variety of clothing and accessories for sale.
There's also School House Woodworking, which is both Jeff's woodworking brand and his contracting business, offering customizations of furniture and wood items alongside renovations of kitchens, bars and bathrooms. This has been Jeff's long-time business and the one which sets the foundation of his fame as a renovator.
Other than that, Jeff has a YouTube channel on which he's shared a handful of videos about his work and adventures. Though the channel is rarely updated, the hope of it becoming an online show sometime is never lost.
All in all, Jeff Devlin has lots of projects these days, but that doesn't stop his fans from missing seeing him on TV.