Adonis Graham is a French-Canadian celebrity child, who is the son of the Grammy Award-winning Canadian rapper Drake, and his ex-girlfriend Sophie Brussaux.
Mood 😂 #adonisgraham #mood #drakesson #bedhead #drake #baby #cutemoment #adorable #explorepage pic.twitter.com/7QhGgcJF9R

— Adonis Graham (@adonisgrahamfan) October 11, 2021
Age, Early Life, and Education Background
Adonis Mahbed Graham was born in California, USA, under the Libra zodiac sign on 11 October 2017, which makes him five years old as of 2023. He was born to the aforementioned rapper and singer-songwriter, Aubrey Drake Graham, and the French painter and former adult film star, Sophie Brussaux. Graham is of Afro-American and Jewish Canadian roots from his father's side.
In 2020, Adonis attended school for the first time as Drake disclosed on his Instagram page. He posted his photo and captioned it, 'First day of school. The world is yours, kid.'
Interests and Facts
At just five years old, Graham is bilingual, speaking English and French. In a video posted by Drake on Instagram, he's heard 'teaching' his dad how to converse in French.
Adonis enjoys watching National Basketball Association (NBA) games together with his father, often accompanying him to watch his favorite team – Toronto Raptors – play. The father and son duo has been spotted cheering the team on multiple occasions, including during the Toronto Raptors vs. Chicago Bulls match on 3 February 2022.
Adonis loves playing basketball; his father often shares his video skillfully dribbling a ball on his Instagram page.
He spends a lot of time indoors painting, together with his mother.
Graham is a boy with numerous talents. He often trains in martial arts as seen on Instagram videos shared by his parents.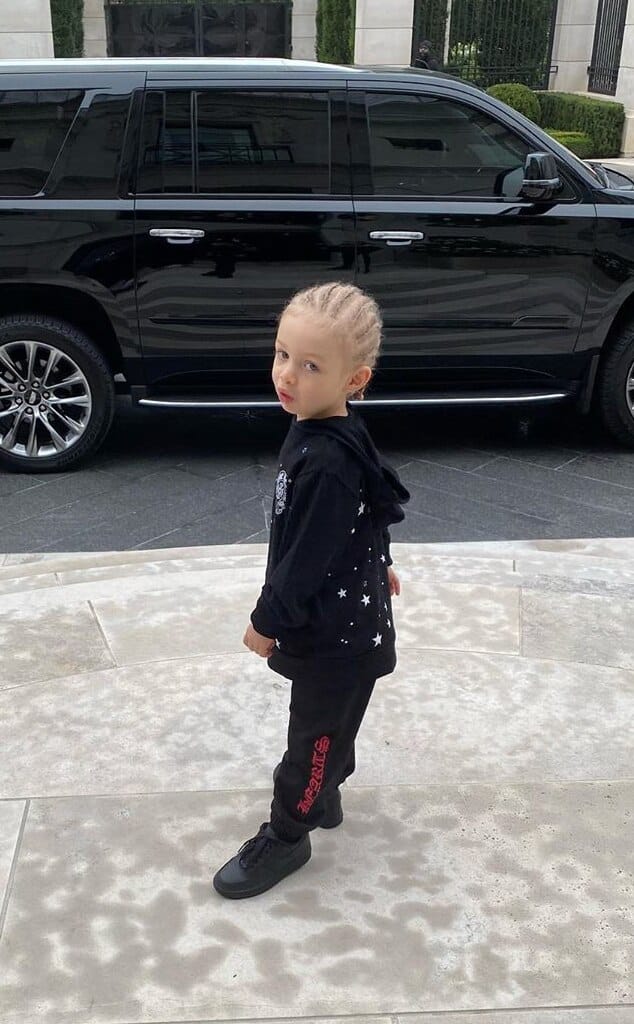 Career
Adonis is still very young and hasn't chosen his career path. He often accompanies his dad at the Billboard Music Award festivals and other red-carpet events – Adonis accepts awards on his behalf.
Personal Life
Adonis is still very young and is currently busy with his early education; he isn't involved in any romantic affair. Adonis currently lives with his mother in France, and Drake seemingly tries his best to visit and spend quality time with him, recently spotted spending time with his only son during the celebrations of his mom's 75th birthday. The rapper commemorated the day with a heart-warming Instagram caption dedicated to both his mom and son, and shared his selfie with the latter in matching grey outfits.
Rumors and Controversies
Sophie, who used to make adult videos under the name Rosee Divine, made headlines in 2017 when she claimed that she was pregnant with Drake's baby, alleging that the rapper asked her to go for an abortion after breaking the news to him. At first, Drake denied getting her pregnant, then through his spokesperson, he promised to do right by the baby if it was established that he was indeed his father. Shortly after Adonis was born, the American rapper, Pusha T, released the song "The Story of Adidon," in which he revealed about Drake's secret child. After DNA tests were conducted, it was confirmed that he was the father of the child, and he went on to release the song "Emotionless" in his 2018 album "Scorpion,' acknowledging that Adonis was his child. He rapped clarifying that he 'wasn't hiding my kid from the world/I was hiding the world from my kid.'
Height, Weight, and Physical Appearance
The young Graham is still developing physically and is 3ft 4ins (1.01m) tall and weighs around 65lbs (29kgs) as of late 2023. He has a set of blue eyes, and curly blonde hair. His father has inked a tattoo of his first name on his neck.
Net Worth
Adonis has been leading a lavish lifestyle, thanks to his parents' impressive net worth. His father is worth a whopping $250 million as of 2023; on the other hand, his mom, Sophie's net worth is approximately $1million.
Adonis Graham's Parents – Drake
Aubrey Drake Graham hails from Toronto, Ontario, and was born under the Scorpio zodiac sign on 24 October 1986, which makes him 37 years old as of 2023. He is the son of the Memphis Afro-American drummer, Dennis Graham, and the Ashkenazi Jewish florist and English teacher, Sandra Graham. His parents parted ways when he was just five.
Drake is considered an influential figure, credited for popularizing contemporary R&B sensibilities in hip-hop. In 2006, he released his first mixtape, "Room for Improvement" and subsequently recorded the mixtapes "Comeback Season" in 2007 and "So Far Gone" in 2009. His first three studio albums – "Thank Me Later" (2010), "Take Care" (2011), and "Nothing Was the Same" (2013) – were huge successes that propelled him to the hip-hop forefront. Drake's fourth album, "Views" was also very successful, and topped the Billboard 200 for 13 weeks, making it the first male artist's album to top the record chart ranking in over a decade – it featured numerous hit songs including "One Dance" and "Hotline Bling," which popularized Afrobeats worldwide. Drake released his fifth studio album, "Scorpion," in 2018.
Some of its Billboard Hot 100 top singles included "God's Plan," "In My Feelings," and "Nice for What." Other Drake top-rated albums include "Certified Lover Boy" (2021) and "Honestly, Nevermind" (2022).
Drake is the co-founder of the record labels, DreamCrew Entertainment and OVO Sounds – he founded the latter with his longtime collaborator, the Canadian record producer and songwriter, Noah James Shebib, who is best known as 40.
Drake is the global ambassador and member of the executive committee of the Toronto Raptors.
He has also tried his hand at fashion, and runs the OVO fashion label, which often collaborates with Nike. In 2022, he became one of the owners of the Milan, Italy professional soccer club, Associazione Calcio Milan, best known as A.C. Milan.
Drake has been named among the best-selling musicians in the world – he's sold at least 170 million records. Moreover, he's the Recording Industry Association of America's (RIAA) highest-certified artist in the US. He's scooped five Grammys, two BRIT Awards, and six American Music Awards (AMAs), among other accolades.
The Canadian rapper has achieved at least 10 number-one hit singles on the Billboard Hot 100, and has recorded the most top ten singles (68). Moreover, he holds the record for most number-one single hits on Hot Hip-Hop/R&B Songs and the Hip-Hop/R&B Airplay.
Sophie Brussaux
Sophie Brussaux hails from Bordeaux, France, and was born under the Leo zodiac sign on 1 August 1989, which makes her 34 years old as of 2023. She hasn't revealed anything about her childhood and family. Sophie was educated at Bordeaux International School hasn't disclosed where she attended college, although it's widely believed that she studied Wealth Management and International Affairs.
After she completed her studies, Adonis' mother relocated to the US to start her modeling career. Sophie briefly worked as a model, before trying her hand in the adult entertainment industry, later stopped making blue movies, and ventured into the art industry.
She's exceptionally talented in drawing and painting, and has a website on which she displays and sells her artwork, most of which are celebrity portraits. Moreover, Sophie is the founder of the non-profit organization, ArtsHelp, which uplifts and guides budding artists.