Who is Aeko Catori Brown?
Aeko is an American celebrity child, and for now is known only for being the son of famous people.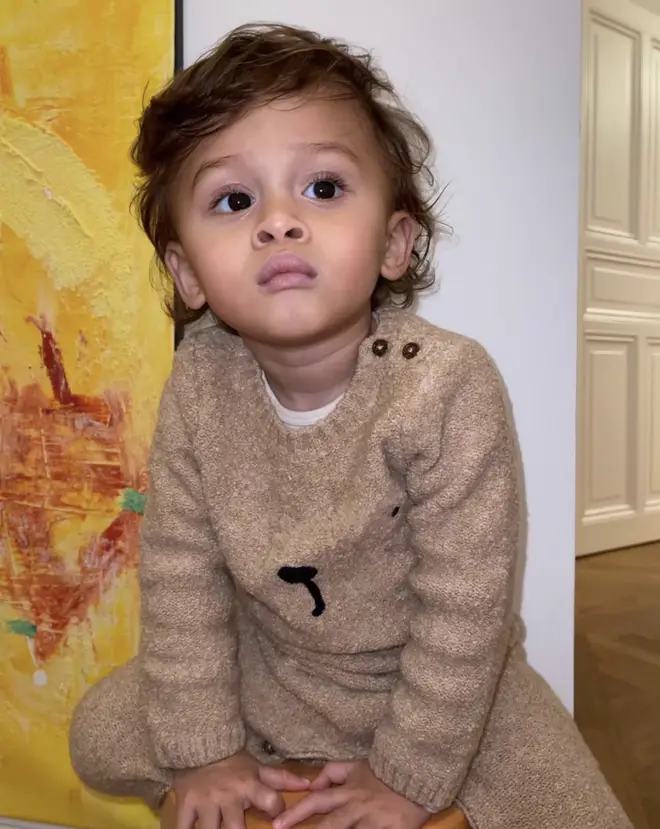 Wiki: Age, Childhood, and Education
Aeko Catori Brown was born on 20 November 2019, in Tarzana, California, USA. His father, Chris Brown often affectionately calls him "Lil CB" because of their striking resemblance. Aeko's mother, Ammika Harris, is a social media influencer and Instagram model who shares pictures of Aeko on her social media. Aeko is multiracial, with African-American and Native American roots, specifically the Pamunkey Indian Tribe. Aeko's name was inspired by Chris Brown's late friend, Aeko Aamir, who passed away in 2018.
Aeko has an older half-sister named Royalty Brown, born on 27 May 2014 to Chris Brown and Nia Guzman. The two siblings share a sweet bond and have been photographed together on several occasions. Royalty is currently eight years old, and they have a younger sister named Lovely Symphani Brown, born on 7 January 2022 to Chris and Diamond Brown.
Chris Brown and Ammika Harris aren't married, but they maintain a close co-parenting relationship. Their relationship, which began in 2015, had its ups and downs, however, suspicions of a rekindled romance arose in 2018, when they exchanged emojis on social media. In January 2019, they were spotted enjoying a vacation together in Paris, shortly before Chris Brown's arrest.
Aeko Catori Brown's Father Chris Brown Short Bio
Christopher Maurice Brown was born on 5 May 1989, in Tappahannock, Virginia, USA, the son of Joyce Hawkins, a former daycare center director, and Clinton Brown, a corrections officer at a local prison. He has an older sister, Lytrell Bundy, who works in the banking industry.
Music has been an integral part of Chris Brown's life since his early years. He grew up listening to soul albums from his parents' collection, which sparked his interest in the hip-hop scene. Brown is a self-taught singer and dancer who drew inspiration from the legendary Michael Jackson. His musical journey began in the church choir and local talent shows, where he got to show his talents.
Chris Brown signed with Jive Records in 2004, and released his self-titled debut studio album the following year, which achieved triple platinum status according to the Recording Industry Association of America (RIAA). His debut single, "Run It!" featured Juelz Santana, and topped the Billboard Hot 100, the first male artist since 1995 to achieve this with a debut single. His second album, "Exclusive" (2007), continued his commercial success, and spawned the No. 1 hit "Kiss Kiss" featuring T-Pain.
In 2009, Chris Brown faced legal troubles as he pleaded guilty to felony assault of his then-girlfriend, singer Rihanna. Despite the challenges, he released his third album, "Graffiti", which was considered a commercial disappointment compared to his earlier works. However, he rebounded with his fourth album, "F.A.M.E." (2011), which earned him a Grammy Award for Best R&B Album.
Brown's subsequent albums, "Fortune" (2012), "X" (2014), "Royalty" (2015), and "Heartbreak on a Full Moon" (2017), all enjoyed success, the latter even achieved double platinum status. His ninth studio album, "Indigo" (2019), debuted at the top of the Billboard 200, and included the hit single "No Guidance" featuring Drake.
Chris Brown's music career has been highly successful, with over 217 million albums sold worldwide. He holds numerous records, including the most Billboard Hot 100 entries by a male singer, and the most top 40 hits by an R&B artist. He's also one of the highest-grossing African-American touring artists.
"Stomp The Yard" gave Chris Brown 50 seconds and he said watch this 😌 pic.twitter.com/k6eOwUauCH

— CONTROL FREAK ✨ (@kootttaaa) December 12, 2022
In addition to his music career, Chris Brown has ventured into acting, appearing in several films, including "Stomp the Yard" and "This Christmas" both in 2007, "Takers" (2010), "Think Like a Man" (2012), and "She Ball" (2020), among many other projects.
Chris Brown continues to make an impact on the music industry, with recent albums such as "Breezy" (2022) and "11:11" (2023). His talent and dedication have earned him numerous awards, including a Grammy, BET, Billboard Music, American Music, ASCAP, BMI, Soul Train Music, and MTV Video Music Awards. Chris Brown's influence on the world of R&B and pop music remains undeniable, earning him the title of the "King of R&B".
According to sources, Chris Brown's net worth is estimated at over $50 million, as of late 2023.
Aeoko Catori Brown's Mother, Ammika Harris – Short Bio
Ammika Harris was born on 16 May 1993 in the USA. She's gained recognition as an Instagram model, and through her relationship with Chris Brown, marked by its on-again/off-again nature, starting with rumors in 2015.
Although their relationship was speculated in 2015, neither of them confirmed it at the time, as Chris was linked to other women, which overshadowed any news about his involvement with Ammika. The rumors resurfaced in June 2018, when they exchanged affectionate emojis on Instagram.
Their relationship became more public in January 2019, as they were spotted in Paris during a tumultuous incident where Chris was detained after allegations of rape. Their intimate moments at the Cirque Bonheur nightclub attracted media attention. Ammika documented the incident on her Instagram, but their relationship faced challenges, leading to an apparent break-up in late April 2019, with Chris reportedly dating model Indyamarie Jean. However, Chris's child with Ammika was the turning point in their relationship.
In June 2019, news broke that Ammika was expecting Chris's child, which led to the end of Chris's relationship with Indyamarie. This situation was reminiscent of his previous relationship, in which he had a daughter named Royalty with Nia Guzman while dating Karrueche Tran. Chris and Nia faced custody battles, eventually settling on joint custody and child support for Royalty.
Ammika's pregnancy became evident when she posted pictures on Instagram that showed a hint of a baby bump. Chris further fueled speculation by referring to her as "my baby mama" in his comments on her posts. This confirmation was surprising, since they had previously broken up a few months before the pregnancy news.
Ammika continues to make strides in her modeling career, which has earned her a net worth of over $2 million, as of late 2023.