Who is Andre Legarreta?
Mexican actress and TV show host Andrea Legarreta Martinez was born in Texcoco, State of Mexico, on 12 July 1971, meaning that her zodiac sign Cancer. She has 31 acting credits and is probably still known best for playing the lead character Maestra Lupita Gomez in all 156 episodes of the family series "¡Vivan los Niños!", which also starred Erik Corona and Joaquin Cordero, and follows the teachers and children at the elementary school Patria Unida. The series aired in 2002 and 2003.
Education and early life
Andrea was raised in Texcoco alongside her brothers Juan Carlos Legarreta Martinez and Mauricio Legarreta Martinez, by their mother Isabel Martinez and father Juan Legarreta; not many other details have been disclosed about Andrea's family, because she respects their privacy.
Andrea fell in love with acting at a quite an early age, as she spent most of her spare time at home watching telenovelas. She was into several activities while attending a local high school, as she took creative writing lessons, played volleyball, and appeared in a number of school plays.
Andrea matriculated in 1989 and because she's yet to speak about her further education, it's believed that she then focused on her acting career rather than enrolling at college.
Roles in movies
Andrea's debut film role was playing Andrea in the 1989 mystery horror thriller "Grave Robbers", which starred Fernando Almada and Edna Bolkan, and was written and directed by Ruben Galindo Jr. It follows a group of teenagers who've inadvertently resurrected a satanic killer.
Andrea's following role came in 1997, when cast to portray Alejandra in the comedy "Educacion Sexual en Breves Lecciones", which starred Kate del Castillo and Hector Soberon, and was directed by Alejandro Gamboa. It follows college friends Ana and Alejandra who've agreed to lose virginity in a month. Some of Andrea's following roles were in the 1998 drama "El Asesinato", the 2001 drama "La Segunda Noche" and the 2008 action family adventure "Plaza Sesamo: Los Monstruos Feos Mas Bellos".
The year 2018 saw her play Andrea – Conductora Hoy in the romantic comedy "Plan V", which starred David Allegre and Agustin Arana, and was directed by Fez Noriega. It follows Paula whose boyfriend has hurt her and she's now planning her revenge.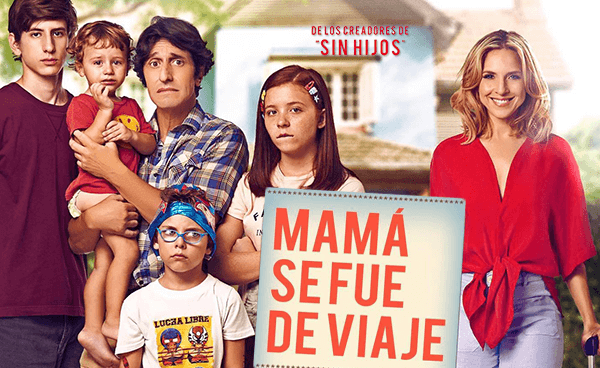 In 2019, Andrea portrayed the lead character Cassandra in the family comedy "Mama se Fue de Viaje", which also starred Martin Altomaro and Nina Rubin, and was written and directed by Fernando Sarinana. It follows a mother of four who's gone on a vacation, while her working husband now has to take care of their children.
Andrea's only other film role has been playing a supporting character in the 2023 romantic fantasy comedy "Quiero tu Vida", which starred Erick Elias and Zuria Vega, and was directed by Jorge Colon. It follows Nico Zamora whose injury has ended his dream of becoming a professional soccer player, however, years later, the universe has given him another chance to play.
Roles in TV series
Andrea's debut TV series role was playing Aurelia in 12 episodes of the 1989 family drama "Carrusel", which starred Gabriela Rivero and Augusto Benedico, and follows the differences between the lower and upper classes at a Mexican elementary school; the series was nominated for only a single award.
In 1989 and 1990, Andrea played Ivonne Ayala in 32 episodes of the romantic drama "Simplemente Maria", and she starred as Adriana Del Castillo in all 160 episodes of the 1990 romantic musical "Alcanzar Una Estrella", which also starred Eduardo Capetillo and Mariana Garza, and follows a girl who's in platonic love with famous actor and singer Eduardo Casablanca, and has now met him in person.
In 1991, Andrea starred as Adriana Del Castillo de Lugo in all 100 episodes of the 1991 romantic musical "Alcanzar Una Estrella II", which is the sequel to the above mentioned movie. The year 1992 saw her play Rebeca in all 100 episodes of the romantic drama "Baila Conmigo", which starred Eduardo Capetillo and Bibi Gaytan, and follows beautiful Pilar who's fallen in love with ambitious Bruno. The remainder of the '90s saw Andrea star in the 1993 drama "Valentina", the 1996 crime thriller "La Sombra del Otro", and the 1997 comedy "No Tengo Madre".
The 2000s saw her appear in an episode or two of a couple of series, including the romantic drama "Velo de Novia", another romantic drama "Amarte es mi Pecado" and the romantic comedy "Sexo y Otros Secretos".
Her most recent TV series role has been playing Andrea in a 2015 episode of the romantic comedy "Anything But Plain", which starred Maite Perroni and Manuel 'Flaco' Ibanez, and follows an unattractive woman who's become beautiful overnight, and the series was nominated for only a single award.
Other credits
Some of Andrea's recent talk-show appearances have been in "100 Mexicanos Dijieron", "Hoy" and "La Noche Del Diablito".
Love life and marriage
Andrea prefers to keep her love life away from media, and we thus know about only one man whom she's been with.
She met Mexican singer and actor Erik Rubin Milanszenko at a party sometime in the second half of the '90s, and they exchanged vows in a private ceremony on 1 April 2000; Eric has seven acting credits and is perhaps known best for portraying Carlos Leon in 98 episodes of the romantic series "Lazos de Amor", which aired in 1995 and 1996.
Andrea and Erik have two daughters together, Mia and Nina; Mia was born on 22 April 2005, and Nina followed on 12 January 2007.
Andrea and Erik separated in early 2023, but are still married as of August 2023.
Interesting facts and hobbies
Over six million people are following Andrea on Instagram today, and she's posted more than 10,000 pictures and videos onto the network; most feature her acting, while others show her spending time with her daughters.
She has two pet dogs, and they can be seen featured in Andrea's Instagram pictures.
She was only two years old when she appeared in a local commercial.
Andrea's passionate about music, and was once a member of the music group Fresas con Crema.
She's a fashionista and goes shopping for clothes quite often, which also makes her a shopaholic.
One of Andrea's favorite hobbies is travelling, and she's been to a number of US states and South American countries.
One of her favorite actresses is Eiza Gonzalez, and some of her favorite movies include "I Care a Lot", "Bloodshot" and "Ambulance".
Appearance and net worth
Andrea's age is 52. She has brown hair and eyes, is 5ft 3ins (1.6m) tall and weighs around 115lbs (53kgs).
Andrea's net worth's been estimated at over $2 million, as of August 2023.