Benjamin Flores Jr. is a 21-year-old American actor and rapper, who gained recognition for his 2010 song "You Might Be the One." He's probably best known for playing Louie Preston in "The Haunted Hathaways" TV series from 2013 to 2015, and Triple G in the "Game Shakers" from 2015 to 2019.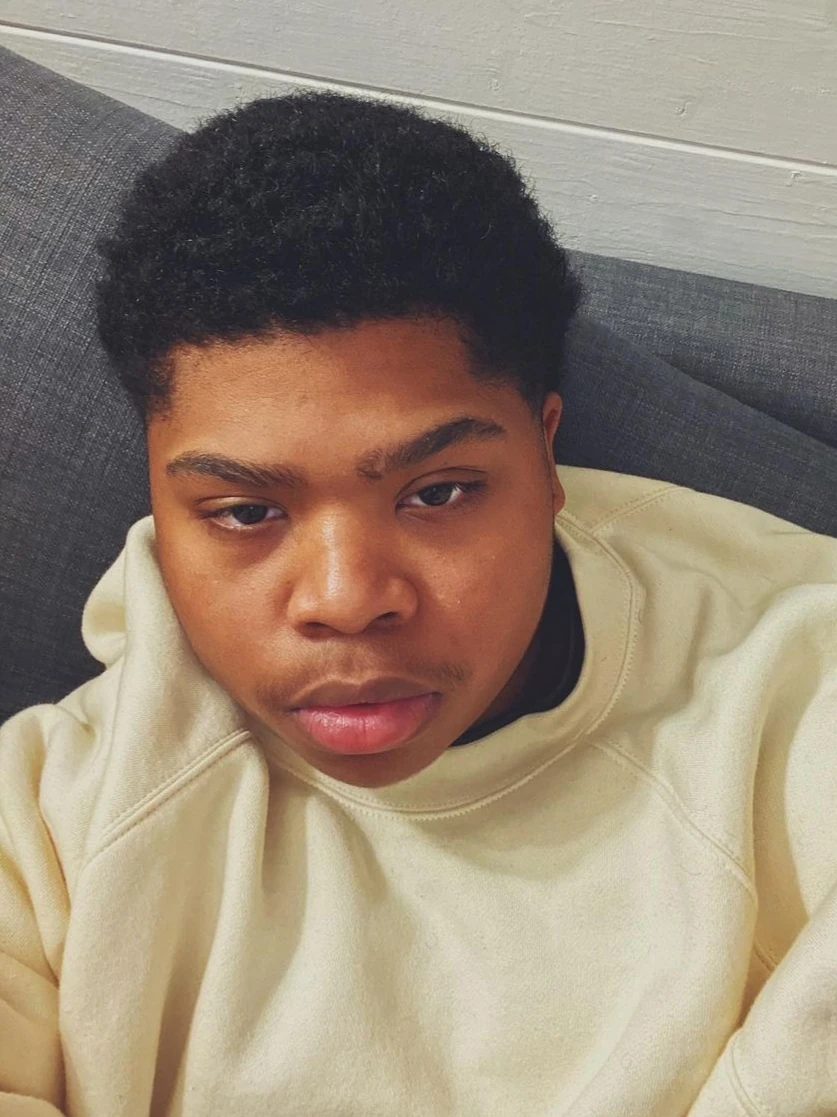 Benjamin Flores Jr. appeared in movies such as "Ride Along" in 2014, "Transformers: The Last Knight" in 2017, "Rim of the |World" in 2019, and played Josh in three movies in the "Fear Street" franchise, all released in 2021. He also lent his voice to characters in films with computer-generated animations, such as "Happy Feet Two," "Hey Arnold: The Jungle Movie," and "Jurassic World: Camp Cretaceous."
Early life
Benjamin Christopher Flores Jr. was born on 23 July 2002, in Memphis, Tennessee USA; he's known as Benji to his family and friends, but uses Lil' P-Nut, Little Pnut, and Little J Benjamin as nicknames, and Lil' P-Nut as his stage name – according to his Kidzworld interview, his uncle gave him the nickname shortly after birth for his peanut-shaped head. Benjamin's father is Benjamin Flores Sr., his mother is Tyisha Hampton, and he has an older sister named Melissa. He was described as 'best of both worlds' growing up; he was a kid who could hang out with kids his age one moment and socialize with grown-ups another, according to TheFamousPeople.
Early education, source of career
Benjamin began rapping at a young age, after his father taught him to help him learn basic mathematics; his father found this exciting but not significant enough to be a source of career. However, people quickly complimented Benjamin's wordplay and charisma, prompting his father to sign him up for the New Daily Theatre Talent Show at five, which he won. That appearance got Benjamin noticed by Marcus Shaw, a talent agent based in Memphis who contacted him, and was impressed by Benjamin's skill at rapping about education and religion.
Marcus organized a meeting in Atlanta, Georgia, two days later, and flew Dr. Meda "Wonder Woman" Leacock, a talent agent and manager for WondaWoman Productions who was involved with well-known rappers such as Puff Daddy. She recognized Benjamin's talent and agreed to be his New York City agent.
A surprising appearance in the Memphis Fox 13 television station news segment about Benjamin's performance at the Hip-Hop Weekend & Expo at seven got him local recognition. A producer for "The Ellen DeGeneres Show" daytime talk show saw this, and Ellen DeGeneres hosted him in the 51st episode of the eighth season. Benjamin performed an original, "You Might Be the One for Me," live, and officially released the song on 25 September 2010. That led to collaborations with singer and actress Cymphonique Miller, on her track "All That" and rapper Iszy's song "My Favorite Car."
Career
Benjamin's early music success caught the attention of the producers of the Cartoon Network film "Happy Feet Two." After auditioning, he was hired as the voice for the rapping penguin named Atticus in 2011, and was credited on the soundtrack. Around that time, he also appeared in an episode of the TBS sitcom entitled "Are We There Yet?" His first prominent role was in the July 2013 debut of the Nickelodeon TV series "The Haunted Hathaways." He played Louie Preston, a lovable ghost who, with his single father and brother, haunts the house to where the Hathaway family moves. He won the Imagen Award in the Favorite Young TV Actor category in 2014, and was a series regular until the series ended in March 2015.
"Game Shakers"
A few months after the broadcast ended, Benjamin starred in another Nickelodeon TV series, "Game Shakers," as Grover "Triple G," a billionaire's son who enjoyed a luxurious lifestyle. He works as a video game consultant, but deep down, he only wants to be valued by his peers as the fourth Game Shaker. Benjamin revealed to Teenplicity that if he didn't play Triple G, he would have liked to portray Hudson Gimble, the role played by Thomas Kuc. He added that he wanted his favorite rapper, Drake, to appear or perform his favorite songs, "Grammy" and "Hotline Bling" in the series. Around the series debut, Benjamin moved to Burbank, California, where he signed with the Osbrink Talent Agency. Once again, Benjamin remained part of the main cast until the cancellation after three seasons in June 2019.
He had to be homeschooled with his sister, studied five hours a day on set, and even began playing the video game featured in the series Sky Whale at home, as it was available as an actual mobile application. Benjamin was also passionate about skateboarding, swimming, shopping at the Southland Mall, and going out for barbeques, he told Memphis Flyer in a Q&A. He added that his favorite food was smoked sausages, and his favorite beverage was Jungle Juice.
Benjamin Flores, Jr. from #GameShakers really gnomes his stuff! You can see @SherlockGnomes in theaters Friday! Rated PG #AD pic.twitter.com/UcftV0cwEP

— Nickelodeon (@Nickelodeon) March 20, 2018
Starring in more movies
Benjamin didn't put all eggs in one basket while transitioning from "The Haunted Hathaways" to the other Nickelodeon TV series; he appeared in two television movies, "One Crazy Cruise" as Nate Jensen-Bauer and Nickeodeon's "Ho Ho Holiday Special" as Rick in 2015. Two years later, he played a supporting role in the Paramount blockbuster, "Transformers: The Last Night", then voiced Gerald in the computer-animated made-for-TV film "Hey Arnold: The Jungle Movie" and M.C. Bite in the live-action animal-based movie "Pup Star: Better 2Gether." As the end of the third and last season of "Game Shakers" approached in 2019, Benjamin could be seen in the lead role of Dariush in the Netflix comedy film "Rim of the World."
He took a break from a busy schedule in 2020, and only lent his voice to Tyler in two episodes of the "Spirit Riding Free: Riding Academy" television series. That was part of his plan; in July 2021, Benjamin appeared in three supernatural horror movies, "Fear Street: Part One – 1994," "Fear Street: Part Two – 1978," and "Fear Street: Part Three – 1666", released exclusively on Netflix a week apart, and based on the "Fear Street" book series by R. L. Stine. Each movie represents one week in the story about teenagers attempting to lift an ancient curse that's plagued their town for centuries. In October 2021, Benjamin signed with a different talent agency, Hyperion, however, he averted expectations of becoming a movie star, and returned to television series. Benjamin voiced the character of Brandon Bowman in the dinosaur-focused animated series "Jurassic World: Camp Cretaceous" in 2020, so his fans weren't surprised to hear his voice in episodes in 2021 and 2022.
First serious TV role
Judging by his roles shortly before and during the COVID-19 pandemic, Benjamin's fans could sense that he sought more serious roles. He confirmed the public opinion when news broke that he would play Eugene Jones, a gang member, in the "Your Honor" television series. It follows Bryan Cranston as Michael Desiato, a judge in New Orleans whose teenage son accidentally kills another teenager while driving a car. Although Michael initially wants his son to turn himself in, he changes his mind after he learns that the dead teenager is the son of a kingpin who gave him legal trouble. Benjamin played a prominent member of the drug cartel called Desire, and was upgraded from recurring cast member to regular in the second season.
What excited his fans was that "Your Honor" was initially created as a mini-series adaptation of the Israeli TV series "Kvodo", but became the most-watched first season of a series on the Showtime platform. Its similarities to "Breaking Bad" and critical acclaim practically forced Showtime to order a second season, giving Benjamin steady, noteworthy work until "Your Honor" ended after 20 episodes in March 2023. Benjamin then announced on Instagram that he'd become a model for the futuristic SNT MNT fashion brand, and deleted all previous Instagram posts. The brand was launched in early 2022, but its website is still in preparation.
Girlfriend
Benjamin Flores Jr. hasn't dated anyone publicly, but since he rarely posts online, he might be dating someone privately. In 2018, he was connected to his "Game Shakers" co-stars, Cree Cicchino and Madisyn Shipman, because he mentioned on Facebook that 'he missed the cuties and that they had to end their love.'
Physical characteristics
Benjamin Flores Jr. has black hair and dark brown eyes, is 5ft 7ins (1.70m) tall, and weighs about 145lbs (66kgs). He has a characteristically round face, which became less prominent through puberty and weight loss. Benjamin also frequently wears diamond, zirconia, or silver pearl-shaped earrings, typically only on one ear.
Net worth
Benjamin Flores Jr. has an estimated net worth of $2 million. Although that number seems high for a child actor, he's had roles in several well-known television series, and one notable animated film, "Happy Feet Two," which earned $150 million worldwide. He has lived in Southern California, a place with high living costs, for about eight years, so his salary had to match. On top of recent modeling gigs, Benjamin can use his prominence in "Your Honor" to land an even more significant role, or launch his career as a rapper.